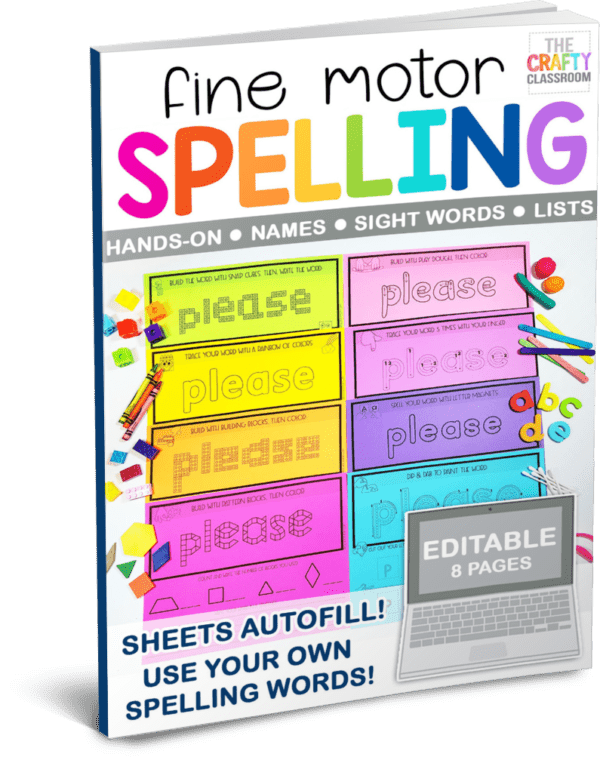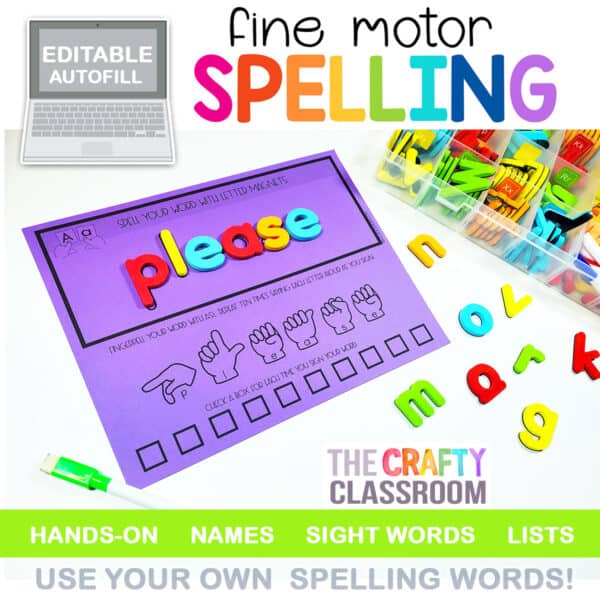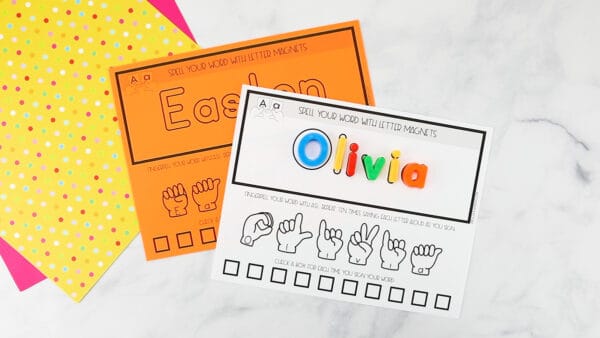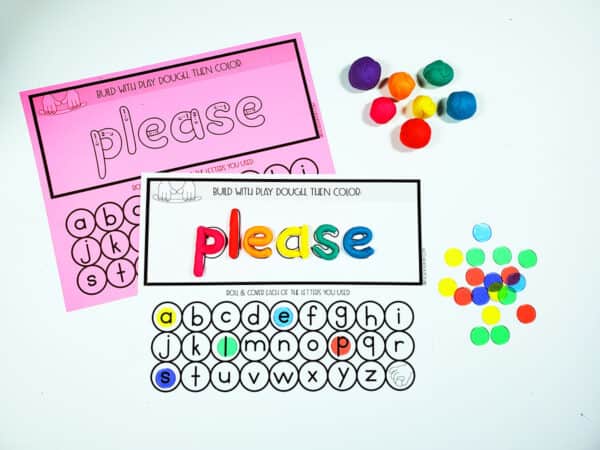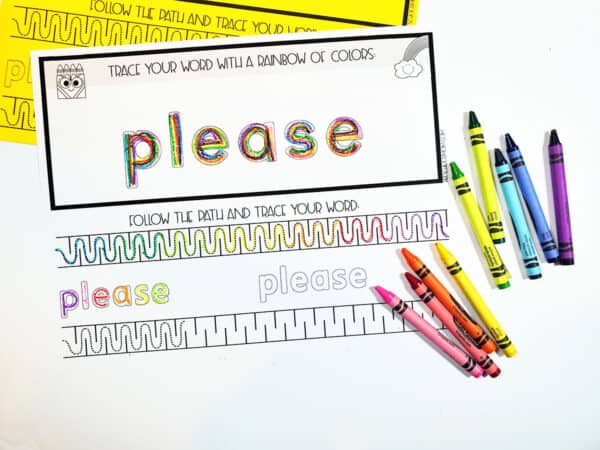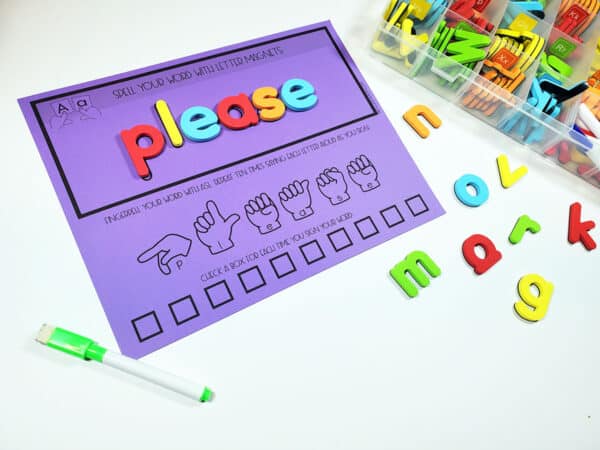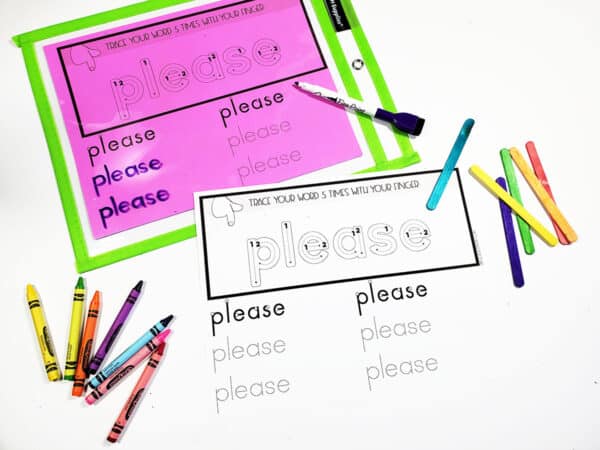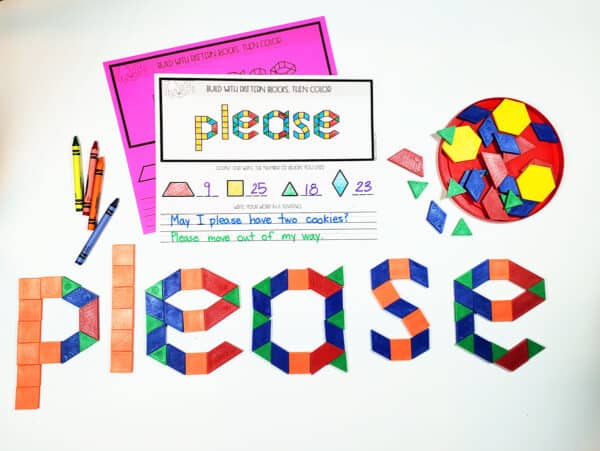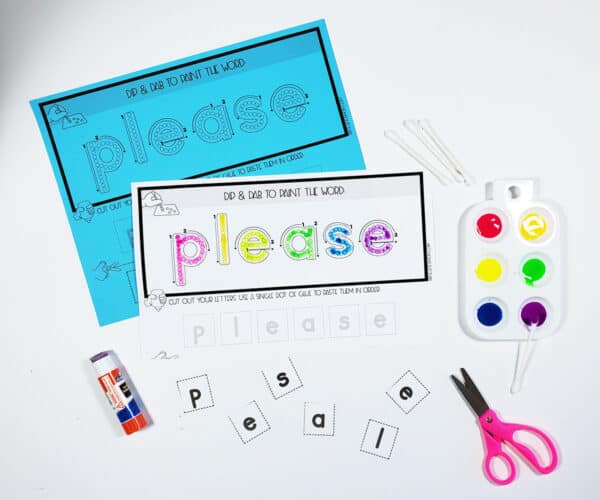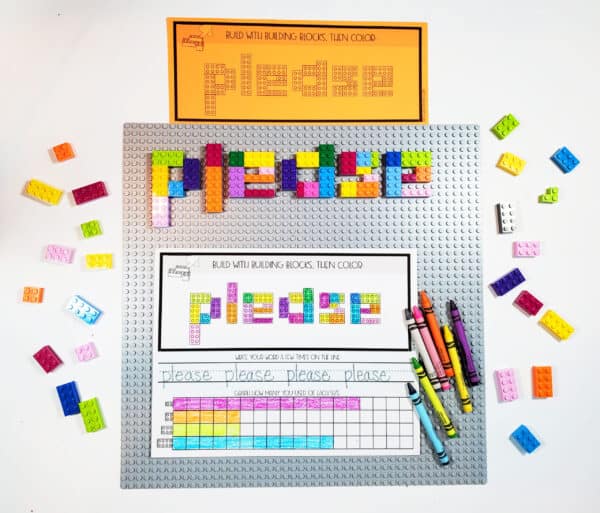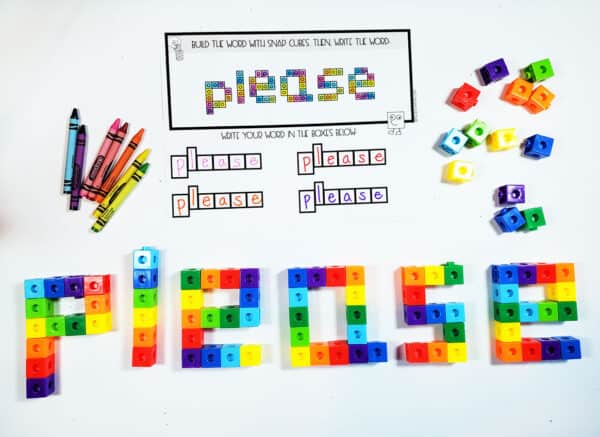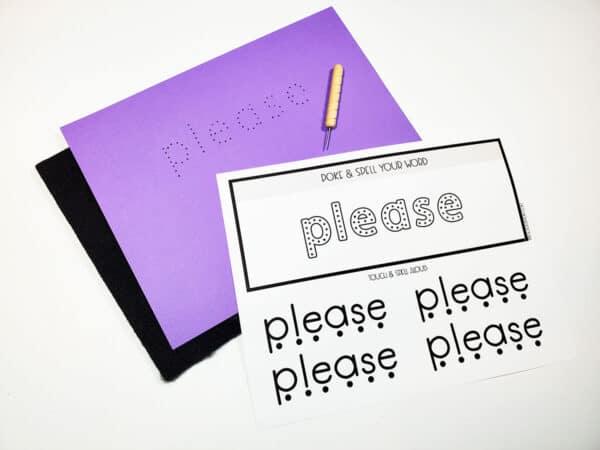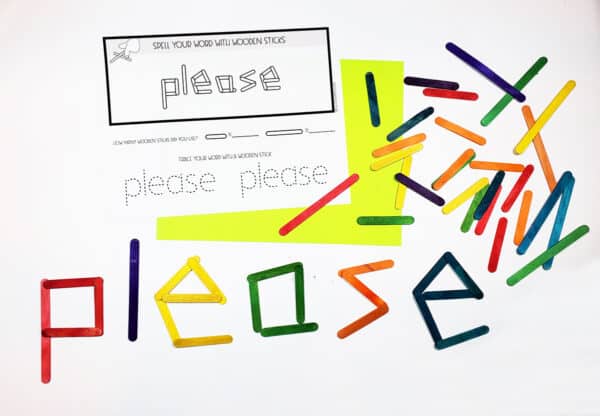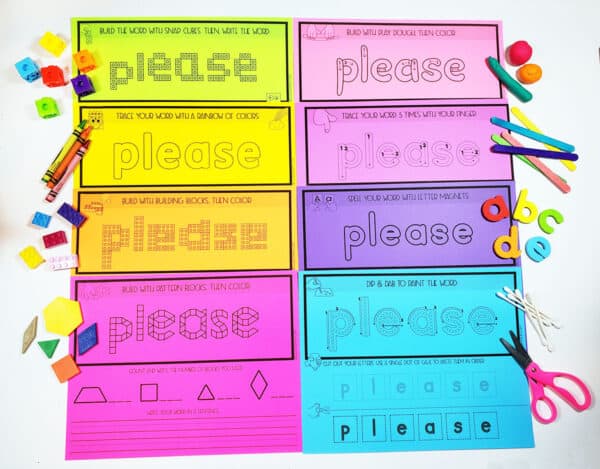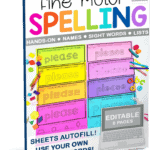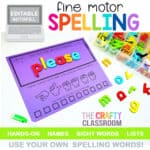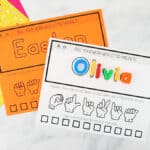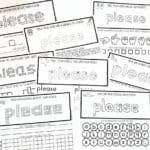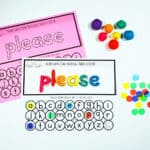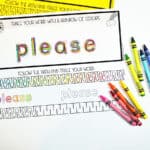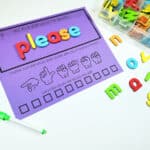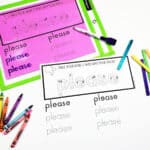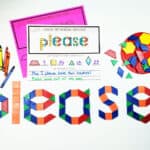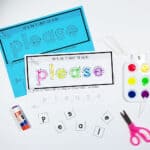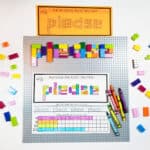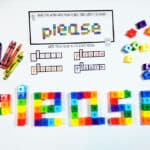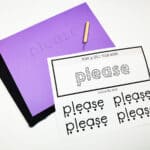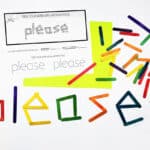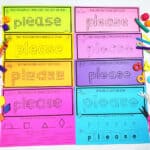 Editable Fine Motor Spelling Pack
eBook PDF Format
Spelling has never been so fun! This editable spelling pack is perfect for practicing sight words, spelling lists, or even names, while building key fine motor skills. Simply TYPE in the word you want your student to practice and it will AUTO FILL the word into 10 hands-on activity mats. Students will use playdough, letter magnets, snap cubes, bricks, pattern blocks, crayons, scissors, and even ASL as they learn to spell their word.  This set is amazing for spelling, sight word of the week programs, or even for helping your students learn their first and last names.   (See below for requirements)
⭐Budget-Friendly Pricing
⭐Simple, Low-Prep Format
⭐Interactive & Hands-On
⭐Friction-Free Homeschooling
⭐Meets or Exceeds Standards
⭐Multiple Students & Abilities
⭐Simple Format Outlines
⭐No Expensive Teacher Guides
⭐Encourages Independence
Description
Additional information
Reviews (0)
Description
With eight hands-on activity mats, your students are in for some Fine Motor Fun!  Try typing their names, or sight words, or any spelling words you want them to work on!  Here is a peek at each of the interactive activities: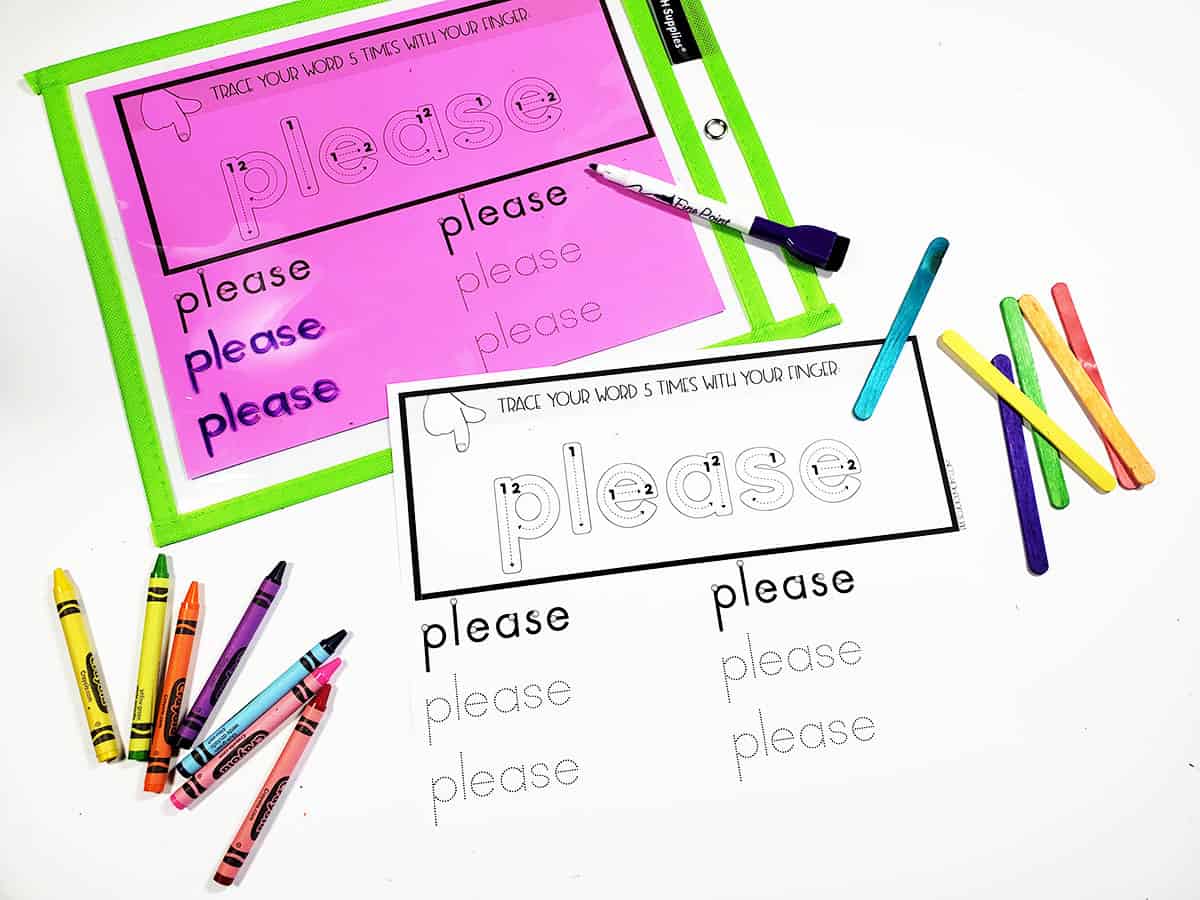 Editable Tracing & Write
Students trace the word with their finger 5 times. Then using the starting guides, students trace to write the word with a pencil below.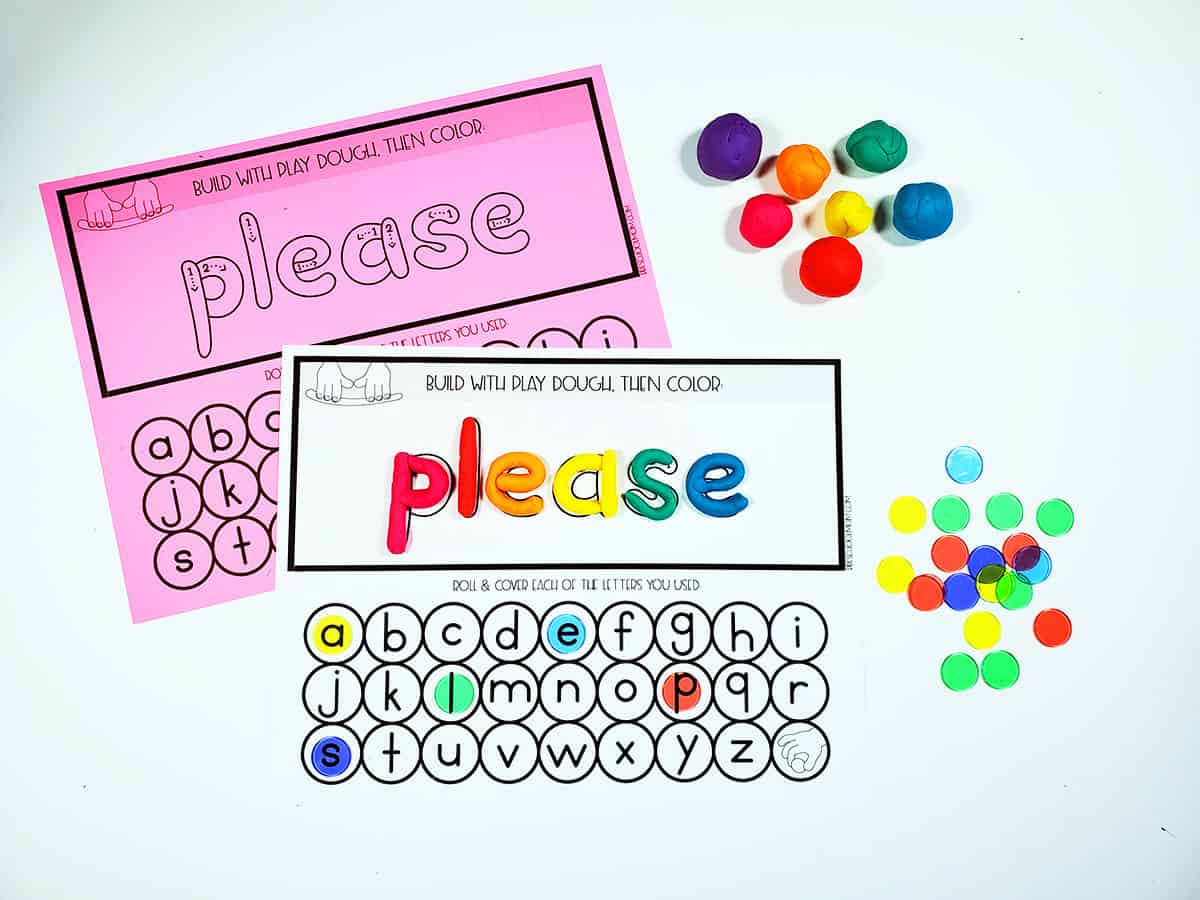 Editable Playdough Mat
Students roll playdough into thin strips to spell their word. Students then roll balls of dough and smash them on the letters they used in the word.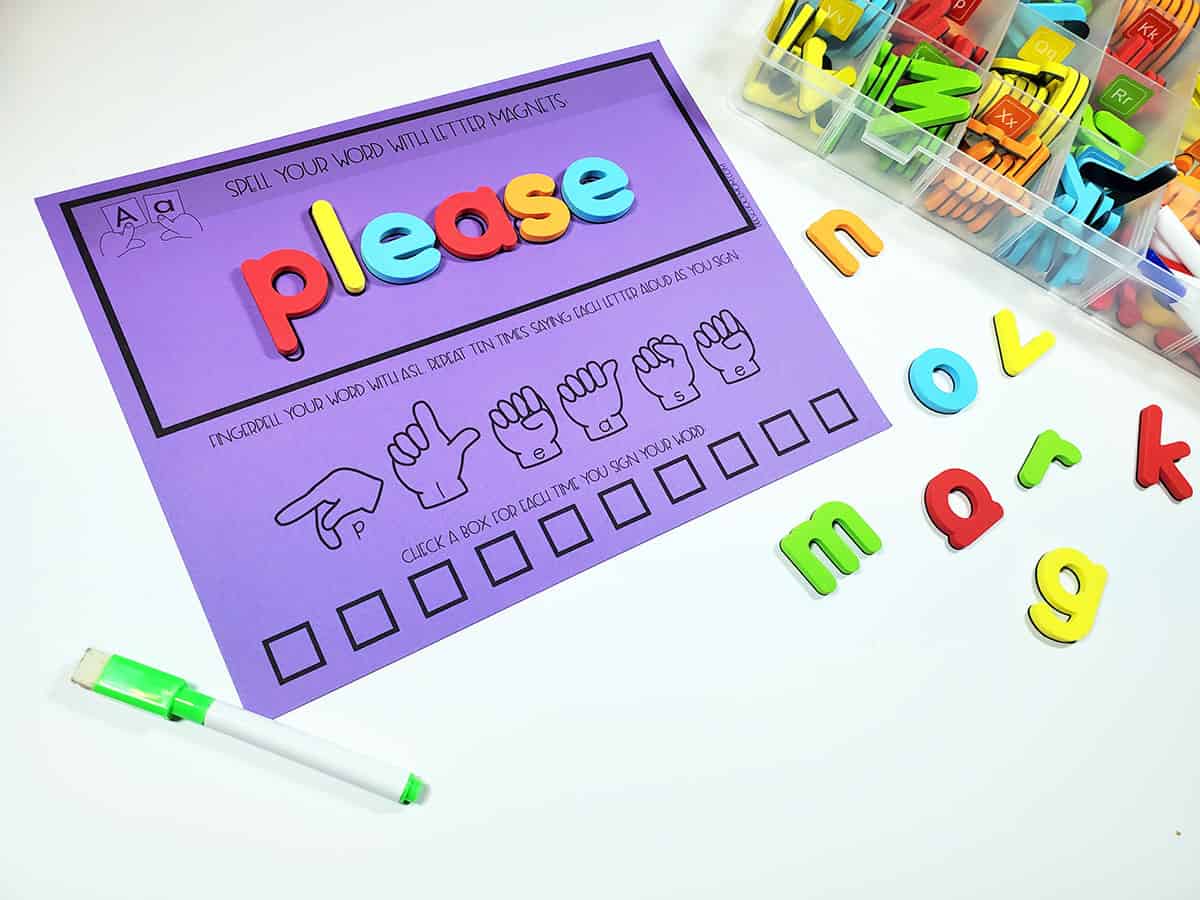 Editable Letter Magnets & ASL
Students build their word with letter magnets, then using fingerspelling to sign their word ten times. Students check the box each time they fingerspell the word aloud.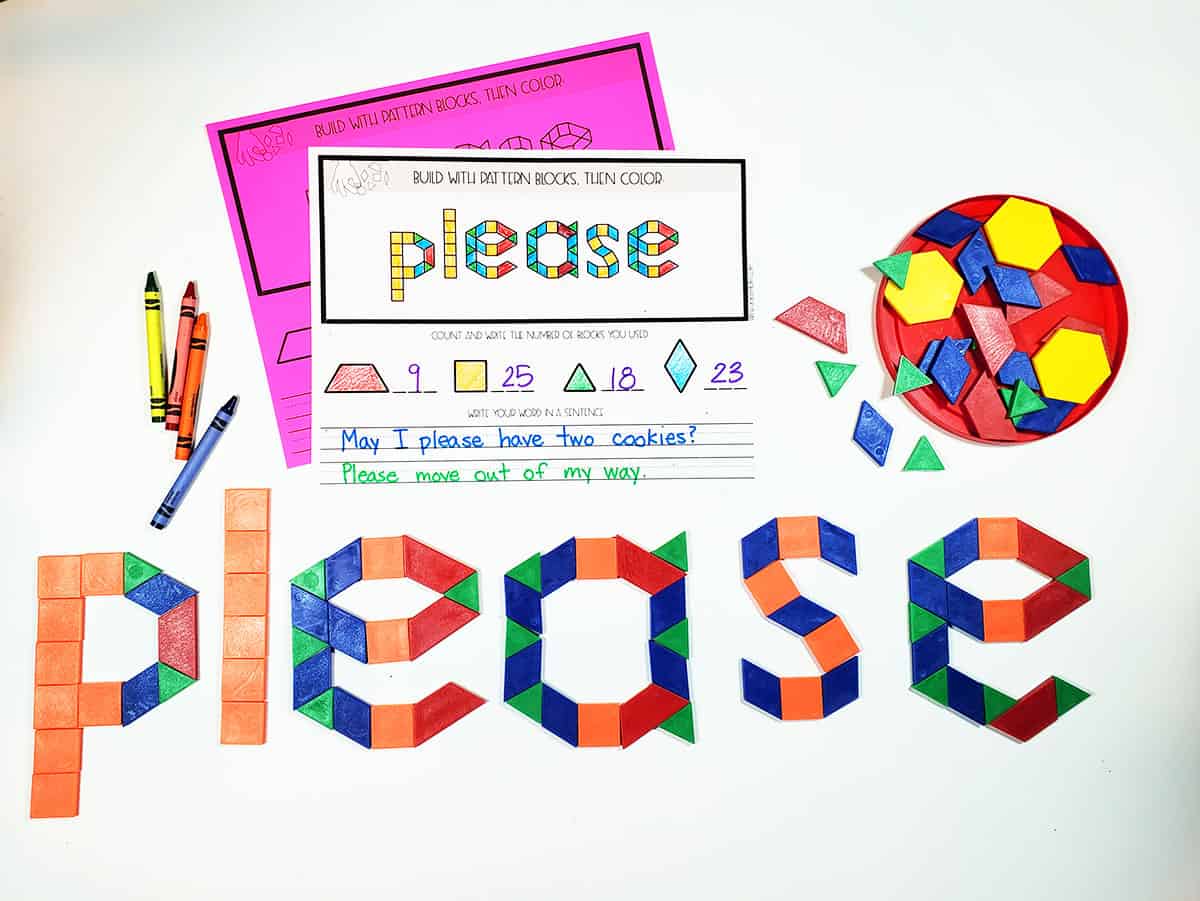 Editable Build & Write
Students build their word using pattern blocks. Students then count the number of blocks they used and write their word in a sentence.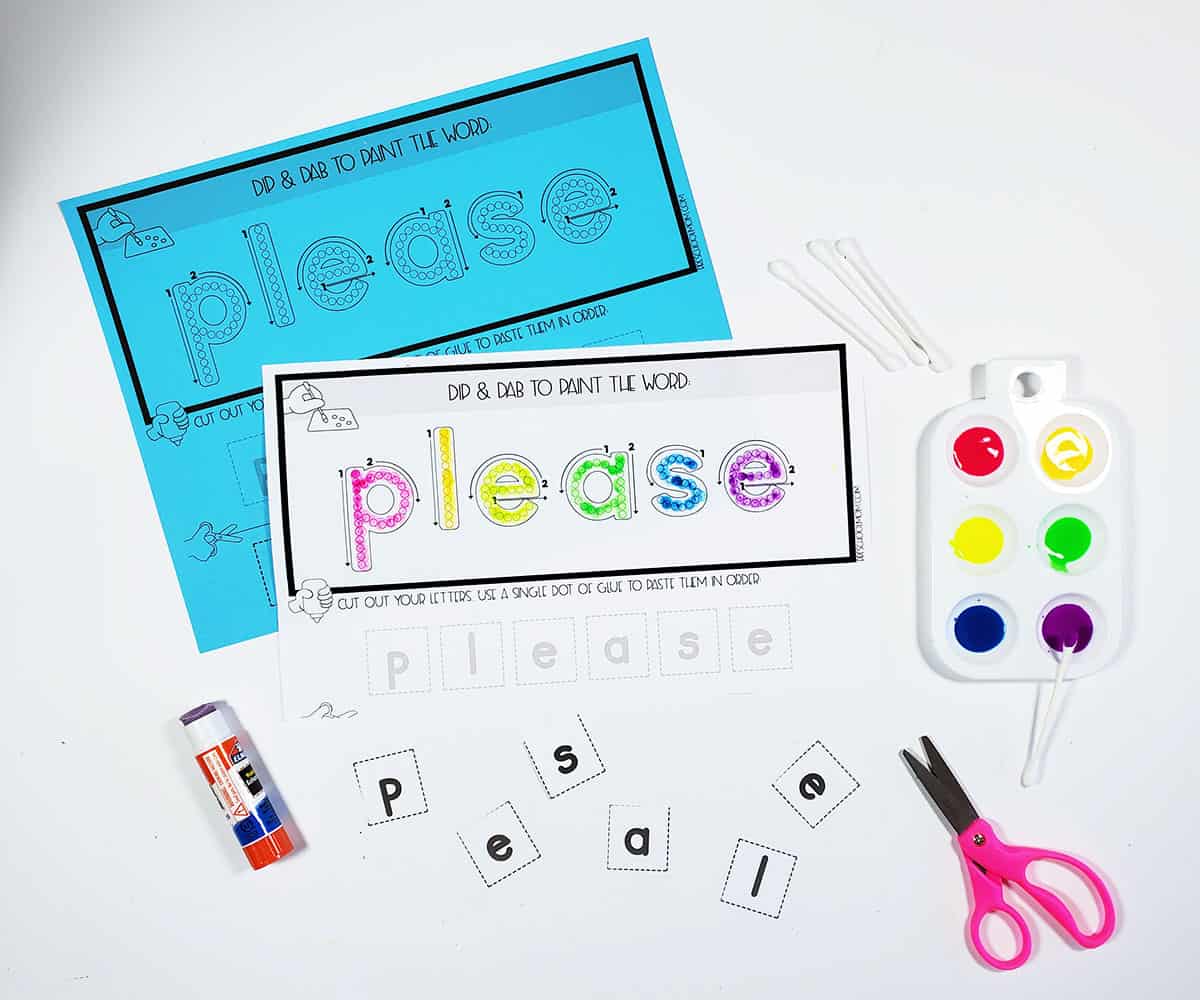 Editable Dab & Paint with Cut & Paste
Students use a cotton swab dipped into paint to follow the stroke order of the word. Then students use scissors and a dot of glue to spell their work.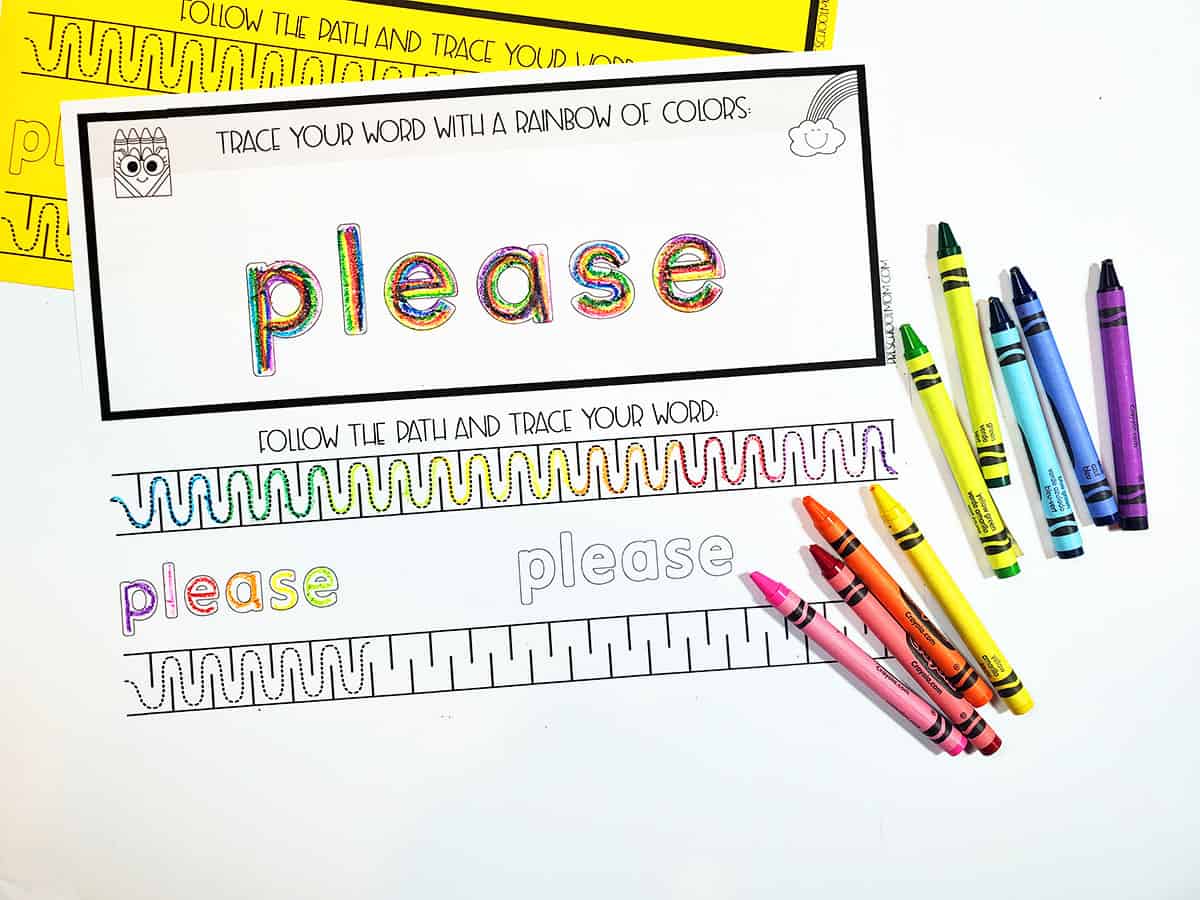 Editable Rainbow Trace & Path Maze
Students use a variety of colors to trace their words. Then students use a sharp pencil to trace the line through the path.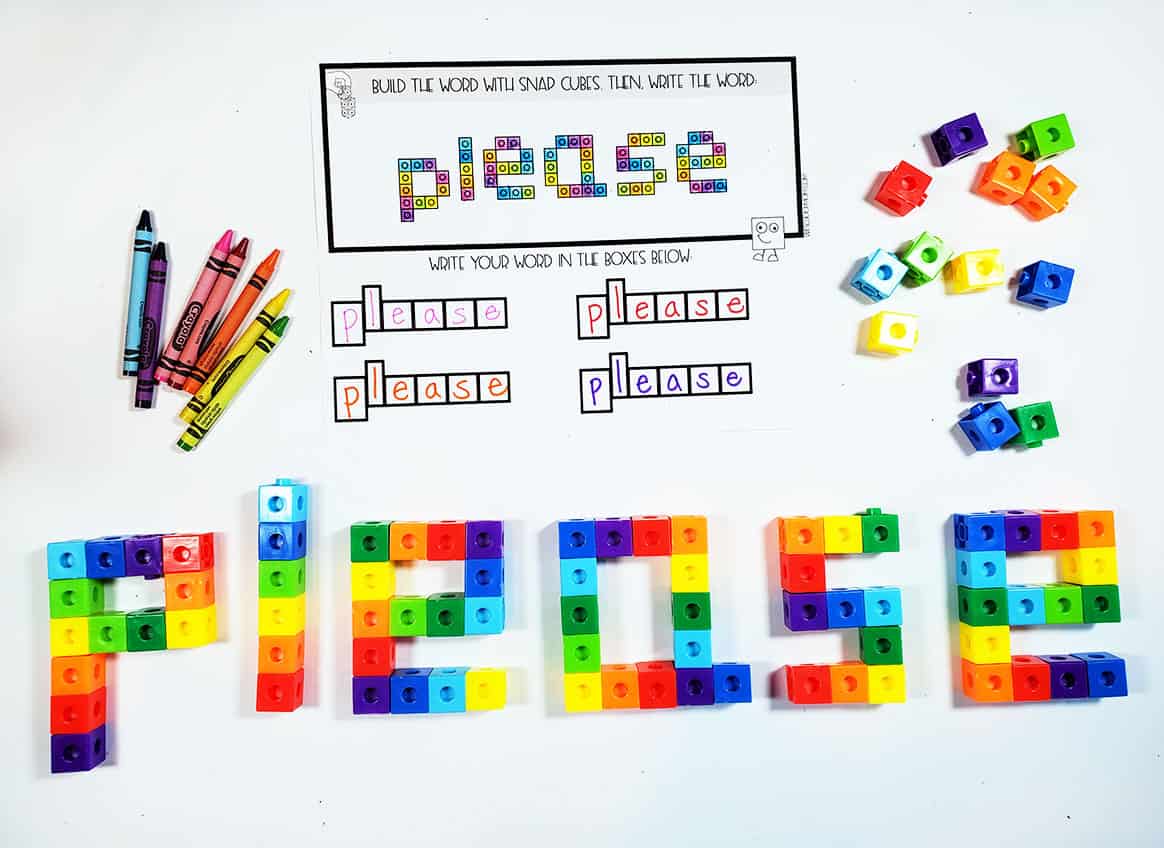 Editable Snap Cube
Students build their word with snap cubes. Next students write their word in the empty boxes.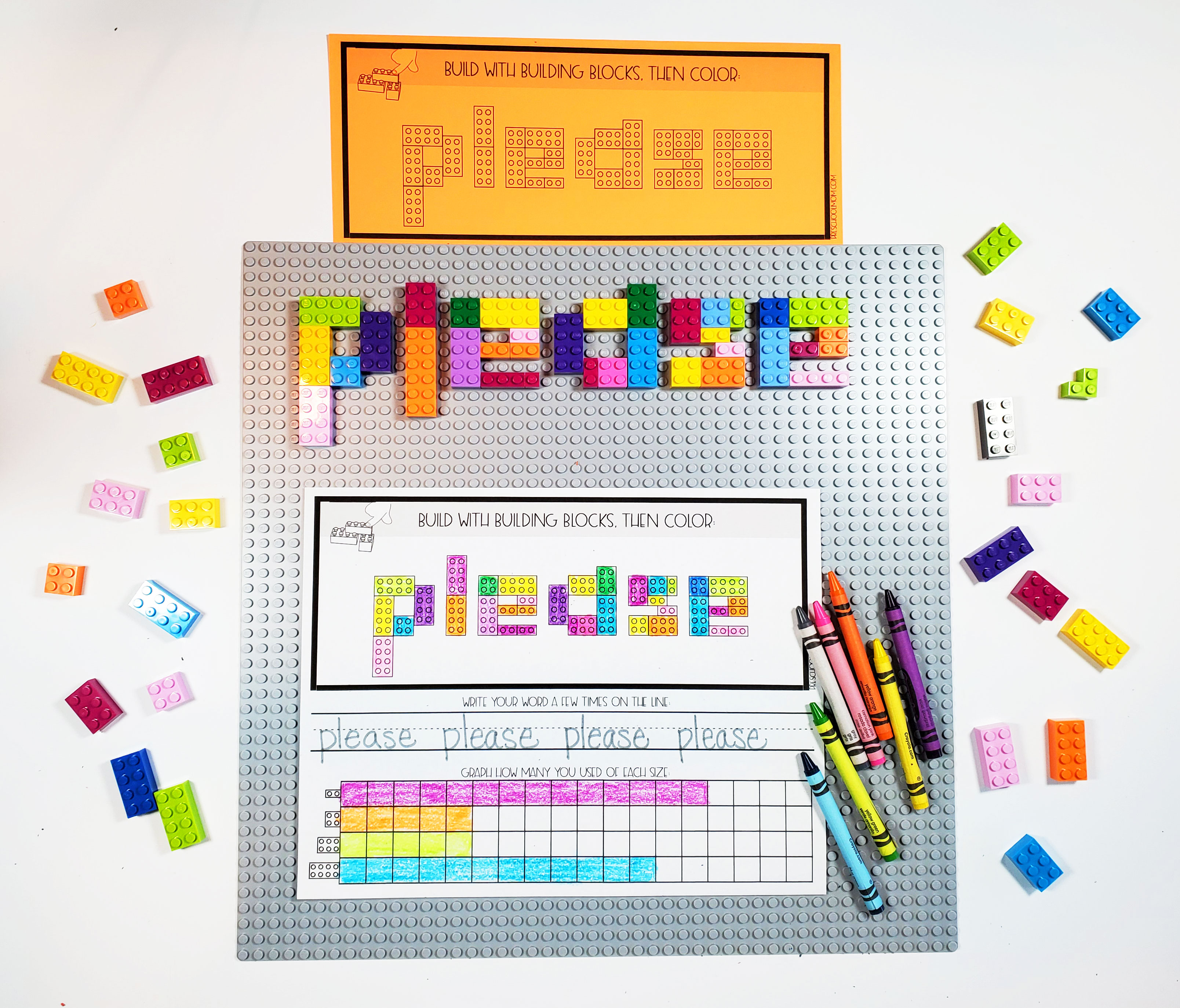 Editable Brick Building Mat
Students use LEGO™ or other classic building brick to build their word. Students then report on their build by graphing. Students practice writing their words below.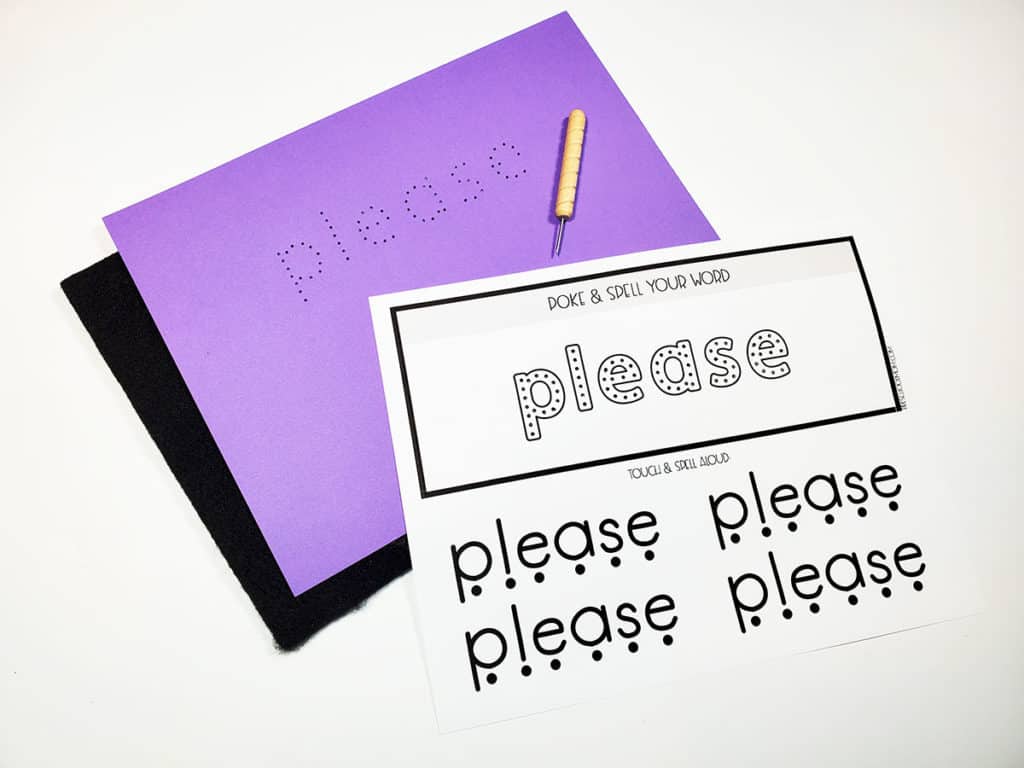 Editable Pin & Poke Mats
Students use a wooden puncher and a felt pad to poke the letters in their word. Students then touch the letter dots as they practice spelling their word aloud.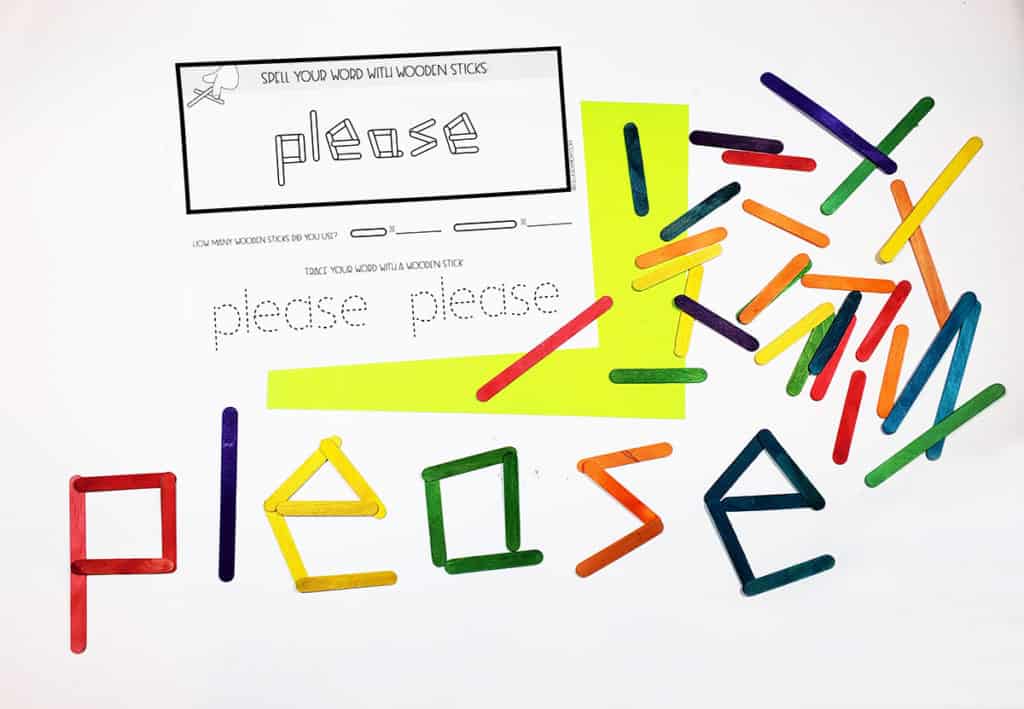 Editable Popsicle Stick Mats
Students create their word using popsicle sticks (full and half-sized required).  Next students use a popsicle stick as a pencil and trace the letters in their word.
REQUIRED MATERIALS (Recommended Products)
Snap Cubes
Letter Magnets
LEGO™ or other Classic Building Bricks
Pattern Blocks
Play Dough
Popsicle Sticks (Full & Half Sizes)
Crayons
Q-Tip ™ or other Cotton Swab
Paint
Scissors & Glue Sticks
What's Included:
This pack includes 8 different spelling activity mats. Each mat provides students with an opportunity to practice their spelling word using manipulatives and fine motor skills.
How to Use:
Follow the 5-Step instructions on the first page of this document (see above). You'll type the word you want to work on in the first text box. The word will populate for all 8 activity mats. You can then "Print" and/or "Save As" so your student can work on that word with all the different activities. Just be sure to rename the file to something unique when you save.
Ideas: Try typing in your child's name, your sight word of the week, or any word you want to practice hands-on spelling with. NOTE: You can type in a word of any size and the font will shrink to fit the allocated area.  However,  note that for the larger words the font size has been decreased so the letter magnets won't fit exactly on the board, and there may be smaller tracing fonts and things throughout the file.  In these cases have children build the work with letter magnets on a separate board and not directly on the learning mat.
Please follow the steps exactly to use your product:
IMPORTANT: HOW TO EDIT INSTRUCTIONS
OPENING THE FILE IN A BROWSER OR OTHER PROGRAM WILL NOT ALLOW EDITING.
Step 1: DOWNLOAD A FREE COPY OF ADOBE READER HERE. INSTALL IT ON YOUR COMPUTER. (YOU MAY NEED TO RESTART YOUR COMPUTER AFTER INSTALL)
Step 2: DOWNLOAD THE PDF FILES TO YOUR COMPUTER. YOU MUST DOWNLOAD THEM TO A DESKTOP COMPUTER. PHONES, TABLETS etc…WILL NOT WORK.
Step 3: FIND THE EDITABLE FILE ON YOUR COMPUTER. RIGHT CLICK THE FILE AND CHOOSE OPEN WITH ADOBE READER. NOT ALL COMPUTERS WILL OPEN AUTOMATICALLY WITH ADOBE READER SO THIS STEP IS NECESSARY. DO NOT OPEN THE FILE WITH ADOBE XI, OR OTHER ADOBE PROGRAM, IT MUST BE ADOBE READER.
Step 4: ONCE YOU HAVE OPENED THE FILE IN ADOBE READER, CLICK THE EMPTY TEXT BOX AND TYPE YOUR WORD. THE WORD WILL POPULATE FOR ALL PAGES. (YOU MAY NEED TO GIVE IT A MOMENT, SCROLL DOWN, CLICK AWAY etc…)
Step 5: CLICK "PRINT." OR, "SAVE AS" TO SAVE A COPY OF THE FILE WITH THE WORD, JUST BE SURE TO NAME IT SOMETHING UNIQUE. IF YOU DON'T RENAME IT OR IF YOU CLICK "SAVE" INSTEAD OF "SAVE AS" YOU WILL OVERWRITE YOUR EDITABLE VERSION OF THE FILE. IF YOU ACCIDENTALLY OVERWRITE YOUR EDITABLE VERSION, RETURN TO THE STORE AND DOWNLOAD ANOTHER EDITABLE COPY OF THE FILE AND SAVE IT TO A NEW LOCATION.
Additional information
| | |
| --- | --- |
| Product License | Homeschool, Classroom |