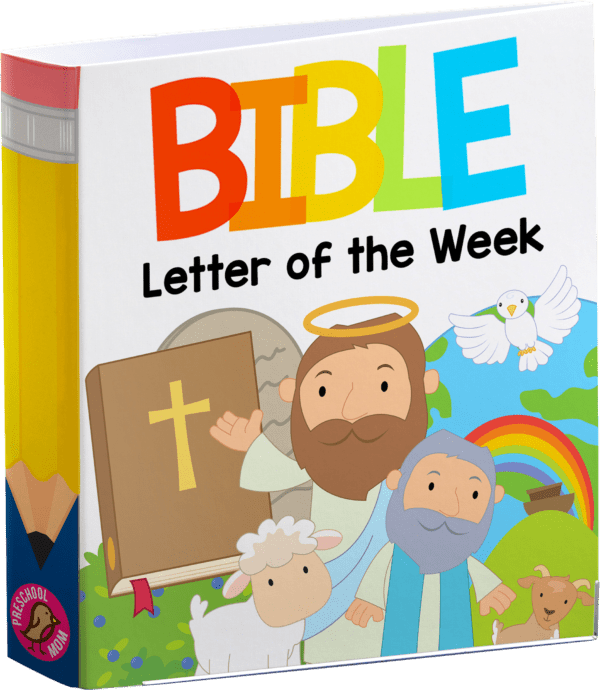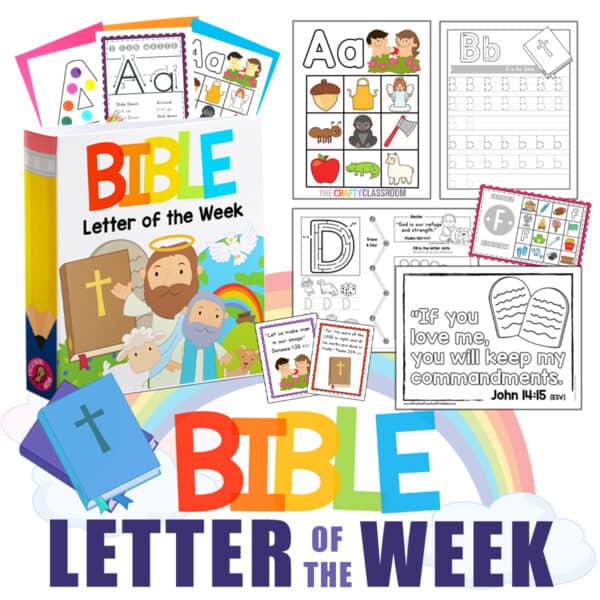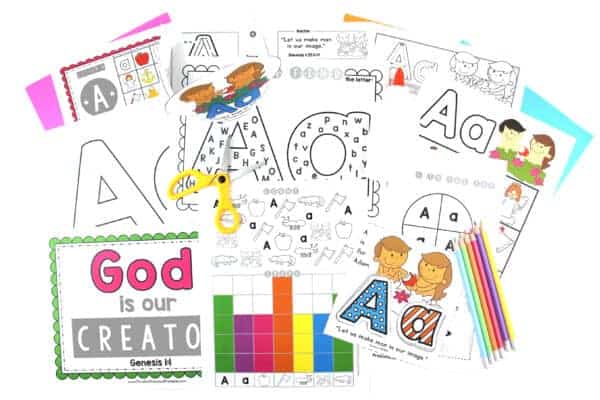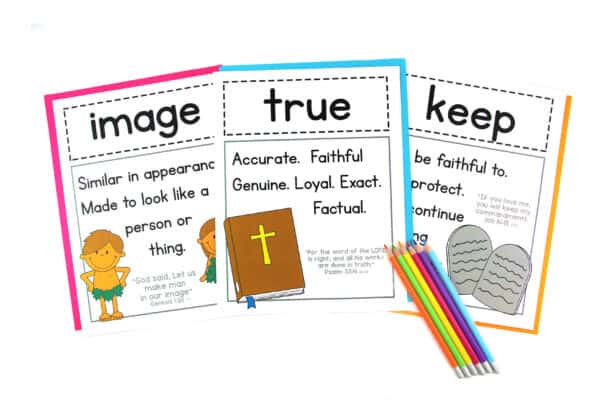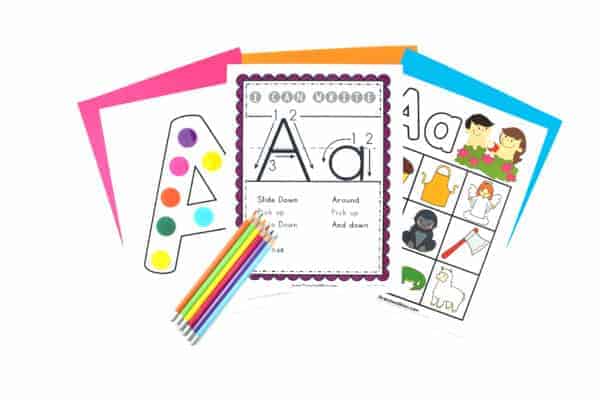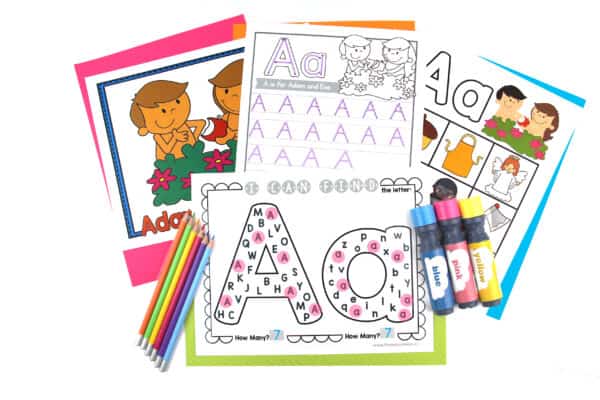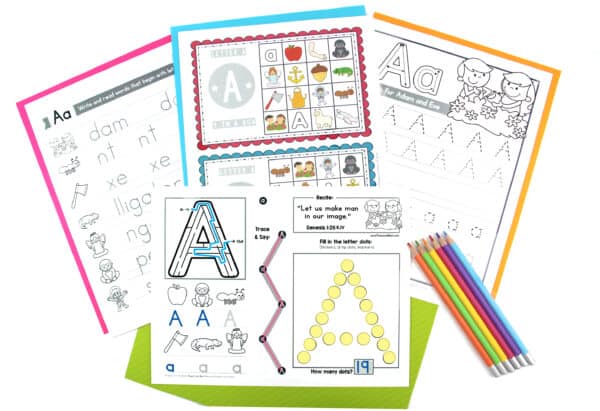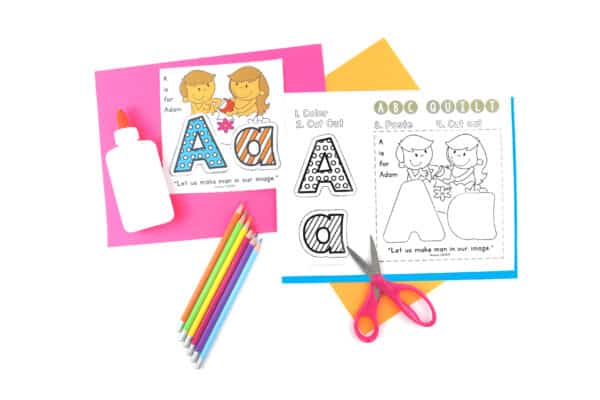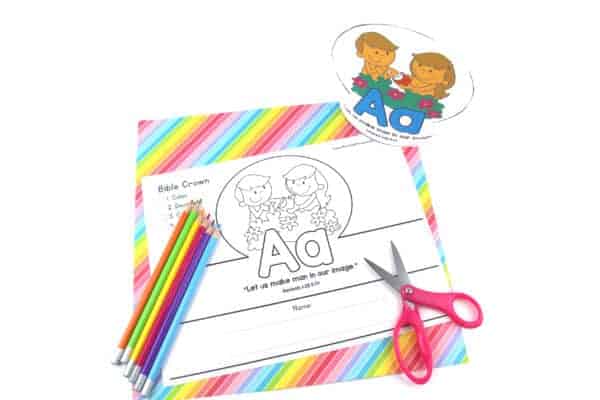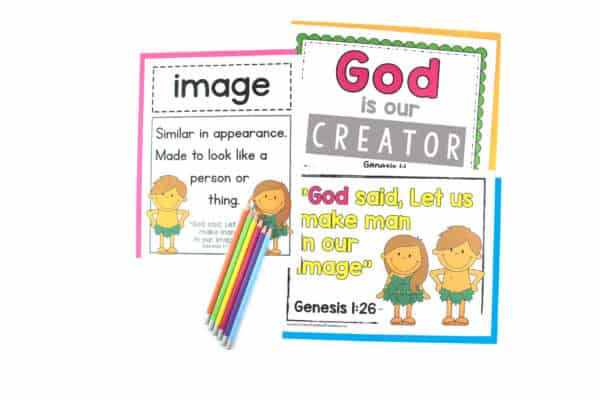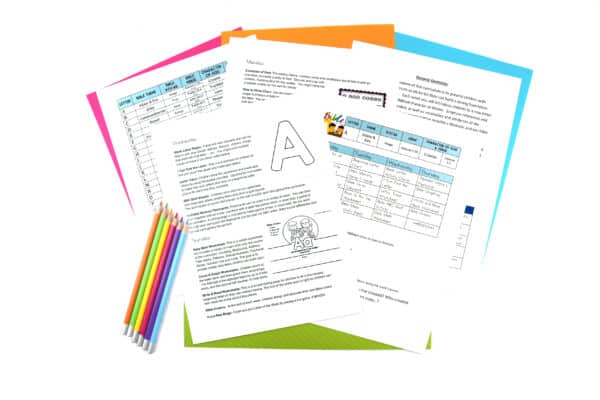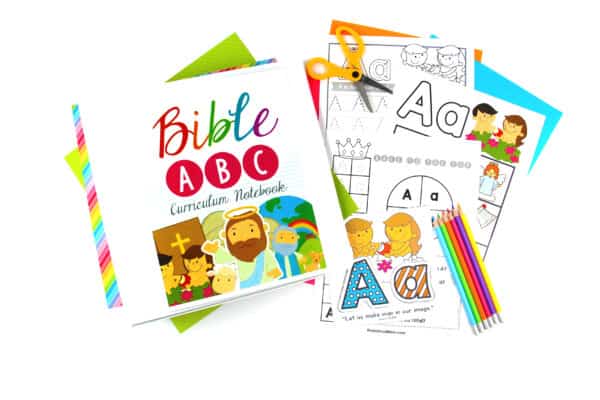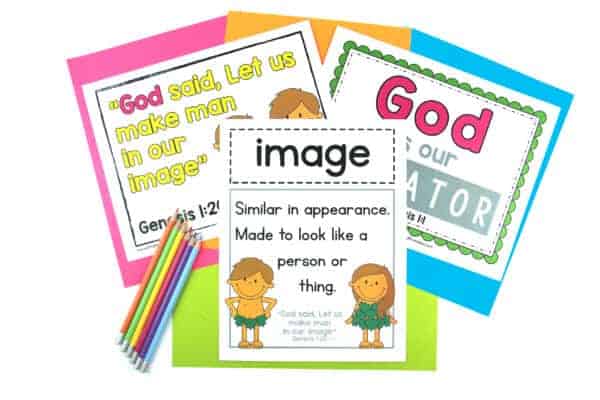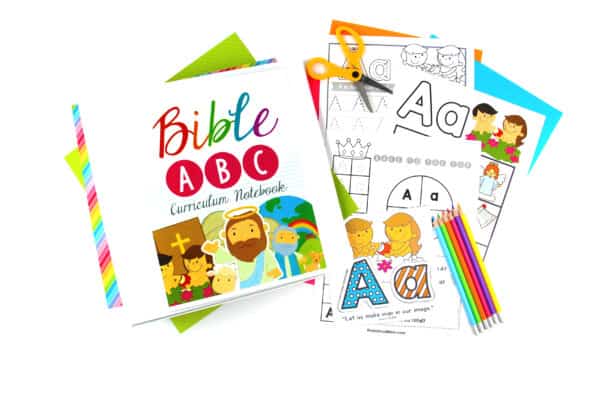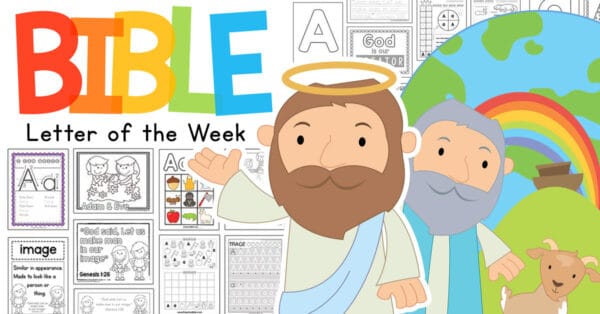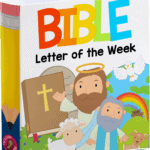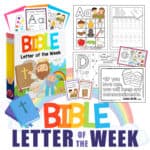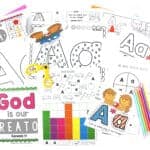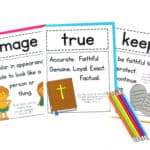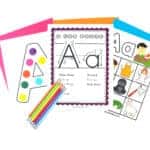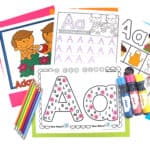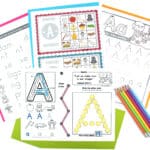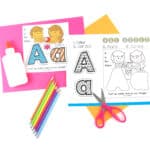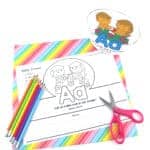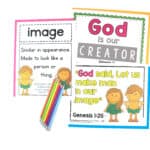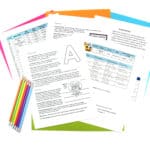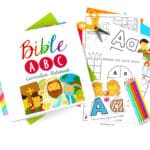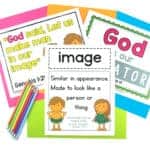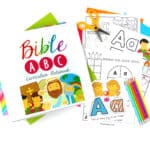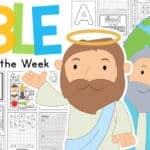 Bible ABC Curriculum Notebook
Sample         Format: PDF        Grade: P-K4        Pages: 658    BUNDLE & SAVE!
Our Bible Letter of the Week Preschool Curriculum is a wonderful way to introduce your students to God's word.  These weekly interactive and engaging lessons include scripture memorization, Bible vocabulary, the character of God, and corresponding biblical themes and characters.  With over 600 pages of weekly Bible activities, games, worksheets, charts, coloring pages, and math explorations, your students will hit key preschool standards while learning God's word. 
Scheduled over a 4-day week, our Bible Alphabet Curriculum is designed for homeschool, classroom, and Sunday School settings.  Pair with our Shape of the Week and Number of the Week Preschool Curriculum for a robust preschool experience. 
Please note this is a downloadable product only, nothing physical will be mailed.  Binder in photos is for illustrative purposes only.
⭐Budget-Friendly Pricing
⭐Simple, Low-Prep Format
⭐Interactive & Hands-On
⭐Friction-Free Homeschooling
⭐Meets or Exceeds Standards
⭐Multiple Students & Abilities
⭐Simple Format Outlines
⭐No Expensive Teacher Guides
⭐Encourages Independence
Description
Additional information
Reviews (25)
Description
Bible ABC Letter of the Week Curriculum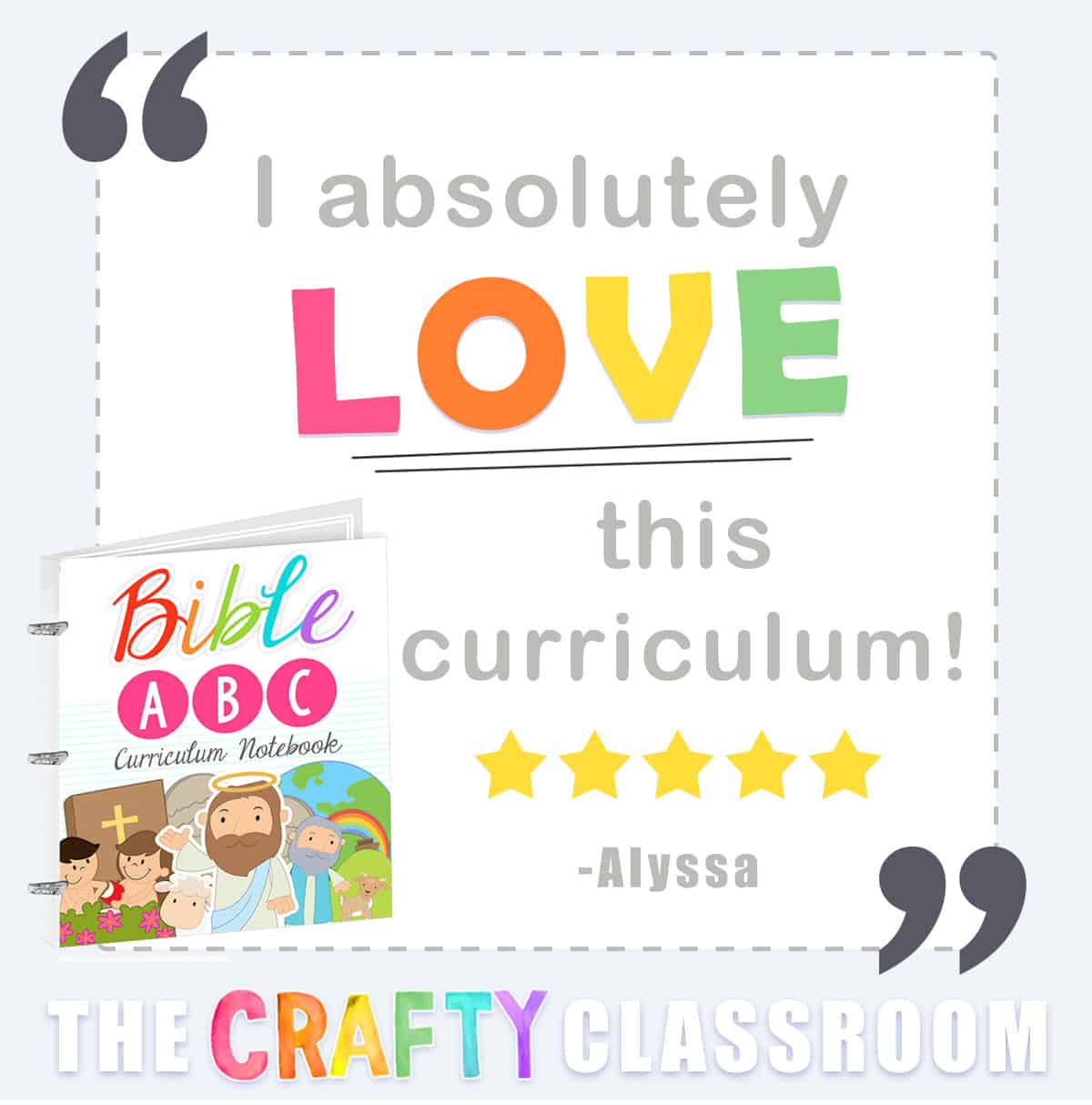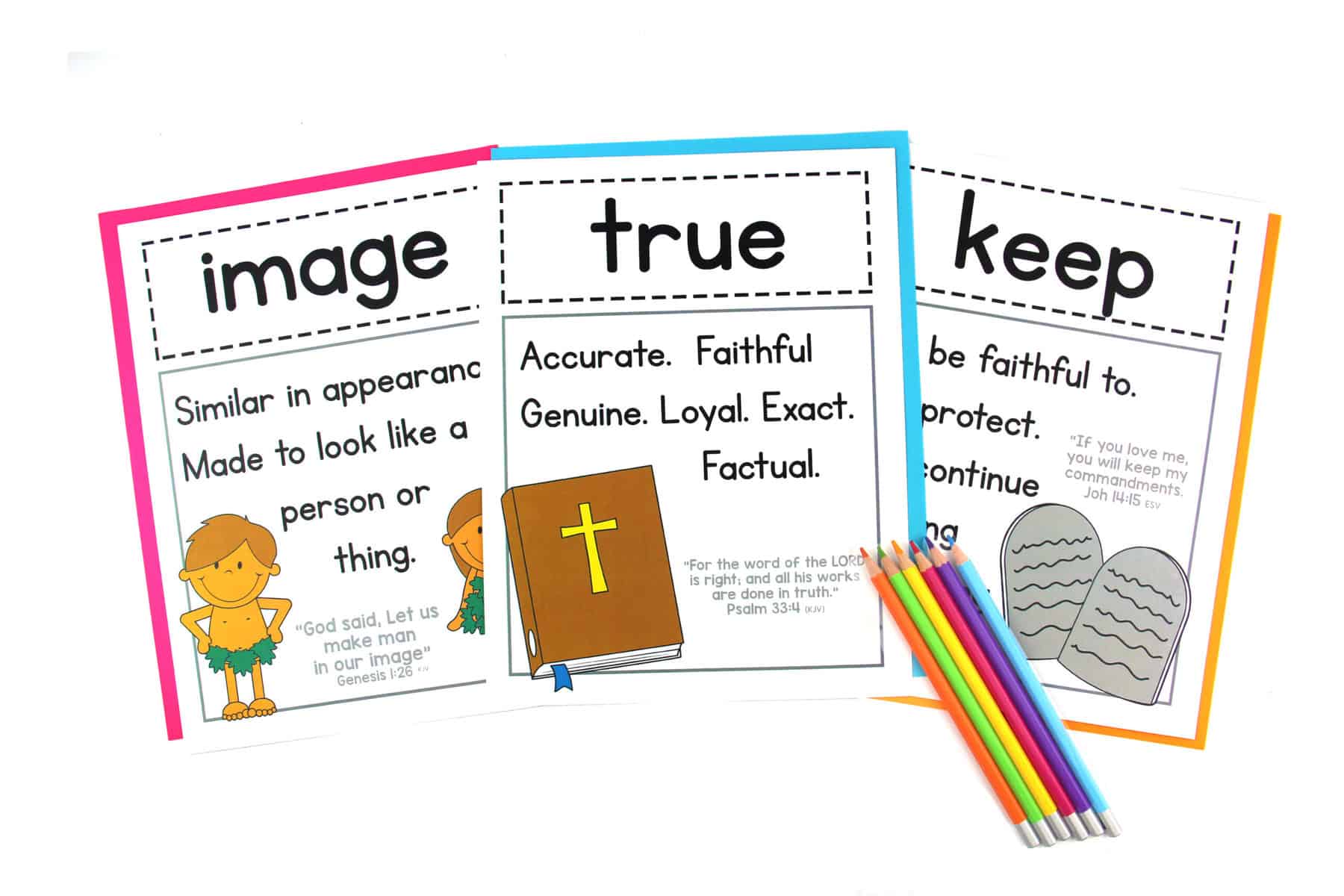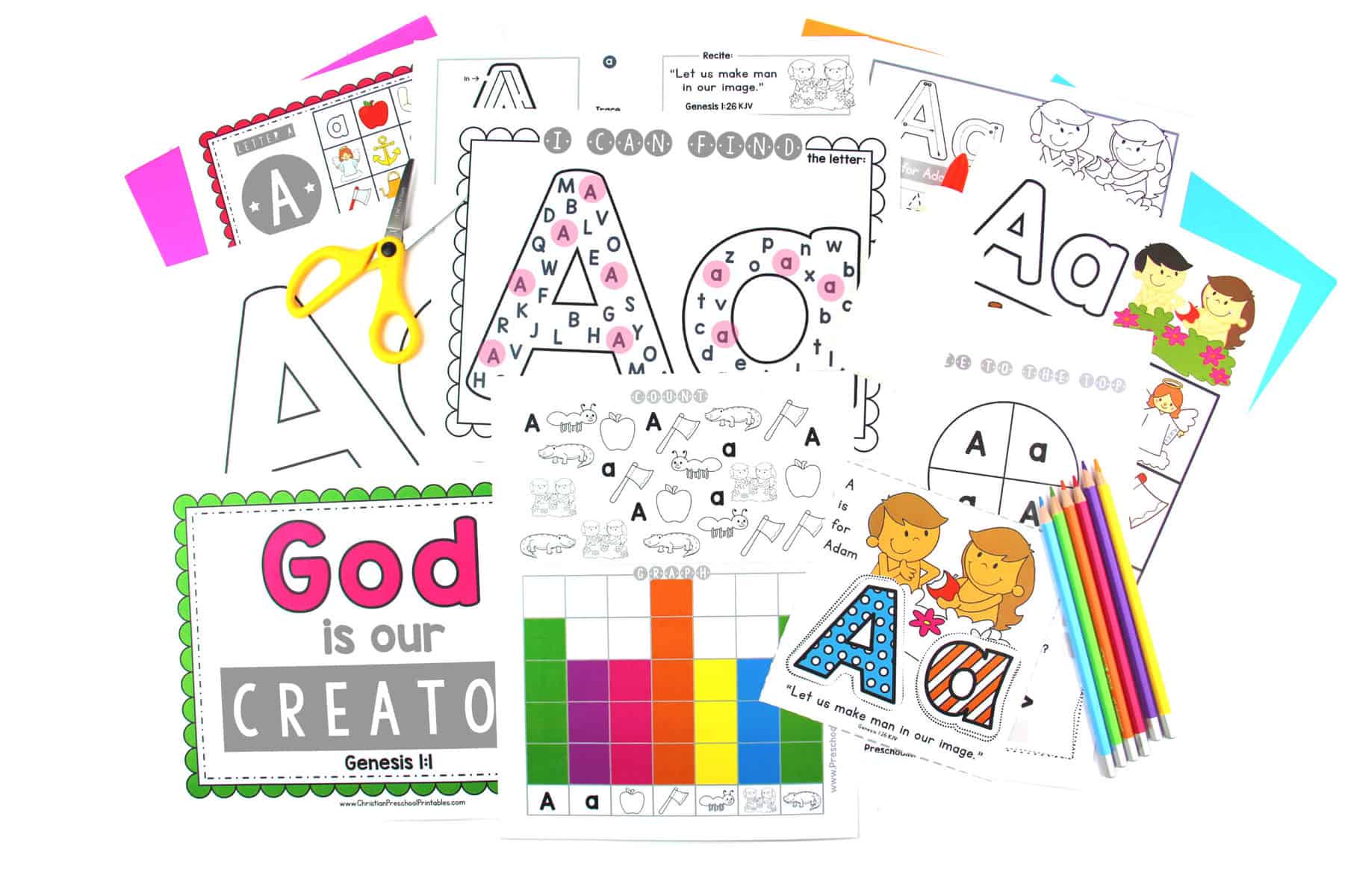 Preschool ABC Bible Curriculum
Product Overview
Introduce the ABCs with Bible-themed words and so much more with our hands-on Bible ABC Curriculum! Our interactive and engaging lessons include scripture memorization and corresponding biblical themes and characters. Covering the entire alphabet each week from A-Z, our no-prep, print-&-go program contains a whooping 600 + pages of Bible activities, games, worksheets, charts, coloring pages, and math explorations, and so much more! Your students' skill levels will soar with so many activities and games to discover. Scheduled over a 4-day week, the Bible Alphabet A to Z Curriculum is designed for so many environments including homeschool, classroom, and Sunday School or church settings.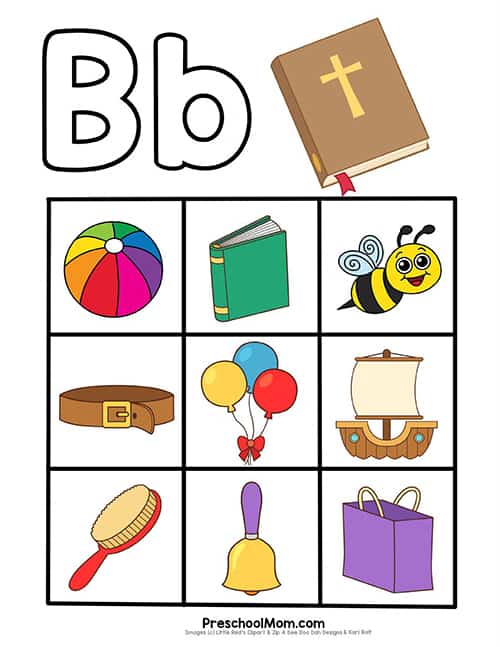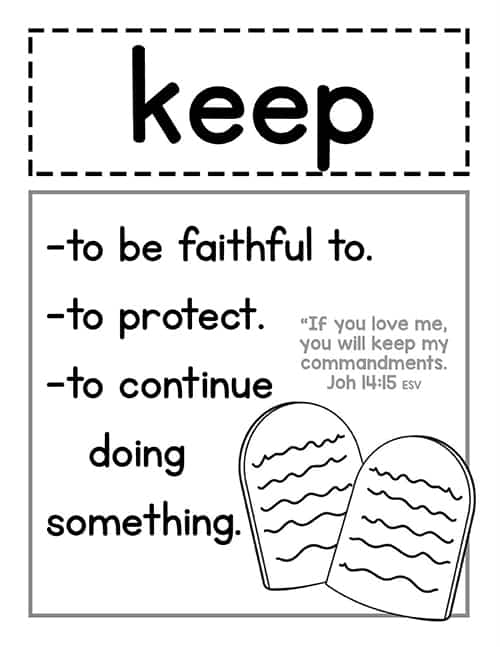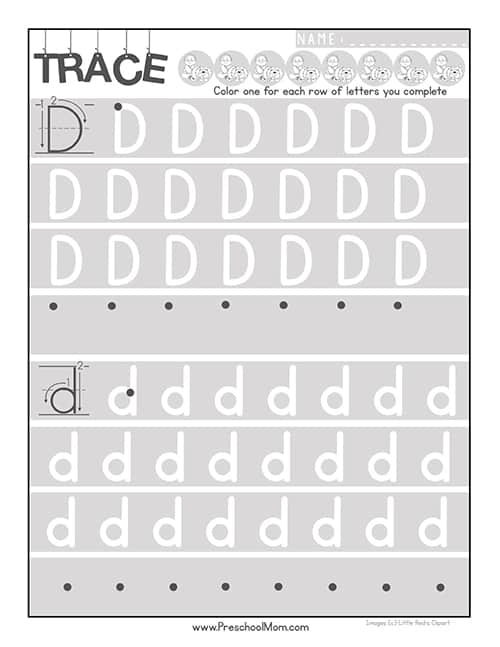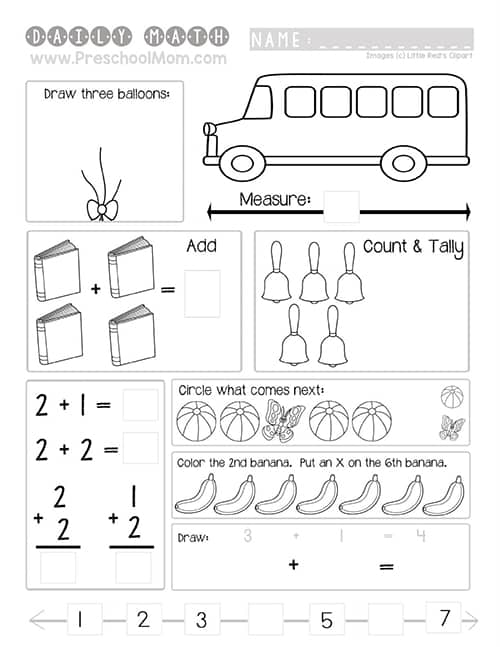 Covers Key Standards & Skills
What's Included:
This Bible ABC set includes many activities and games including:
Character of God Chart

Bible Verse Chart

Bible Vocabulary Chart

Letter Chart

Beginning Letter Bible Coloring Page

Bible Verse Coloring Page

Bible Themed Quilt Letter Square w/Cutting Activity

Blank Letters (x3 for coloring or art projects)

Tracing Worksheet

Handwriting Worksheet

Bible Verse Copywork Page

Find the Letter Worksheet

Beginning Letter Worksheet

Daily Math Worksheet

Count & Graph Worksheet

Spin & Race to the Top Worksheet


Bible Verse Crown Number Mats
Skills Covered:
Our amazing hands-on worksheets and games build and develop a wide variety of skills including:
Godly Character Development

Long Term Memorization Skills

Extensive Vocabulary Building

Alphabet Letter Recognition

Uppercase & Lowercase
Letter Sounds

Beginning Words

Prewriting & Handwriting Skills

Copywork Practice

Tracing Exercises

Fine Motor Skills

Counting Ability

Sequential Order

Concentration & Following Directions

Logic and Reasoning Skills

Graphing & Comparing

Matching & Visual Discrimination
How to Use:
In a simple, weekly format, introduce students to a new letter and a corresponding Biblical character or theme. Scripture references and talking points are provided; plus advanced vocabulary and attributes of the character of God. Scripture memorization includes a thematic and key Bible Verse from the KJV and ESV Bible Versions each week. This pack includes a suggested weekly guide for 26 weeks implementing a Letter of the Week style binder in homeschool, classroom or church environment. Here is a weekly overview of the included daily activities: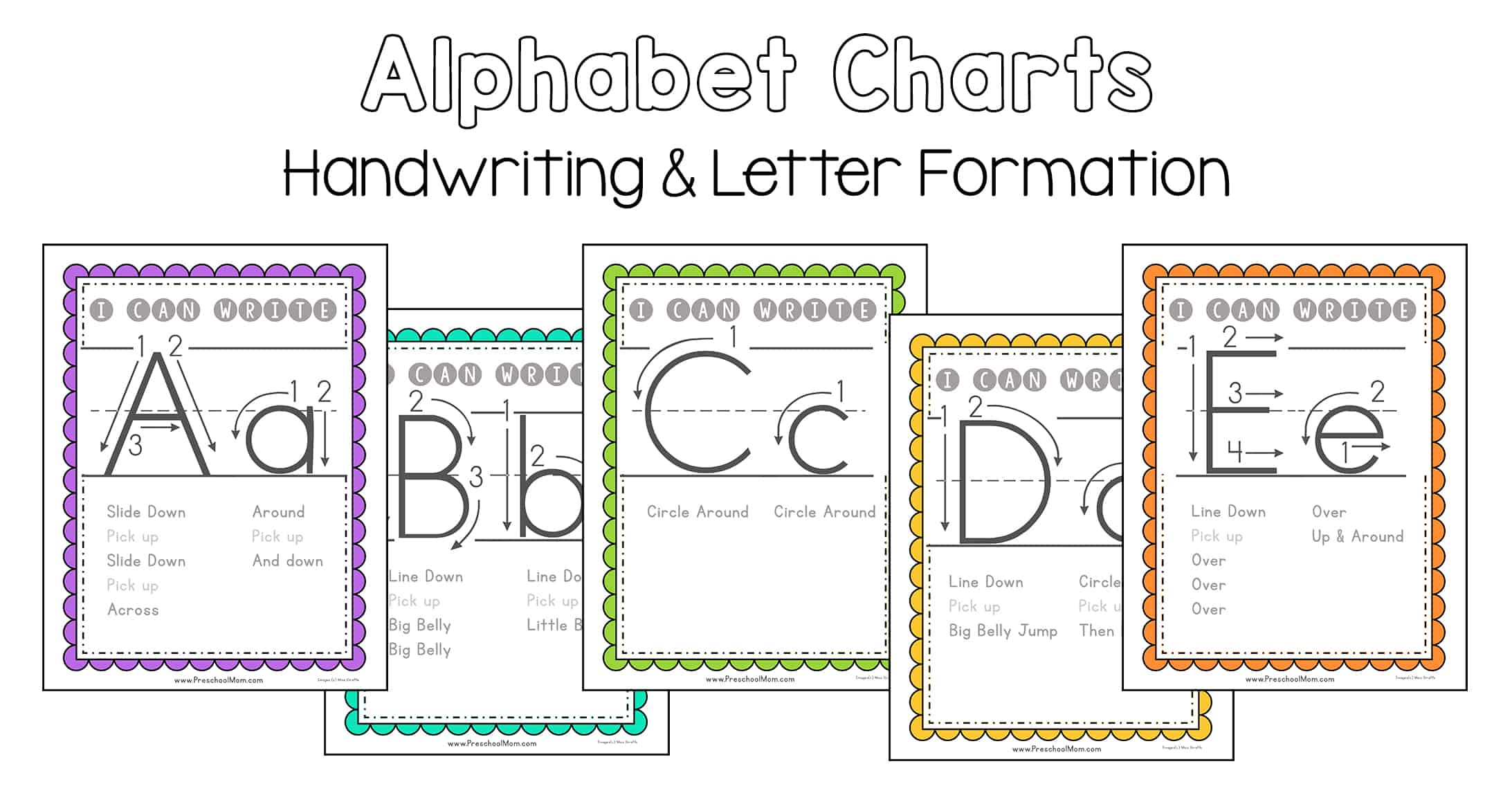 Alphabet Charts
Students build important letter formation skills for each letter of the alphabet. With step-by-step instructions, your student can follow along easily, no more concerns about students learning to form letters the wrong way! These make great letter charts as well, hang in your classroom for reference.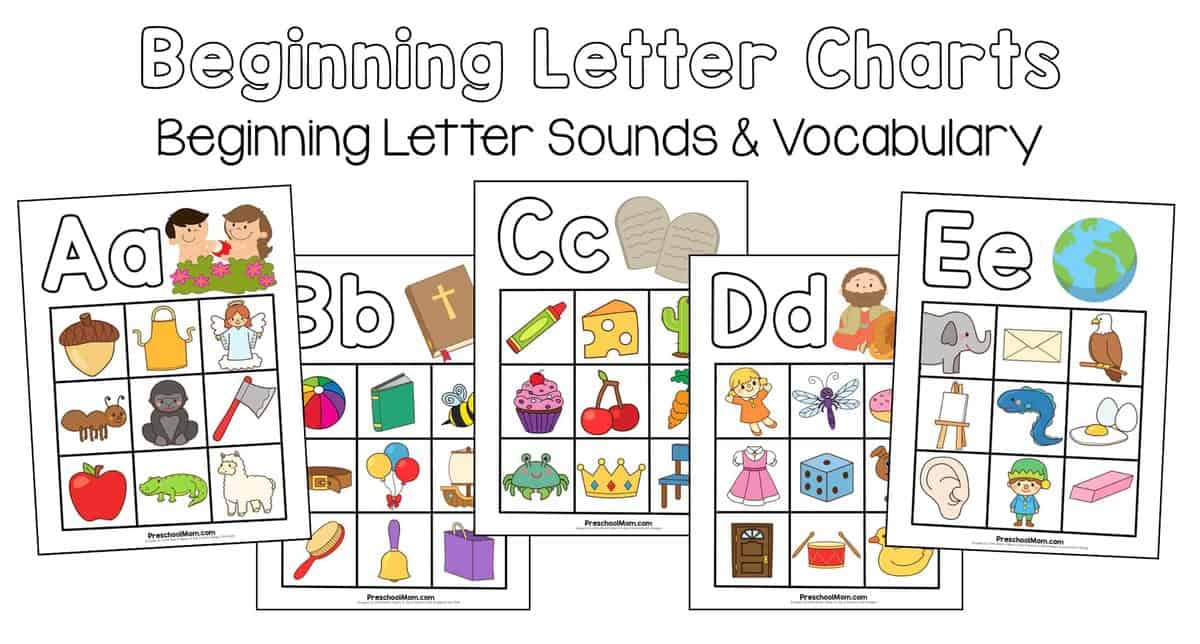 ABC Bible Letter Charts:

Our Beginning Sounds & Vocabulary Letter Charts are wonderful tools for teaching sounds and new words! Sound out each beginning letter as you practice each new word in the colorful chart provided.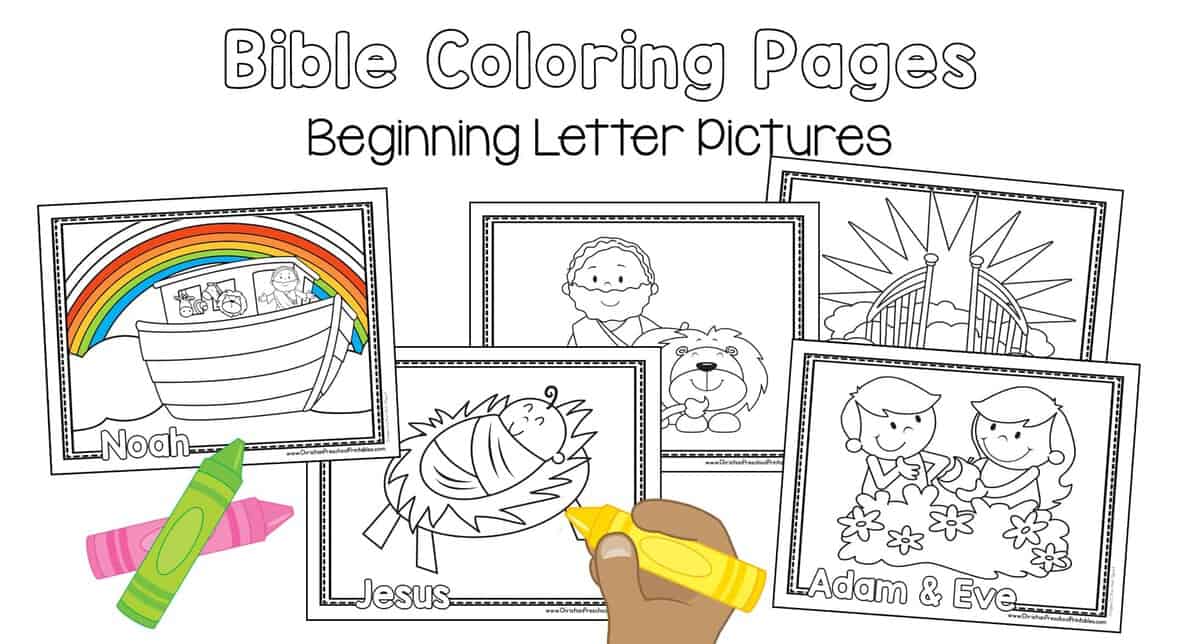 Alphabet Coloring Pages;

Our Bible ABC Coloring pages are perfect for your preschoolers. Whether you're a Christian school, homeschool, or classroom, your students will enjoy getting creative with our ABC Coloring Worksheets with Bible-based words!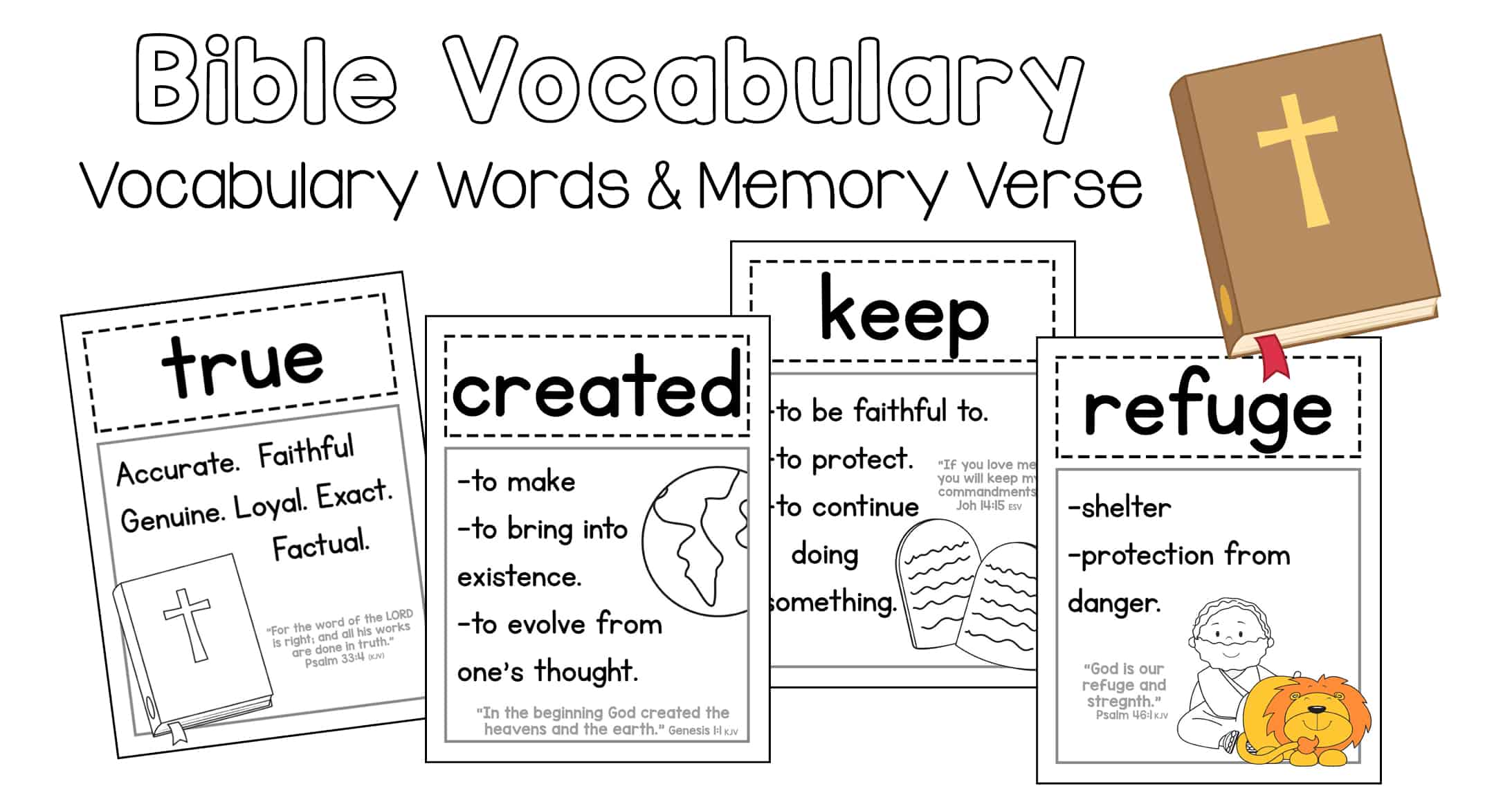 Bible Vocabulary Sheets:

Students learn new Bible-based vocabulary words to help them understand their new Bible Verses. Help children read their new words and understand them as they memorize scripture. Students can also color each worksheet and take home.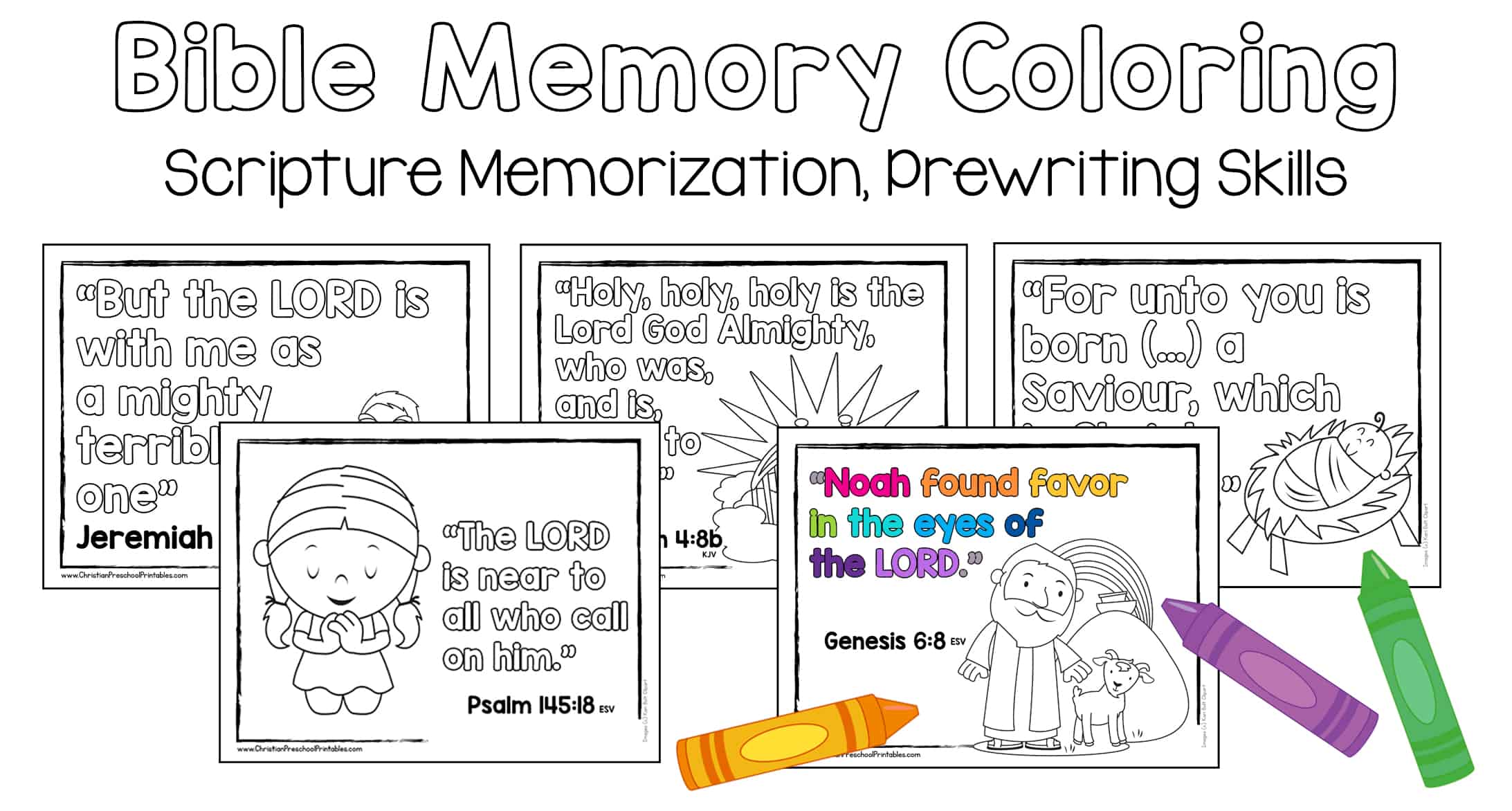 Bible Memory Verses:

Learning Bible Verses is key for Christian families who want to build Bible knowledge. These Bible Verse charts are great to color, memorize, and hang on the wall for students. Start by reading together the scripture, talk about its meaning, ask the child to color for reinforcement. Give children many opportunities to say their Bible passage over and over again!

Alphabet Writing Practice Pages:

Teachers, get excited about these letter tracing worksheets you can use over and over for your classroom or homeschool. Once your child has practiced learning the correct letter formation, it's now time to master their new alphabet writing skills! These ABC writing worksheets will help your child gain confidence and lots of practice with pre-writing skills with an easy guide above.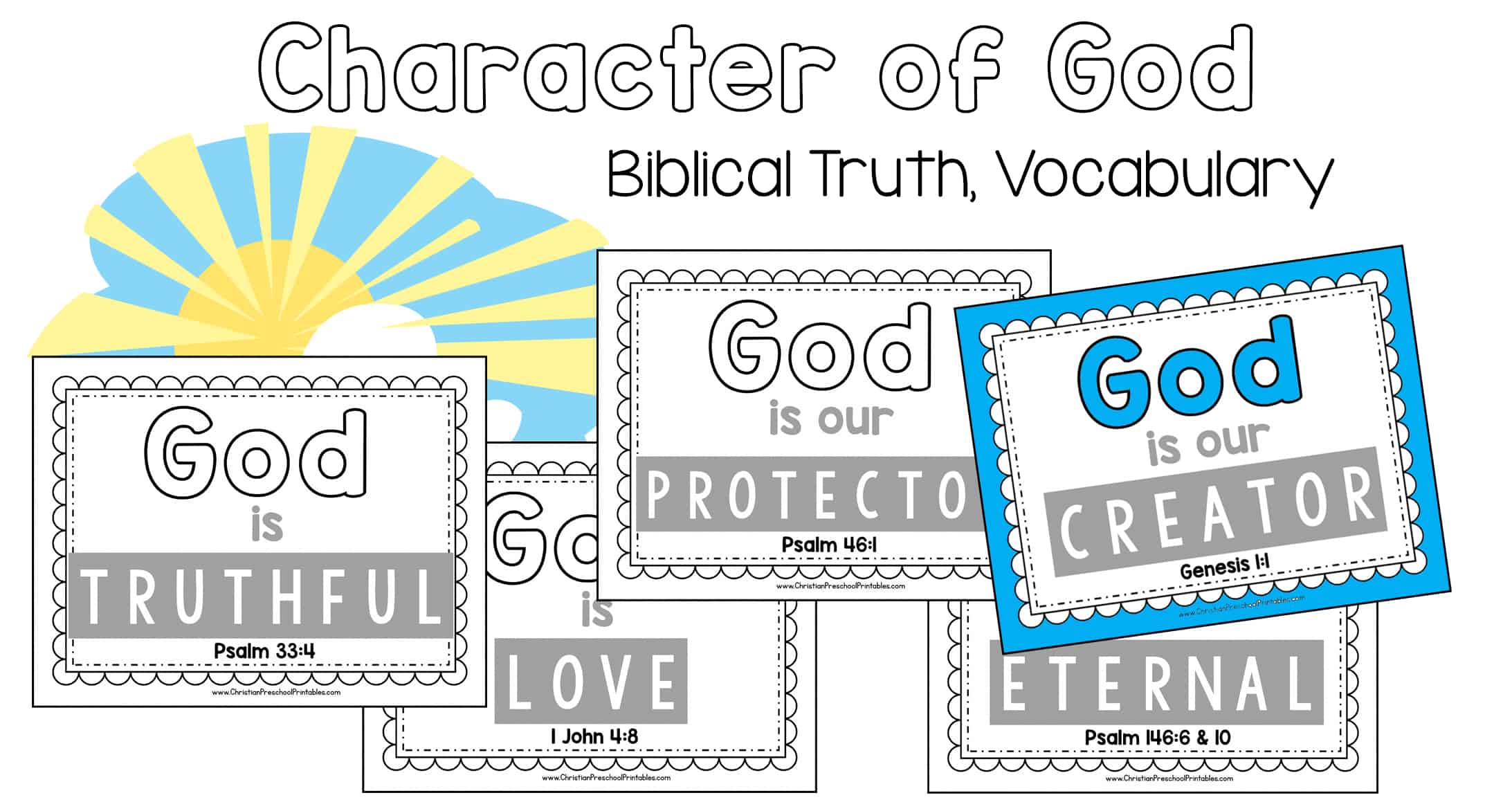 Character of God Charts:

Teach children the wonderful attributes of God with these amazing names of God. These Character of God charts are perfect additions to the wall, coloring pages, memory and vocabulary exercises, and more! Show students how to easily look up Bible verses too in their own Bible.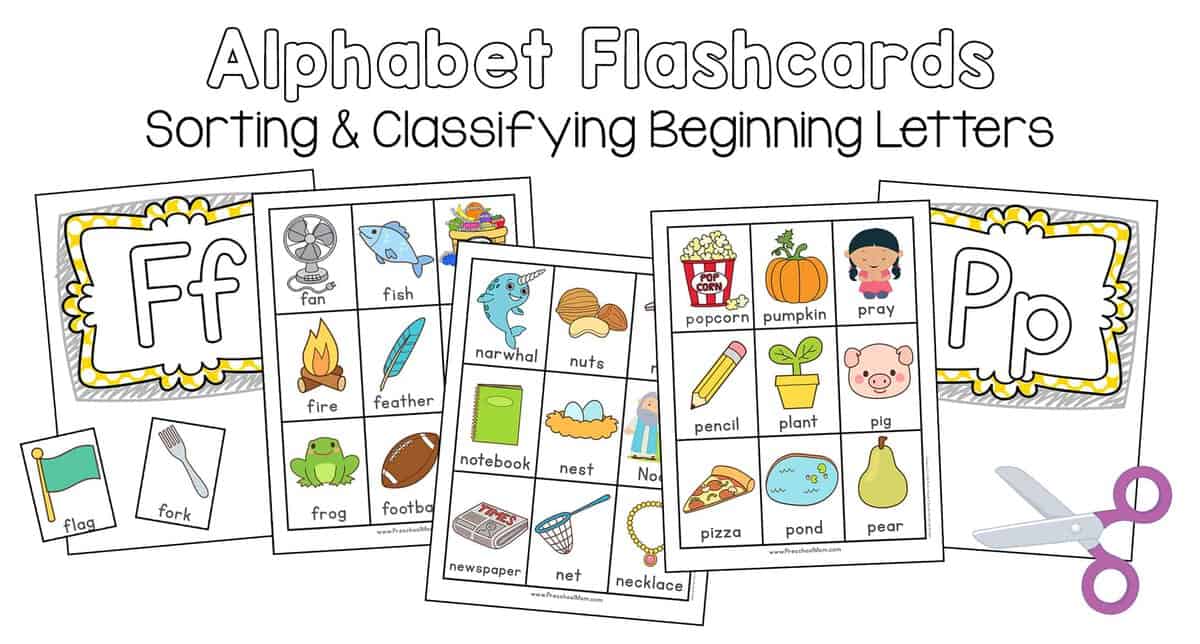 Letter Recognition & Letter Formation Flashcards:
Teach students the entire alphabet with our alphabet letter flashcards! Students will quickly be able to identify uppercase and lowercase letters with our ABC Memory Flashcards. For longer use, print in cardstock, laminate, and/or add to page protectors.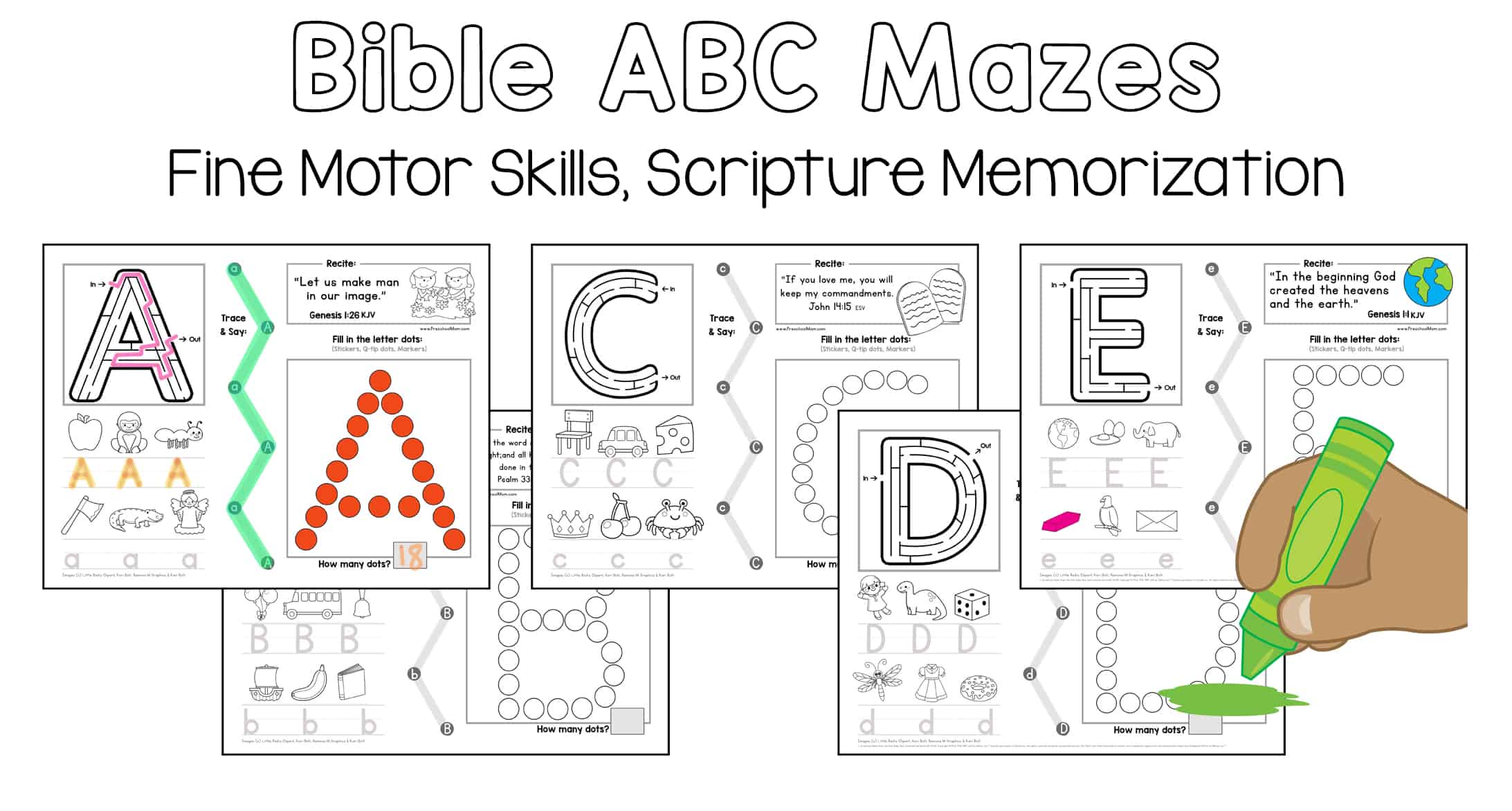 ABC Bible Mazes and Challenges:

As your child gains practice learning the alphabet, use these Bible Mazes worksheets to gain letter knowledge and fine motor skills while building problem-solving, memory skills and more. Each worksheet has a special Bible Verse your child can read and memorize.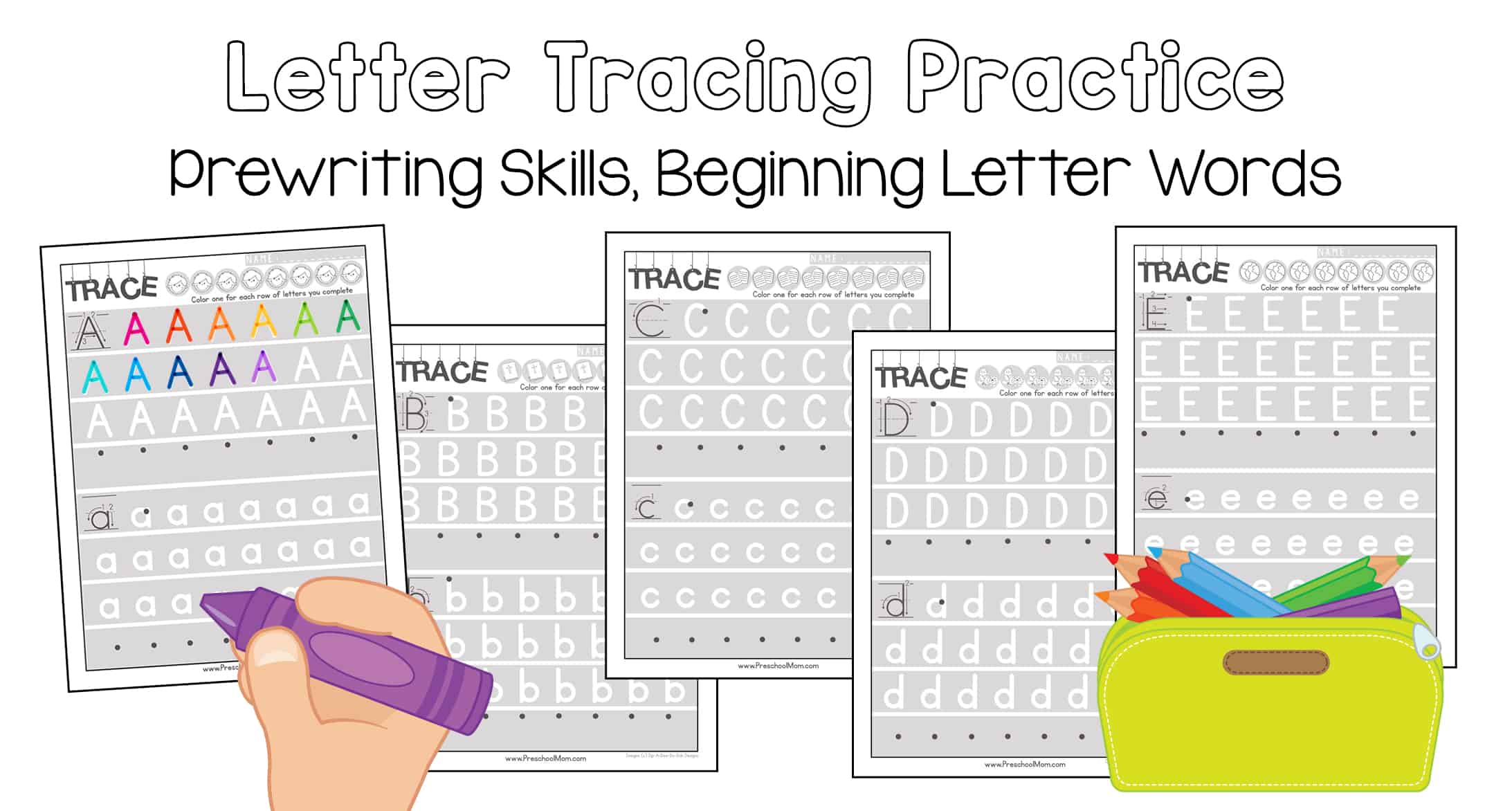 Bible Handwriting Practice Worksheets:

Teach letter formation and build fine motor skills with our handwriting exercises! Trace each letter until mastered for best results. Steps are provided for effective handwriting formation. Space is provided for students ready to write their own letters.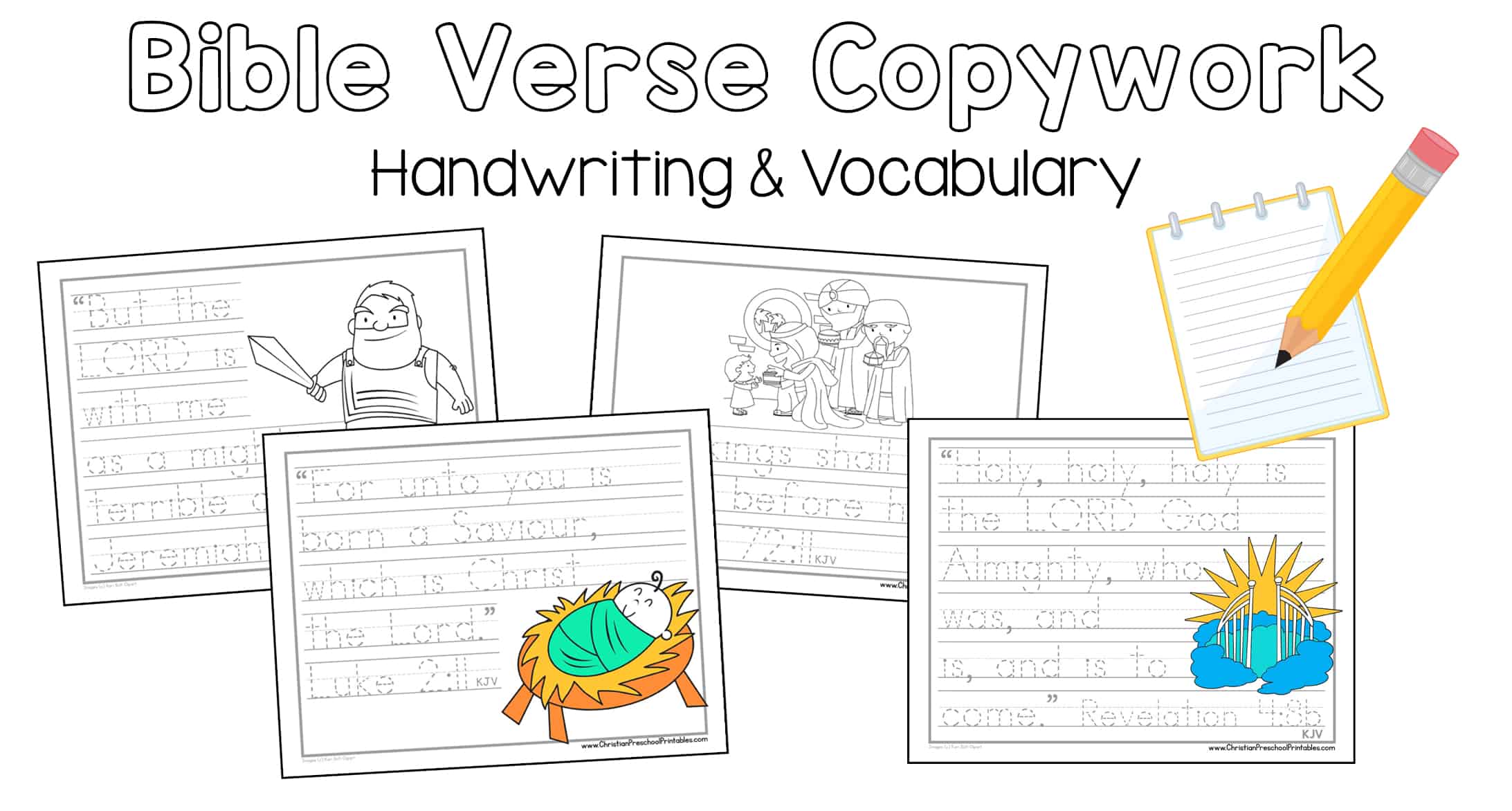 Bible Verse Copywork:

Using our Bible Verse Copywork handwriting sheets will help your child soar in so many benefits. Copywork allows students to build muscle memory, attention to detail, and help recall memory easier. These age-appropriate Bible Verses allow your child to practice fine motor, writing, and memory skills at the same time!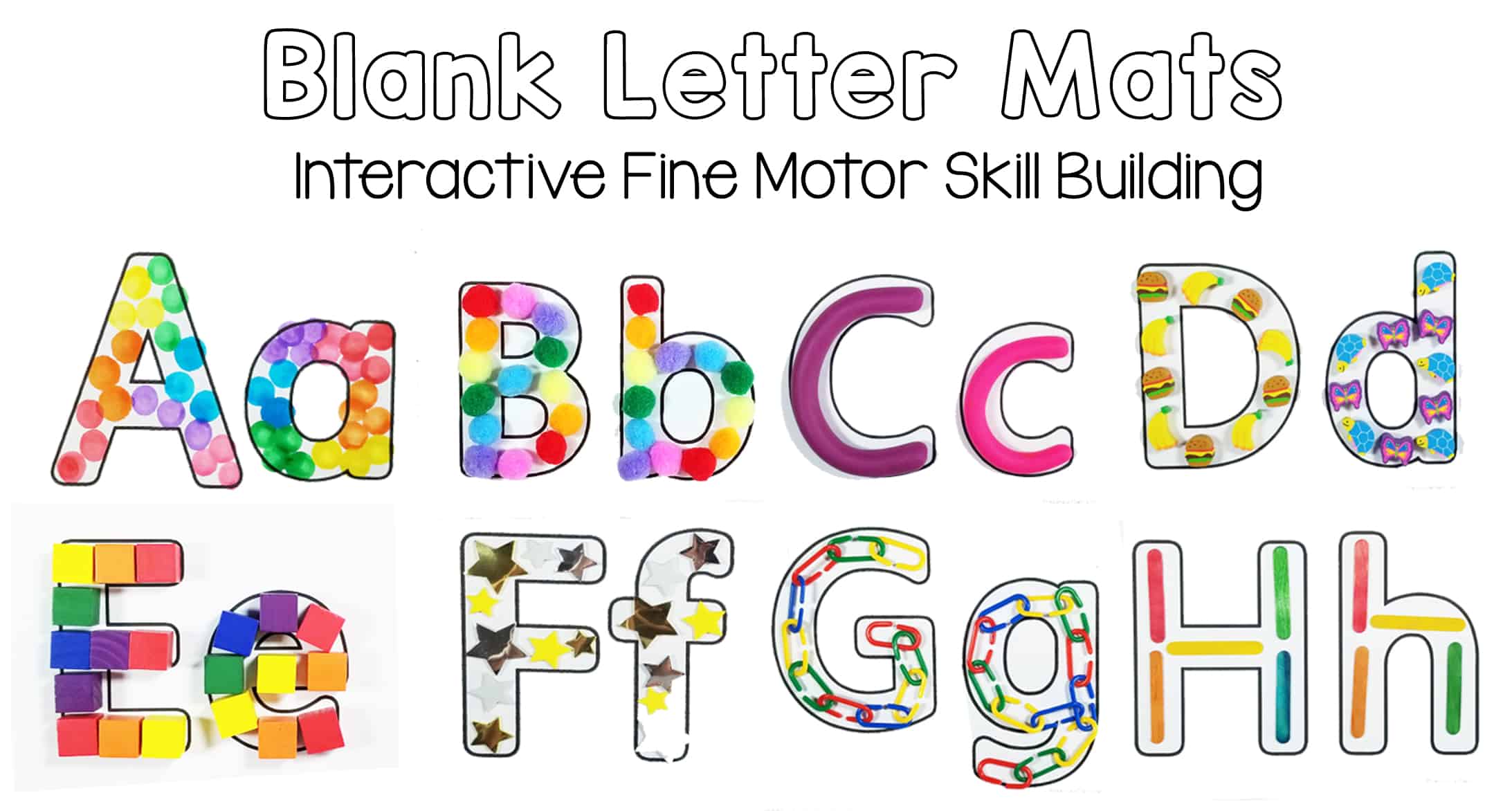 Blank Letter Charts:

Blank letter charts are versatile and can be used in many different ways. Laminate them and line them up on a wall, have children fill them in with colors, use snap cubes, stickers, or any small object to fill in each letter for fine motor practice, letter recognition, and formation.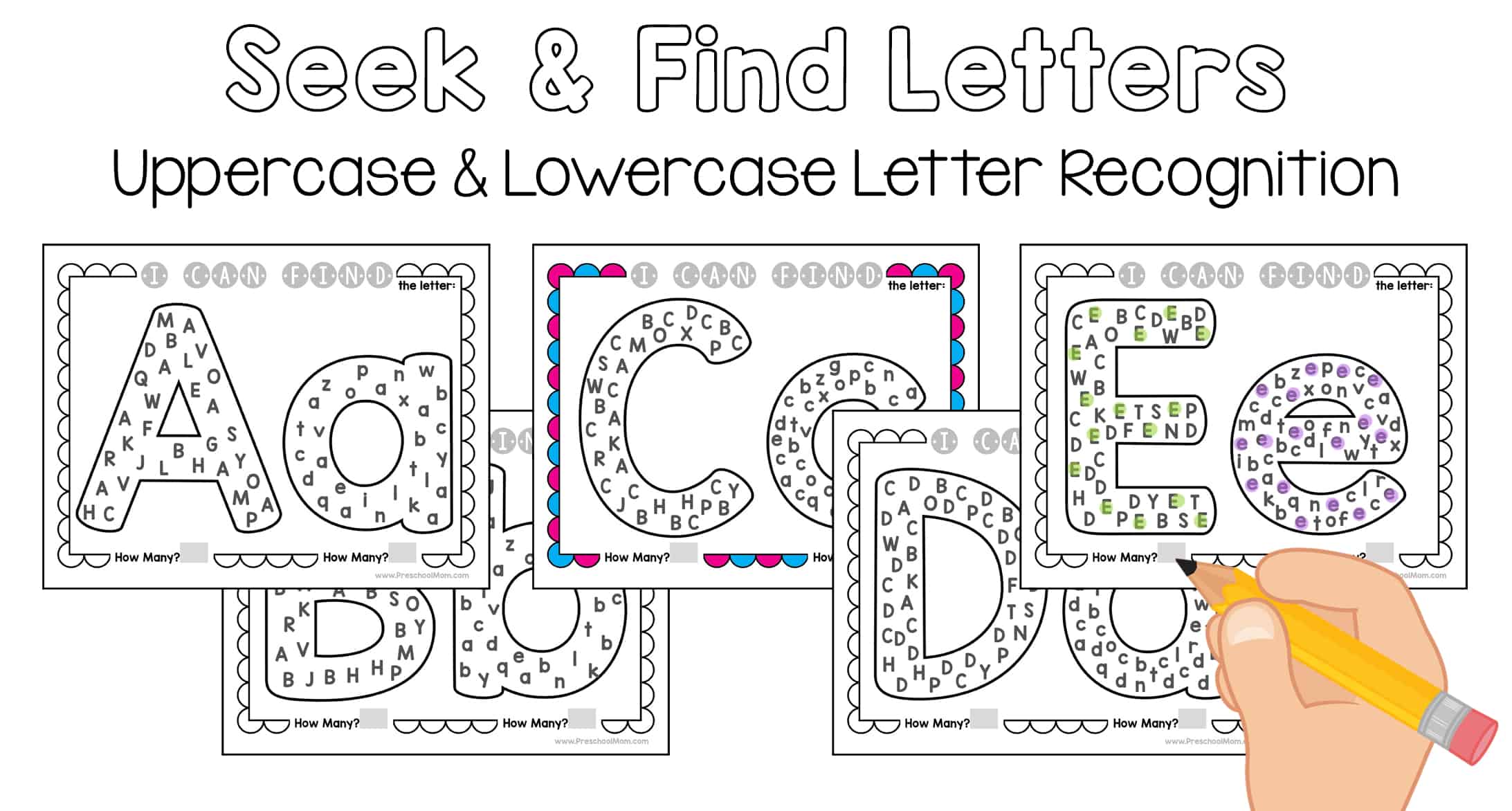 Find the Letter Game and Math Counting:

Students will gain practice recognizing letters with our critical thinking skills and working memory pages. Instruct children to find each uppercase and lowercase letter and circle them. Then, write down how many they find in the space provided.

Count & Graph Math Worksheets:

Teach your kids how to count and graph at an early age with these easy-to-use count and graph worksheets! Students can color Bible-based objects with the same color to help easily identify how many similar objects exist. Once counted, fill in the graphing chart as appropriate.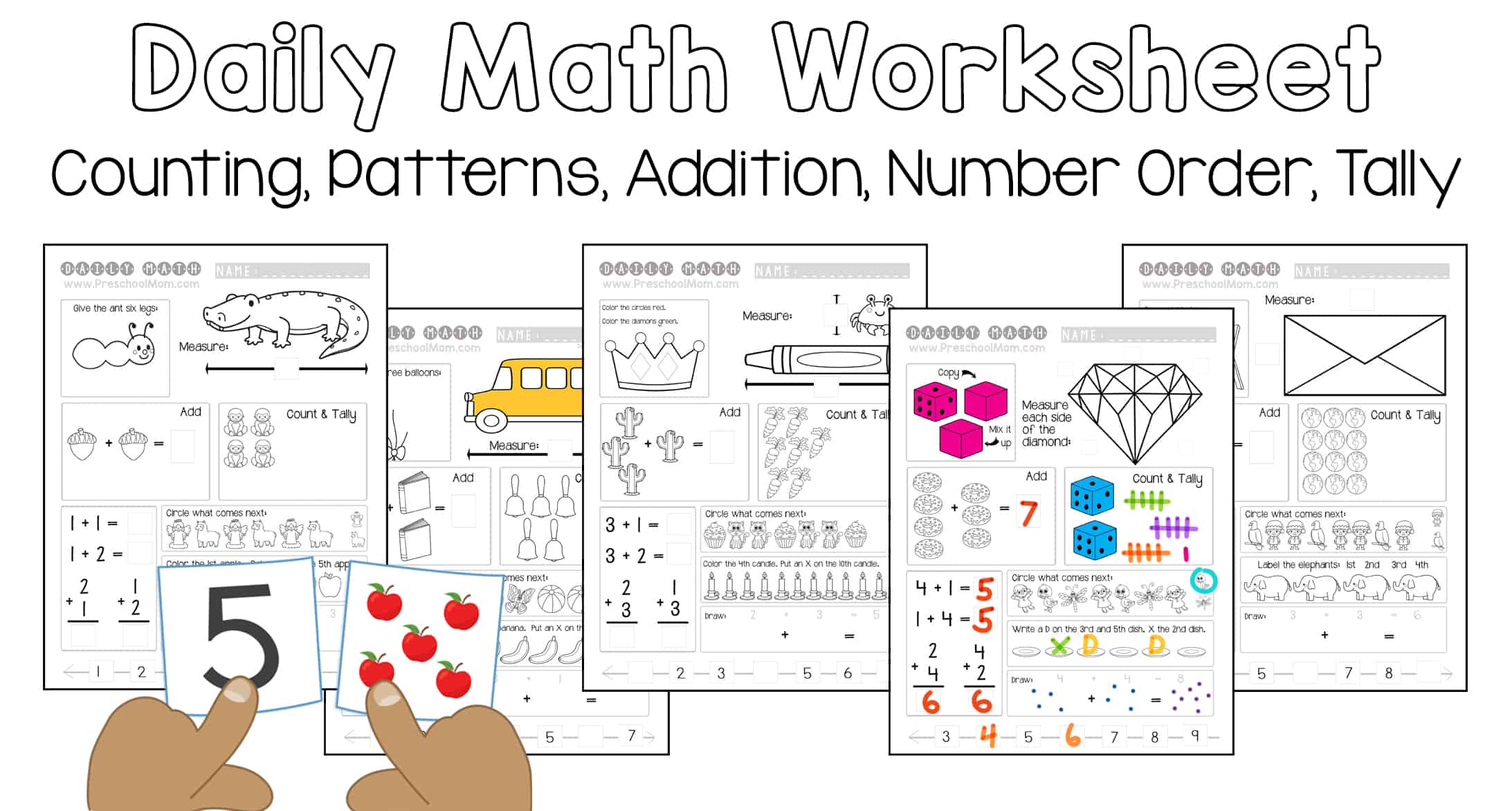 Daily Math Worksheet with Counting & Addition:

Instruct children to practice their math exercises with these simple-to-use daily math worksheets. Each sheet contains math problems perfect for preschoolers to help them count and identify numbers 0 - 10. They'll also have opportunities to color in adorable animals and objects.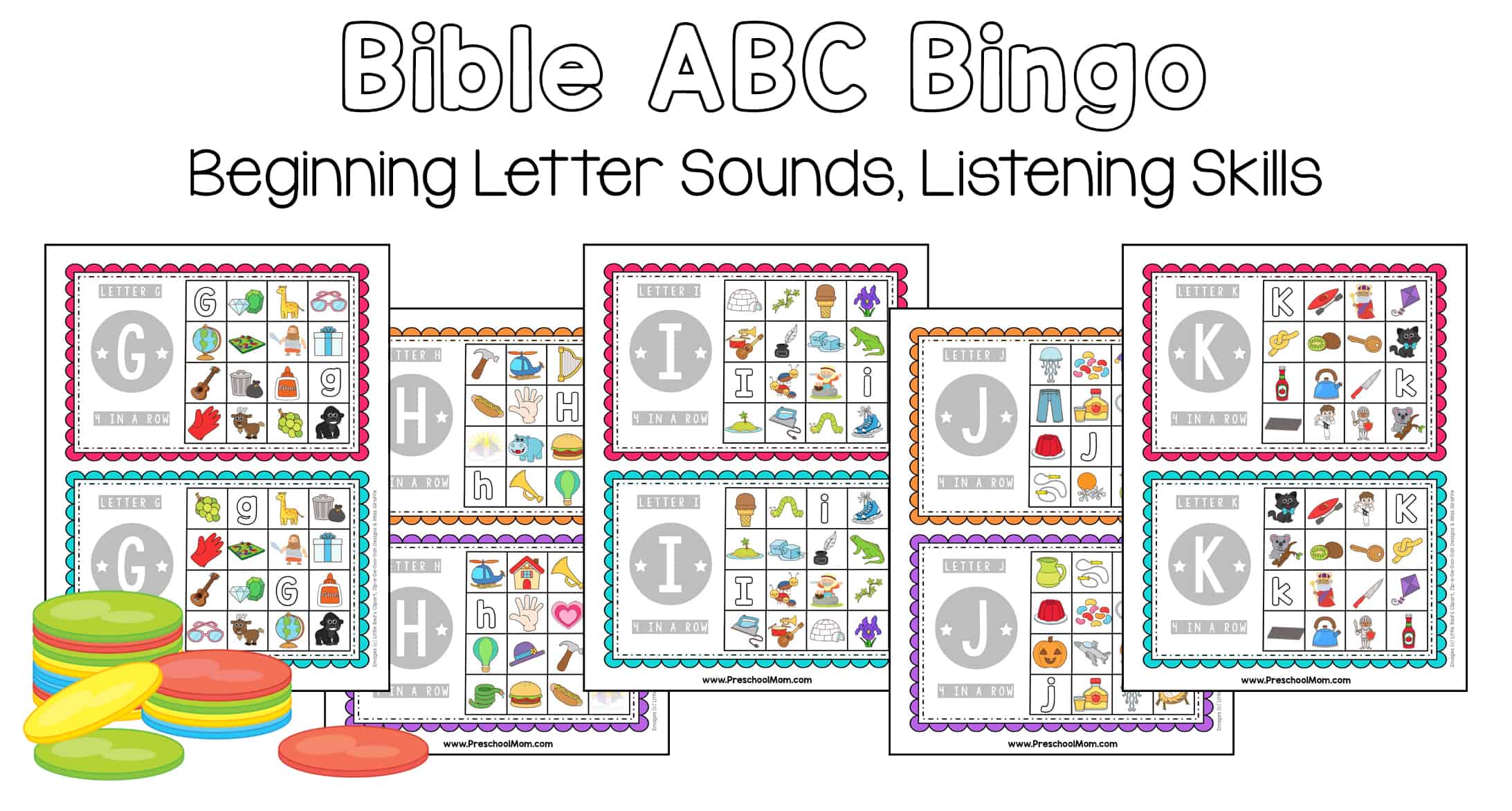 Alphabet Bingo Game:

Can your students get all 4 objects in a row? Play the alphabet bingo game as a fun way to introduce or practice the alphabet and learn new concepts. Using bingo markers or any similar marker, have students mark each object as you call them one at a time. Instruct students to say 'Bingo' when they get 4 in a row, across, down, or diagonal.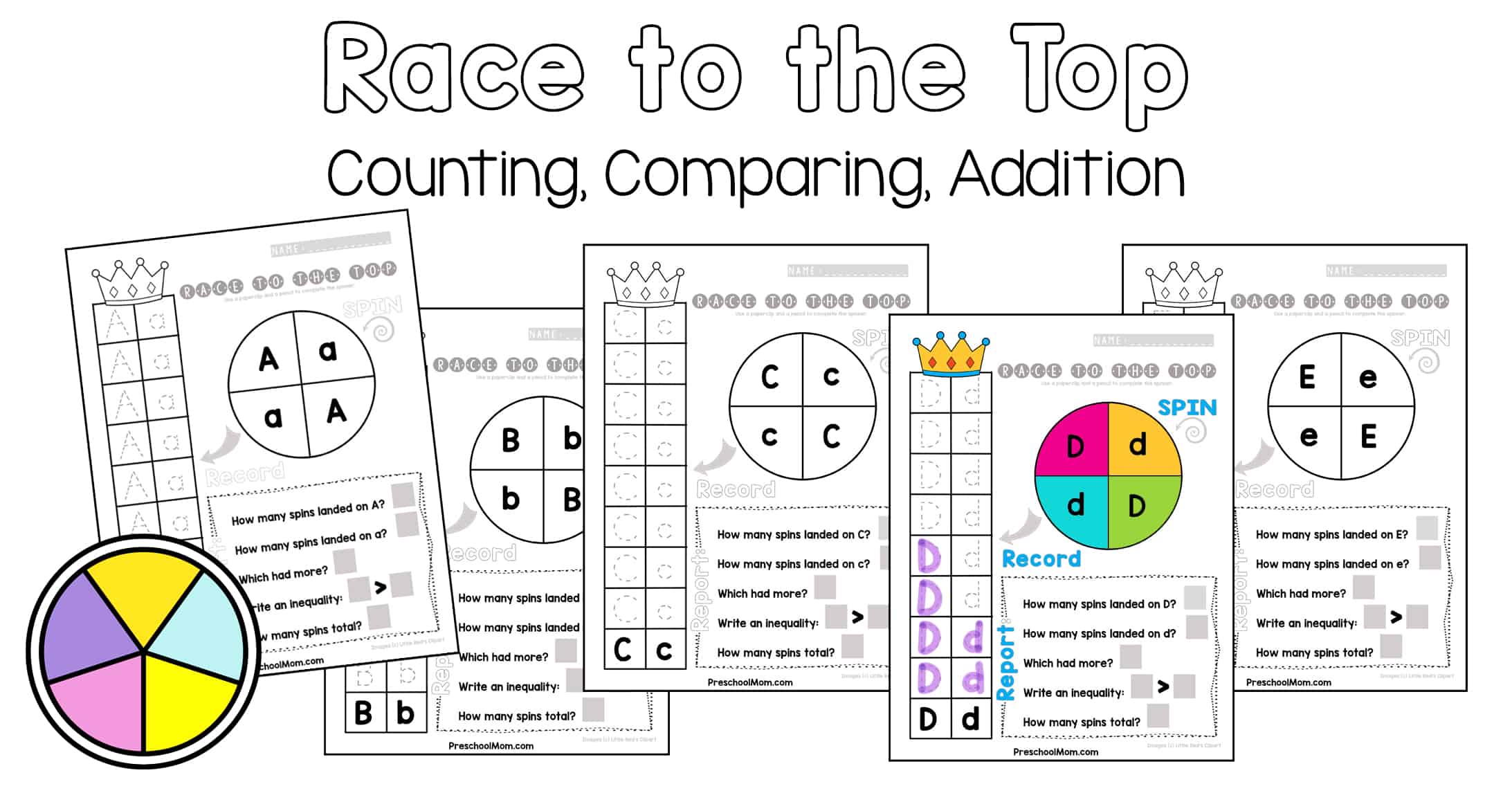 Math and Alphabet Game:

Students will build confidence and practice recognizing letters and counting numbers as they have a ton of fun tracing letters, recording their letter results, and reporting or answering questions to tune up their math skills. These math worksheets also make great take-home papers for extra learning.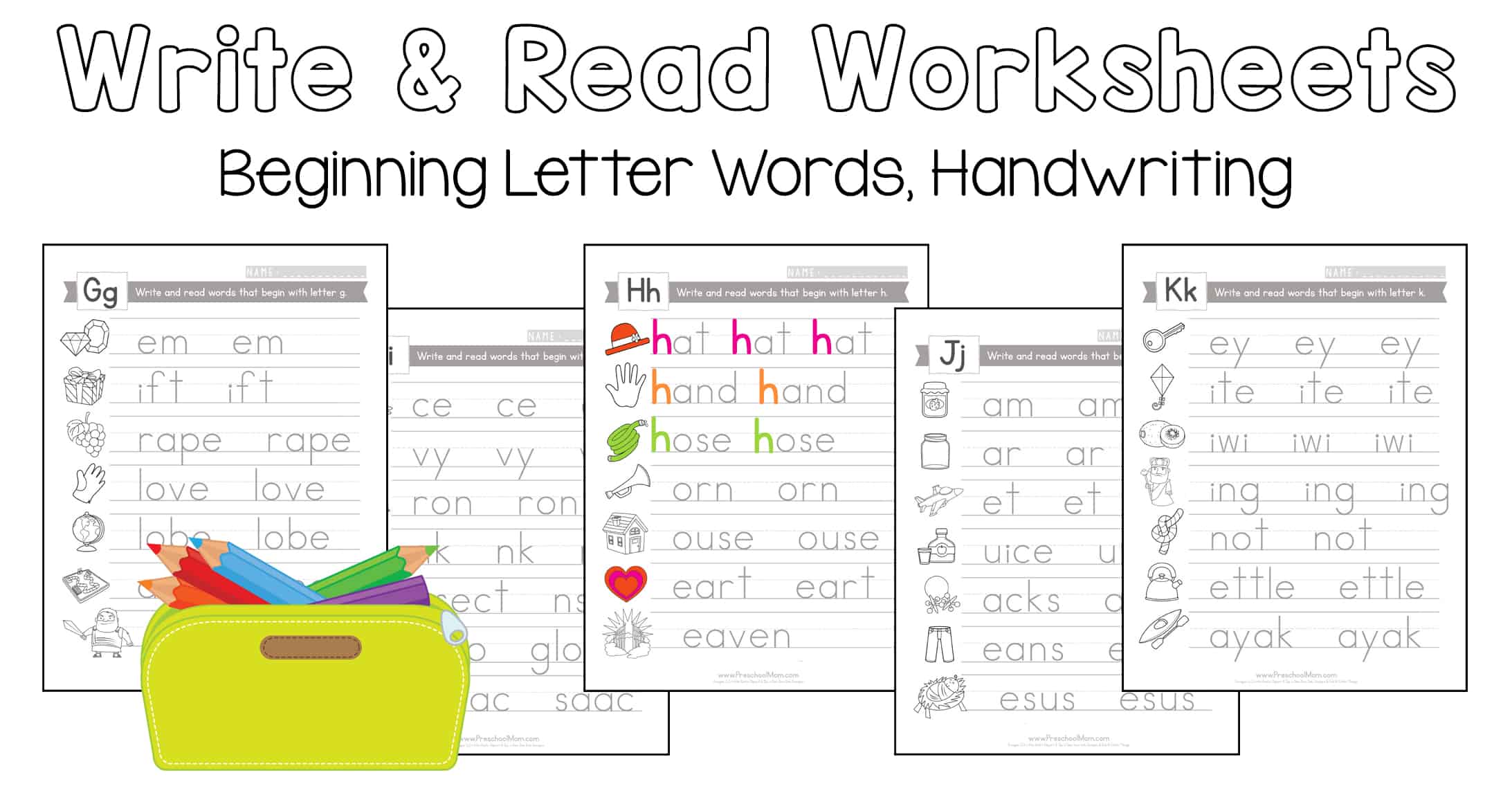 Handwriting Worksheets:

Give students valuable writing practice as they trace new words on these handy handwriting and vocabulary worksheets perfect for a take-home sheet or right in the classroom. Students gain fine motor skills and recognition of new words as they practice tracing each letter.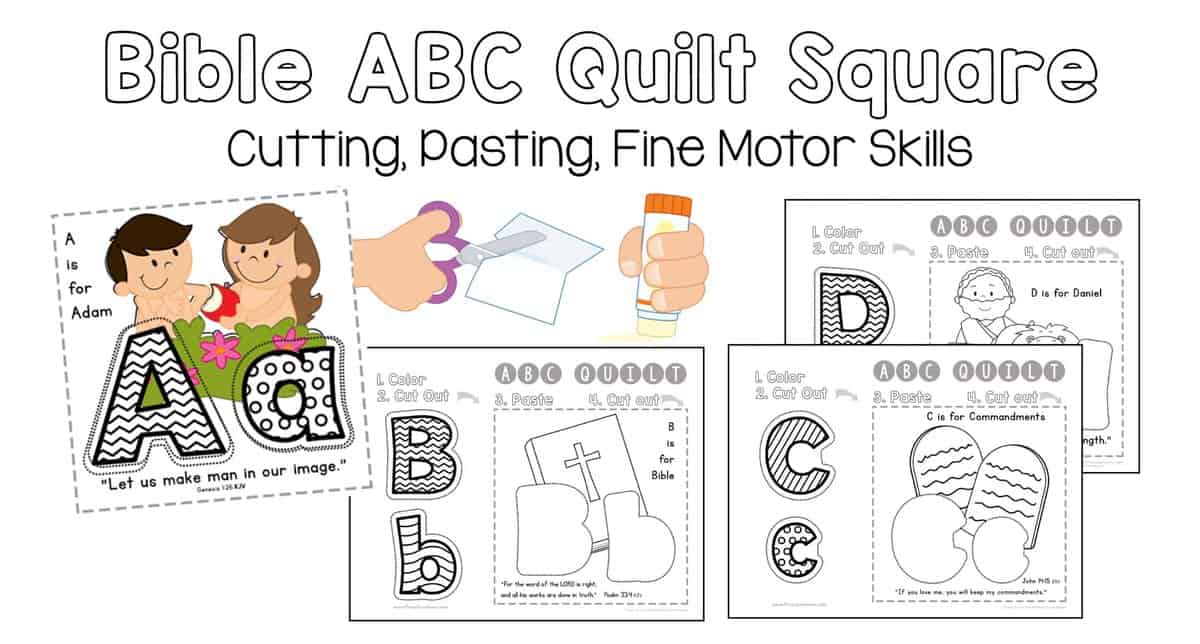 Following Directions & Fine Motor Worksheets:
Teach your little ones how to follow directions while strengthening their fine motor skills with our ABC Quilt Squares. Simply instruct students to color each uppercase and lowercase letters and adorable images. Then, guide your little ones to cut carefully along the letter's edges. Line up each letter and paste in the space provided.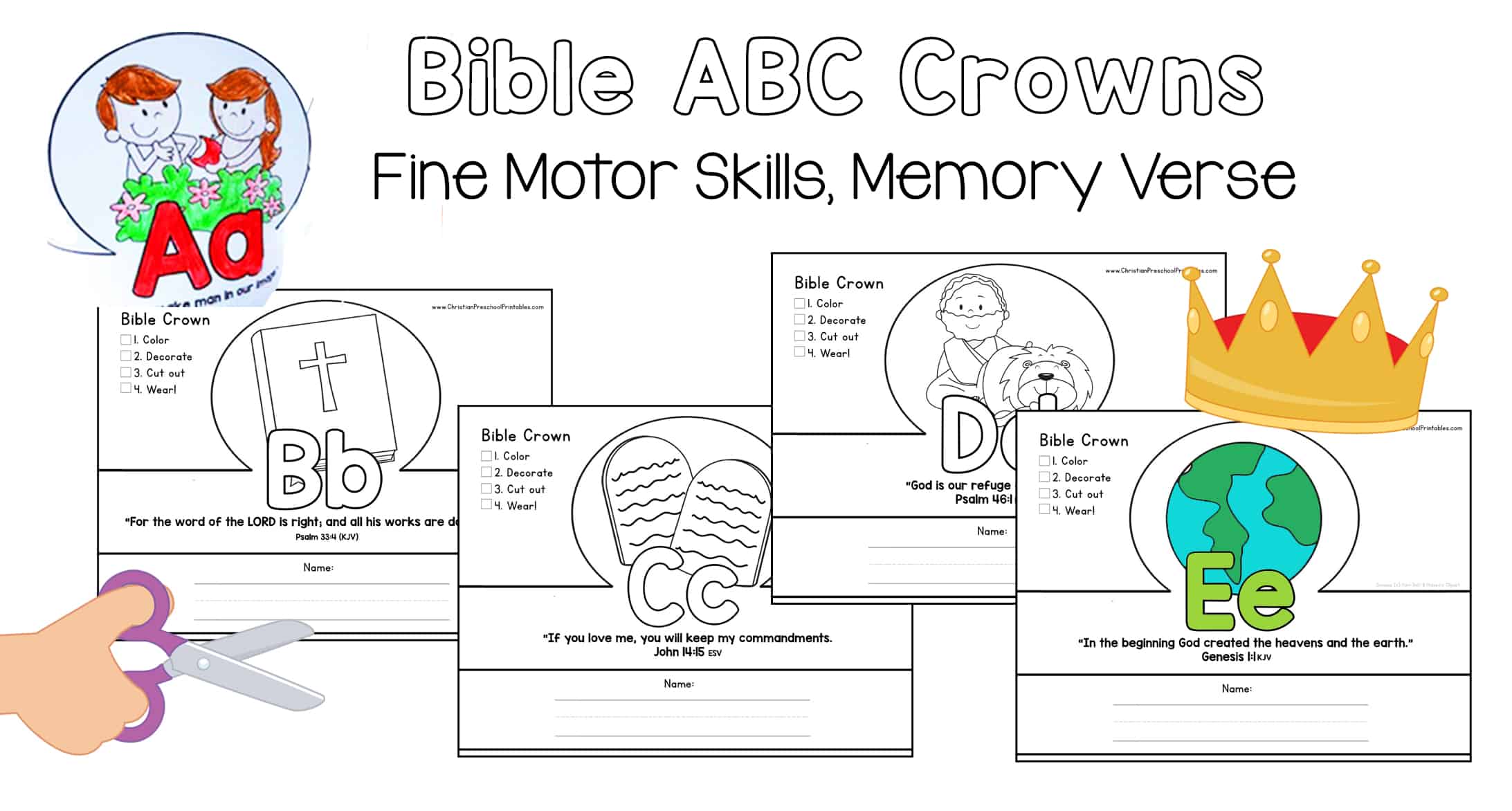 ABC Bible Crown Craft:

With our Bible Crown craft, your students will learn how to follow directions, write their names properly, and build fine motor skills by coloring and using scissors to cut along the lines. When their work is complete, simply fasten the crown together with glue or tape. Have children march in a circle with their crowns proudly as they chant each Bible Verse!

Additional information
| | |
| --- | --- |
| Product License | Homeschool, Classroom |