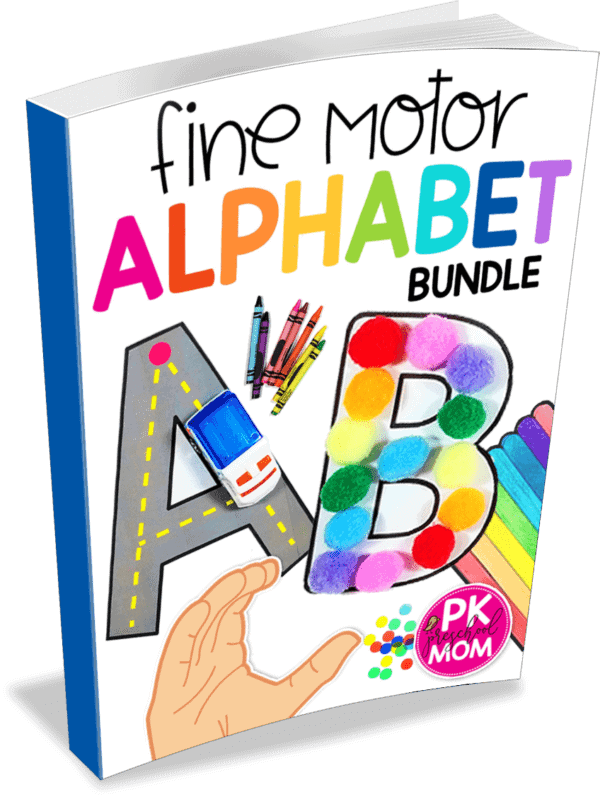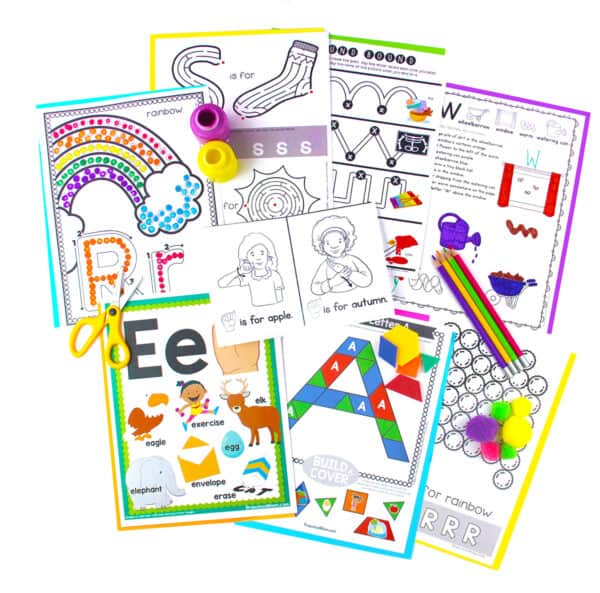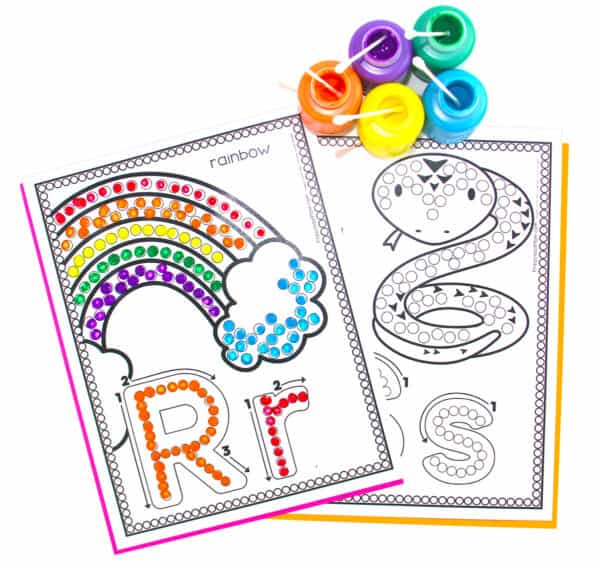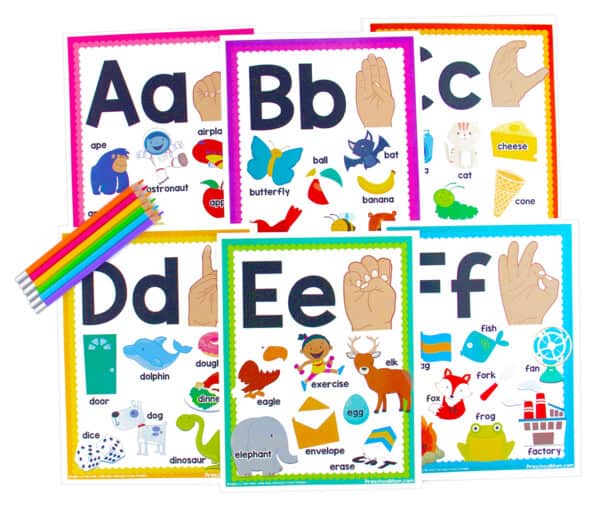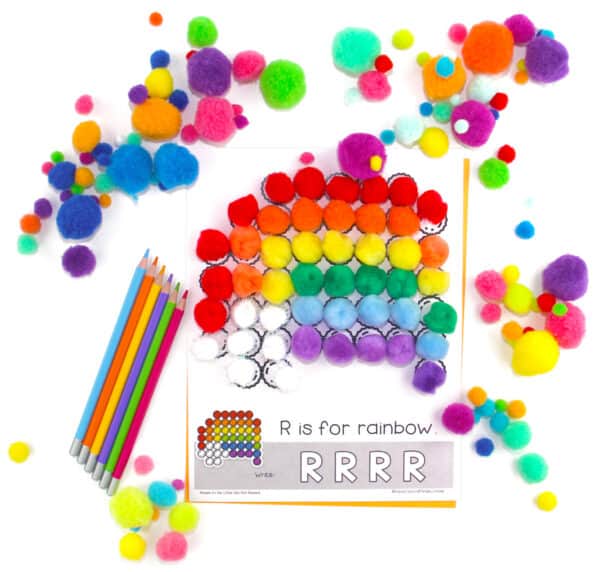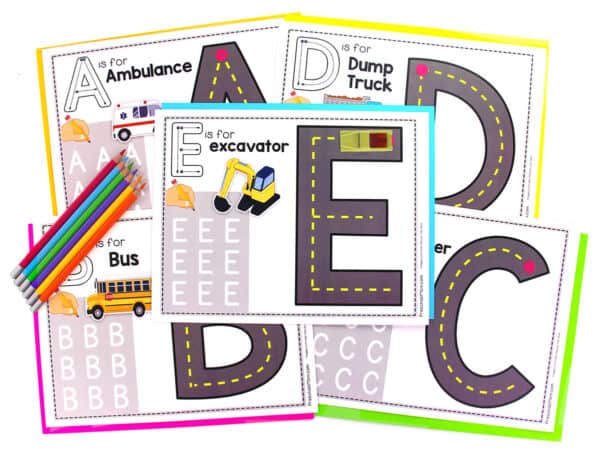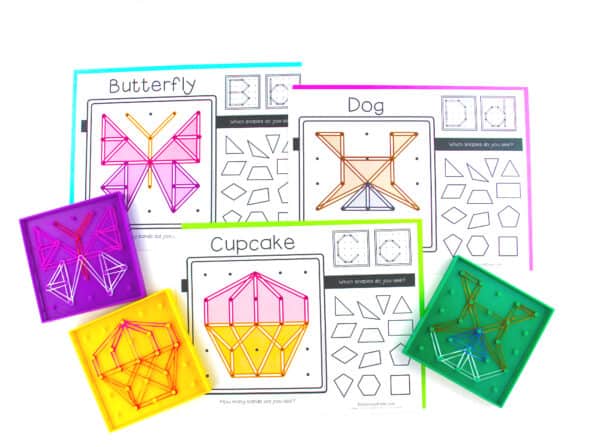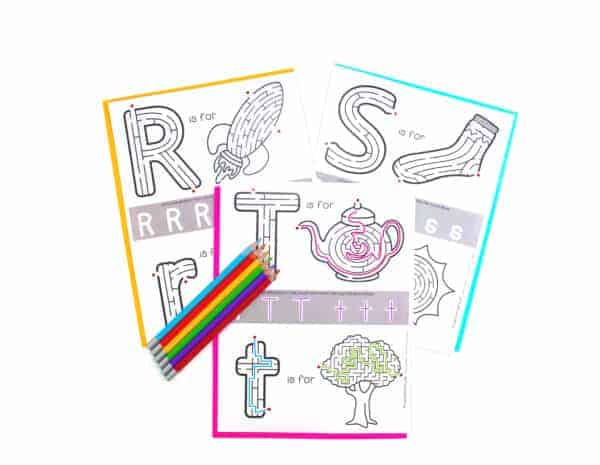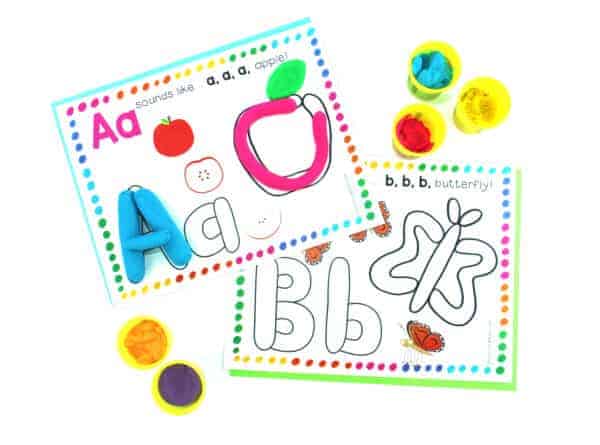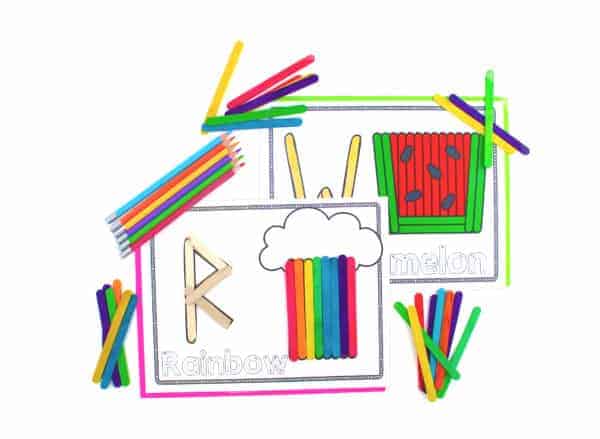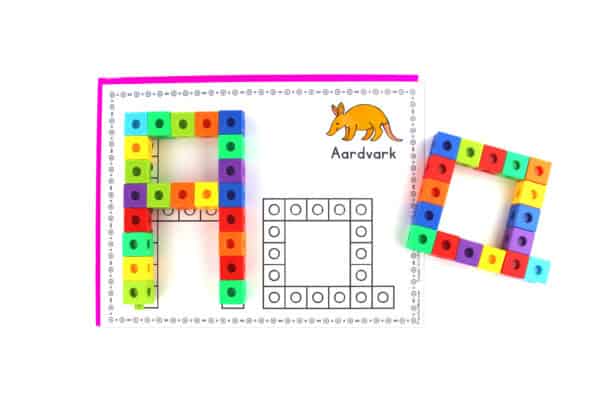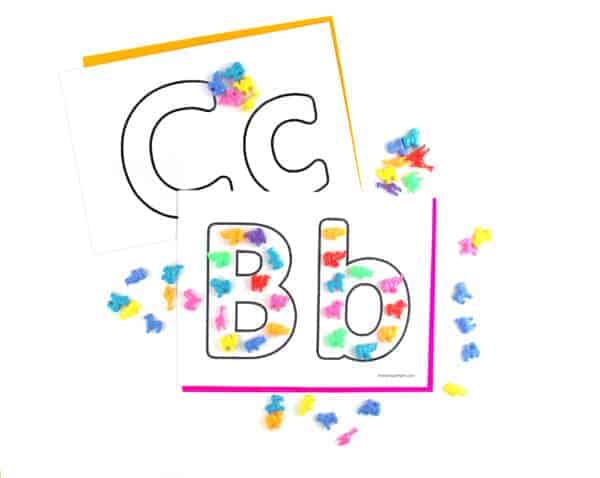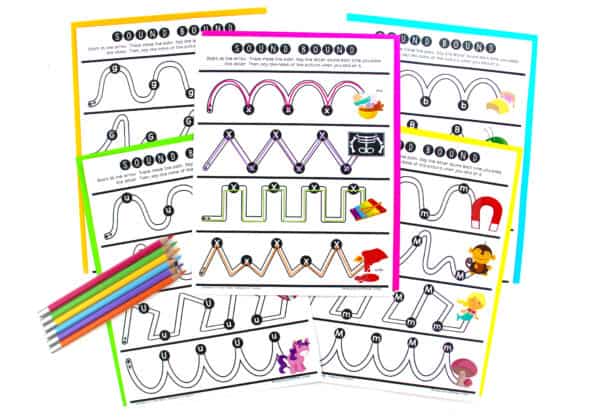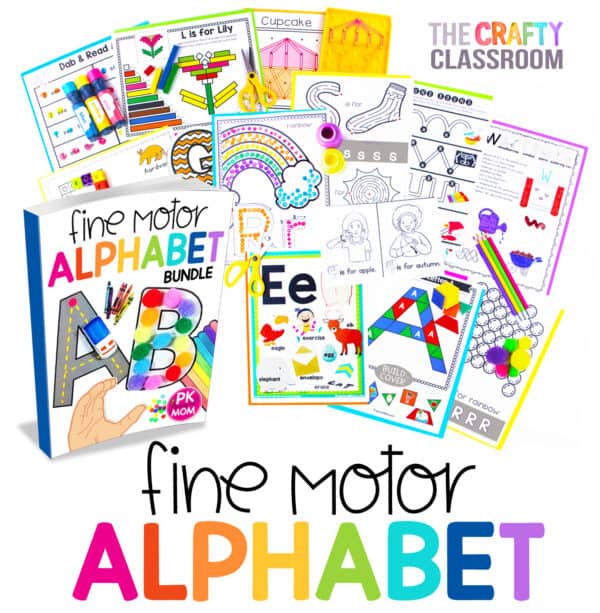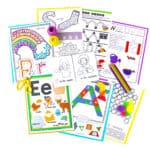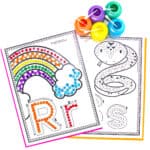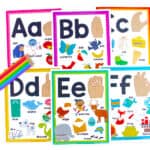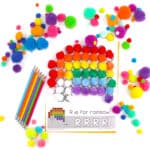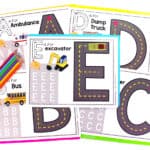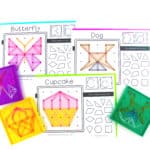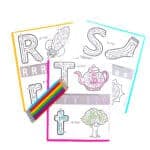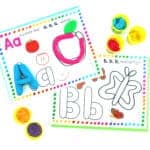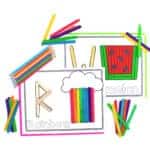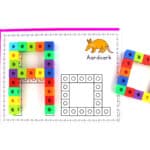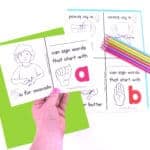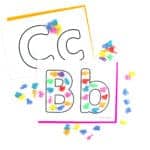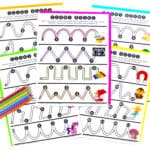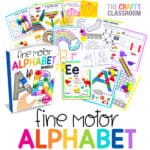 Fine Motor Alphabet Bundle
Sample    Format: PDF    Grade: PK – 5    Pages: 498   HINT: Bundle & Save
The Fine Motor Alphabet Bundle is HUGE with 19 different sets of engaging alphabet activities. Every set of the Alphabet Bundle focuses on each letter of the alphabet with an emphasis on alphabet sounds and phonics, beginning letter words, and fine motor skills. This amazing packet of ABC lessons is perfect for your Letter of the Week Learning Center, homeschool, or classroom setting. We've designed our bundle to be scheduled over a 4-day week and coordinates well with our Fine Motors Numbers Bundle and our Fine Motor Holiday and Seasons Preschool Curriculum.  
----HUGE FLASH SALE----

10% off $50 Order
15% off $75 Order
20% off $100 Order
25% off $200 Order

(code: FLASHSALE ends: 3/31/23)
⭐Budget-Friendly Pricing
⭐Simple, Low-Prep Format
⭐Interactive & Hands-On
⭐Friction-Free Homeschooling
⭐Meets or Exceeds Standards
⭐Multiple Students & Abilities
⭐Simple Format Outlines
⭐No Expensive Teacher Guides
⭐Encourages Independence
Description
Additional information
Reviews (9)
Description
Fine Motor Alphabet: Preschool Language Arts Curriculum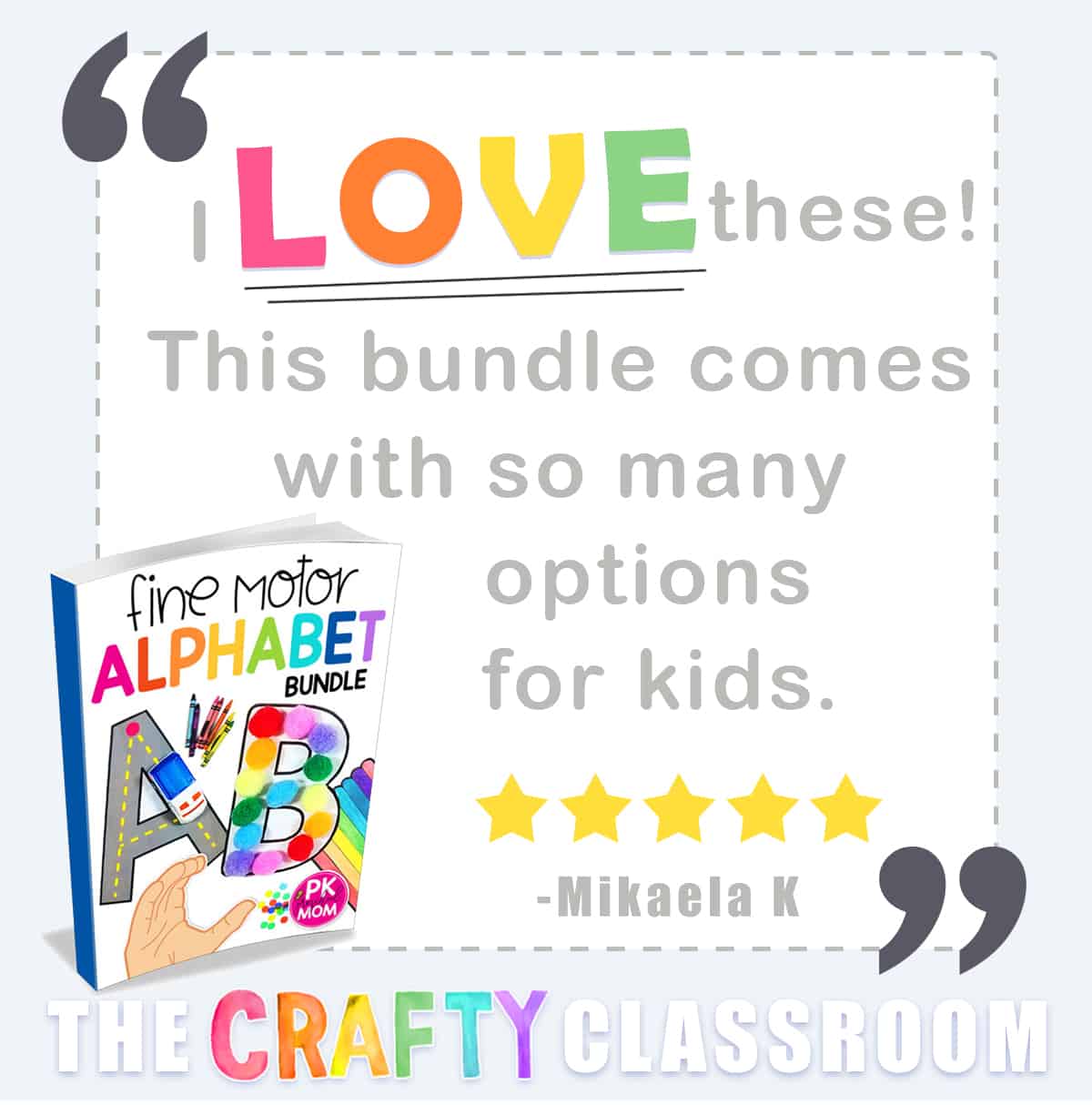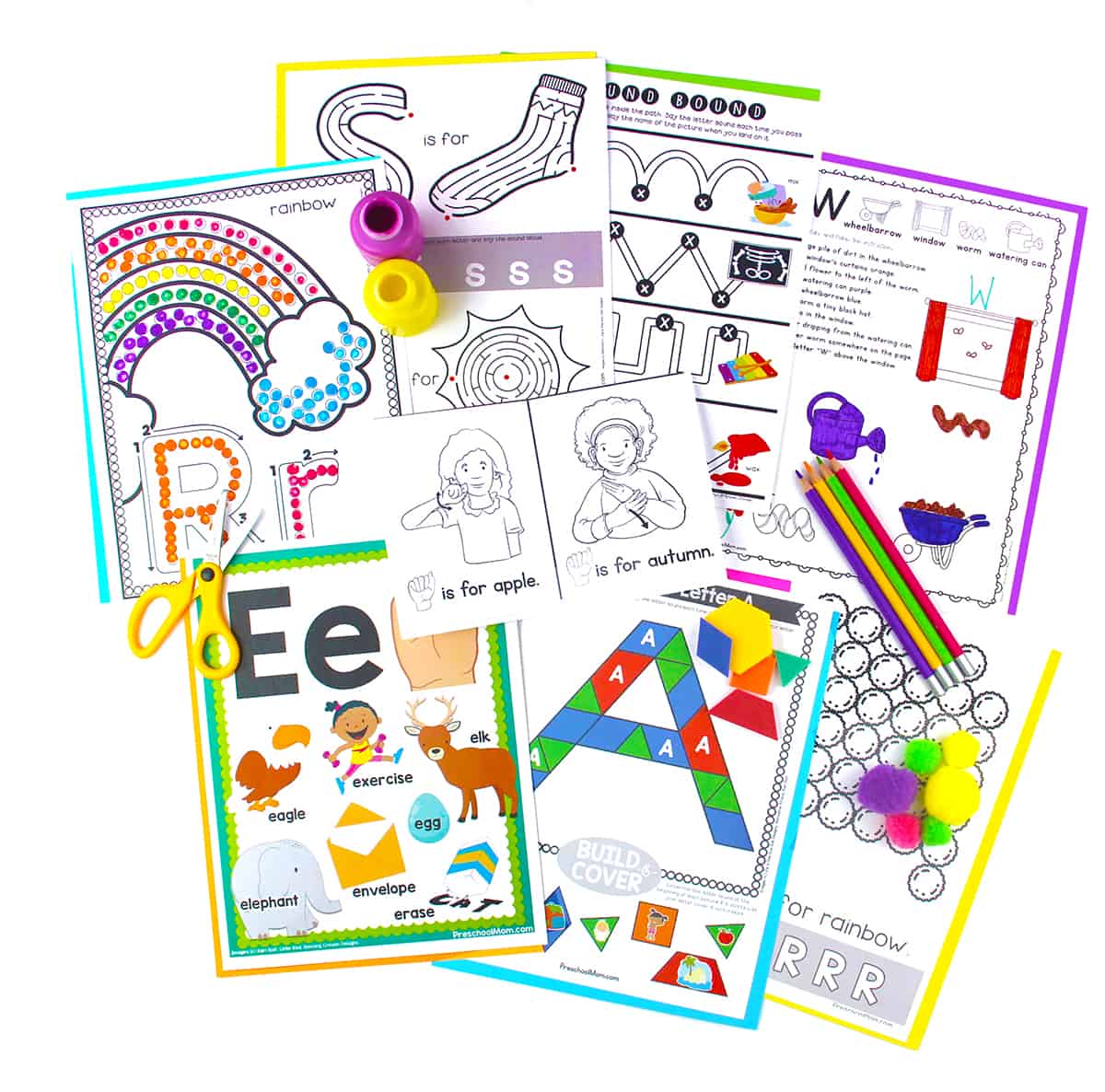 Preschool Fine Motor Skills Program
Product Overview
Our fun-filled Fine Motor Alphabet Bundle is abundant with 19 different sets of amazing hands-on, alphabet activities. Every single pack of our ABC Bundle focuses on each letter of the alphabet that includes alphabet sounds and phonics, beginning letter words, and fine motor skills. This valuable set of ABC lessons is perfect for your homeschool, learning centers, or classroom settings. Schedule your alphabet lessons over a 4-day week on a daily or semi-daily basis.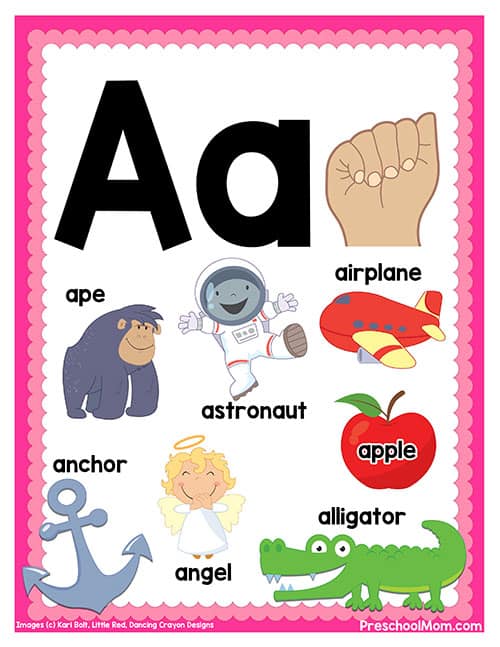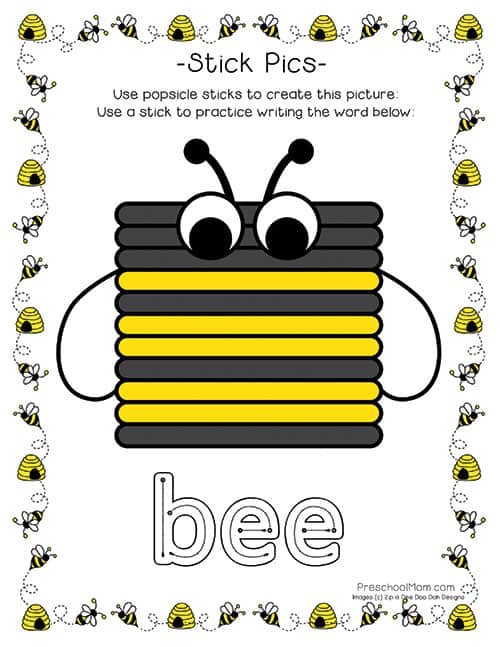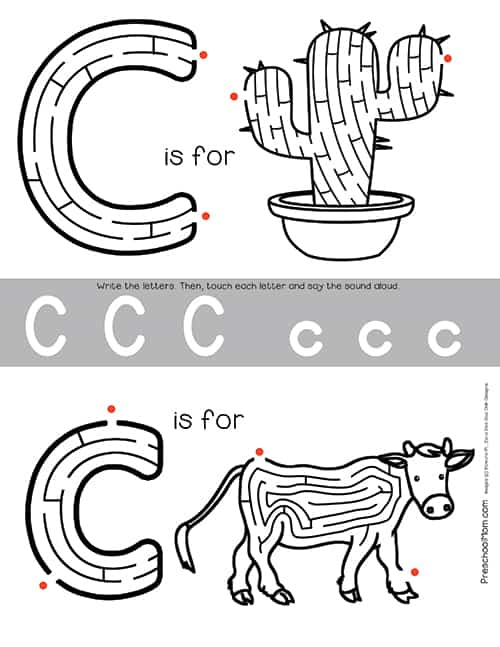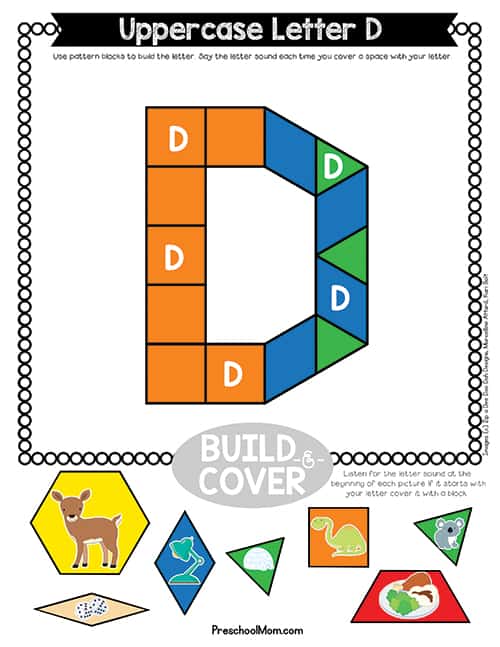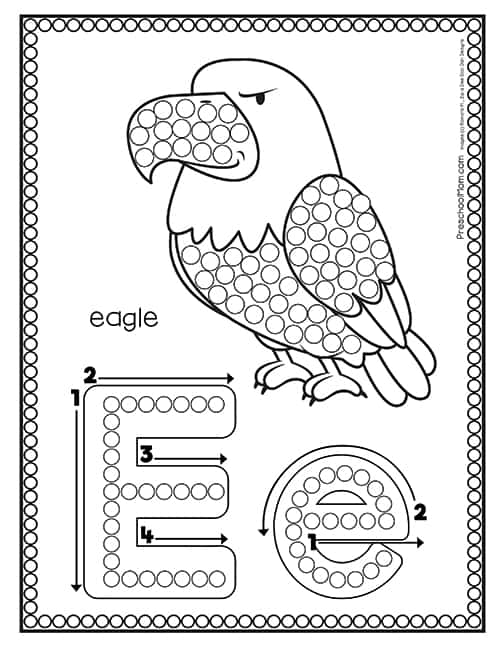 Covers Key Standards & Skills
What's Included:
This set includes activity packs covering numbers 0-30 for the following sets:
ASL Letter Charts

ASL Minibooks

Uppercase Letters

Lowercase Letters

Cut & Paste Puzzles

Dab & Dot Letter Mats

Drive & Trace Letter Mats

Geoboard Letter Mats

ABC Word Mazes

Pattern Block Mats

Letter PomPom Activities

Alphabet Playdough Mats

Letter Formation & Handwriting

Popsicle Stick ABC Mats

Sight Word Reading

Number QTip Mats

Blank Letter Mats

Building Brick Mats

Cuisenaire Rod Activities

ABC Snapcube Mats
Skills Covered:
This set builds and develops a wide variety of preschool skill sets including:
ASL Sign Language

Letter Formation

Letter Recognition

Tracing Skills

Stroke Order

Phonics

One-to-One Correspondence

Reading Skills

Writing Practice

Spatial Reasoning

Modeling

Logic & Reasoning

Sequencing & Number Order

Fine Motor Skills, Cutting & Pasting

Graphing & Comparing

Tally Marks

Cutting Practice

Pasting Exercises

Learning Games

Crafting Skills

Math Skills

Counting Practice
How to Use:
Use this preschool fine motor program to fit your needs in the classroom or homeschool environment. Print all the pages you need and place them in a large 3-ring binder for longer use. Follow each pack exactly laid out or make it your own Fine Motor Alphabet Bundle. Teach your students all about the alphabet while incorporating key subjects including reading, writing, math, and art skills. Here is a weekly overview of the included daily activities:
Fine Motor Alphabet Charts:
Our Fine Motor Alphabet Charts include cute and colorful images with upper and lowercase letters, beginning word pictures, and exercising fine motor with ASL Sign Language hand signs. These ABC charts are perfect to laminate and hang on the wall in the classroom or homeschool environment and/or add to a binder for extended use.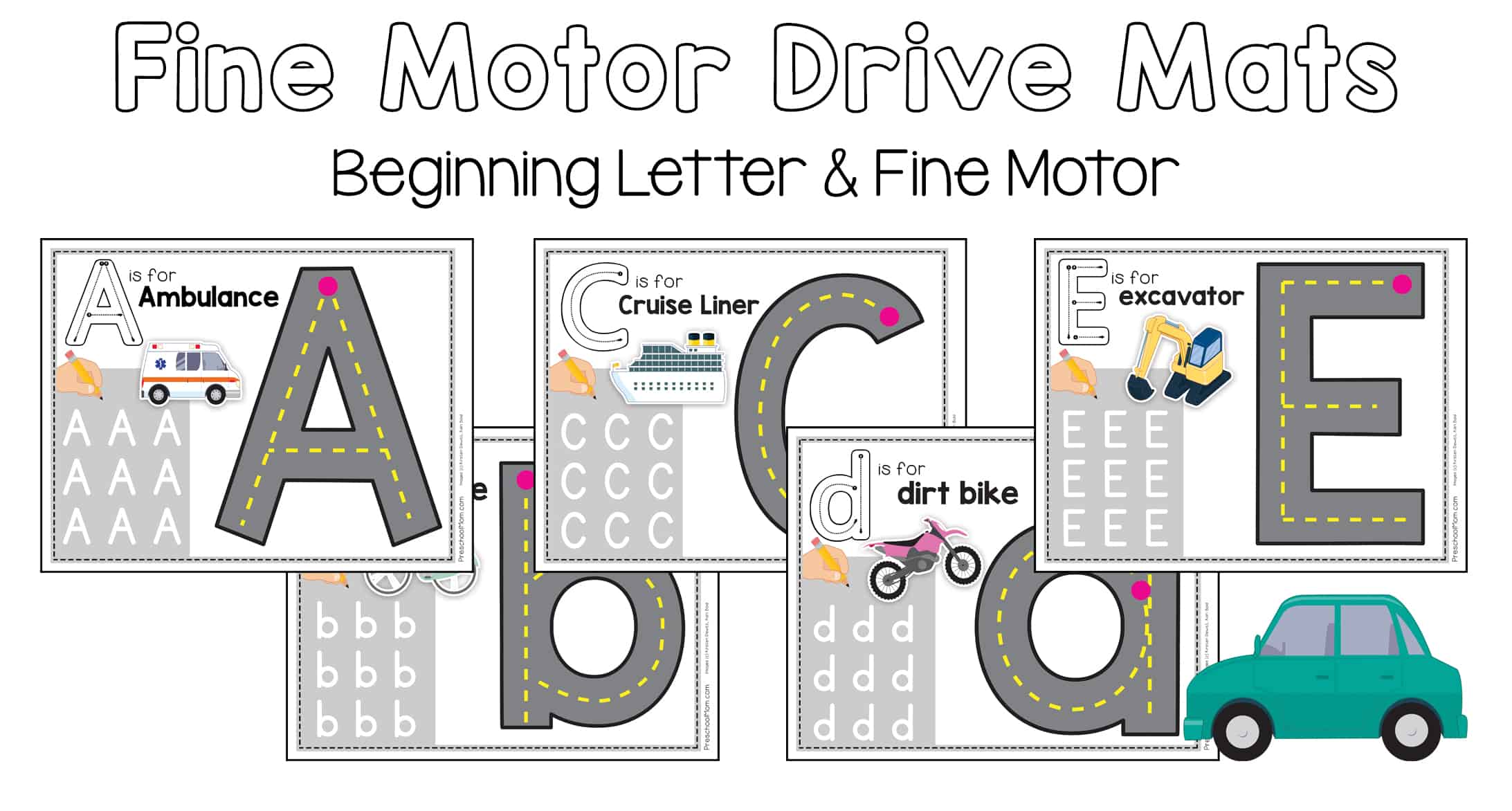 Fine Motor Drive and Trace Mats:
Our multi-sensory alphabet pack covers all 26 lowercase and uppercase letter mats. Including 52 pages of A-Z activity mats, each page features a letter formation guide, tracing practice, beginning letter transportation vehicle, and a road on a great adventure as your students practice "driving" the letter in the proper stroke order.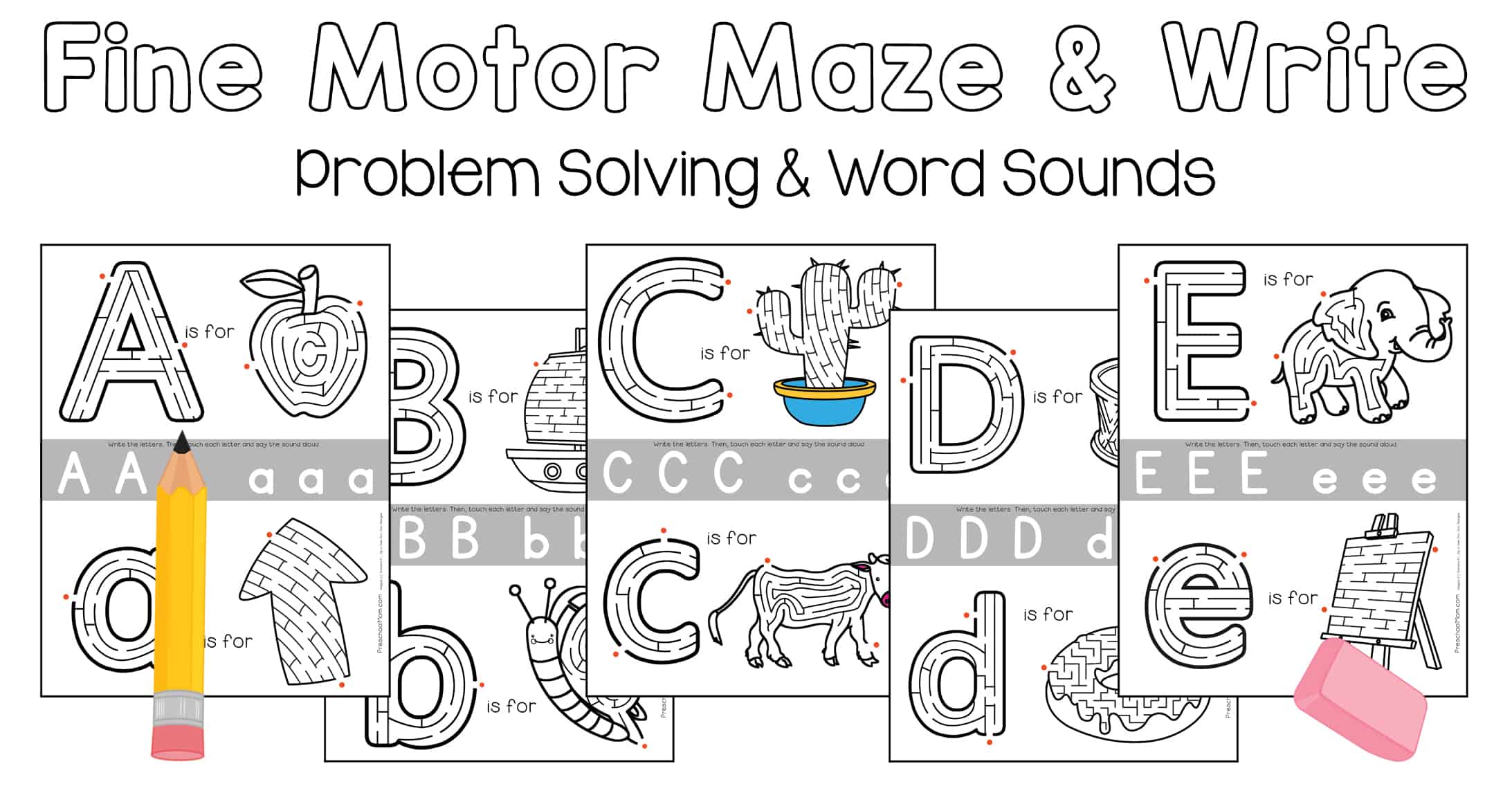 Fine Motor Maze and Write Activities:
Problem solving is also an important skill set to include at an early age. Our Fine Motor Maze and Write Activity Pack covers the alphabet A-Z with 26 Alphabet Maze worksheets. Students practice beginning letter sounds, handwriting, and pattern solving skills as they work their way through the mazes.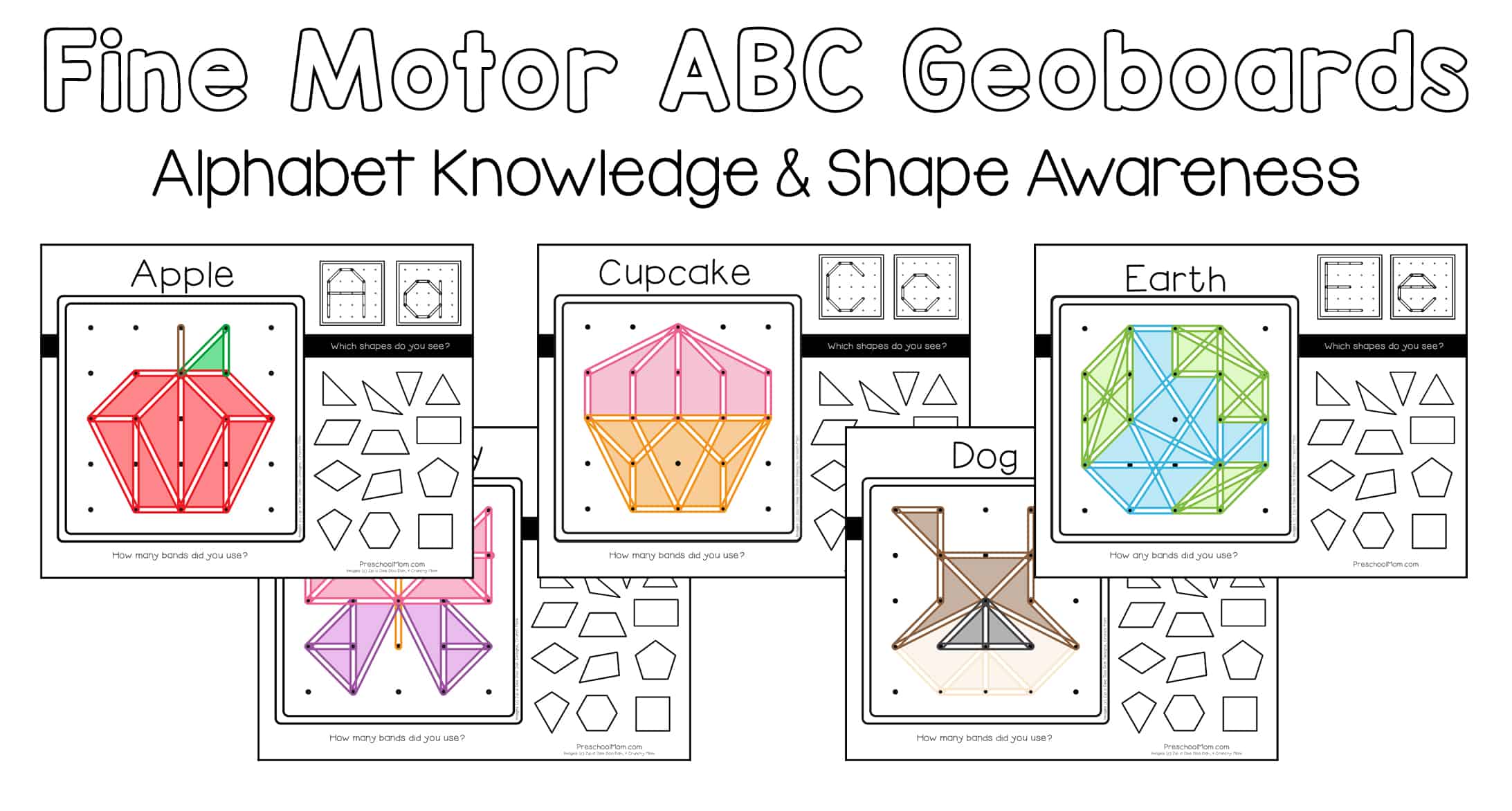 Fine Motor ABC Geoboards:
Engaging ABC Geoboard Mats are just perfect for building fine motor and creativity skills! Each mat features a different letter of the alphabet with a colorful rubber band picture for students to recreate on their geoboard. In addition, your child will build math skills as they complete a follow-up geometry activity where students look for the shapes within their picture.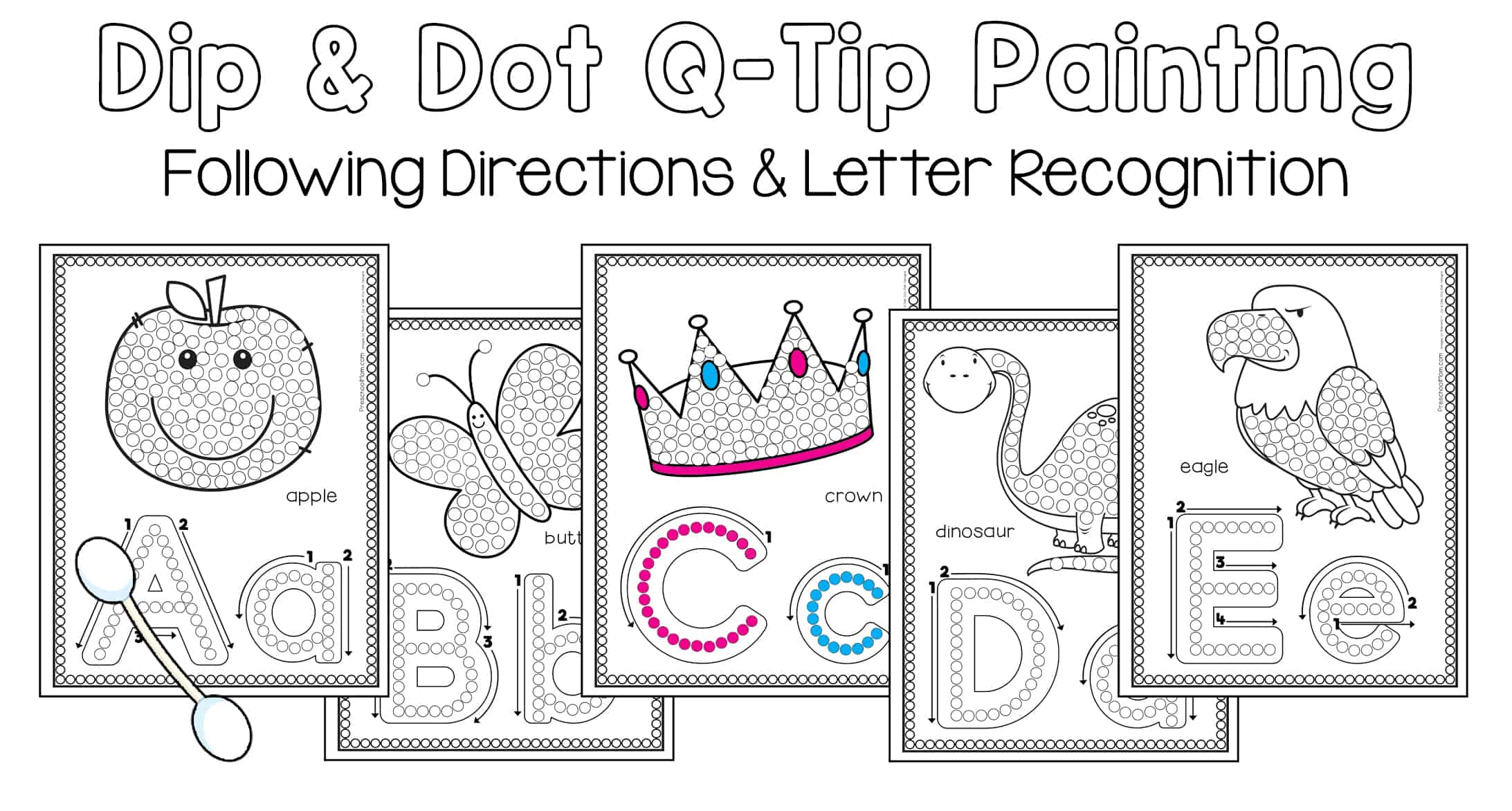 Alphabet Dip and Dot Q-Tip Painting:
This alphabet pack of goodies includes 26 pages of A-Z activity mats covering the uppercase and lowercase alphabet. Above the letters is a beginning letter picture for students to dip and paint. Each page features a letter formation guide for mastering letter stroke order and formation while building key directional skill sets.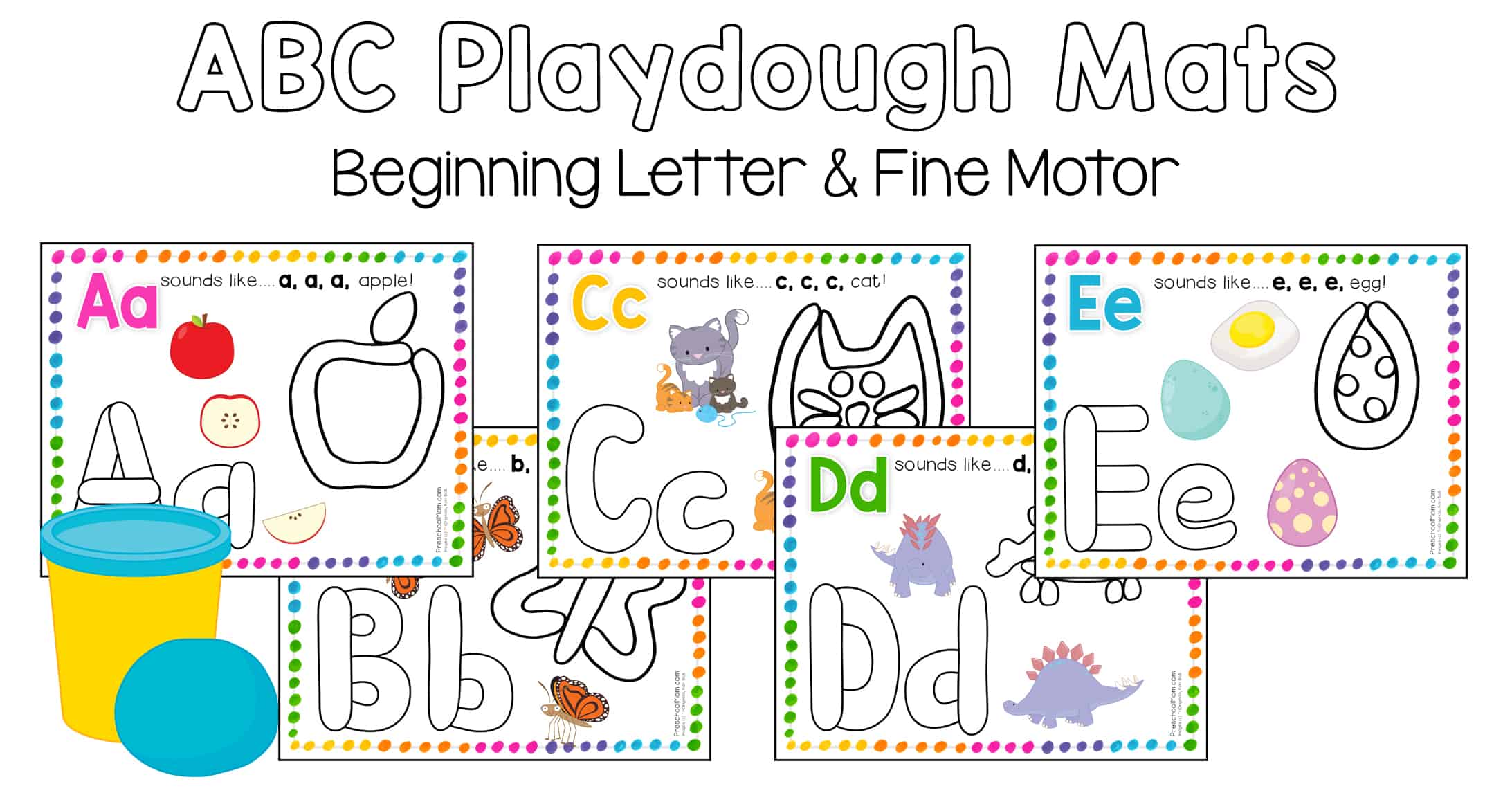 ABC Playdough Mats:
Building Fine Motor skills is a ton of fun with these Playdough Alphabet Mats! Each mat features uppercase and lowercase letters and beginning letter pictures to use as a model for squishing and squashing colorful play dough. While showing children the uppercase and lowercase letters, encourage students to run their fingers across the top sentence as they read it aloud, "A sounds like a, a, a, apple."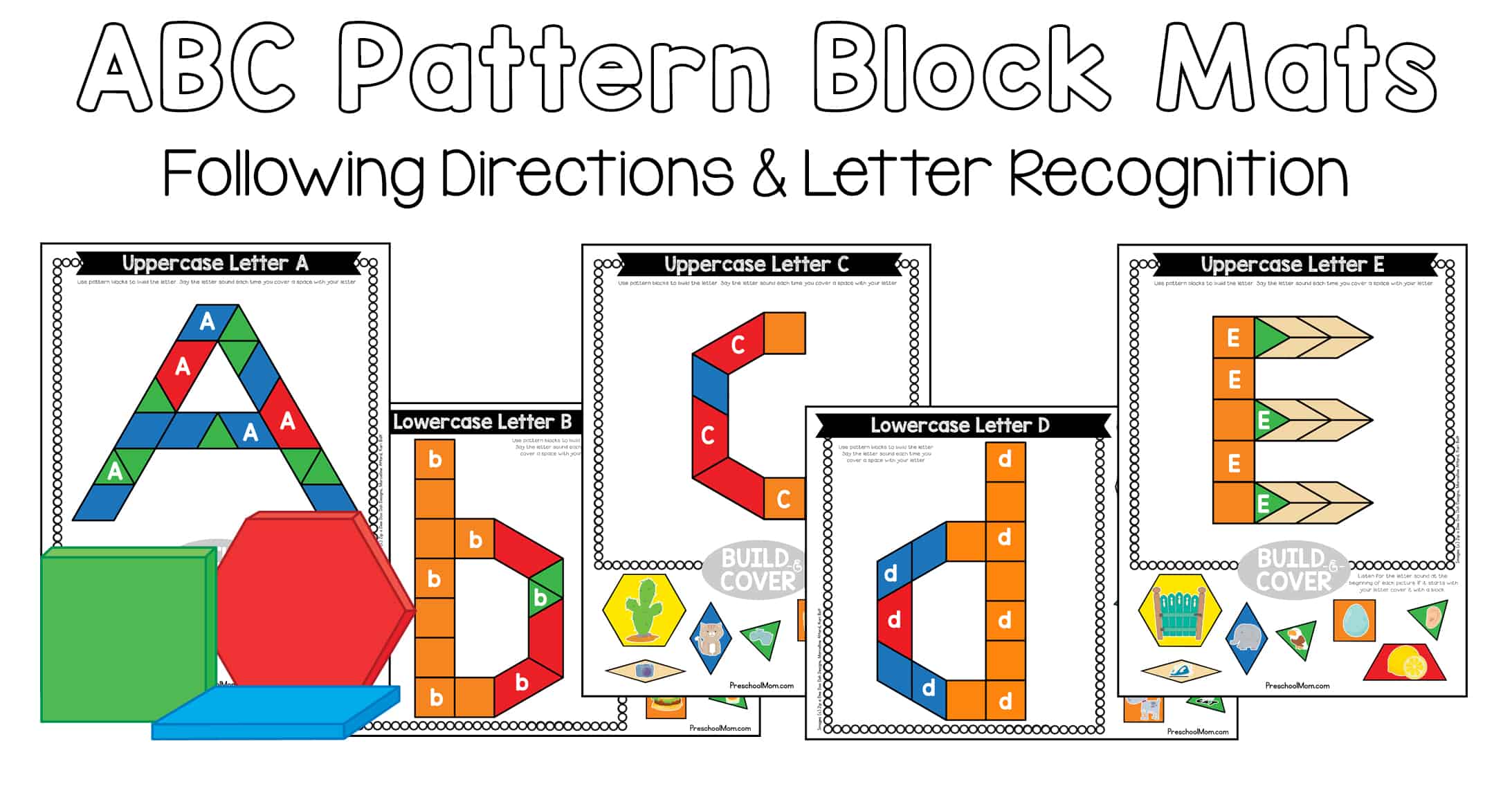 ABC Pattern Block Mats:
Build key logic and fine motor skills while working on letter recognition and letter sounds! These pattern block activity mats will give your students a huge advantage and solid foundation of learning by matching, practicing letter sounds, and identifying correct pictures to complete the activity.
.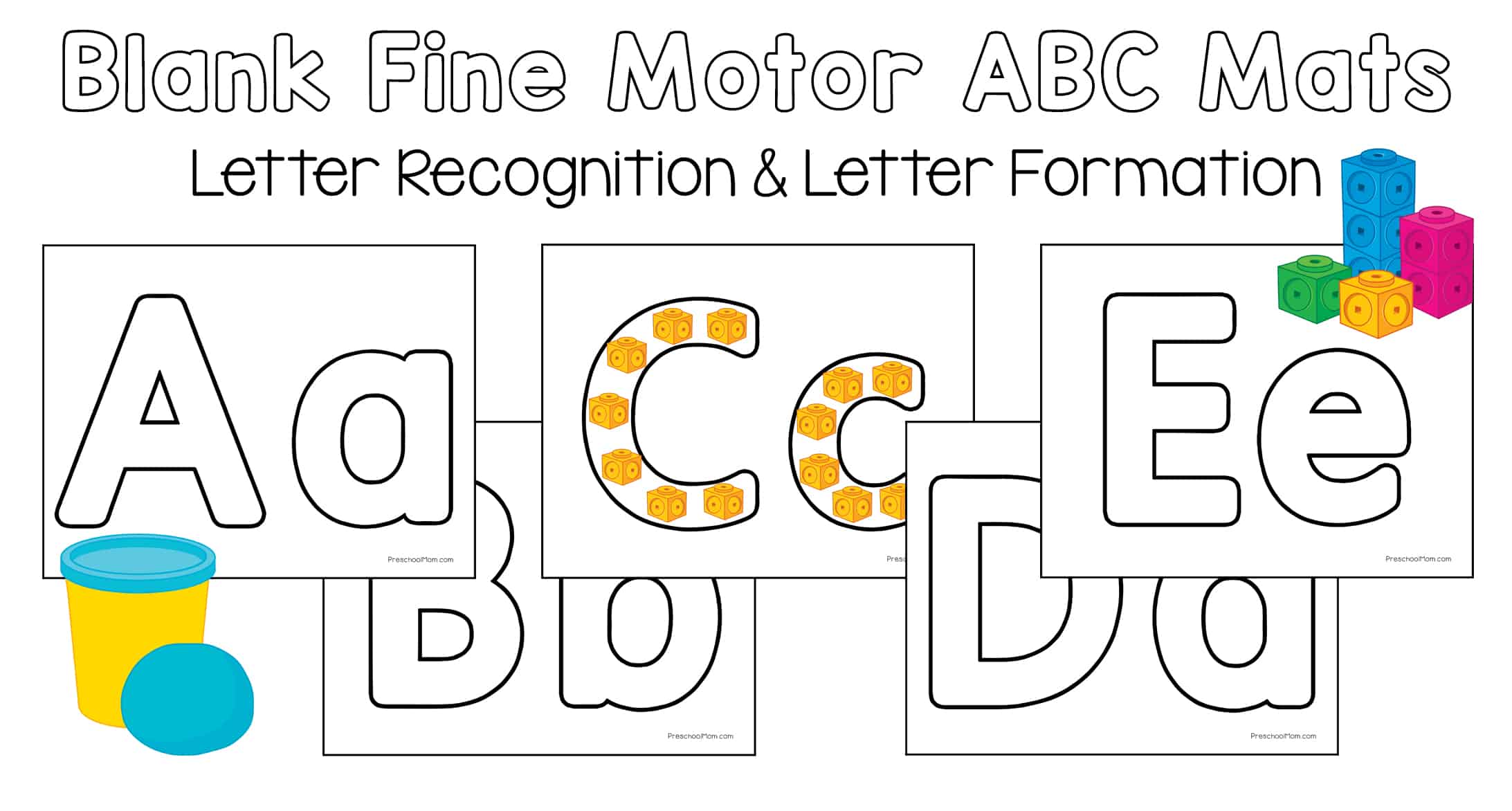 Blank Fine Motor ABC Mats:
These versatile Fine Motor ABC Mats are blank to build amazing creativity and art skills. Use these blank canvases to create masterpieces and build fine motor control with different manipulatives and resources. Use a variety of different methods to keep students engaged with learning such as Dab & Dot Markers, Pom-Poms, Mini Erasers, and so much more!
Fine Motor Listening Skill Sheets:
With our all-in-one, skill-building set, these Fine Motor Listening Skills Sheets contain low-prep directional worksheets for students of all ages! Teach critical skills of following directions using easy-to-use alphabet activity pages. Older children who are already reading can use the instructions as a reference as well.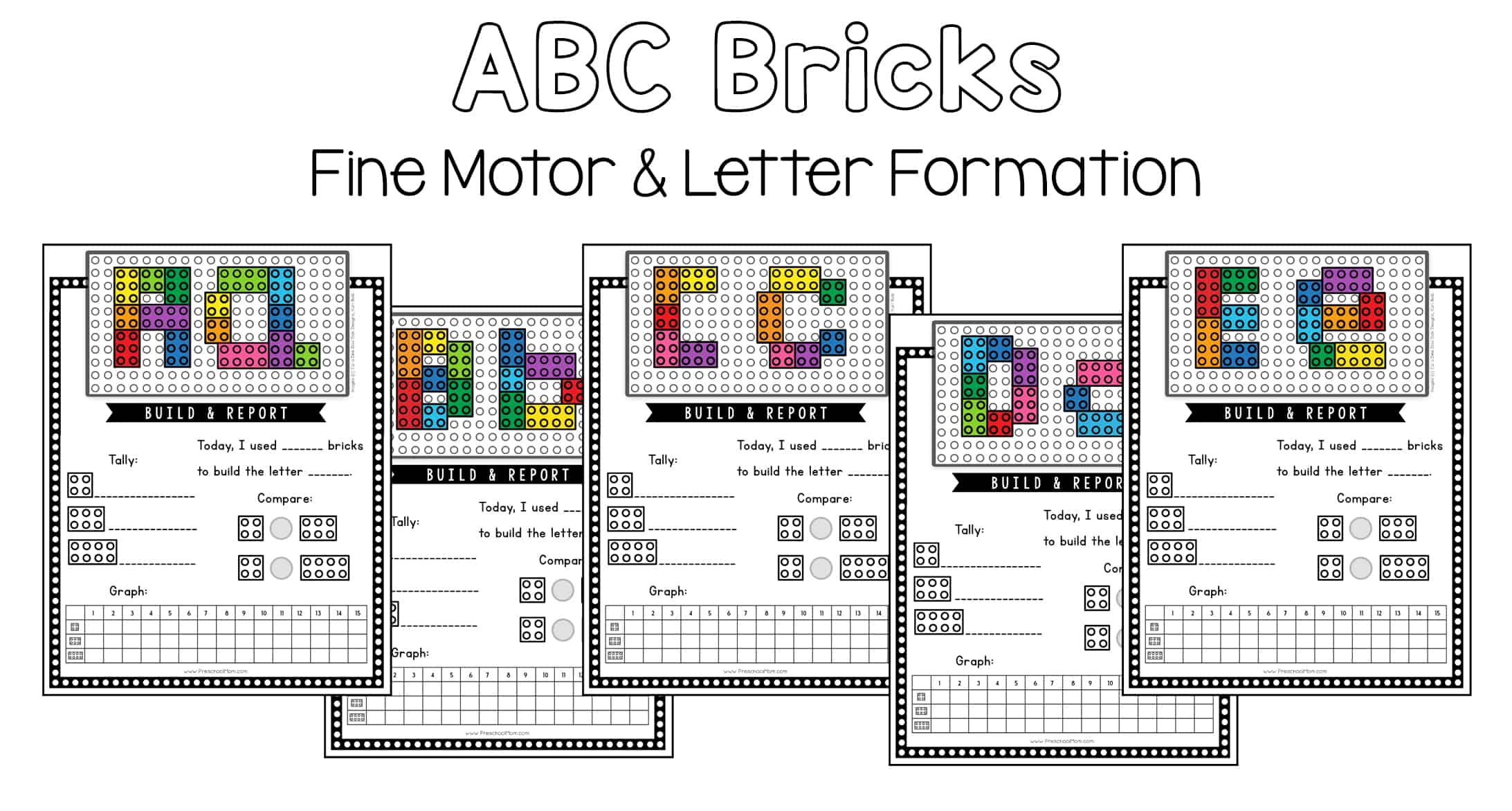 ABC Bricks Fine Motor Activities:
This amazing pack includes 26 pages of A-Z activity mats covering the uppercase and lowercase alphabet. Each page features both the uppercase and lowercase letter built from bricks, with a reporting area below. Students build the letter and answer the questions including the number of bricks they used, the letter they made, tally marks for each size brick, comparing, and graphing.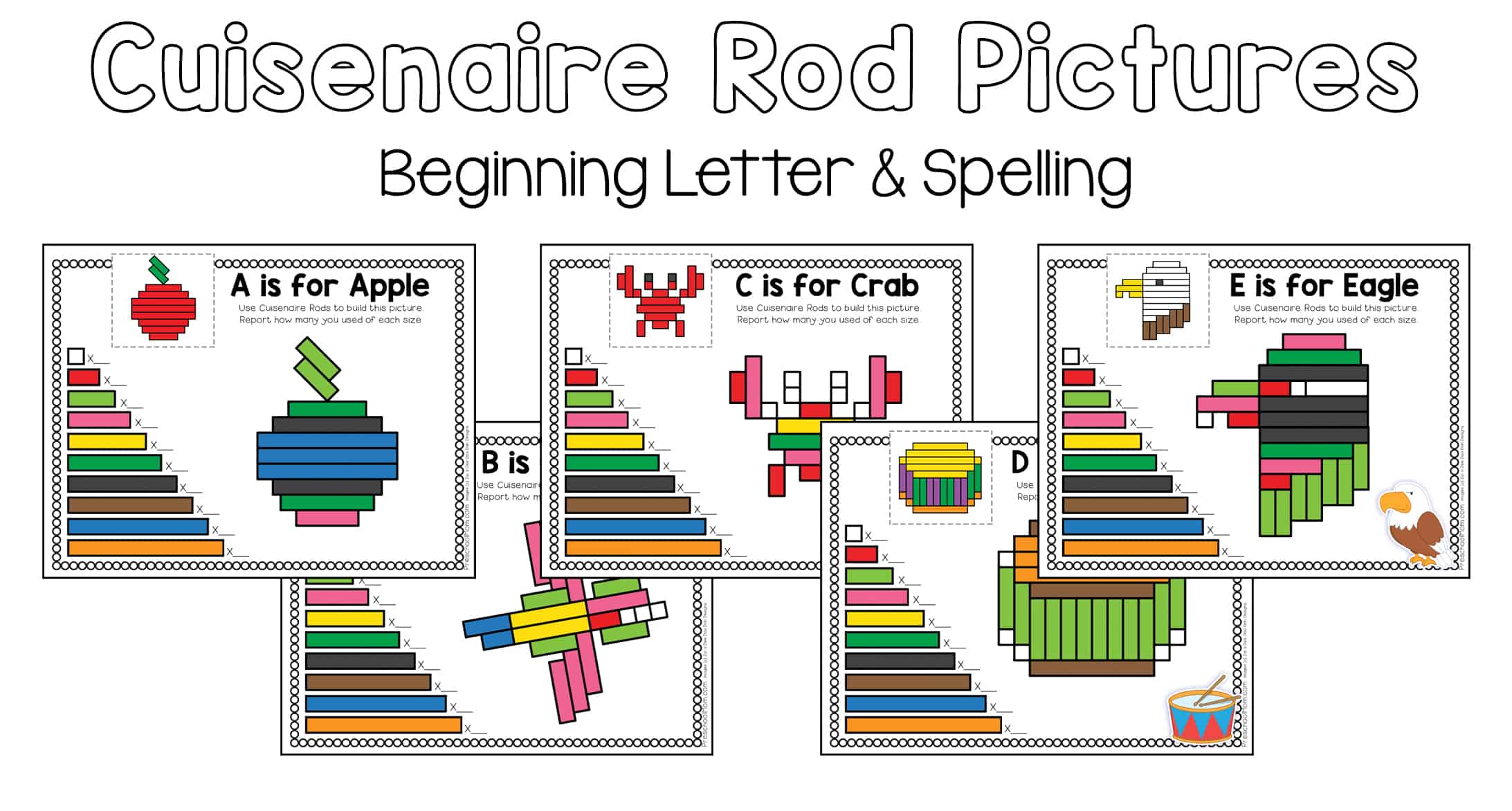 Cuisenaire Rod Beginning Letters:
This alphabet fine motor activity pack includes 26 pages of A-Z fine motor building mats using special Cuisenaire Rods that increase in size by 1cm at a time. Students count the different rods and report how many they used of each size. Laminate and place in a binder for recycled use.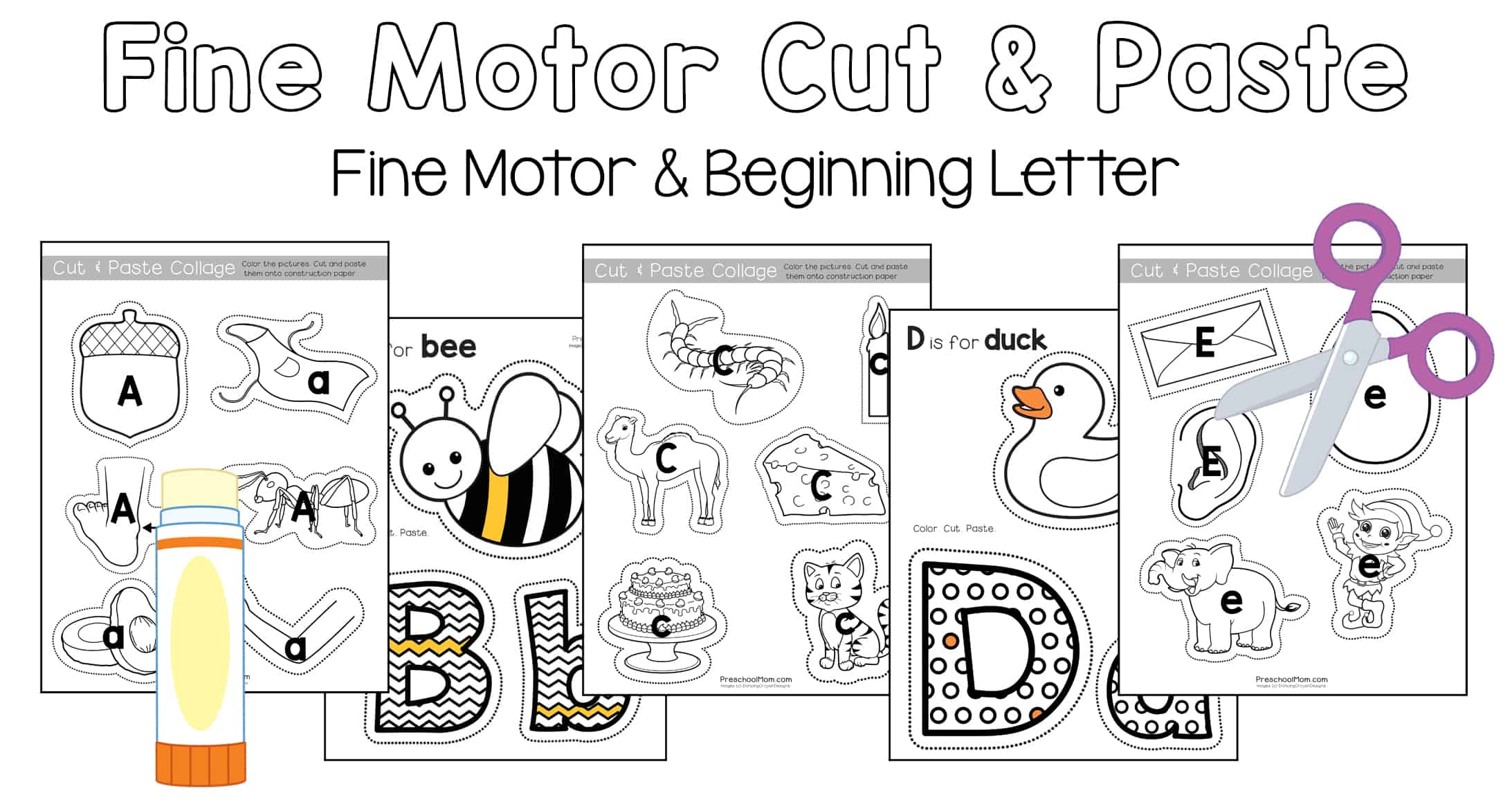 Fine Motor Cut & Paste Sheets:
Build strong Fine Motor movements with these ABC Cut & Paste Activity Pages. Students simply color, cut, and paste to make beginning letter paper collages with uppercase or lowercase letters. These look fantastic on the classroom wall for letter-of-the-week reference charts. Alternatively, use them to create take-home alphabet sound books.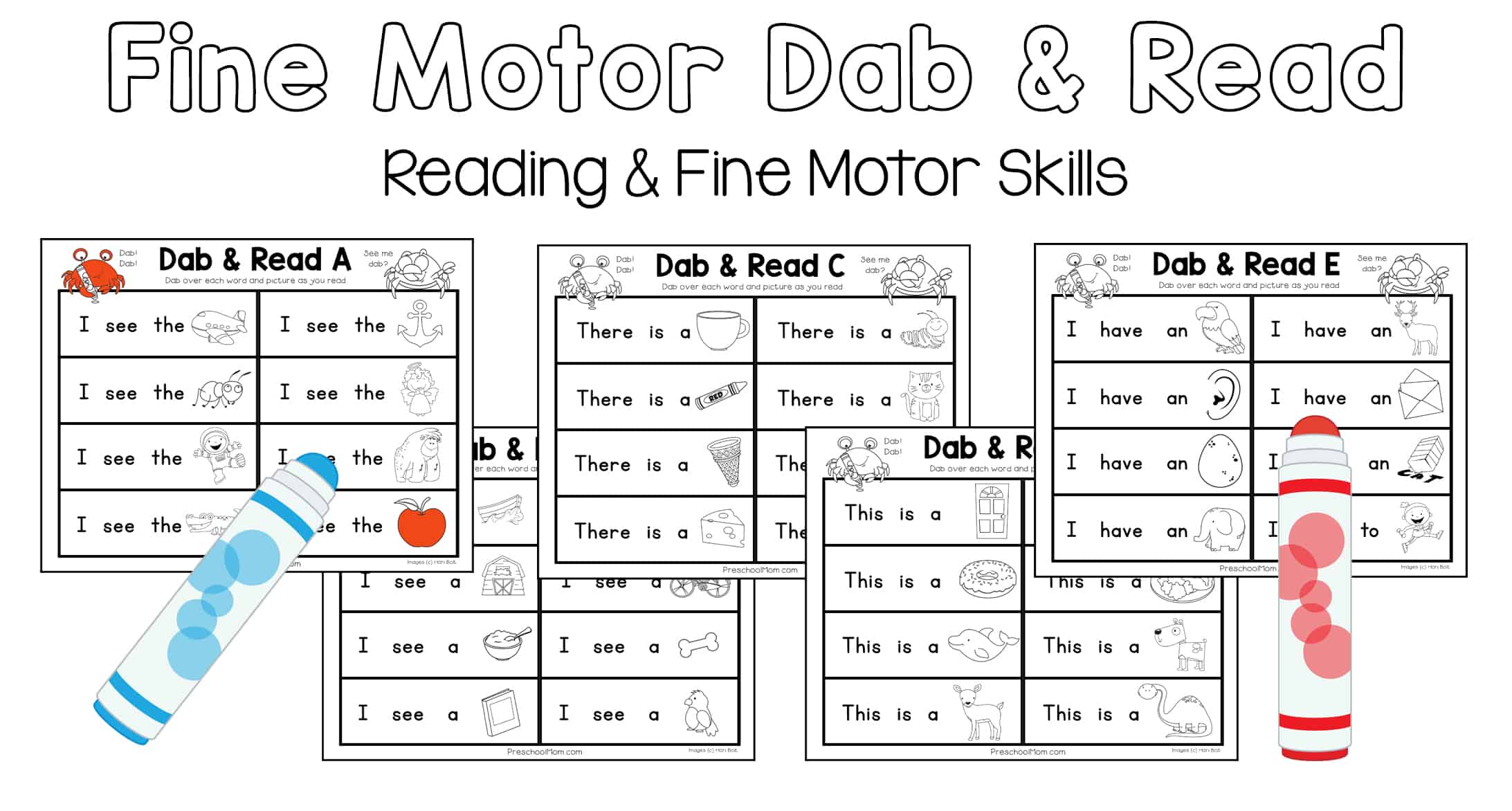 Fine Motor Dab & Read Worksheets:
Our Dab & Read Sight Word Activity Pages are wonderful for active, yet reluctant readers! Using a unique combination of Fry's First 100 Sight Words with beginning letter pictures, students learn the critical basics like reading from left to right, beginning letter sounds, and key sight words recommended during the preschool & kindergarten years.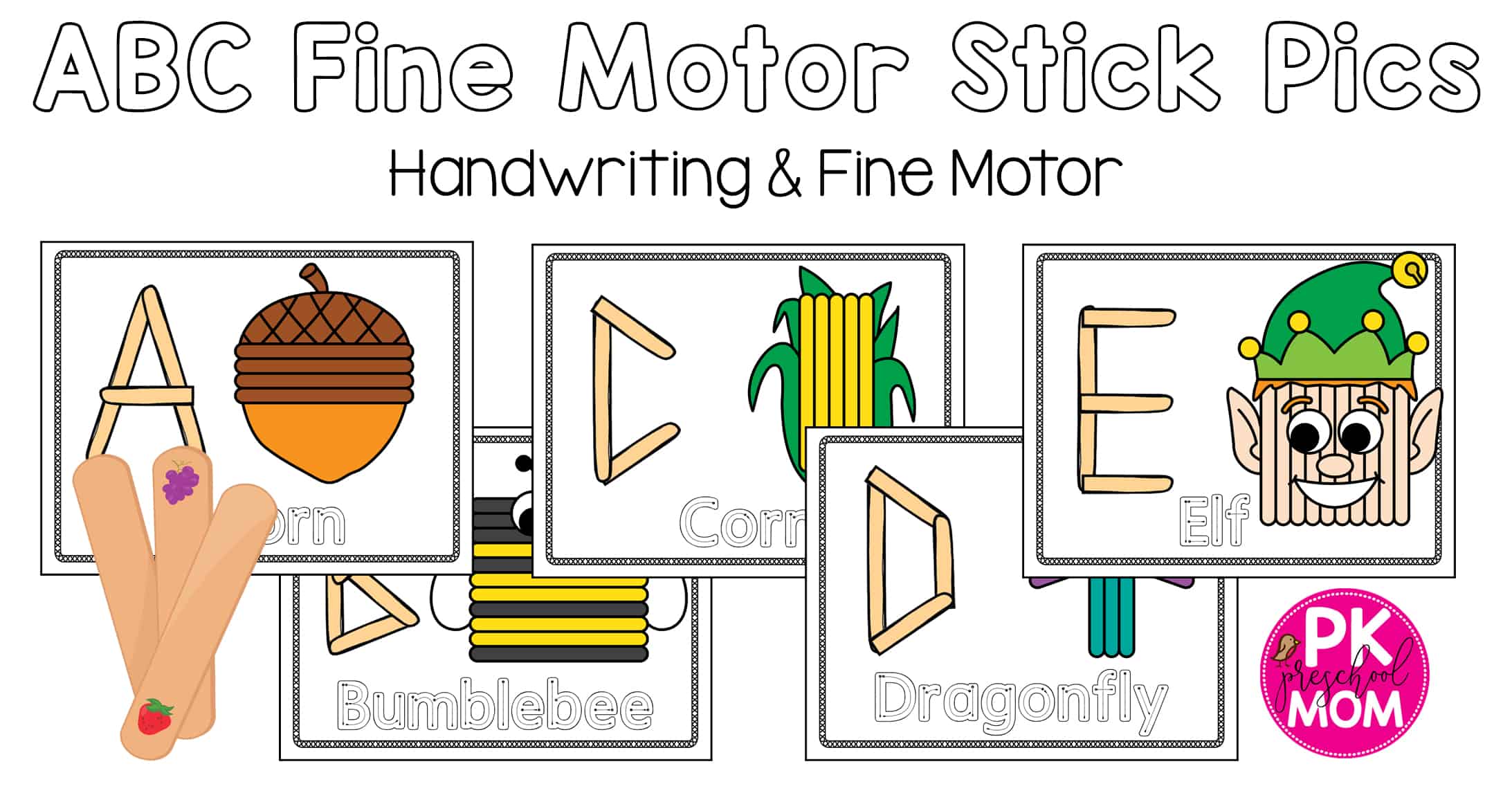 Popsicle Stick Fine Motor ABCs:
Build Fine Motor skills with versatile popsicle Sticks! Each ABC activity mat covers a single letter of the alphabet featuring a letter and picture for students to create using popsicle sticks. These Fine Motor Mats are perfect for practicing their ABCs and building small motor muscles.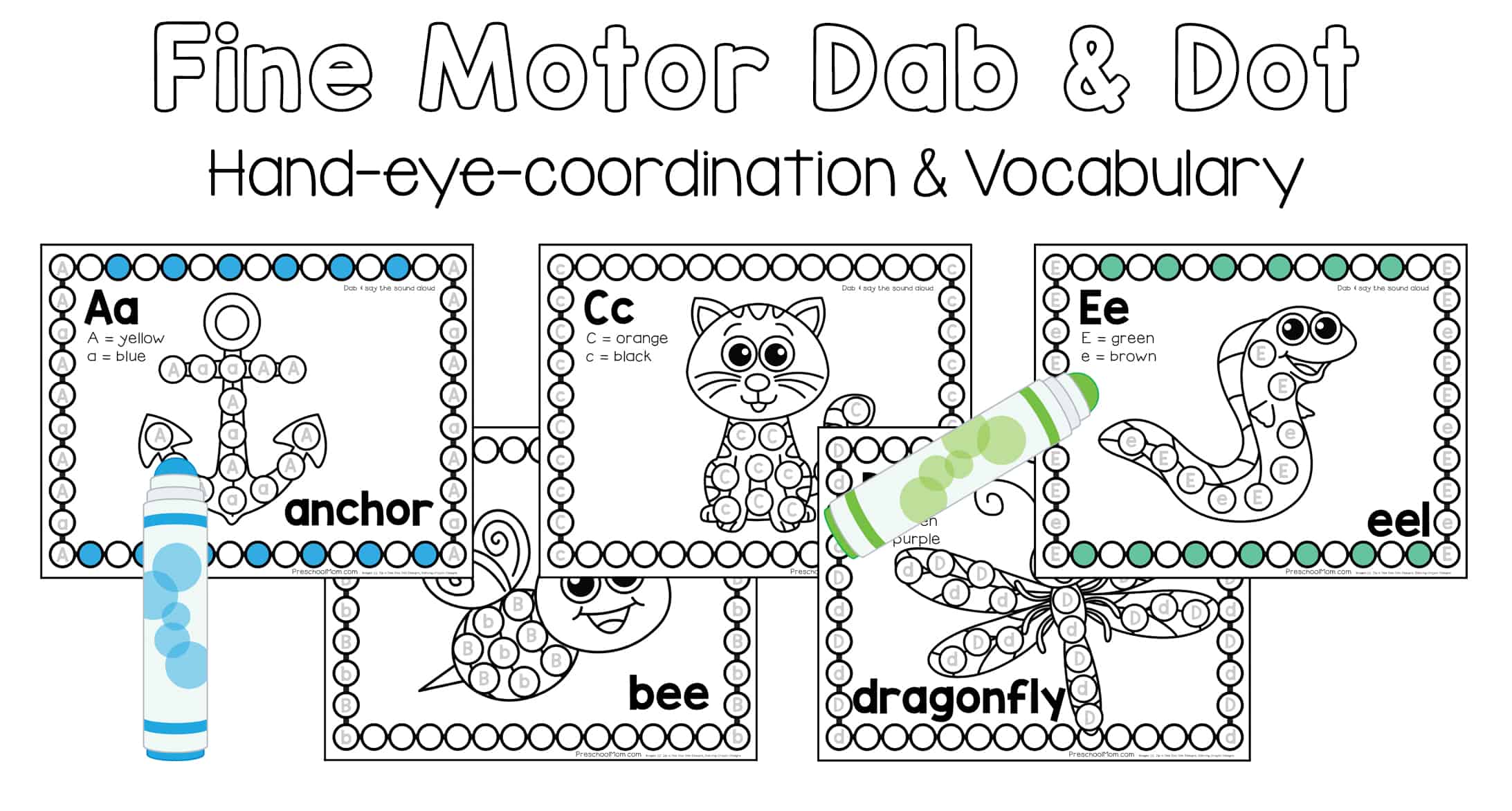 Dab and Dot Fine Motor Activities:
This hands-on activity pack covers the alphabet A-Z with fun dab and dot activity pages. Each page features a beginning letter picture for students to practice their letter sounds. Use our Fine Motor phonics activities encourage students to say each sound out loud as they dab each upper and lowercase letter.
.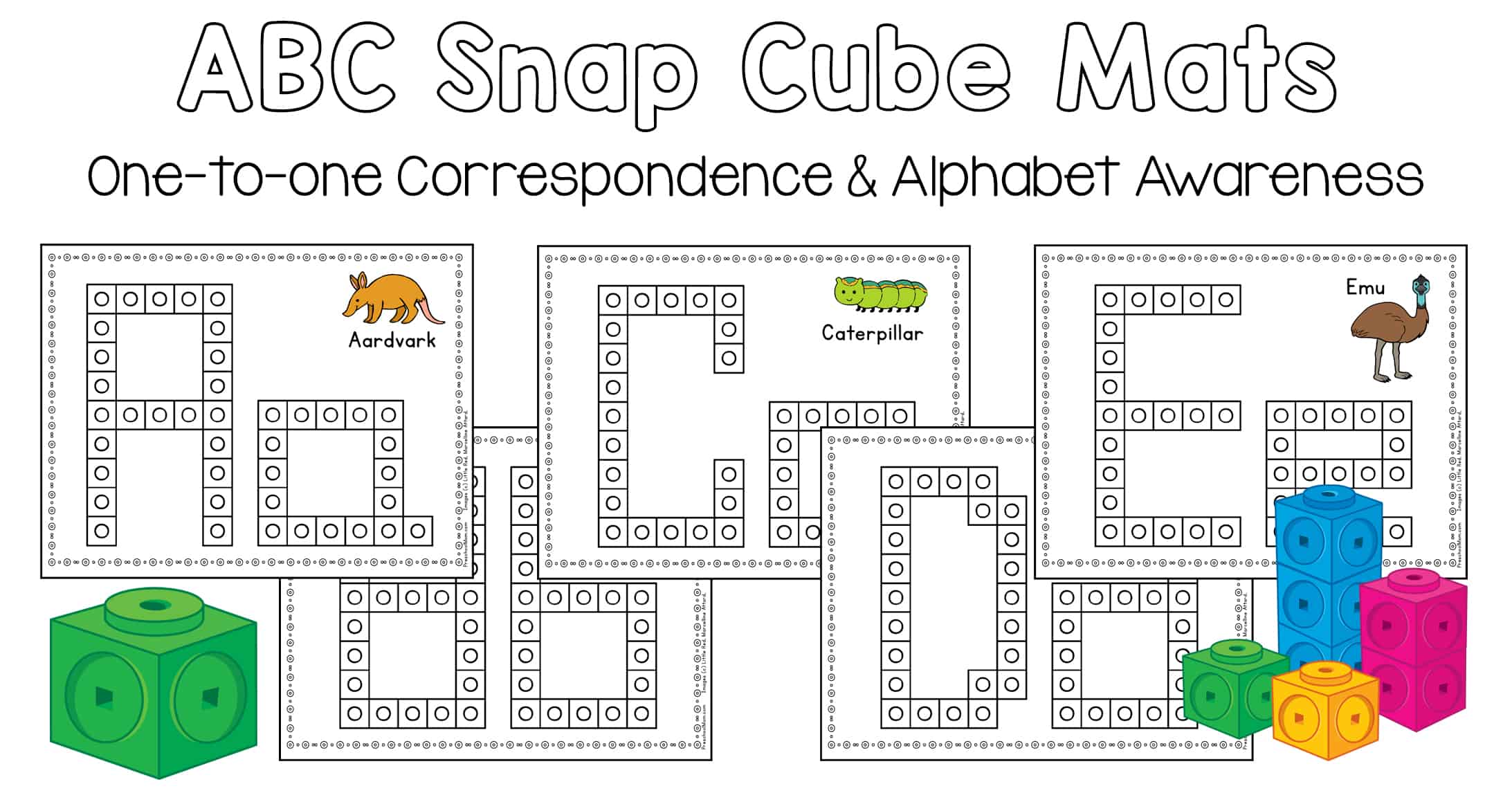 ABC Snap Cube Mats:
Simple, yet super fun hands-on learning opportunities for kids using Snap Cube Alphabet Mats! By providing students with a set of snap cubes, they will create both the uppercase and lowercase letters to help letter recognition and future writing skills. In addition, snapping the cubes together will build small motor muscles. Keep in mind snap cubes can be frustrating for younger students.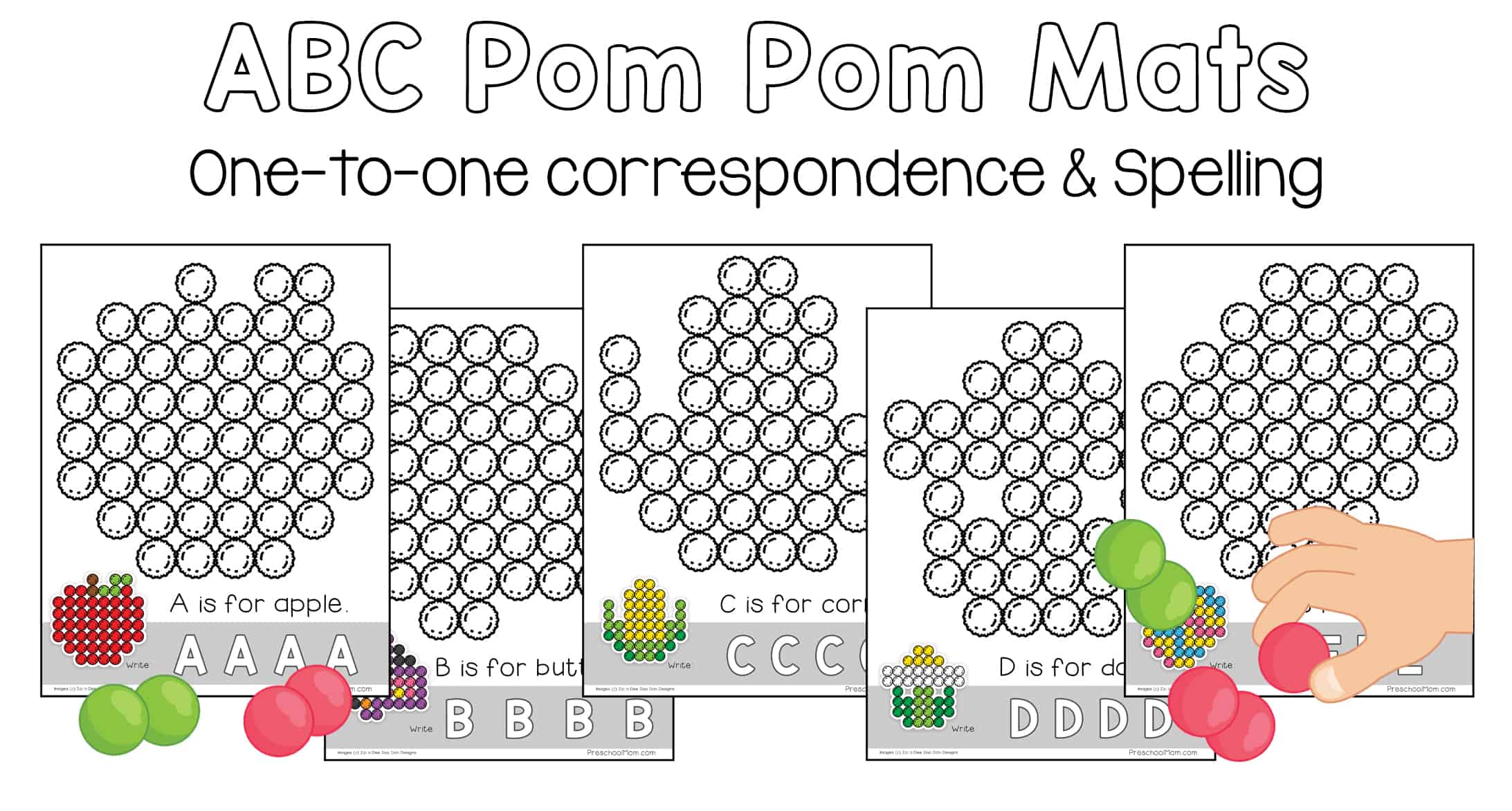 ABC Pom Pom Mats:
Build Fine Motor skills with these super exciting Pom-Pom Mats! Each mat features a different letter of the alphabet with handwriting practice and a beginning word picture to create. Recreating pictures from a colorful example is a great skill builder for your young learners including one-to-one coordination and following patterns.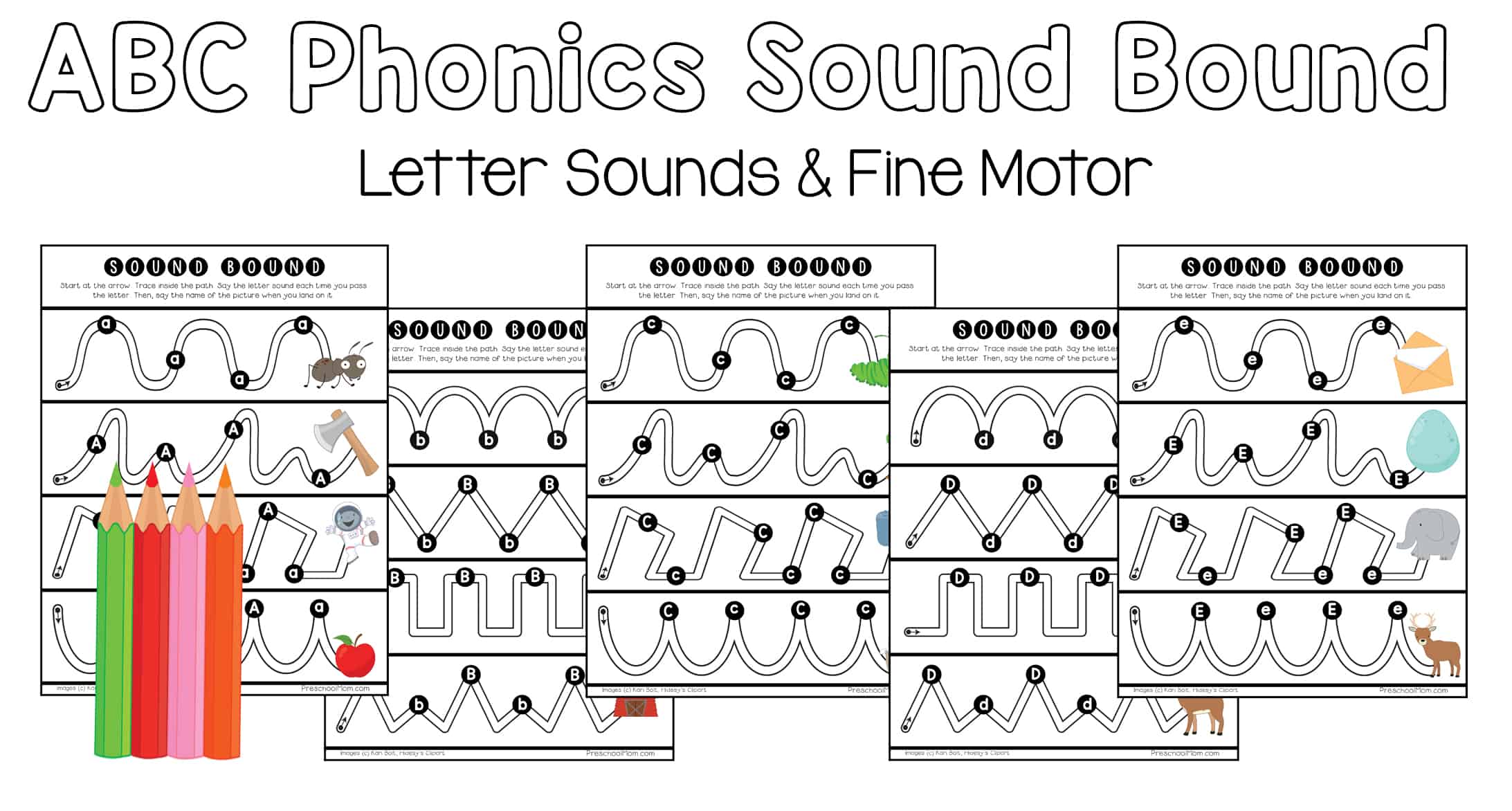 ABC Phonics Sound Bound Activities:
Learn phonics the easy way using our beginning letter pictures to help with beginning letter sounds. With our ABC Phonics Sound Bound bundle, students simply say the sound aloud as they dab each uppercase and lowercase letter using the correct color.
Suggested Materials:
Daubers, playdough, pattern blocks, 5x5 geoboard & bands, popsicle sticks (full & half size), cotton swabs & paint, building bricks, snap cubes, page protectors, dry erase markers, alphabet stamps, stickers, and small toy car. (View Our Favorite Fine Motor Products Here)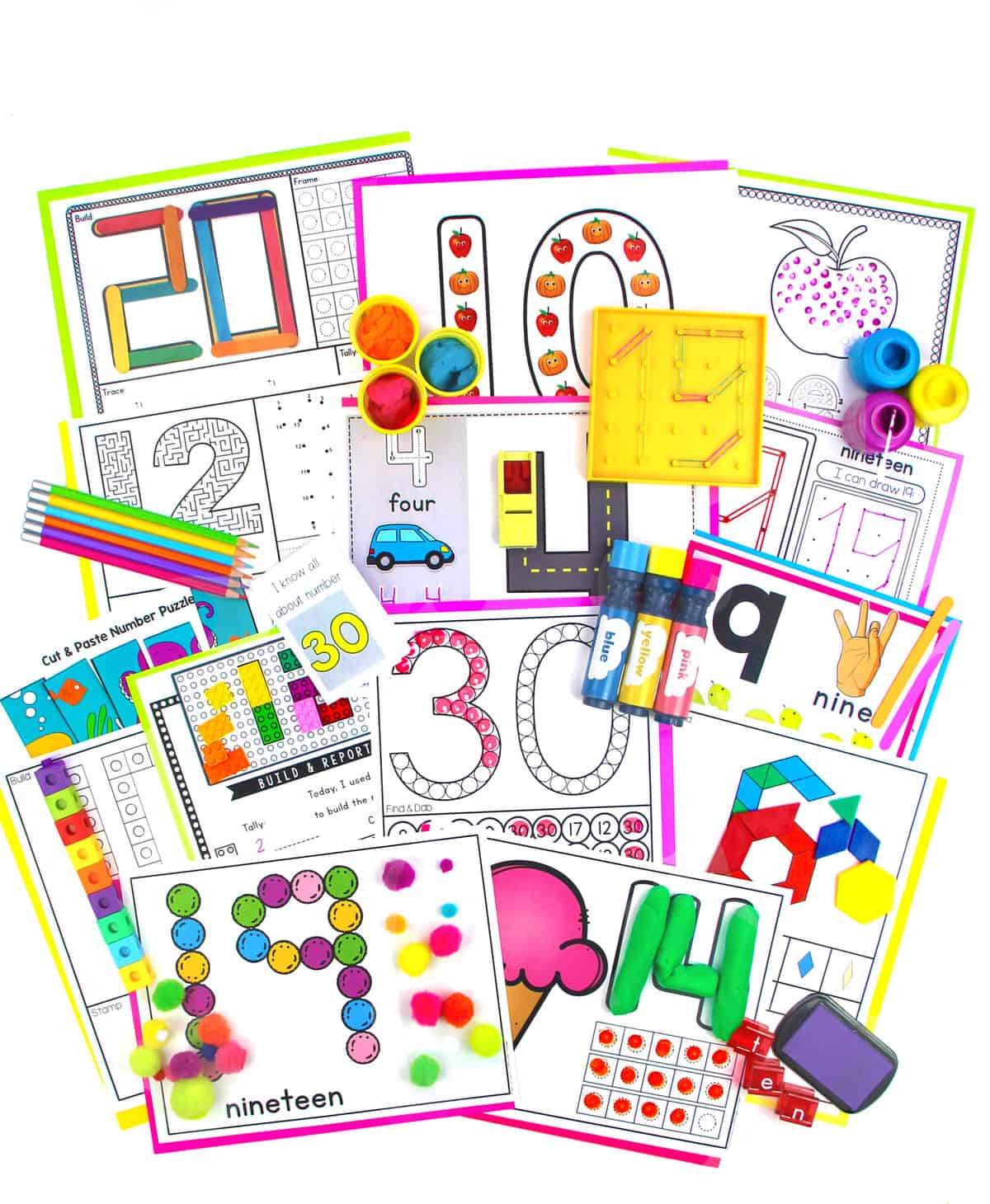 This has made a great addition to my centers!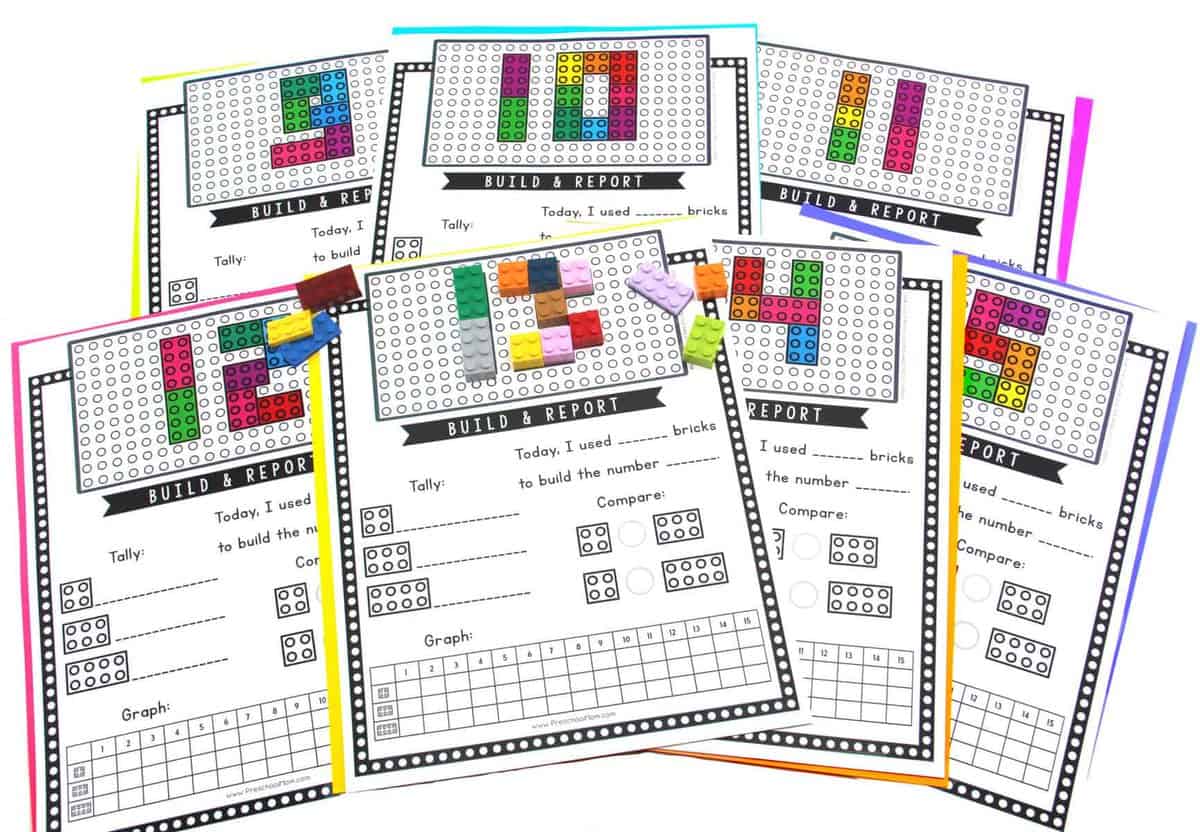 Additional information
| | |
| --- | --- |
| Product License | Homeschool, Classroom |
Frequently Bought Together....