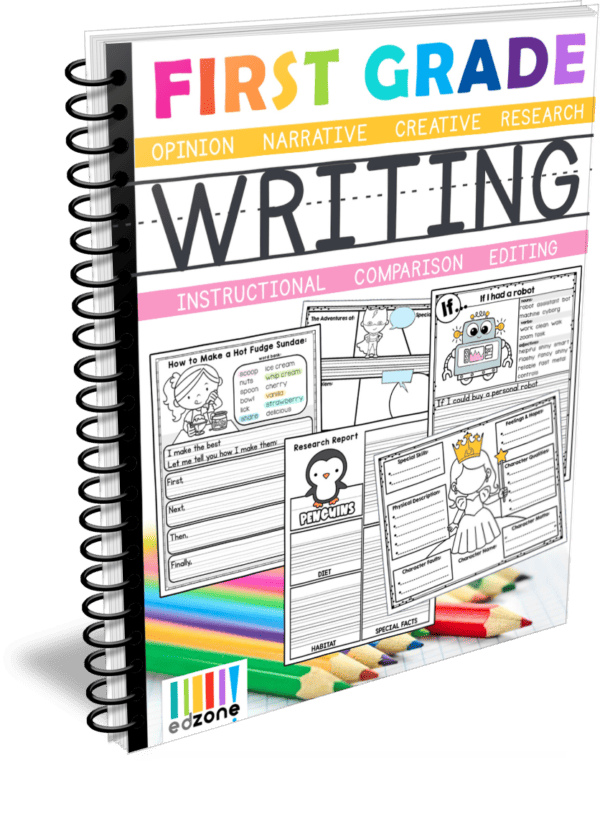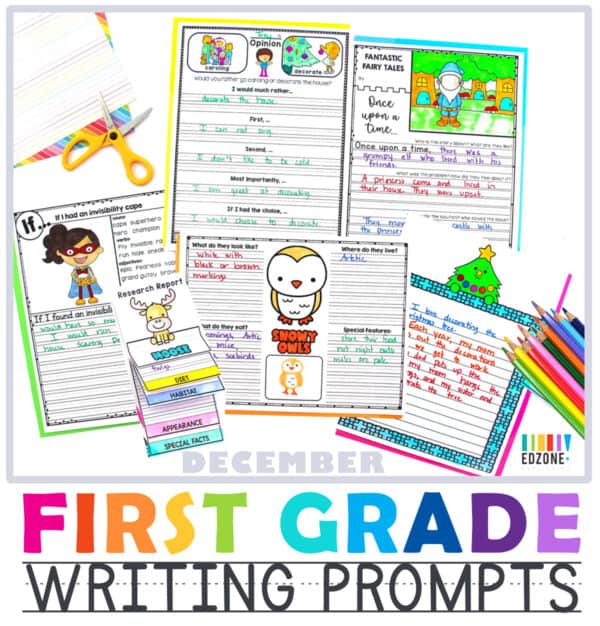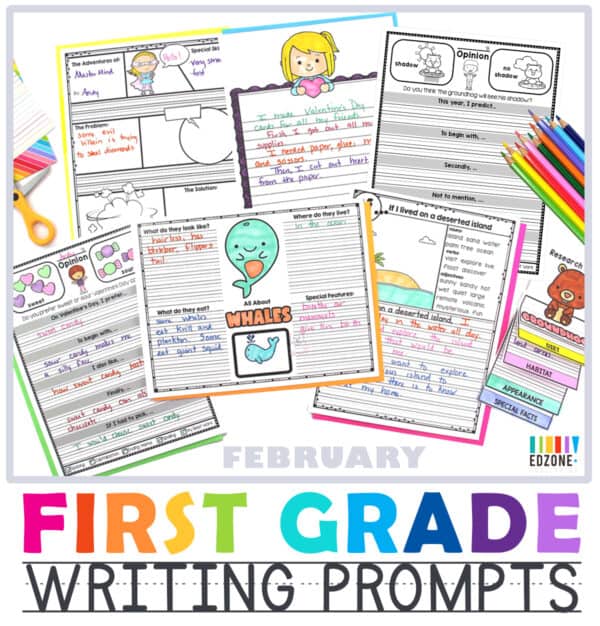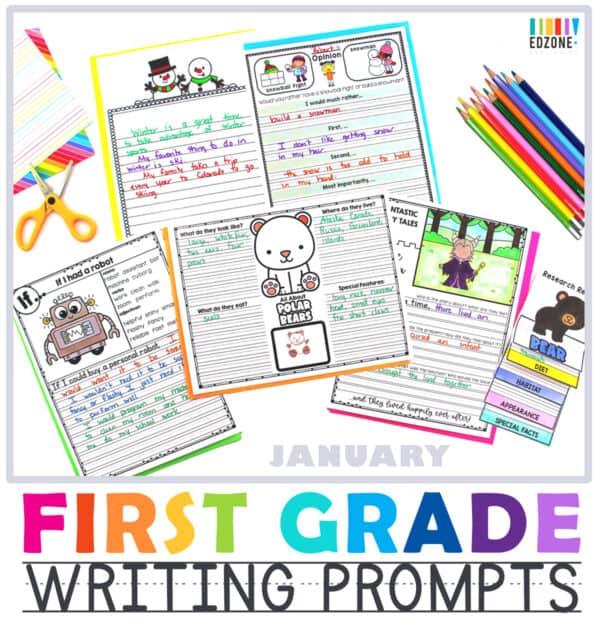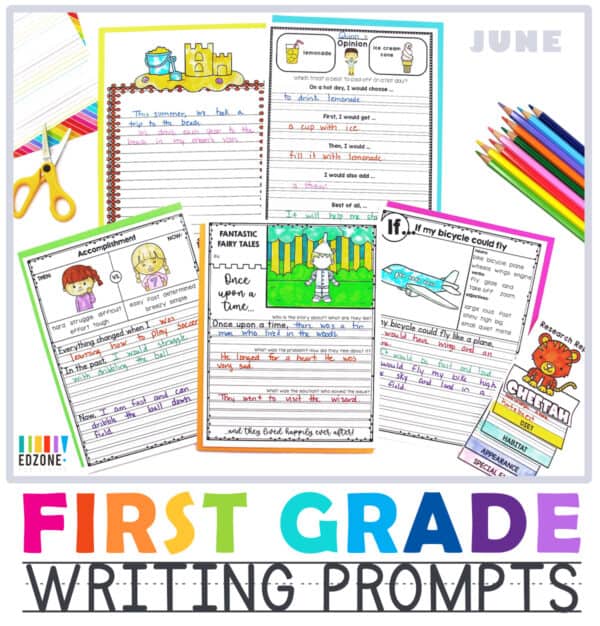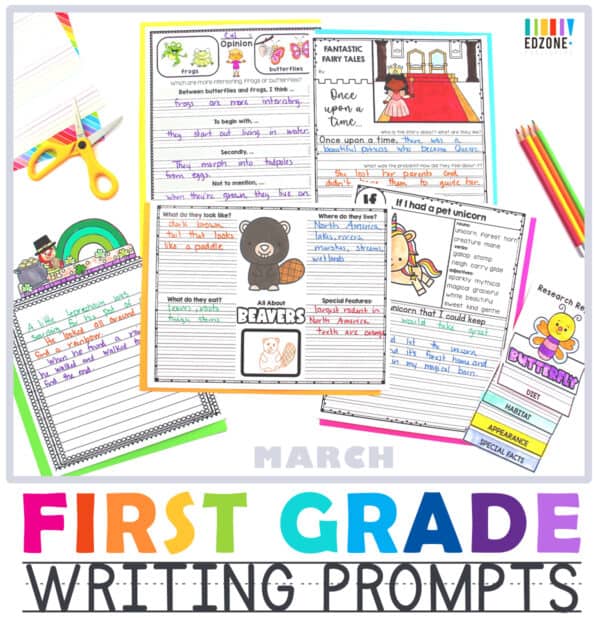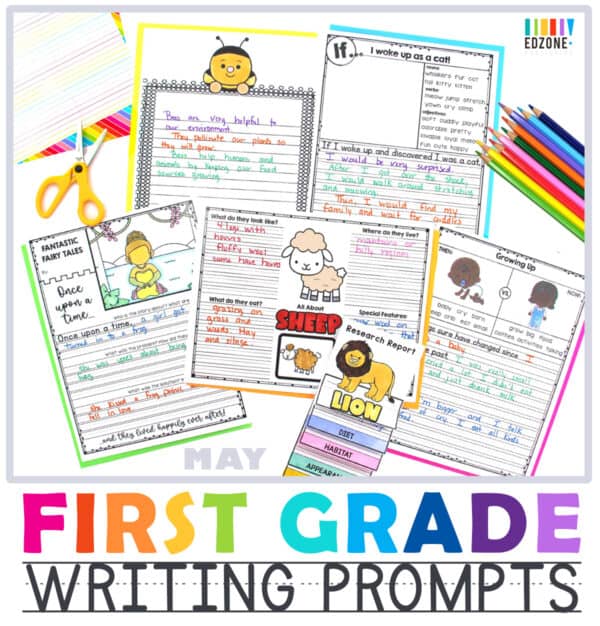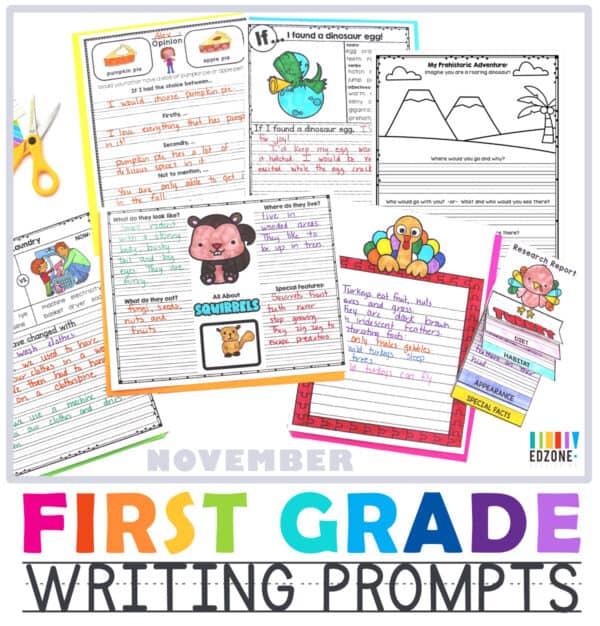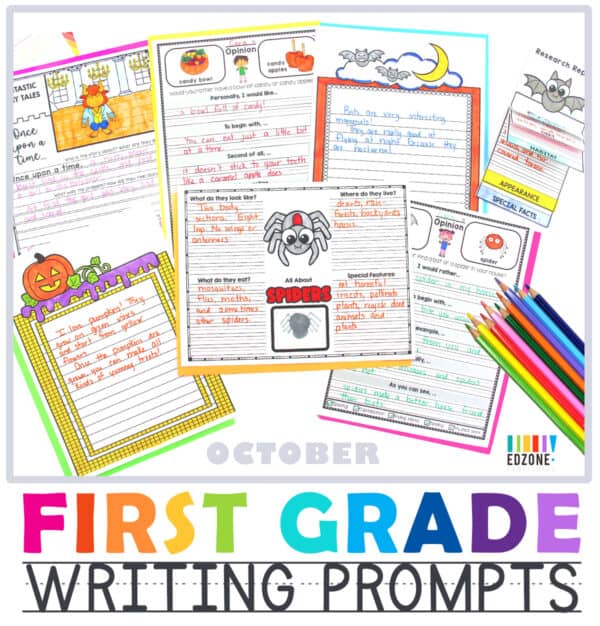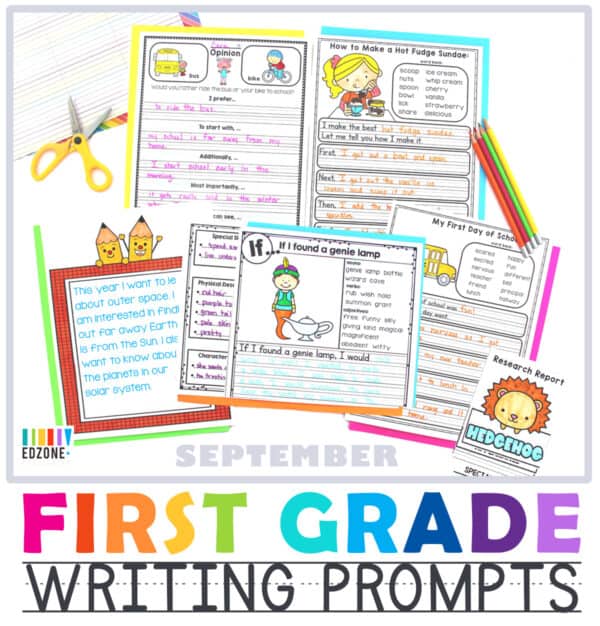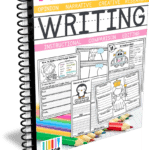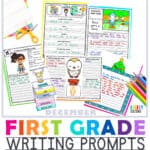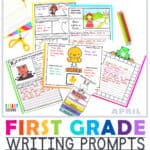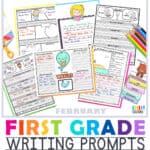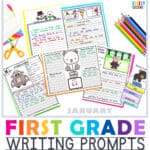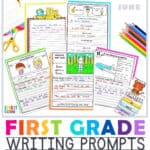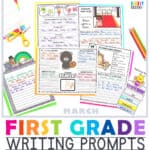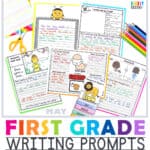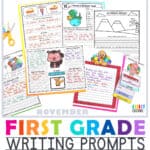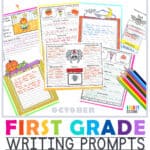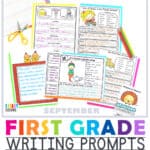 First Grade Writing Prompts
Sample         Format: PDF        Grade: 1st        Pages: 200+     Bundle & Save!
First-Grade Writing Prompts Bundle includes 200+ pages of structured and guided writing prompts! For every month of the school year, 20 exciting & engaging writing prompts are available for First Grade! Here's what you'lll get for every month — a writing pack chocked full of goodies including themed-based writing prompts to help students write their own superhero story, describe a thrilling adventure, and record their opinions on a variety of topics, plus, they'll practice comparing and contrasting, play games and so much more! With our creative design and unique topics, our writing prompts for kids will help your students put pen to paper and get those innovative ideas flowing!
Please note this is a downloadable product only, nothing physical will be mailed. Binder and elements in photos are for illustrative purposes only.
⭐Budget-Friendly Pricing
⭐Simple, Low-Prep Format
⭐Interactive & Hands-On
⭐Friction-Free Homeschooling
⭐Meets or Exceeds Standards
⭐Multiple Students & Abilities
⭐Simple Format Outlines
⭐No Expensive Teacher Guides
⭐Encourages Independence
Description
Additional information
Reviews (6)
Description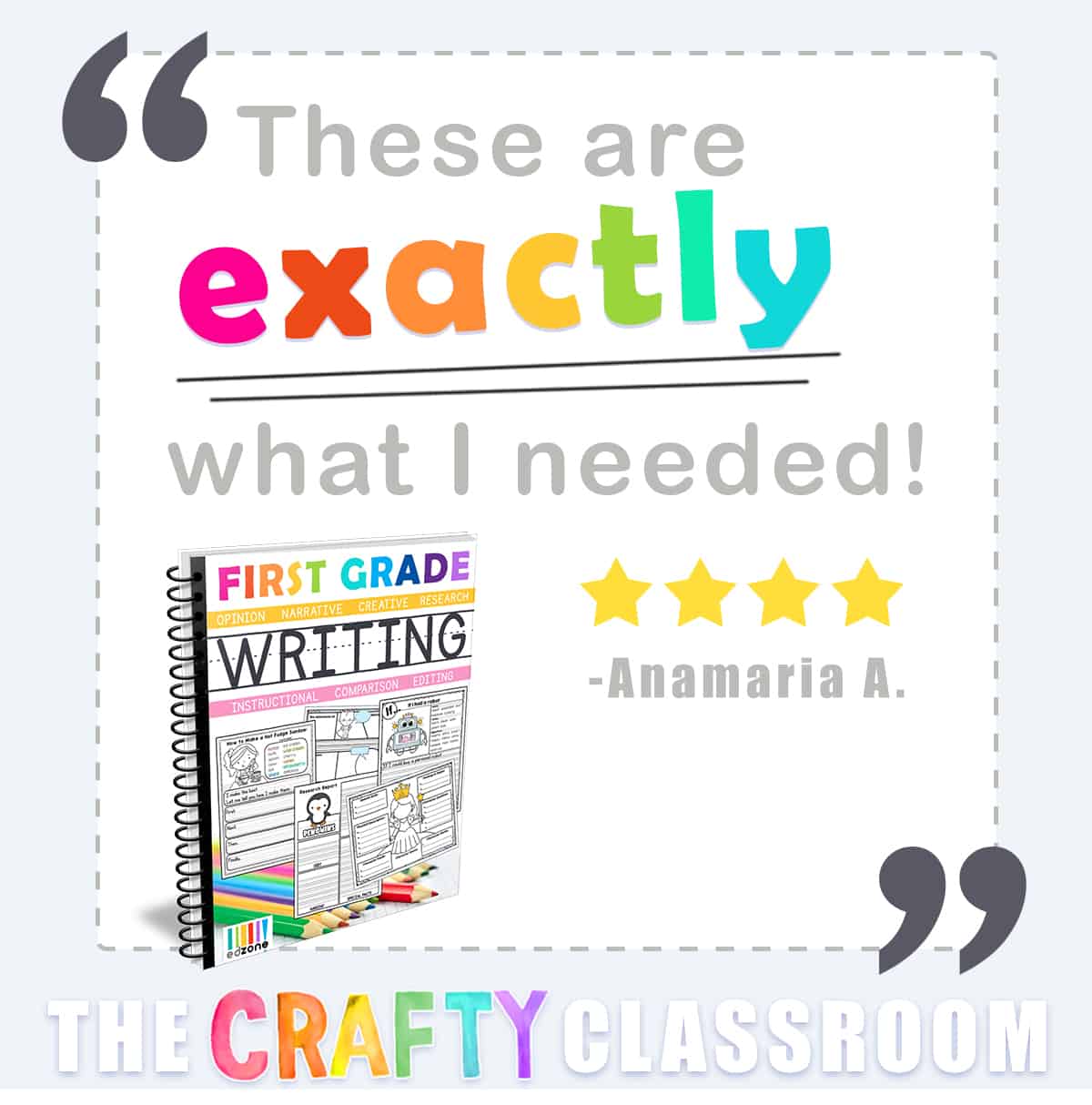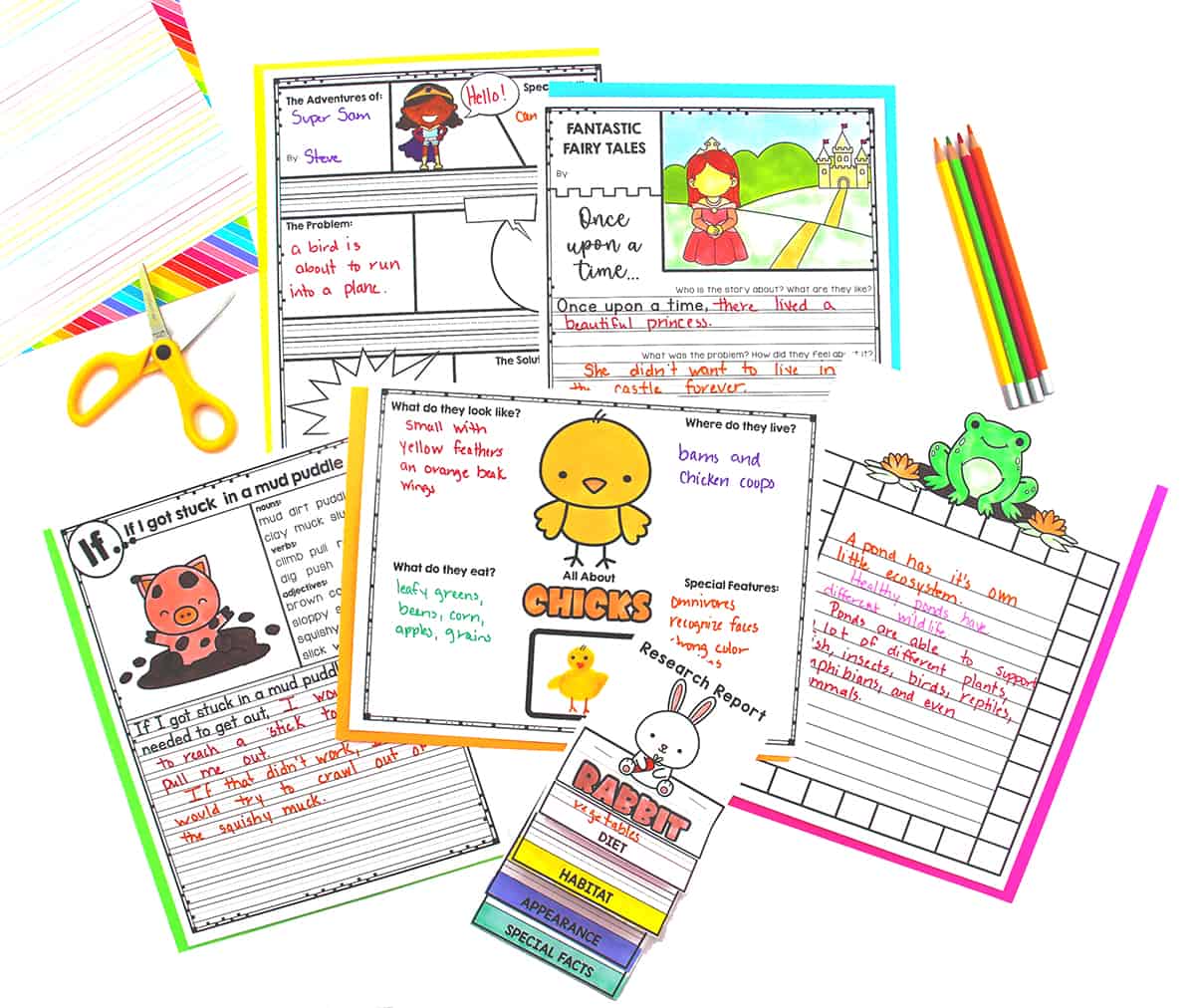 First Grade Writing Prompts
Product Overview
Our First Grade Writing Prompts Bundle contains simple, no-prep writing activities and is the perfect way to get a reluctant writer's creative juices flowing! Every month there are 20 pages of themed-based writing activities that will make learning engaging, entertaining, and educational all at the same time! Plus, each monthly pack includes first-grade guided writing journals for kids to write about their exciting adventures.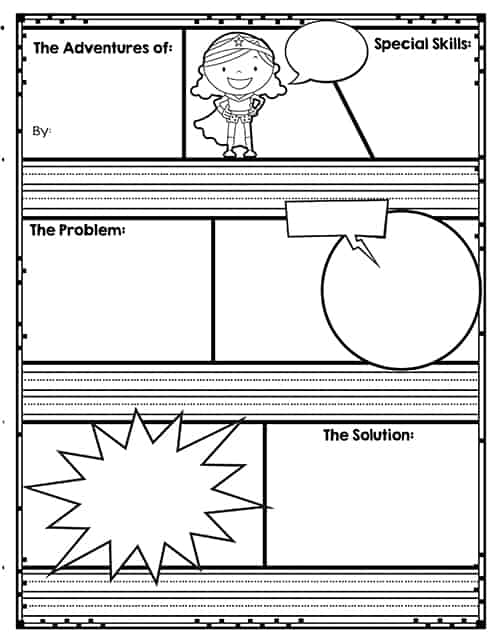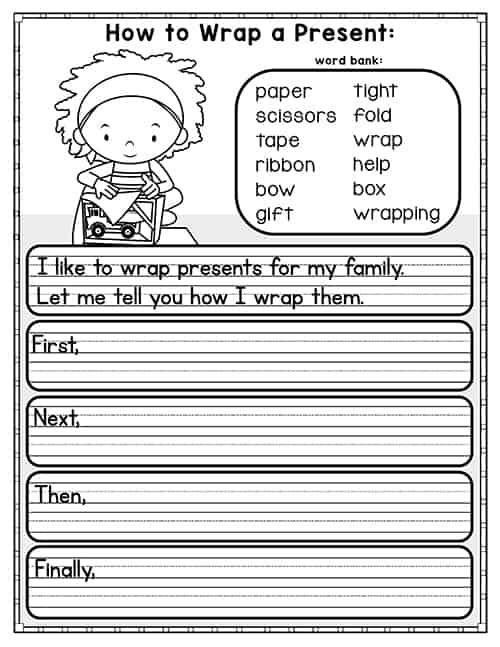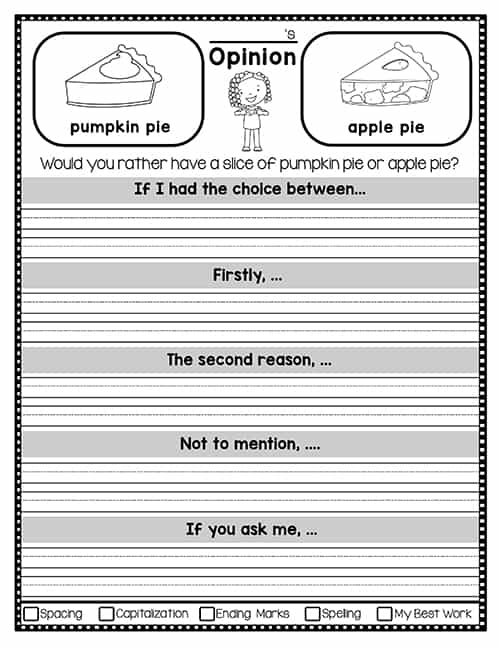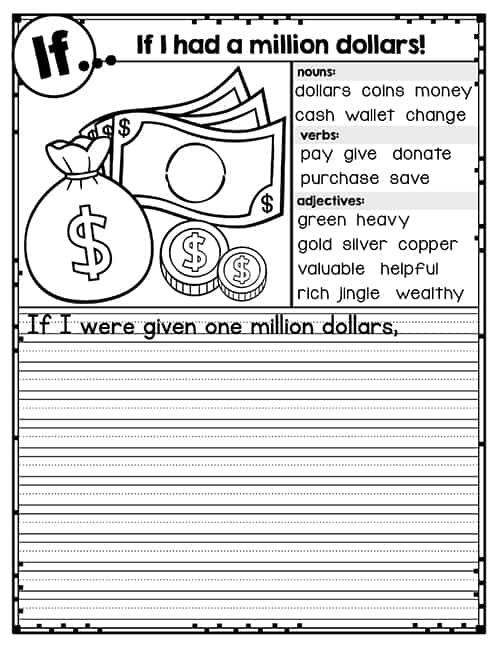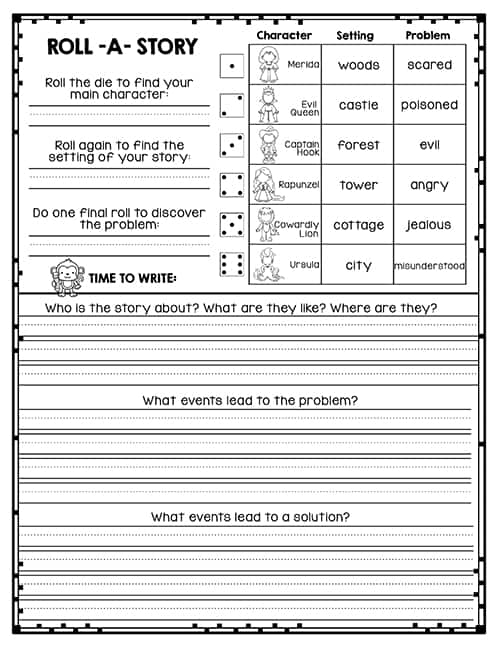 Covers Key Standards & Skills
What's Included:
Kids learn the following writing stages:
Prewriting
Writing
Revising
Editing
Publishing
Each monthly pack includes 20 First-Grade Daily Writing Prompts:
Opinion Writing Prompts

Informative Writing Prompts

Creative Writing Prompts

Narrative Writing Prompts

Final Draft Writing Paper
Skills Covered:
Writing prompts worksheets include:
Would You Rather...?
How To Make...
Narrative Story Prompts
Character Map
Research Report Layer Book
Research Report Fact Flipper
"If..." Narrative Prompts
Fantastic Fairytales
Then vs. Now
Comic Adventure
Compare and Contrast Venn Diagram
Roll-A-Story
How to Use:
This program has been developed to cut the prep-time down to a minimum. Simply print and go! For 4 days a week, Monday through Thursday, daily writing prompts will print in the order outlined on the included monthly calendar. All of the writing prompts are self-explanatory, however, it's helpful to review expectations with your students ahead of time. NOTE: Animal Research Fact Flippers are designed to be cut out, stacked, and stapled together. On Fridays, your students will choose their favorite writing prompt of the week and revise, edit, and publish their writing on the final draft worksheet provided.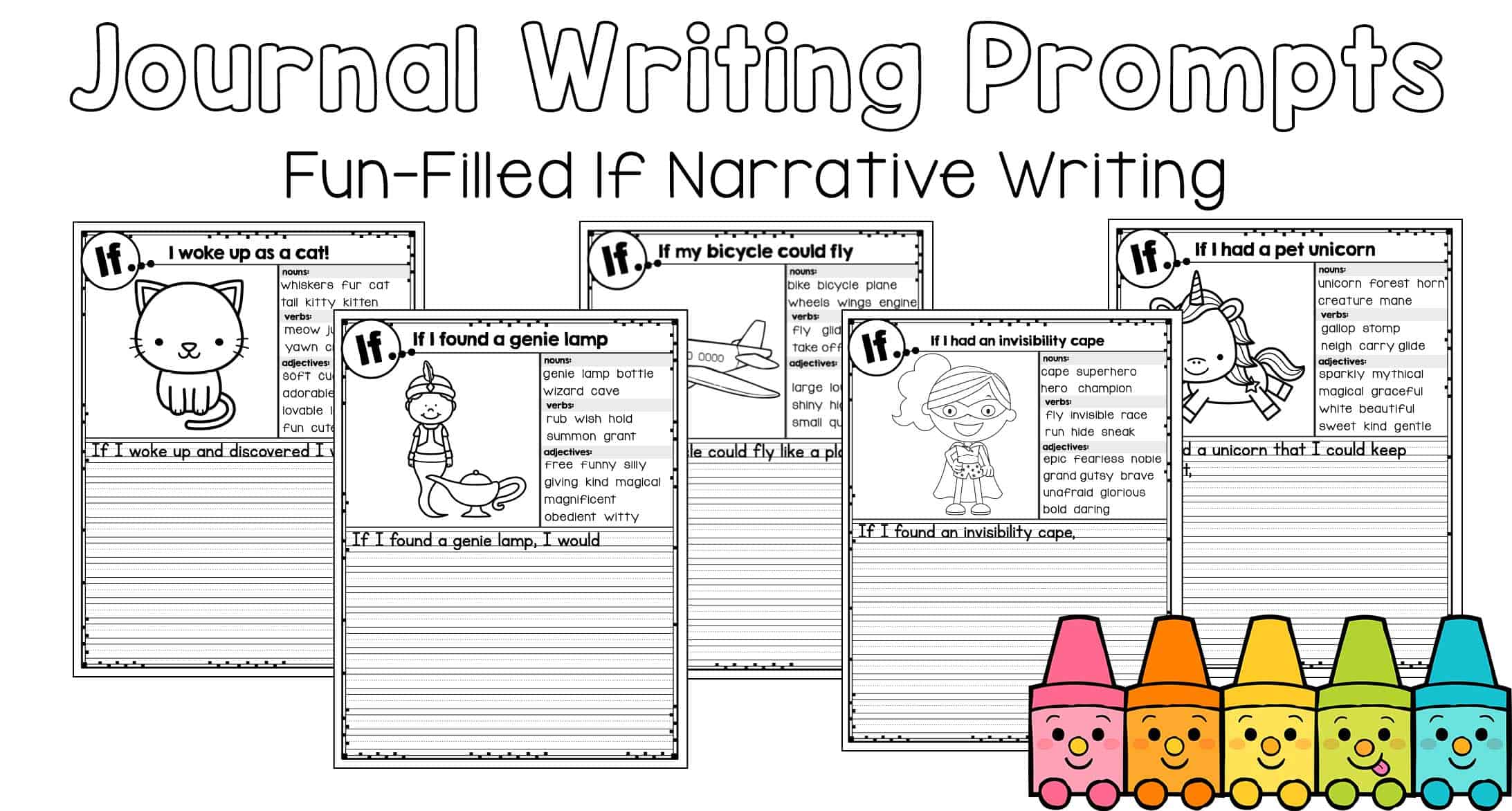 If Narrative Writing Prompts

Students will use a word bank for nouns, verbs, and adjectives to tell the reader what they would do if they woke up as a cat or found a genie lamp. Some words will be advanced, take advantage of these writing prompt pages to teach kids new vocabulary words.
How to Write Journal Prompts
With a word bank, kids will practice following a sequence and keep in order by recording each step on how to catch a frog, make breakfast, wrap a present, wash your dog, and more! They'll learn the sequence of events using starter words such as first, names, then, and finally.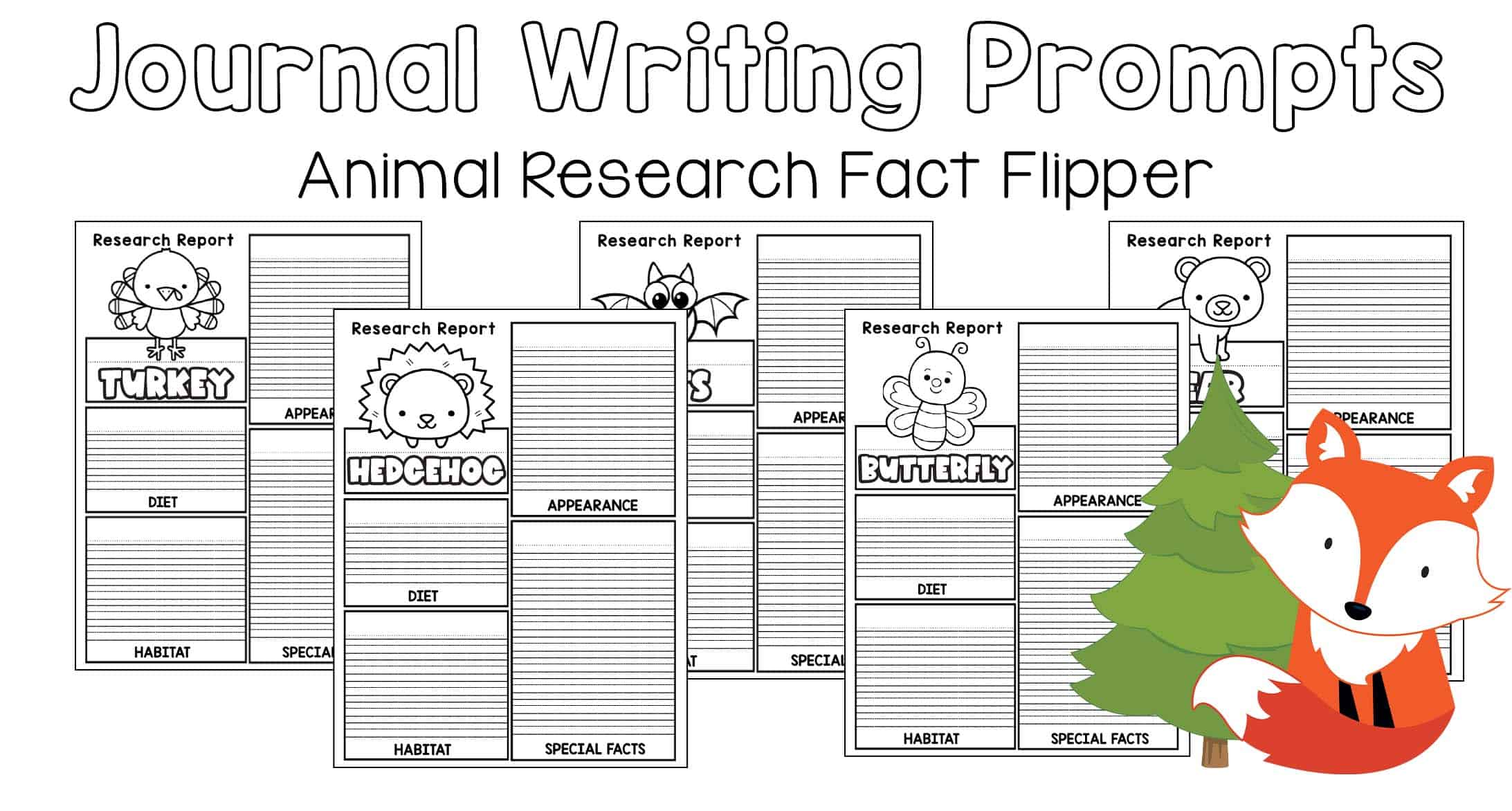 Animal Research Writing Prompts
Kids love animals and insects -- what better way to get their creative juices flowing by asking students to write fun facts about their favorite creatures. Children will write about an animal's diet, habitat, appearance, and special features.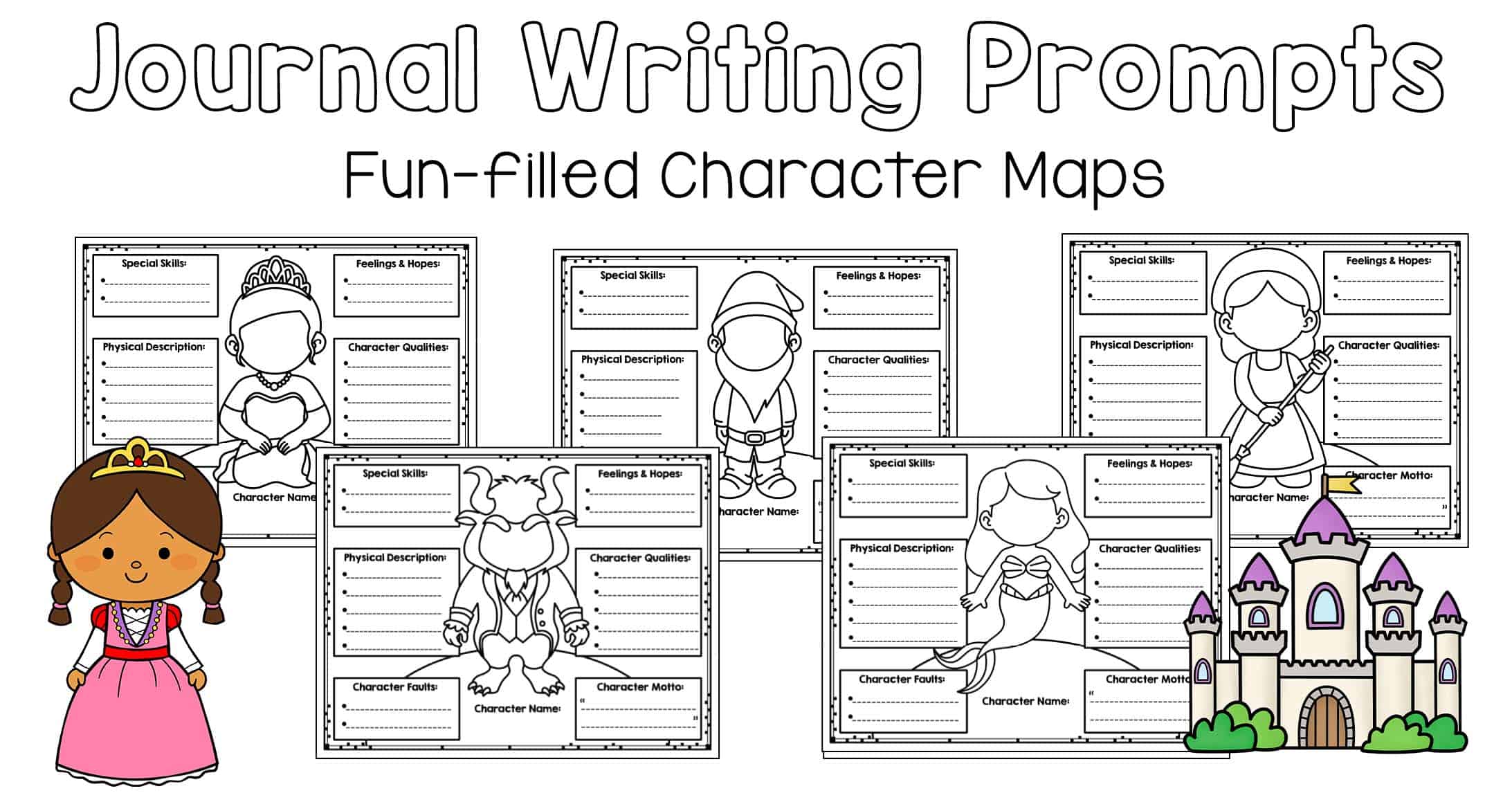 Character Maps Writing Prompts
With our theme-based journal writing prompts, kids will have the ability to record all about their favorite superhero or character. Students write about any special skills, physical description, feelings and hopes, character qualities, character names, character faults, and character mottos.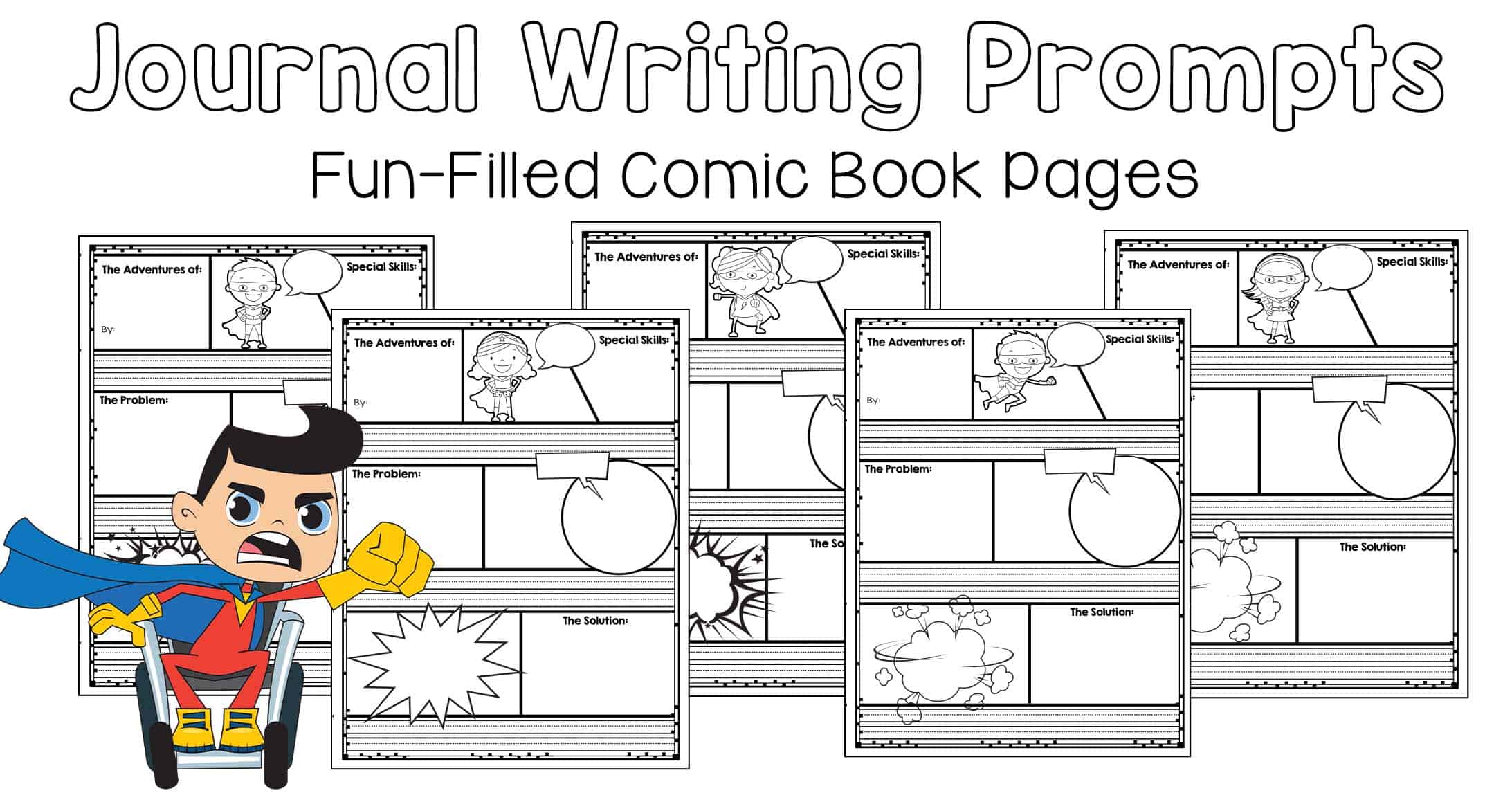 Comic Book Pages Journal Writing Prompts
Kids love comic strips, why not give them a chance to write their own superhero story? There is ample room for students to write and draw about these fun characters including a title, their name, special skills, and record the problem and solution.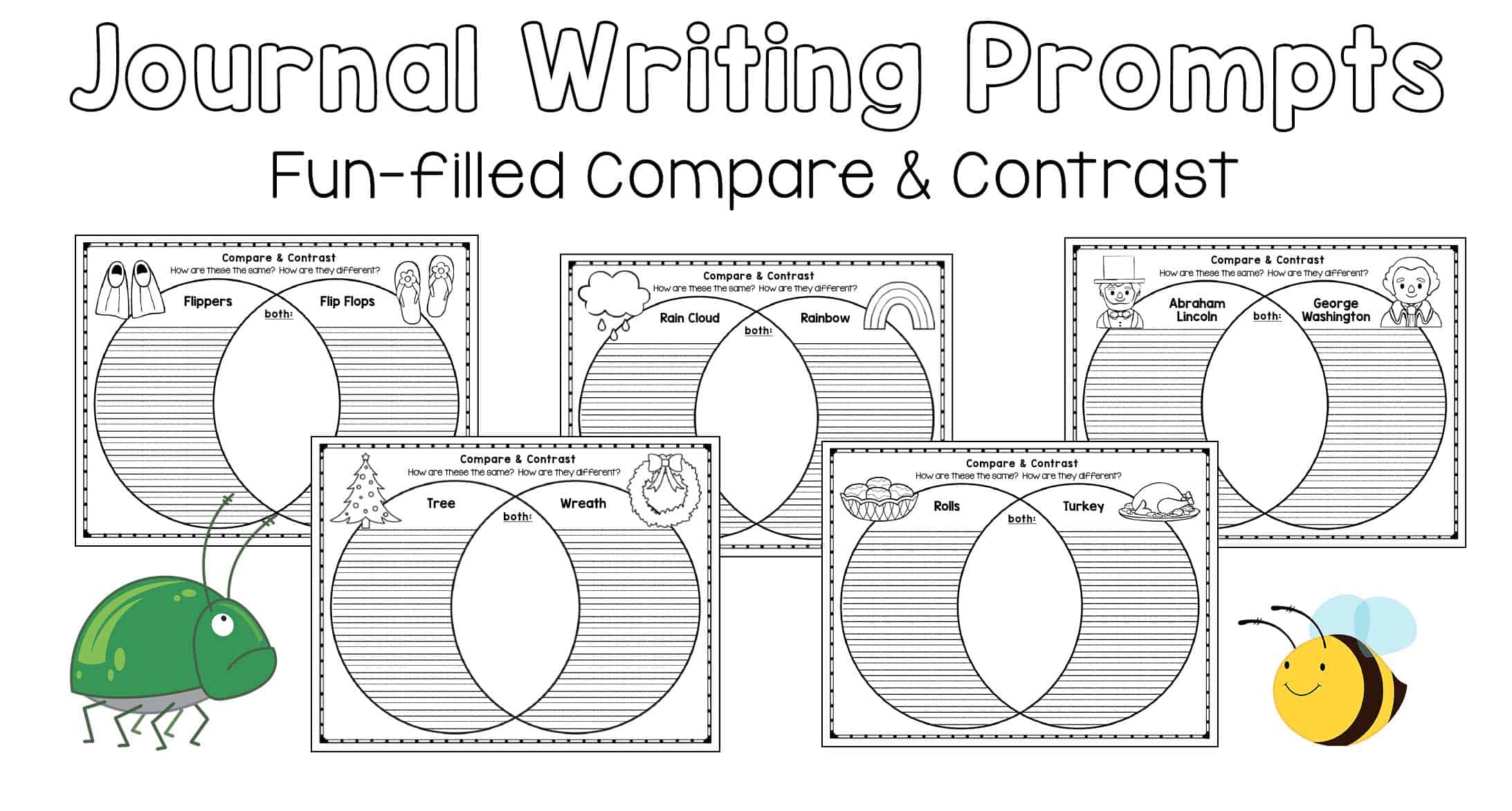 Compare and Contrast Writing Prompts
Teach kids how to compare objects in a similar fashion and in an opposing way. They'll answer the questions: how are they the same? how are they different? Students will record their observations for both concepts.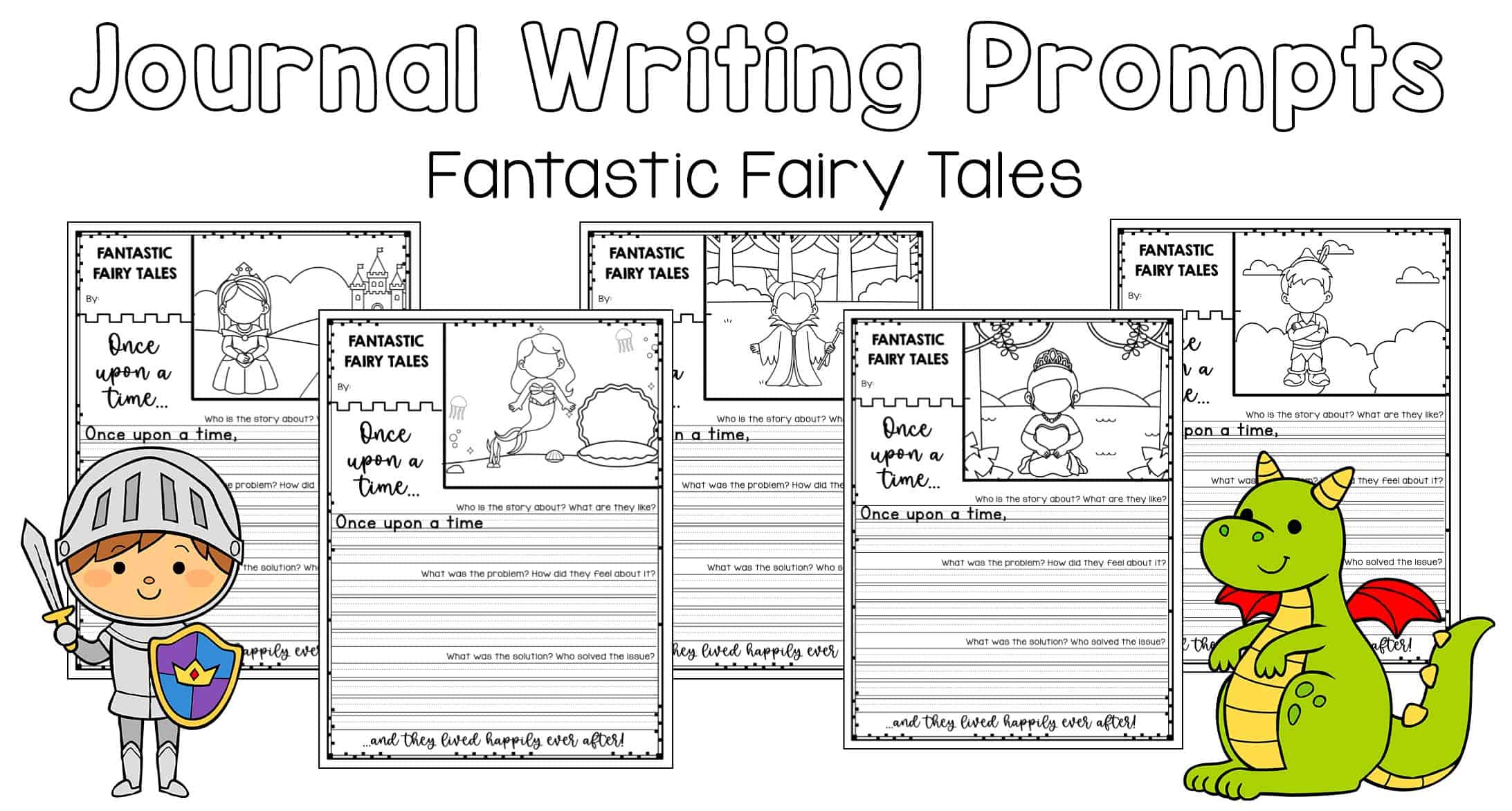 Fairy Tales Writing Prompts
Students will gain a ton of practice learning how to answer important questions like who, where, when, why, and what! With our First Grade writing prompts, students will write all about their fairy tale adventures and record their activities. In addition, ask children to brighten these worksheets with a ton of color!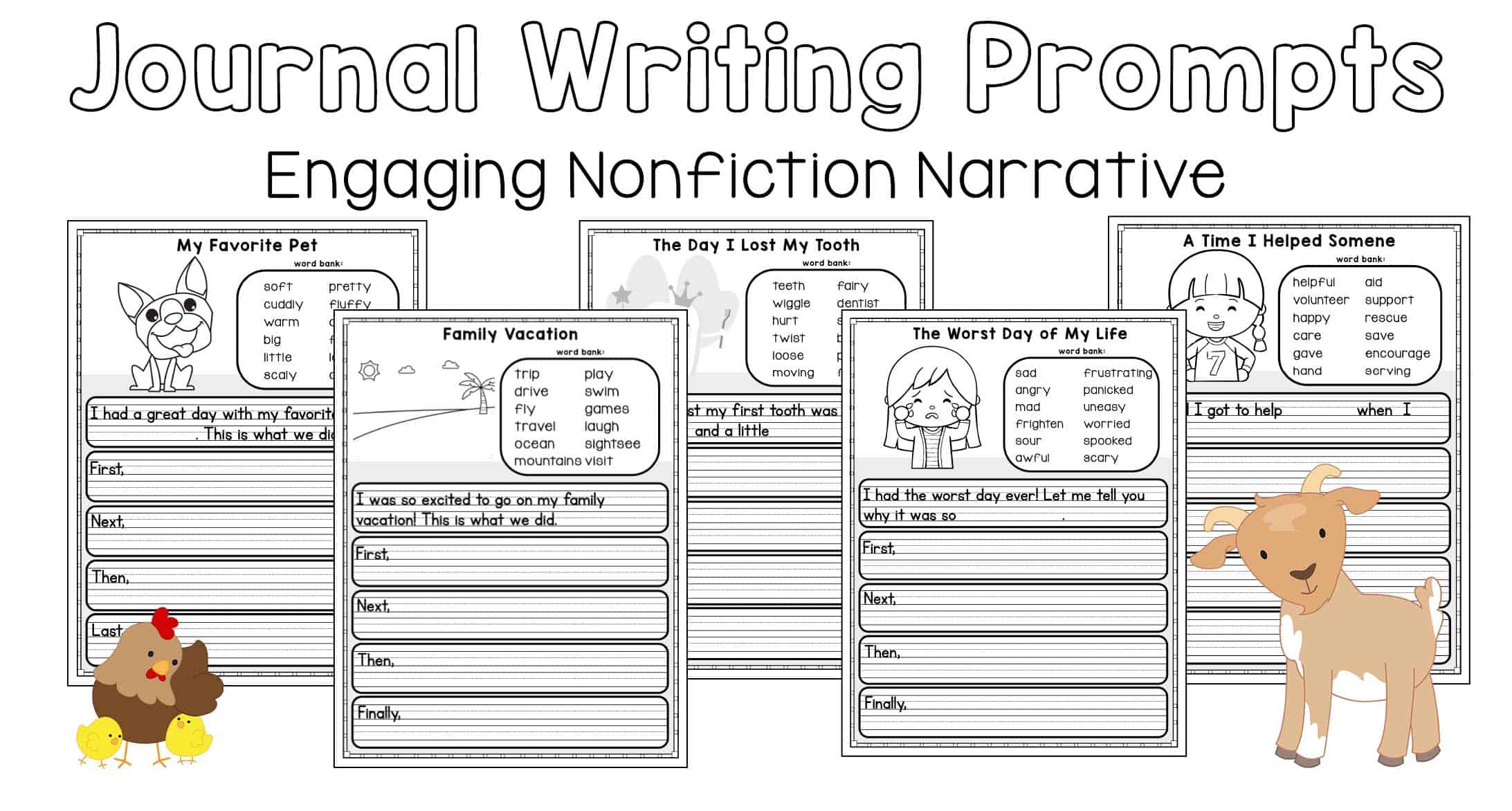 Nonfiction Writing Prompts
Teach kids the difference between fiction and non-fiction with these interactive writing prompts. Using a word bank, students will answer questions that include many favorites and least favorites such as:
Favorite pet

Worst day of their life

Favorite family vacation

and more!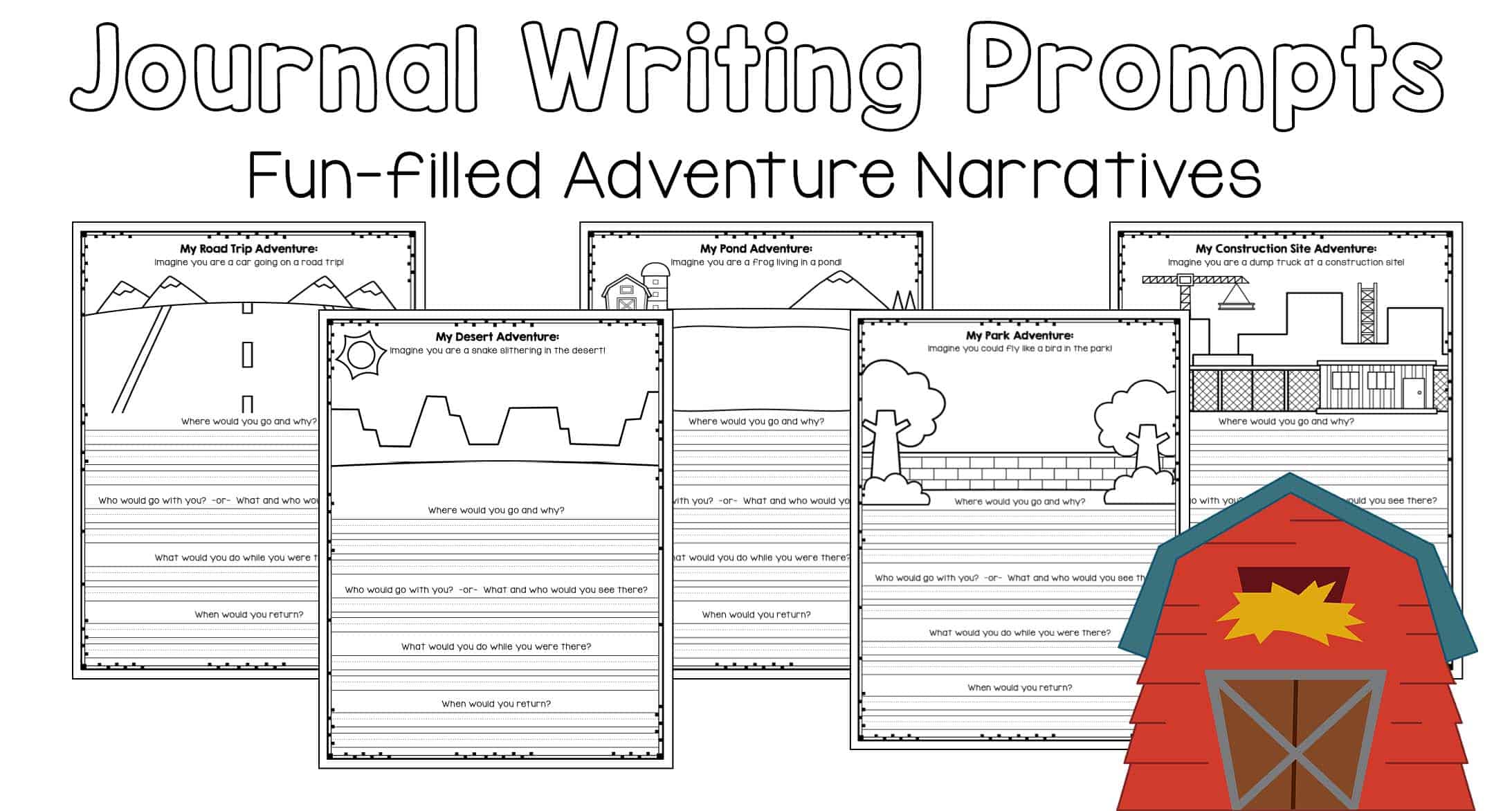 Adventure Narratives Writing Prompts
Kids learn how to answer important questions like who, where, when, why, and what! With our First Grade writing prompts, students will write all about their adventures and record their activities. In addition, ask children to bring these black and white worksheets to life as coloring pages!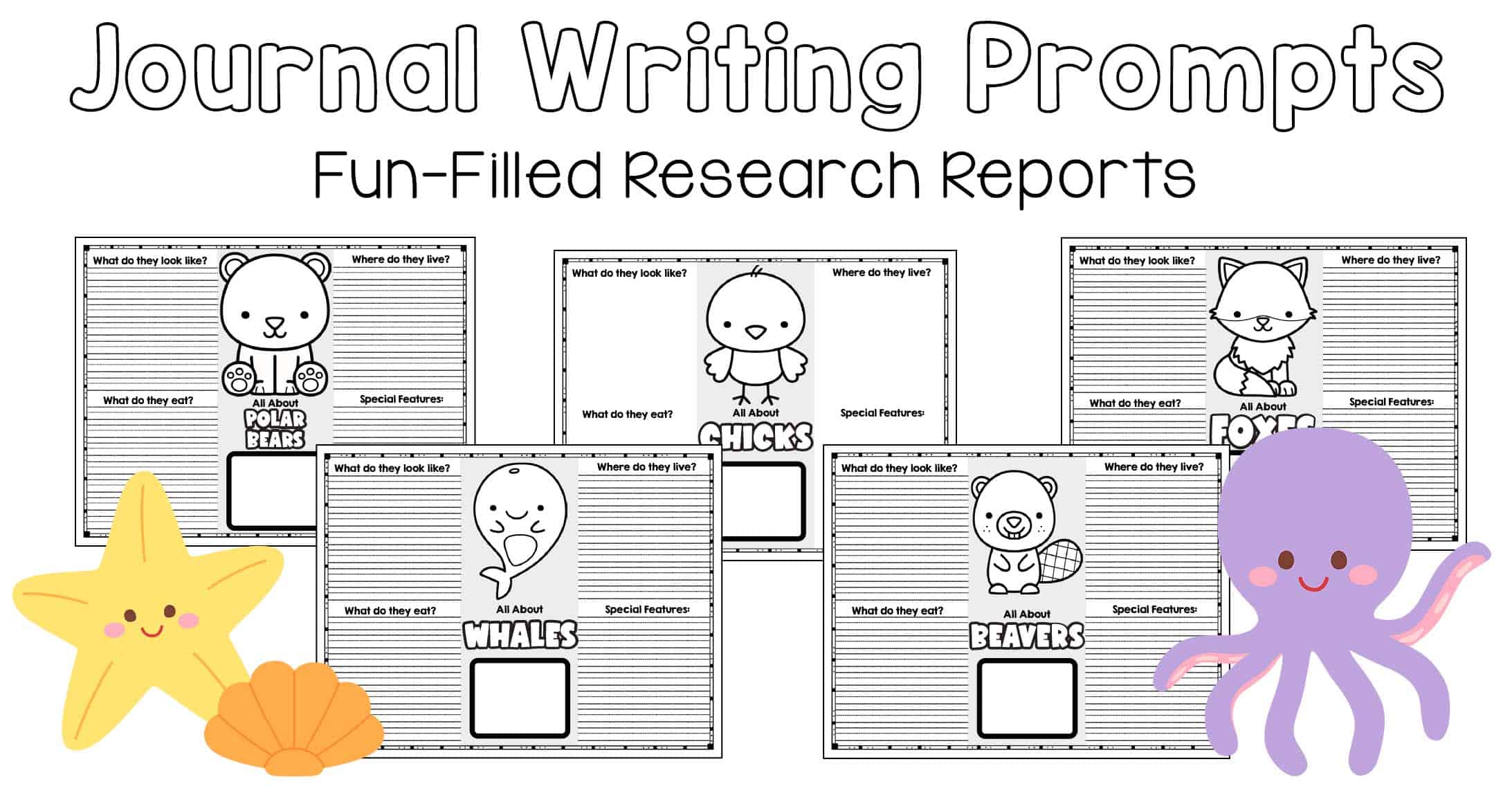 Research Reports Journal
Kids love animals on the farm and sea creatures, now they can record what they observe and learn about each animal. Here's what you can expect in these adorable and fun-filled journal prompts:
What do they look like?

What do they eat?

Where do they live?

Special Features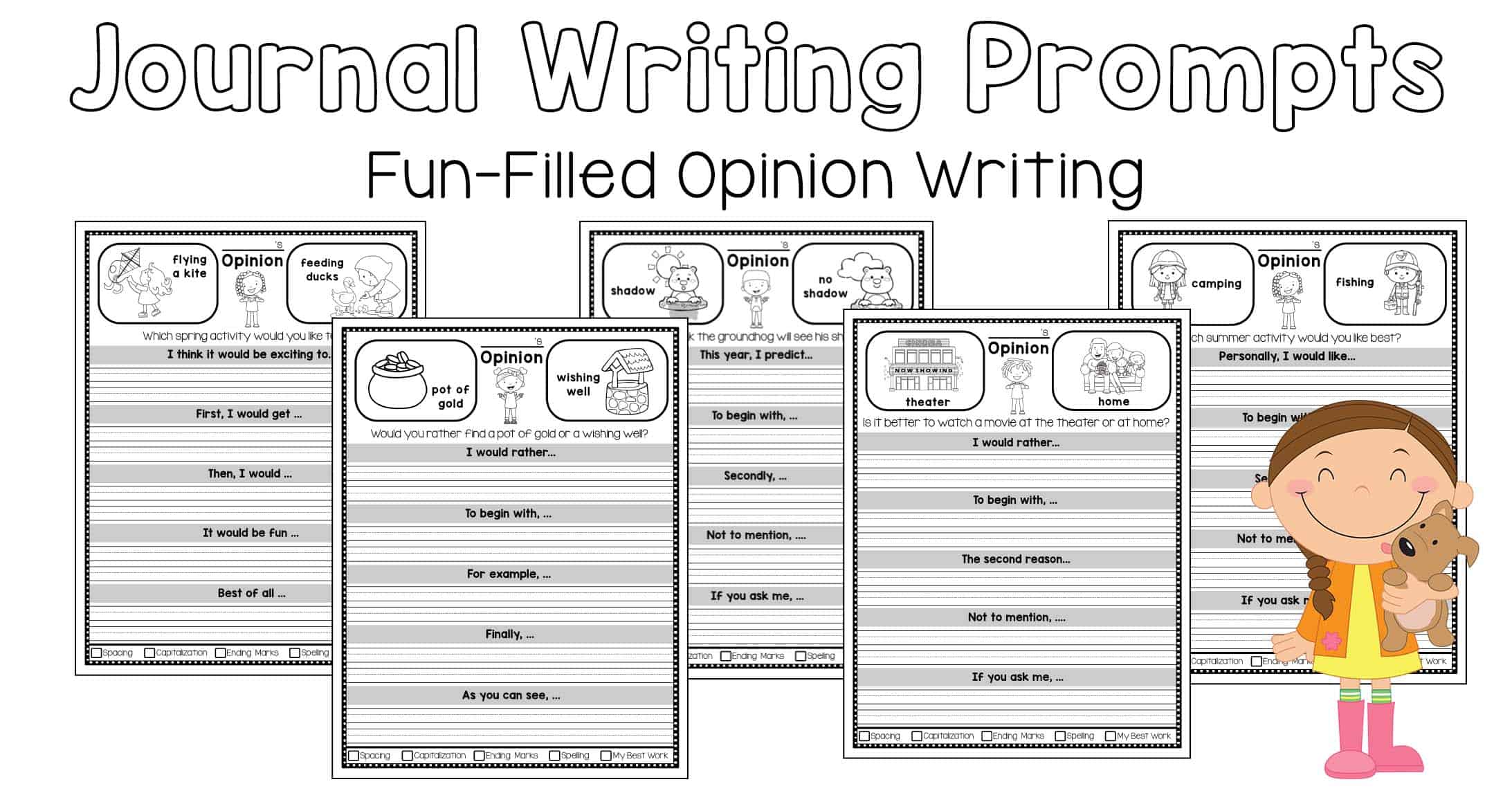 Opinion Writing Prompts
We all have opinions and it's important that young students know their opinions matter too! Kids will have the opportunity to record their feelings and thoughts by answering questions such as:
Which spring activity would you like back?

Is it better to watch a movie at the theatre or at home?

What activity do you like best?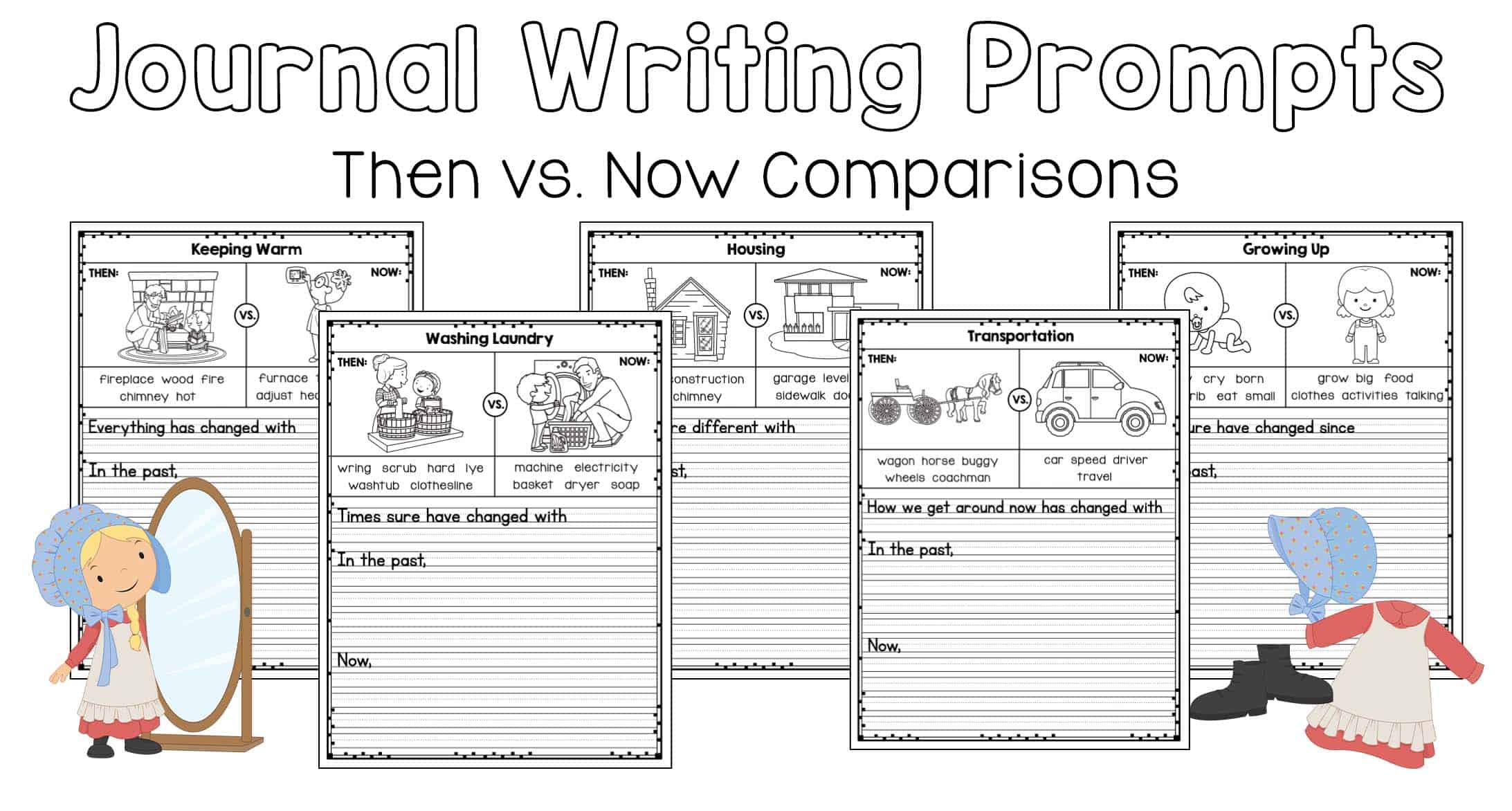 Then and Now Comparisons Writing Prompts
Teach kids how to communicate the past and present with our then and now comparison prompts. Students will get to record how things have changed over a period of time in our history with everyday necessities and chores like keeping warm, housing, doing laundry, and more.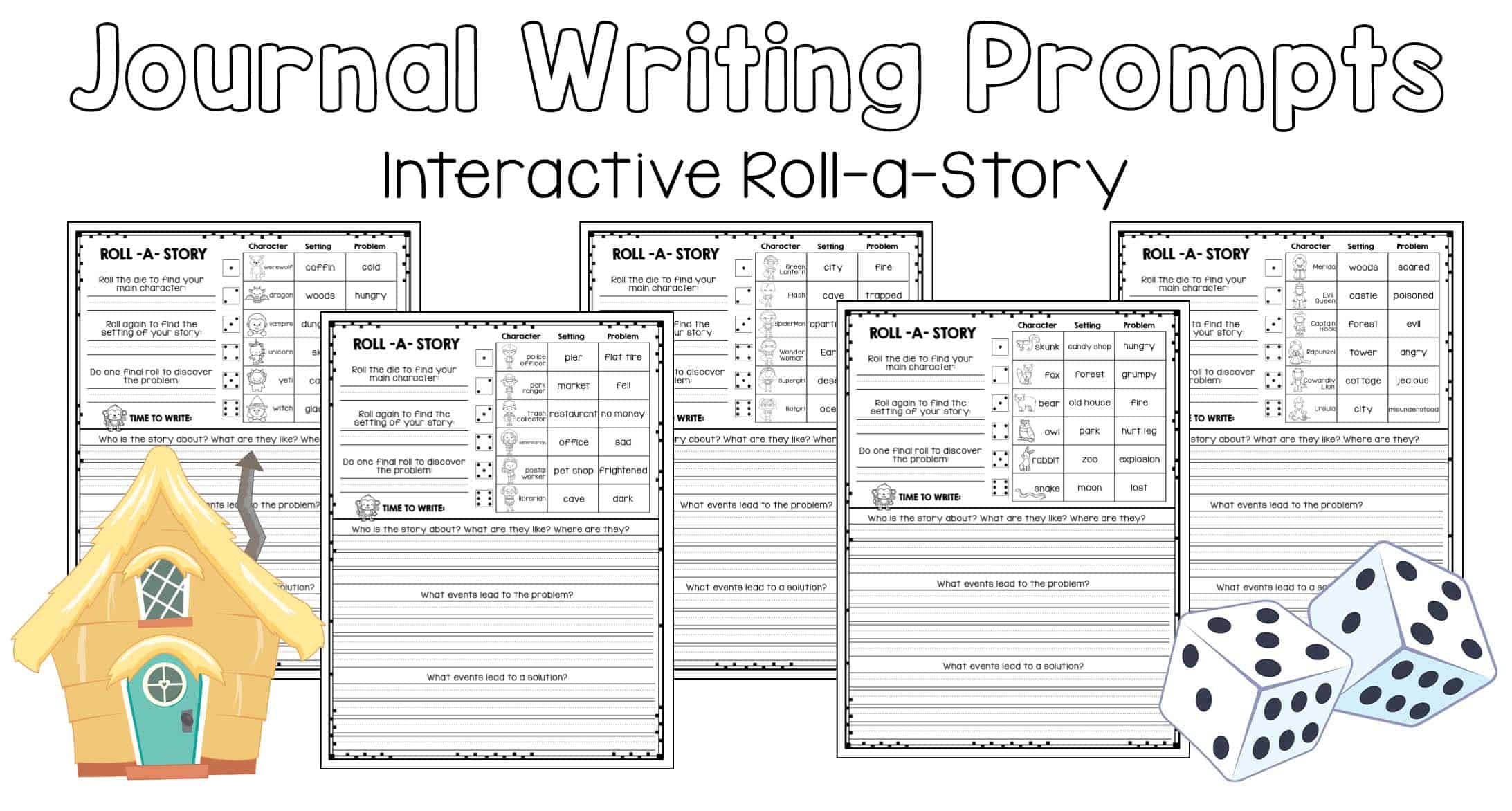 Interactive Roll-A-Story
Grab some dice and have a ton of fun with this fun writing prompt game! Students will practice great problem-solving skills with these engaging First Grade exercises. Questions include:
Who is the story about?

Where are they?

What events lead to the problem?

What events lead to the solution?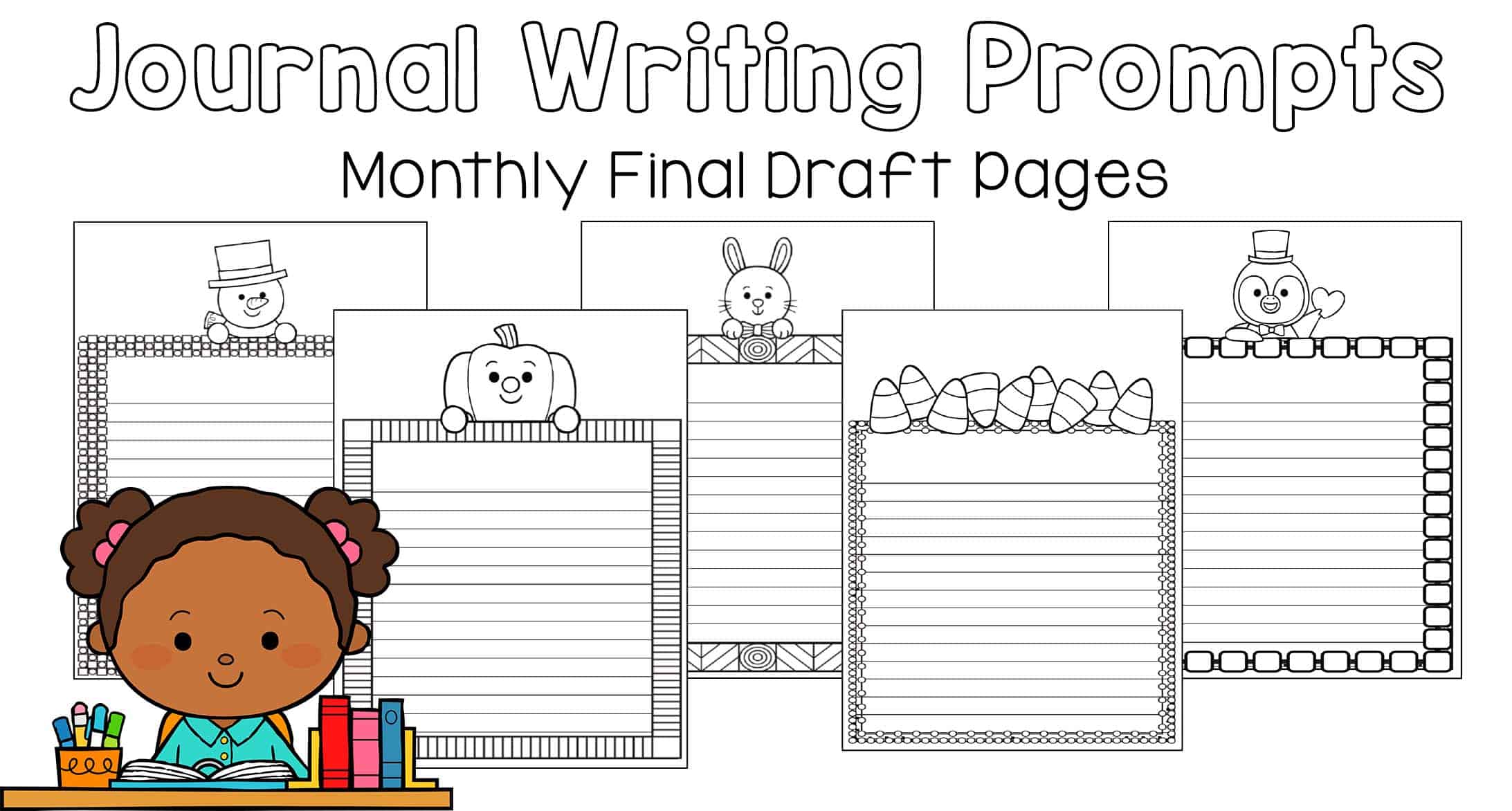 Final Draft Journal Writing Prompts
Students will learn how to draft writing papers with these adorable monthly writing prompts! As a blank slate, these First Grade journals will allow your child's imagination and writing skills to soar as they record their final draft.
Suggested Materials:
Colored pencils, pencils, binder, dice
Additional information
| | |
| --- | --- |
| Product License | Homeschool, Classroom |