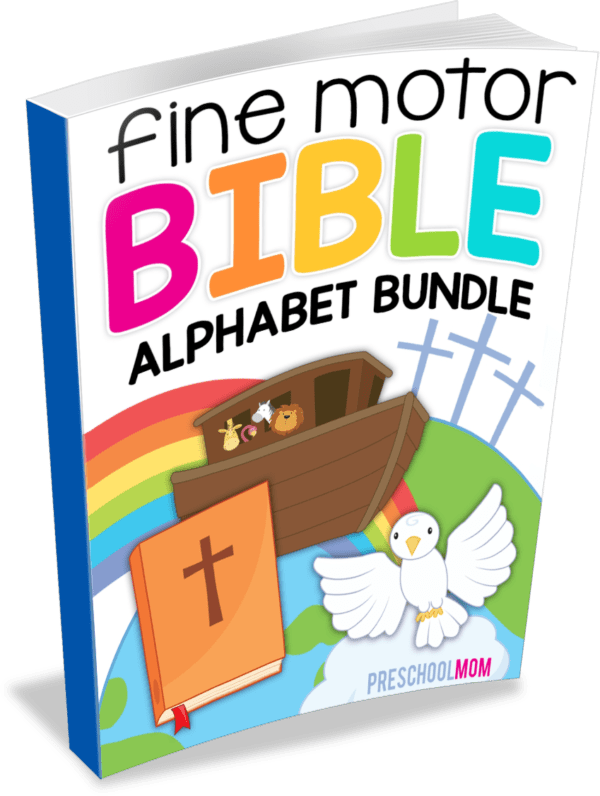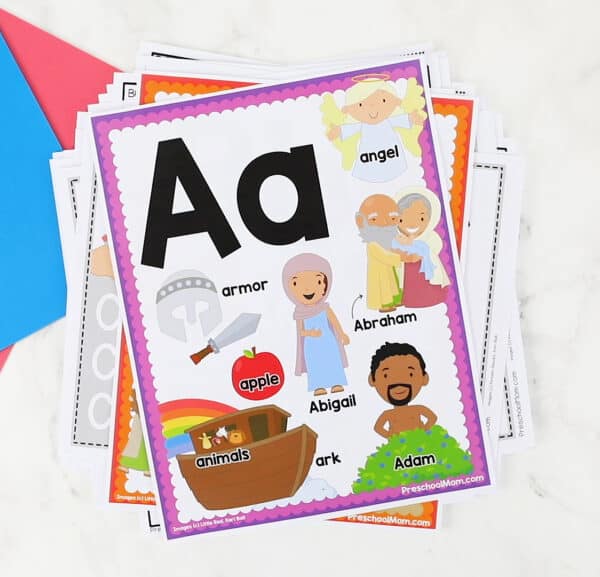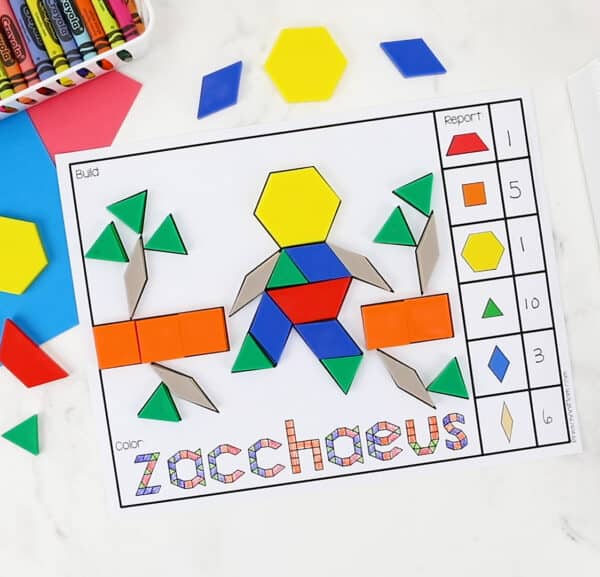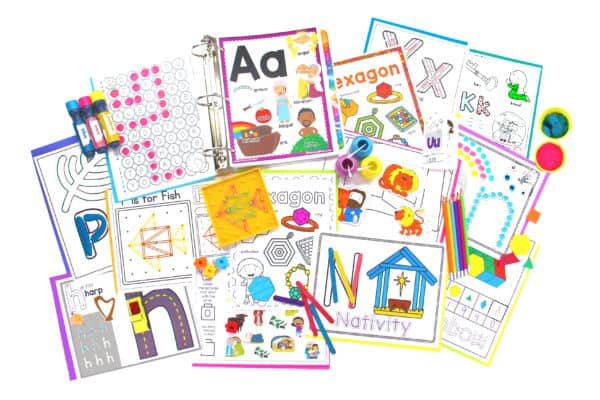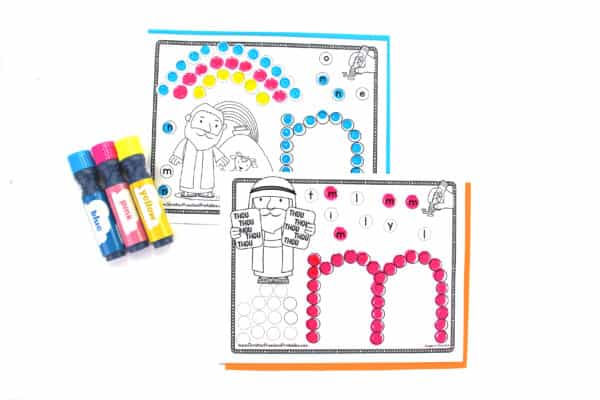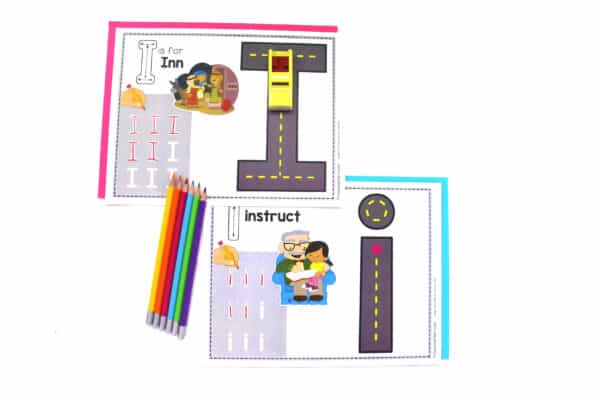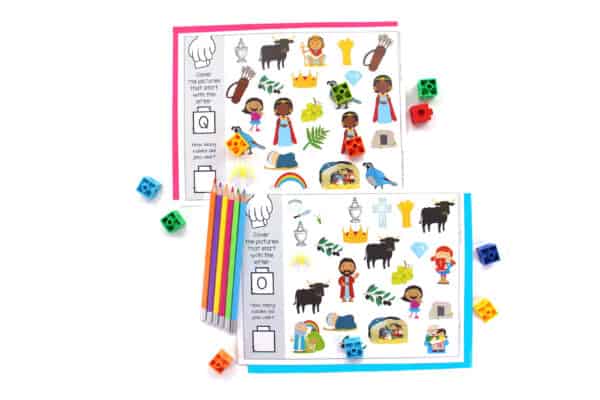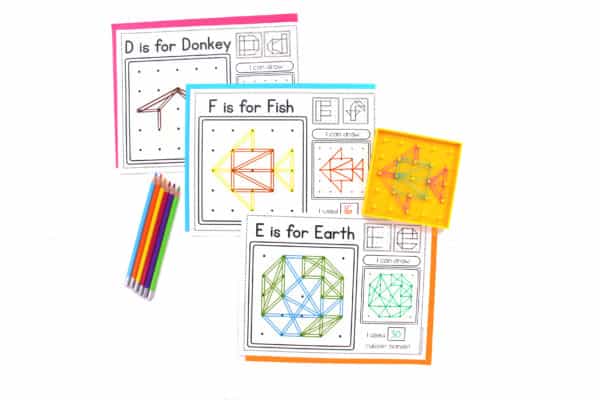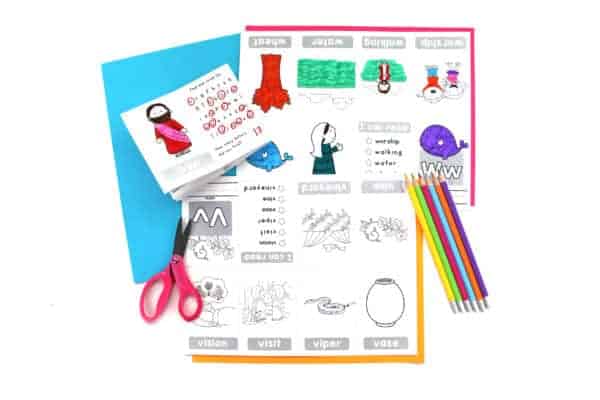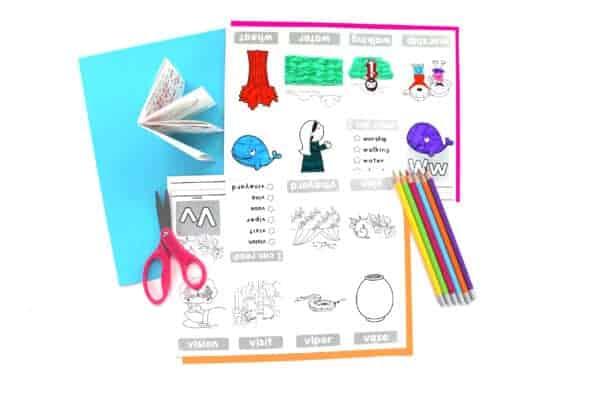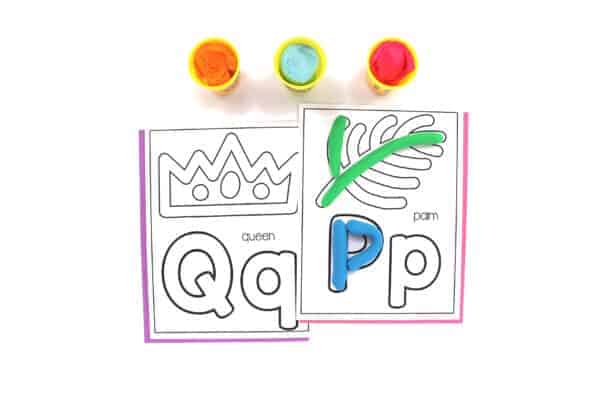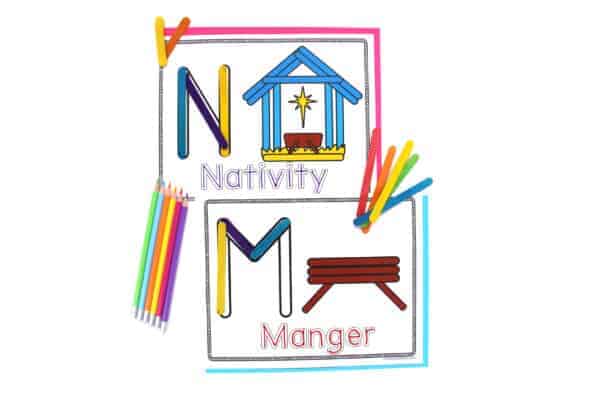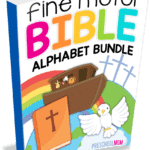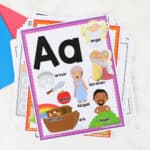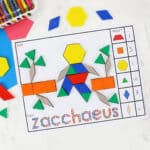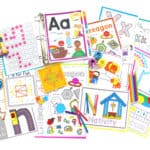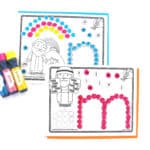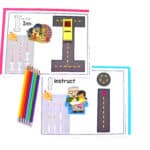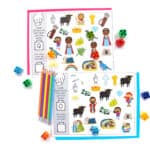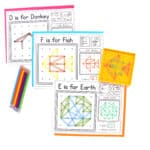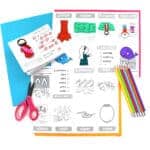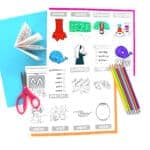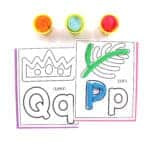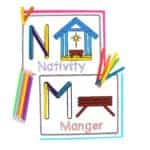 Fine Motor Bible ABC Bundle
Sample    Format: PDF     Grade: PK      Pages: 465+   Bundle & Save
Learn the Alphabet with the Bible!  Our Fine Motor Bible ABC Bundle provides you with hands-on, Christian-based, A-Z learning fun! For each letter of the alphabet, you'll receive interactive games, activity mats, worksheets, projects, and so much more! Each activity has been specifically designed to target key fine motor skills development alongside important math and language skills for young learners.
Our Christian Preschool Curriculum is designed for many learning environments such as Homeschool, Sunday School, Christian Schools, Children's Church, and VBS Camp!
Please note this is a downloadable product only, nothing physical will be mailed.  Binder and elements in photos are for illustrative purposes only.
⭐Budget-Friendly Pricing
⭐Simple, Low-Prep Format
⭐Interactive & Hands-On
⭐Friction-Free Homeschooling
⭐Meets or Exceeds Standards
⭐Multiple Students & Abilities
⭐Simple Format Outlines
⭐No Expensive Teacher Guides
⭐Encourages Independence
Description
Additional information
Reviews (9)
Description
Fine Motor Bible Curriculum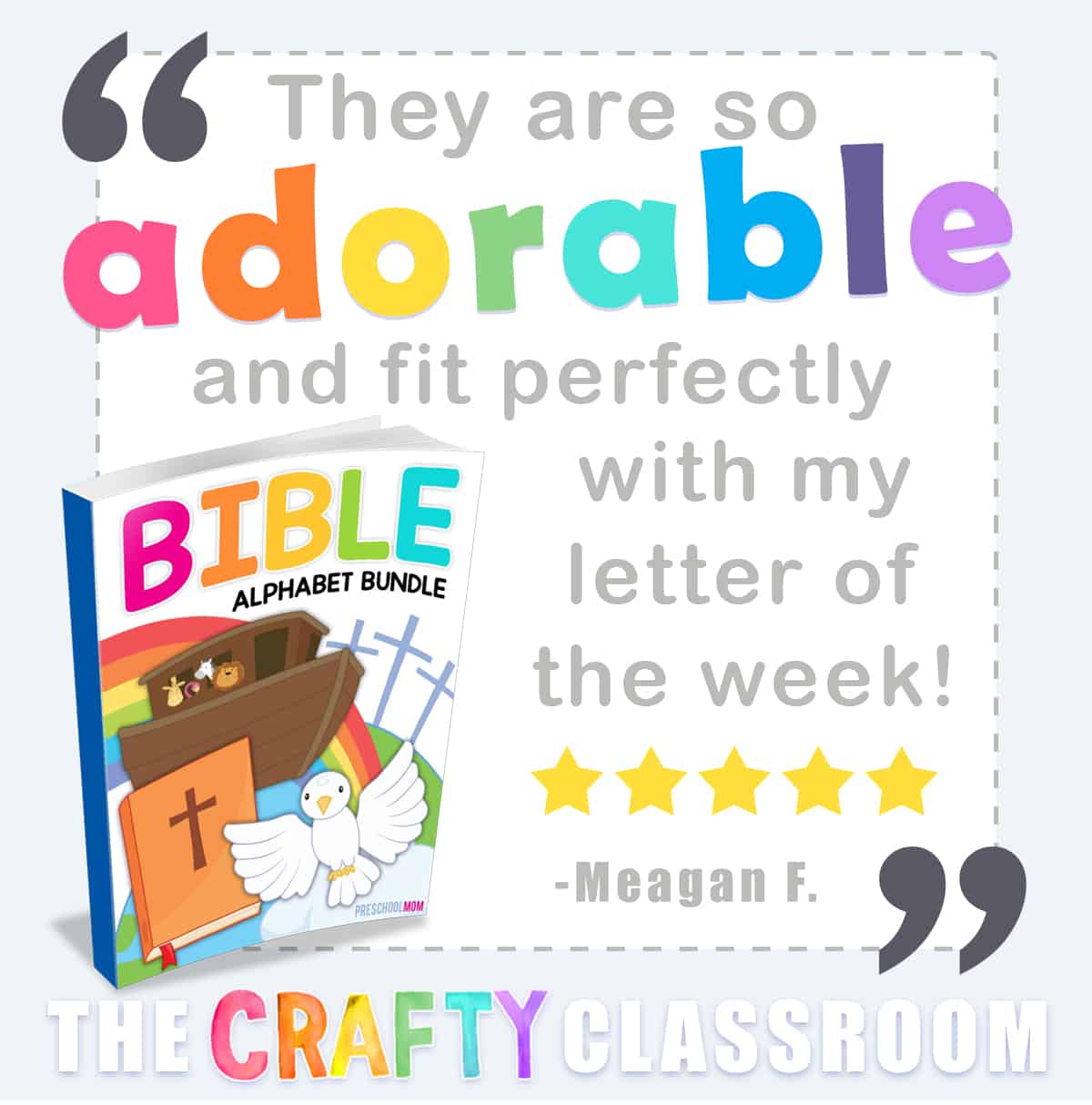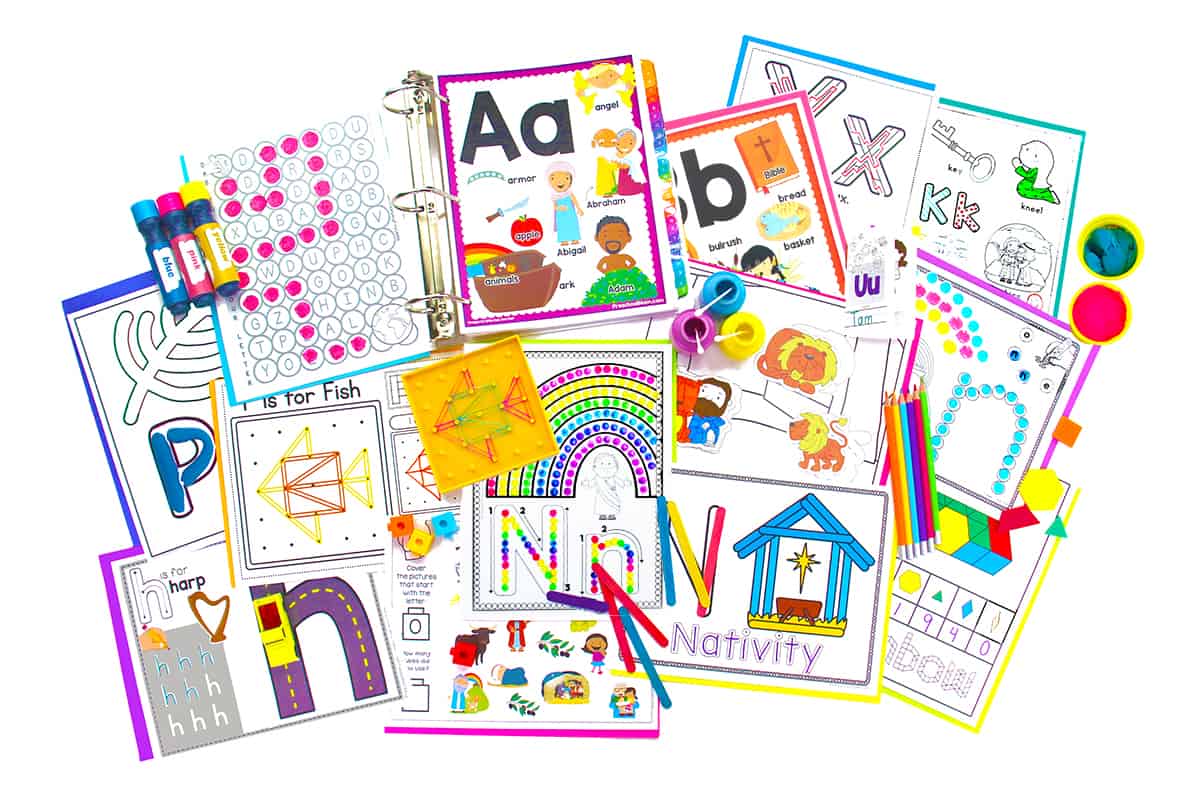 Preschool Bible Curriculum
Product Overview
Our Preschool Bible Curriculum is so easy to use with our low-prep, print-&-go, Bible-based worksheets, preschool alphabet games, and fine motor skills activities. Your students will gain a ton of fine motor practice while learning hands-on using scissors, geoboards, mini-books, mazes, playdough, popsicle stick, and so much more!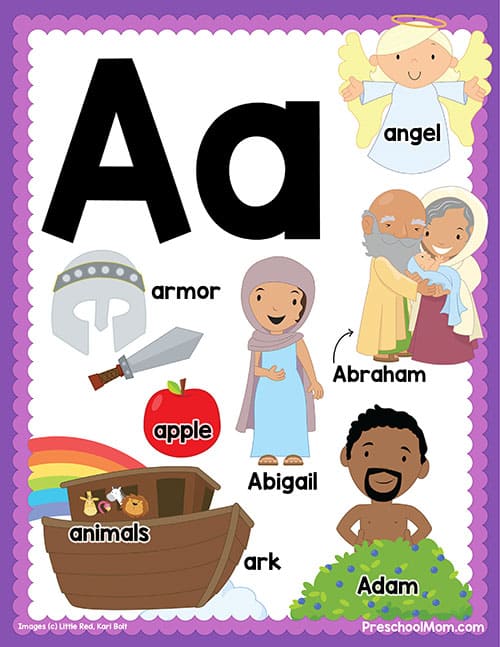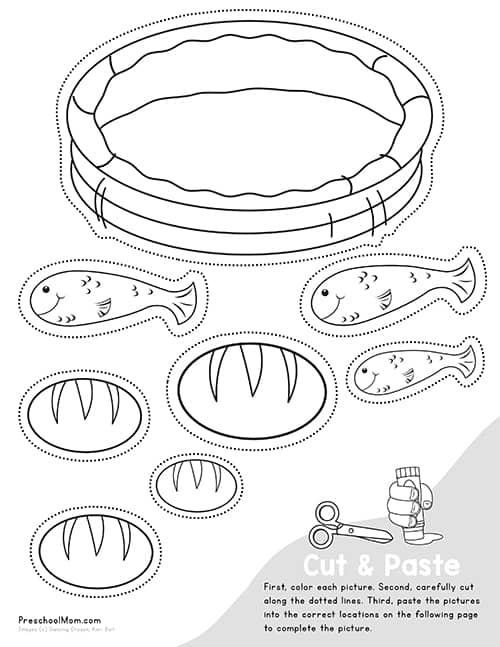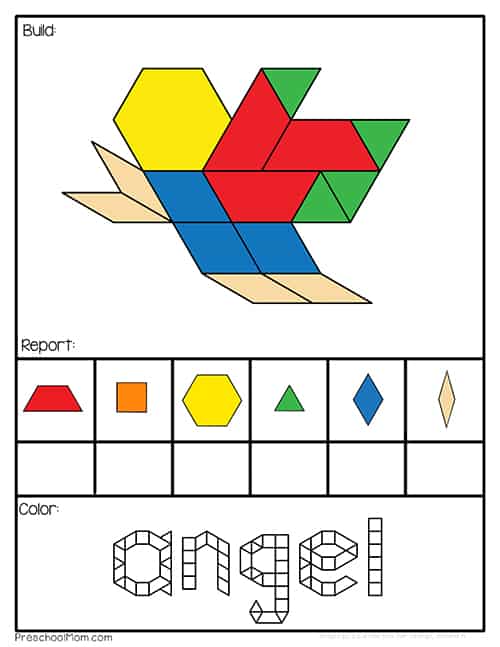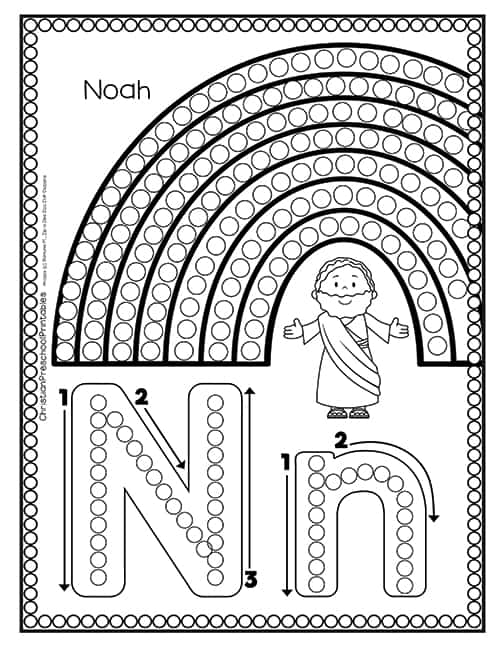 Covers Key Standards & Skills
What's Included:
This set contains Bible-themed letters including a variety of fine motor practice packs such as:
Bible Letter of the Week

Bible ABC Charts and Posters

Bible Geoboard Mats

Bible ABC Drive & Trace Mats
Bible ABC Minibooks

Bible ABC Listen & Color Pack

Bible ABC Find and Cover Pack

Bible ABC Cut and Paste Pack

Bible ABC Mazes

Bible ABC Q-Tips Pictures

Bible ABC Pattern Blocks

Bible ABC Playdough Mats

Bible ABC Popsicle Stick Mats

Bible ABC Dab and Dot Mats

Bible ABC Dab Maze

Worksheets

Bible ABC PomPom Activities

Bible ABC Build & Spell Sheets

Bible ABC Tracing Pages

Bible ABC Mystery Pictures
Skills Covered:
This set builds and develops a wide variety of fine motor skills and so much more including:
Letter Formation

Letter Recognition

Tracing Skills

Letter Stroke Order

Beginning Letter Sounds

One-to-One Correspondence

Reading Skills

Writing Practice

Spatial Reasoning

Tally Marks

Visual Discriminiation

Modeling

Logic & Reasoning

Following Directions

Sequencing & Number Order

Fine Motor Skills, Cutting & Pasting

Learning Games

Crafting Skills
How to Use:
With a simple weekly format, this program is a low-prep, easy-to-use Christian Preschool Curriculum. Most families will print the program front to back and place it inside a 3-ring binder. This bundle is fantastic for teaching your students about the Bible while practicing key preschool skills like fine motor, writing, reading, and more! Here's what's included in these amazing packs full of fun and engaging activities:
Bible Alphabet Charts:
Teach Bible-based beginning letter words and vocabulary with our Bible ABC charts. These colorful images contain upper and lowercase letters with beginning word pictures taken from the Bible. Our Christian alphabet charts are perfect to laminate and hang on the wall in the classroom or print them 4 to a page for fun hands-on flascards for your students.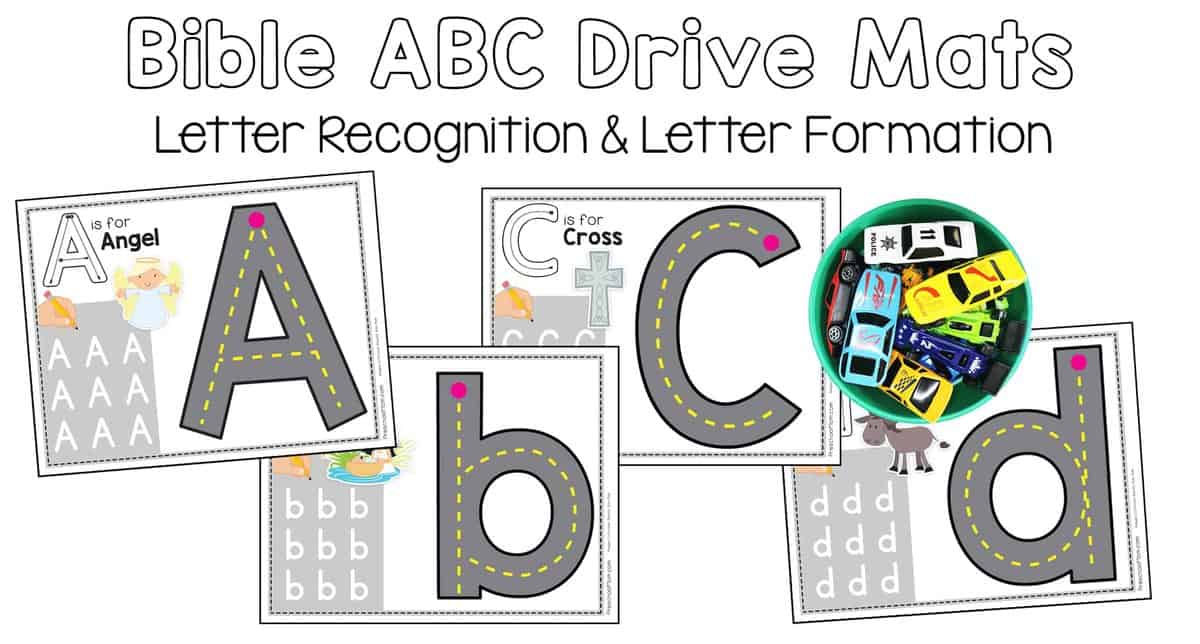 Bible ABC Drive Mats:
Letter formation is a BLAST with our Bible ABC Drive & Write Activity Mats. This set includes 52 pages of A-Z activity mats, (both uppercase and lowercase alphabets) each page featuring a letter formation guide, tracing practice. Set your students on the road to great adventures as theys practice "driving" the letter following the proper stroke order.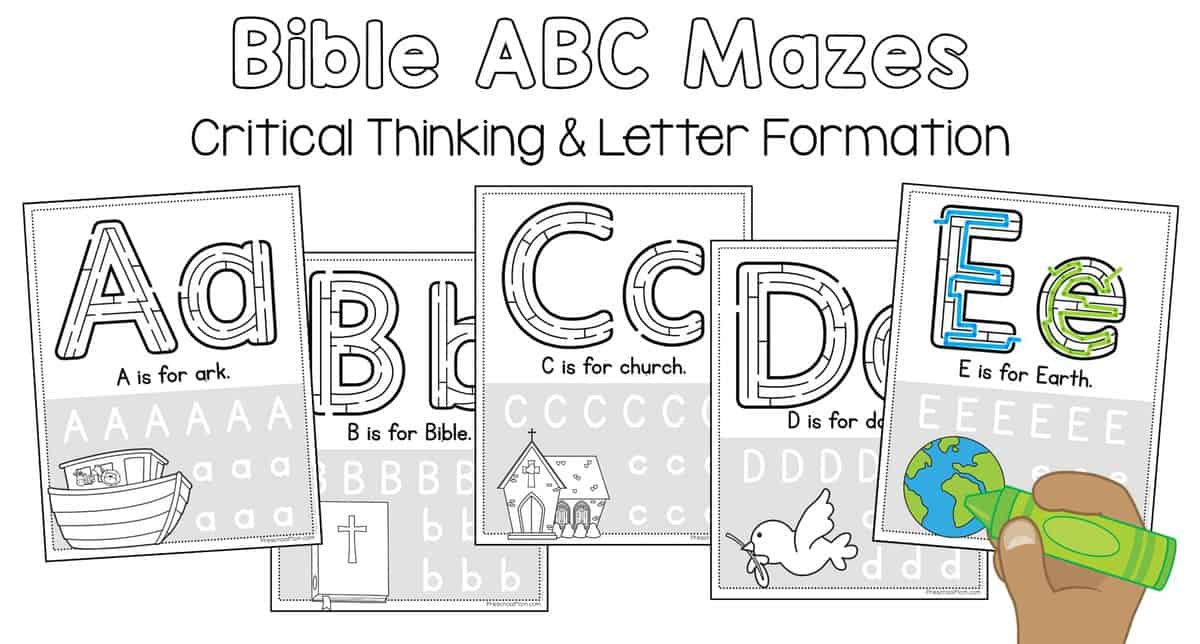 Bible ABC Mazes Worksheets:
Build important logic, reasoning, and fine motor skills with our Bible alphabet mazes! Students will enjoy each letter maze for uppercase and lowercase letters. A simple sentence with the beginning letter can be practiced aloud. These pages feature both uppercase and lowercase letter tracing as well as a beginning letter picture to color.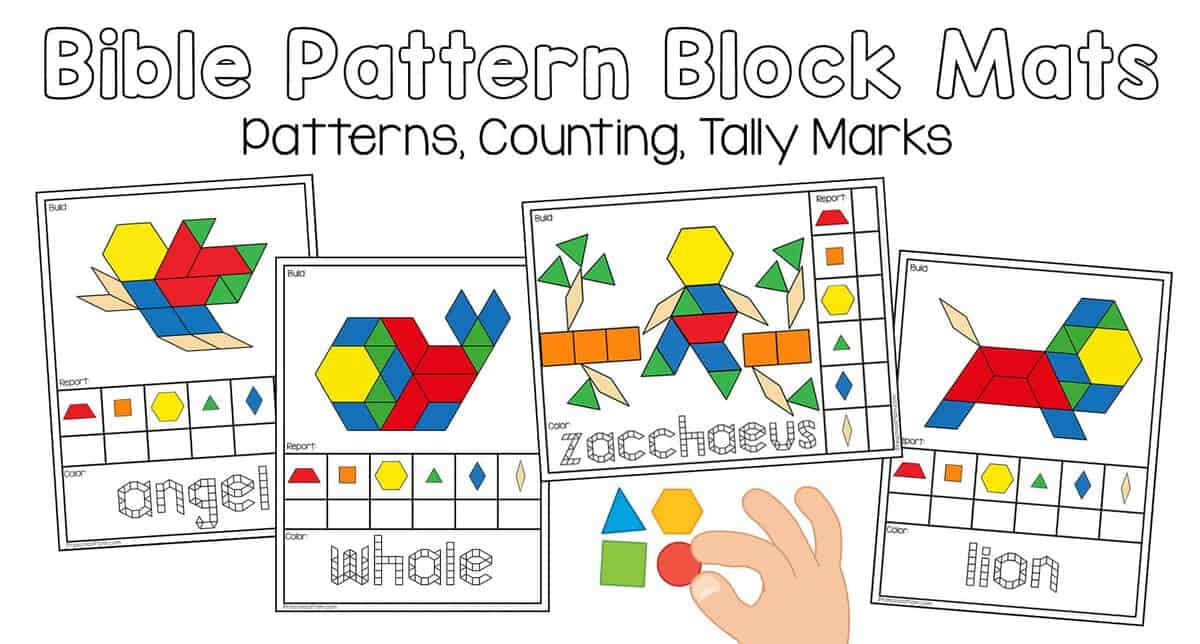 Bible Pattern Block Mats:
Build key logic and fine motor skills while working on letter recognition and letter sounds! These Bible pattern block activity mats will give your students a huge advantage of learning by matching, practicing letter sounds, and identifying the correct images to complete the activity. These are great for hands-on learning centers, lamintate pages for reuse!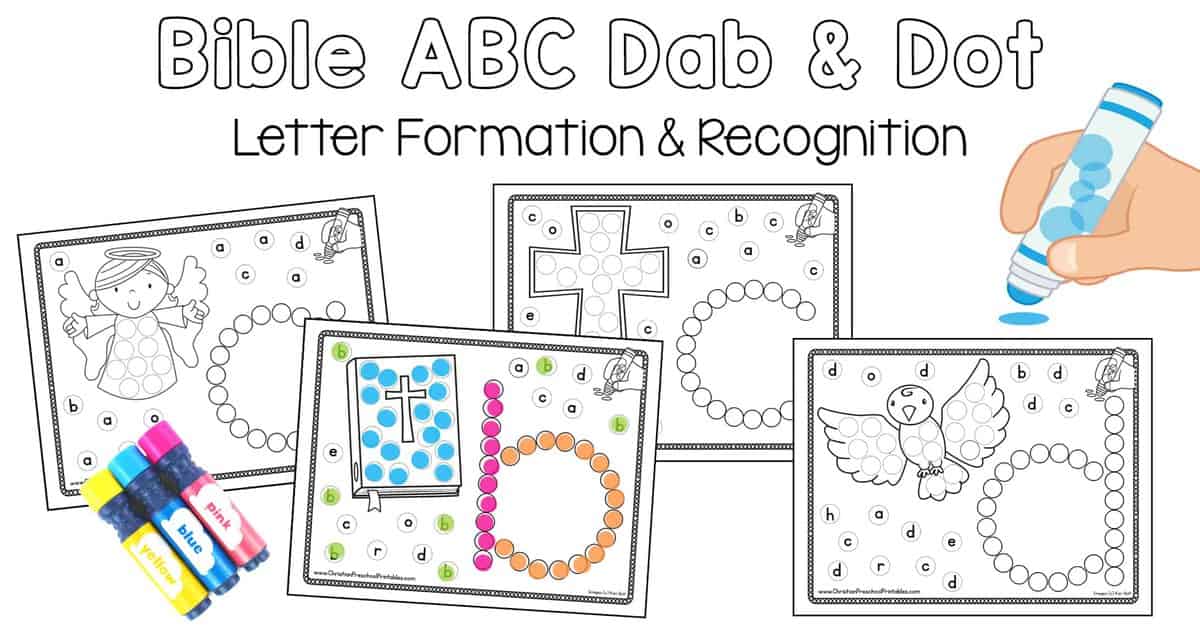 Bible ABC Dab & Dot Mats:
Our Bible ABC Dab & Dot Activity Pages are wonderful for active students who love to create. Students simply get creative with coloring objects in various colors. Guide students by asking them to sound out each letter for reinforcement and practice. Use this set with BINGO daubers or even small circle stickers for extra fine motor practice.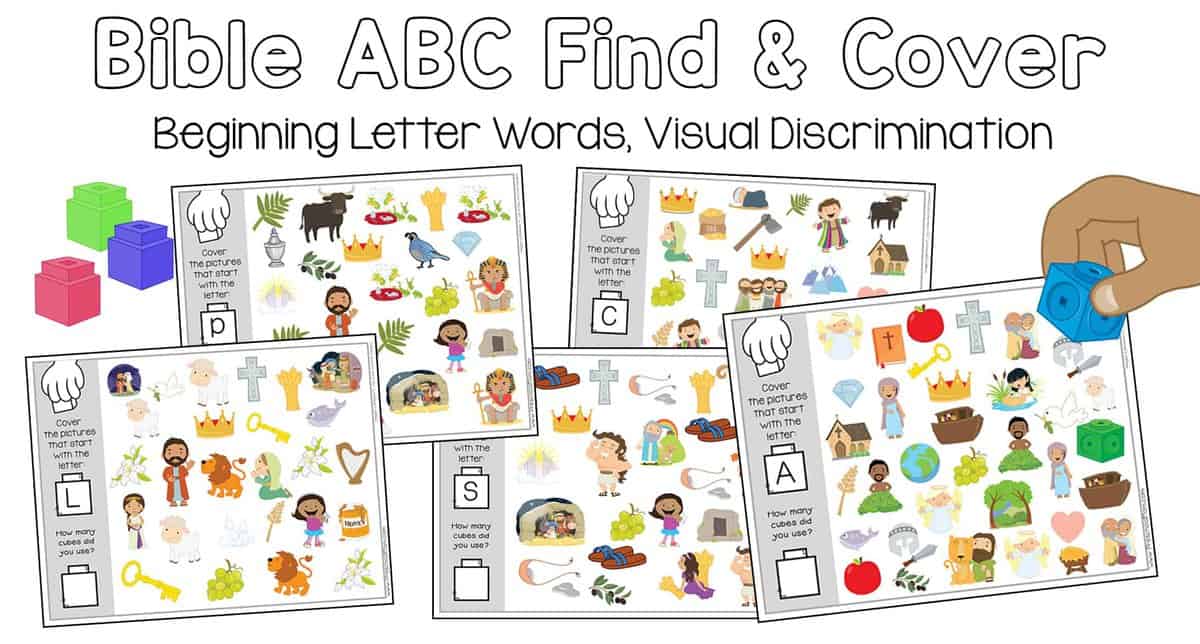 Bible ABC Find & Cover Mats:
Work on beginning letter sounds with our Bible Snap Cube mats. Children will find and cover their words with snap cubes (or other small counter). In addition, kiddos will be asked to count how many Bible-based objects they find with the beginning letter. Laminate for reuse and use a dry erase marker for recording.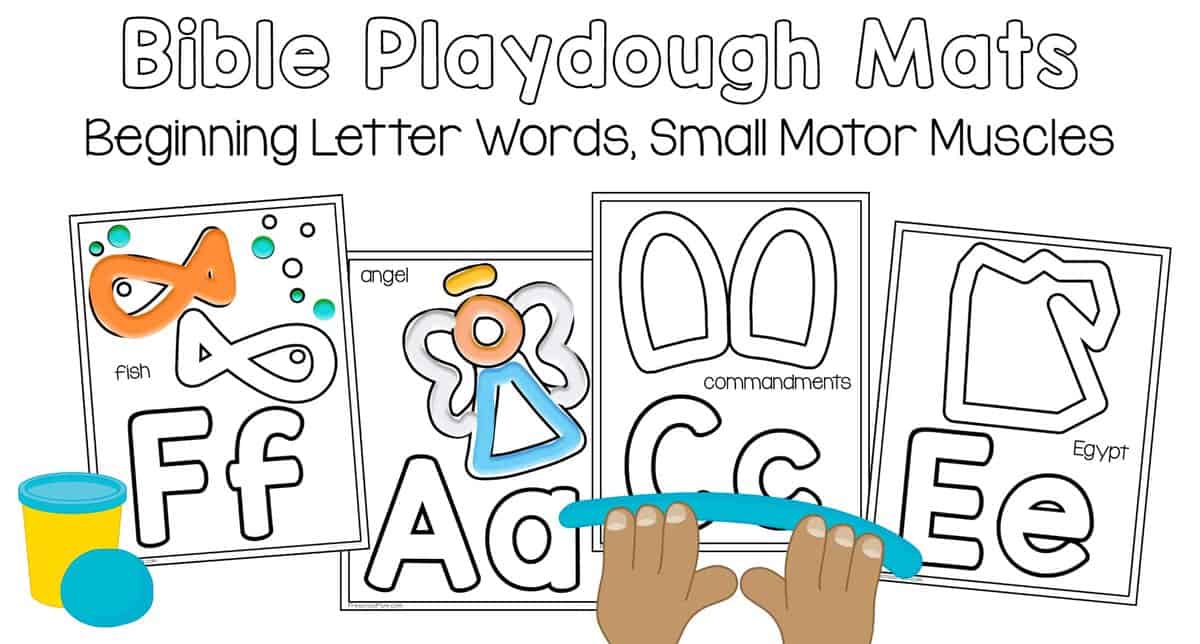 Bible Playdough Mats:
Building Fine Motor skills is a ton of fun with these Bible Playdough Mats! Each mat features uppercase and lowercase letters for students to roll and form from the dough. Your students will have a blast building each Bible word as they add colorful dough to the scene. Laminate for durability and reuse.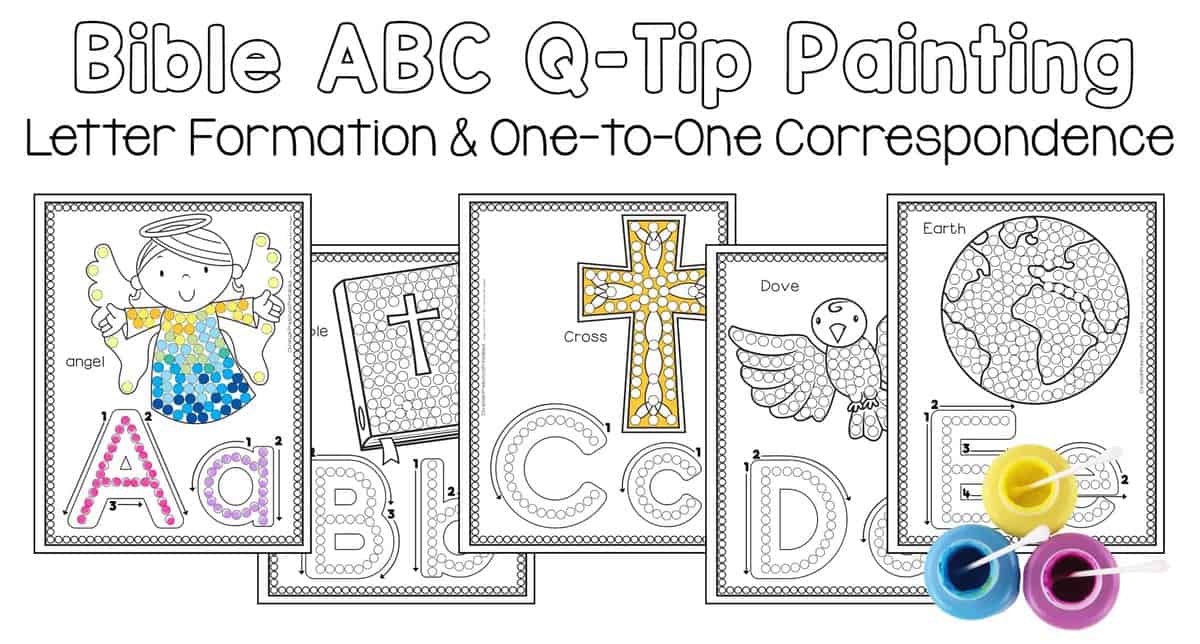 Bible ABC Q-Tip Painting:
Painting + Letter Formation = Tons of Fine Motor Fun! Students gain practice forming letters of the alphabet with our Q-Tip painting activities. Your kiddos with get creative with various shades of colors for a fun way to create a lasting memory of their letter. Included on each page is an uppercase and lowercase letter, Bible-based object, and Bible vocabulary word.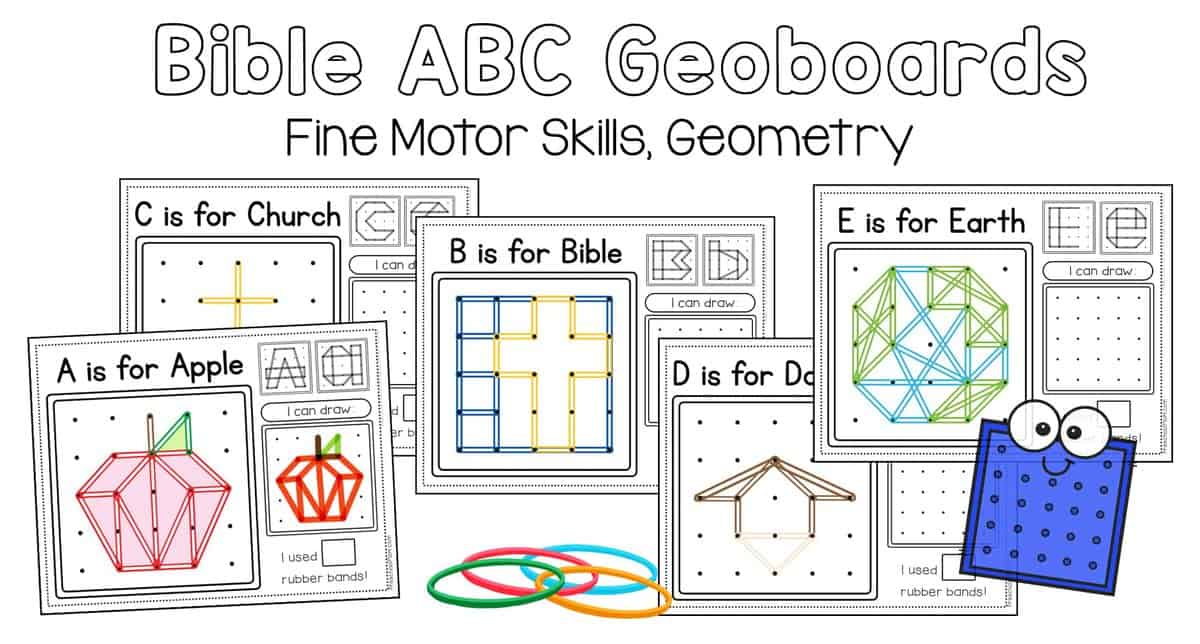 Bible ABC Geoboard Mats:
Engaging Bible ABC Geoboard Mats are great for building fine motor and creativity skills! Each mat features a different letter of the alphabet with colorful rubber band pictures for kids to recreate on their 5x5 geoboard. In addition, students will build math skills as they count how many rubber bands they used.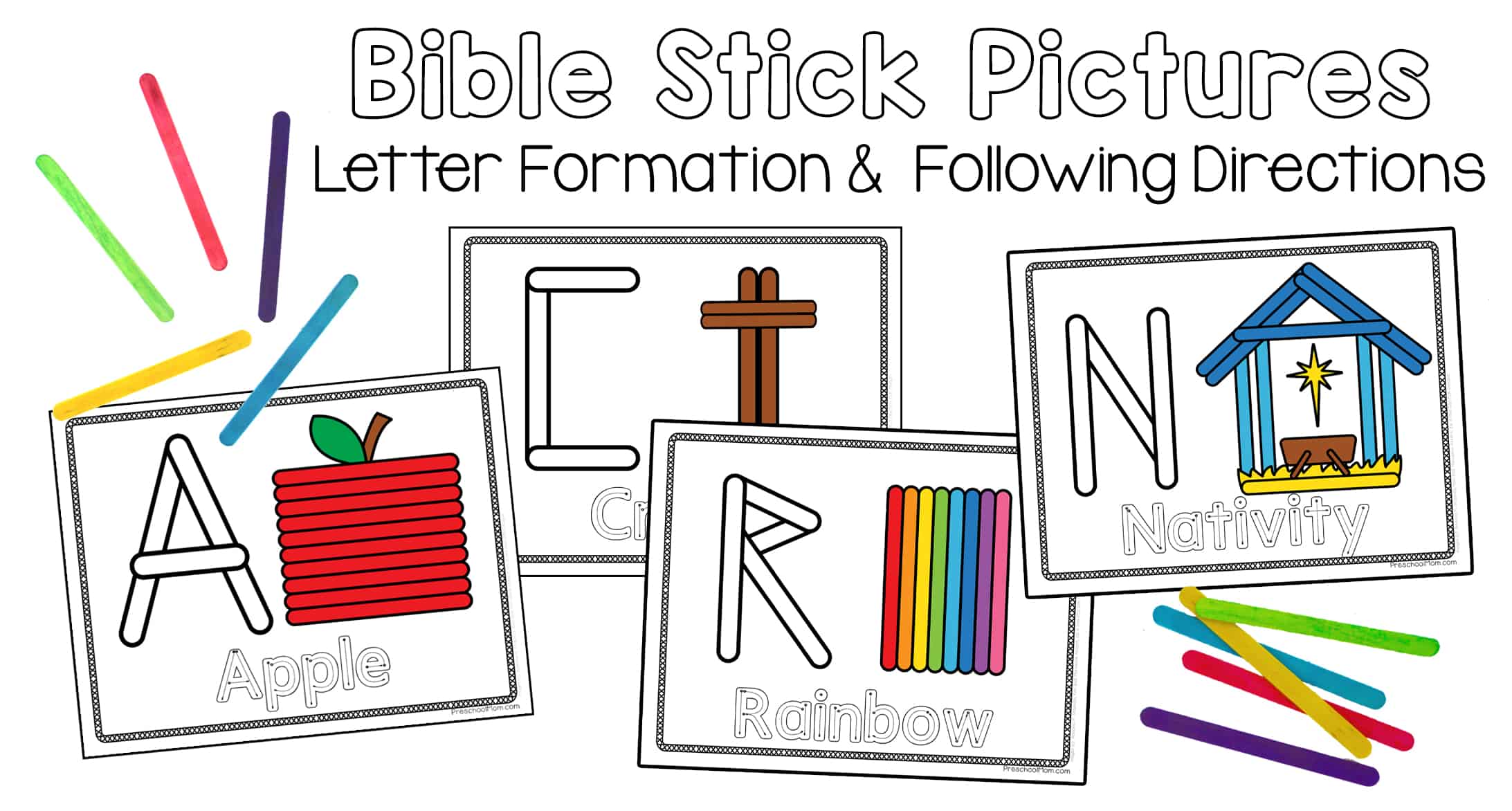 Bible ABC Stick Pictures:
Build Fine Motor movements with versatile popsicle Sticks! Each Bible ABC activity mat covers a single letter of the alphabet featuring a letter and picture for students to create using popsicle sticks. Plus, students will get guided practice on writing Bible-based words.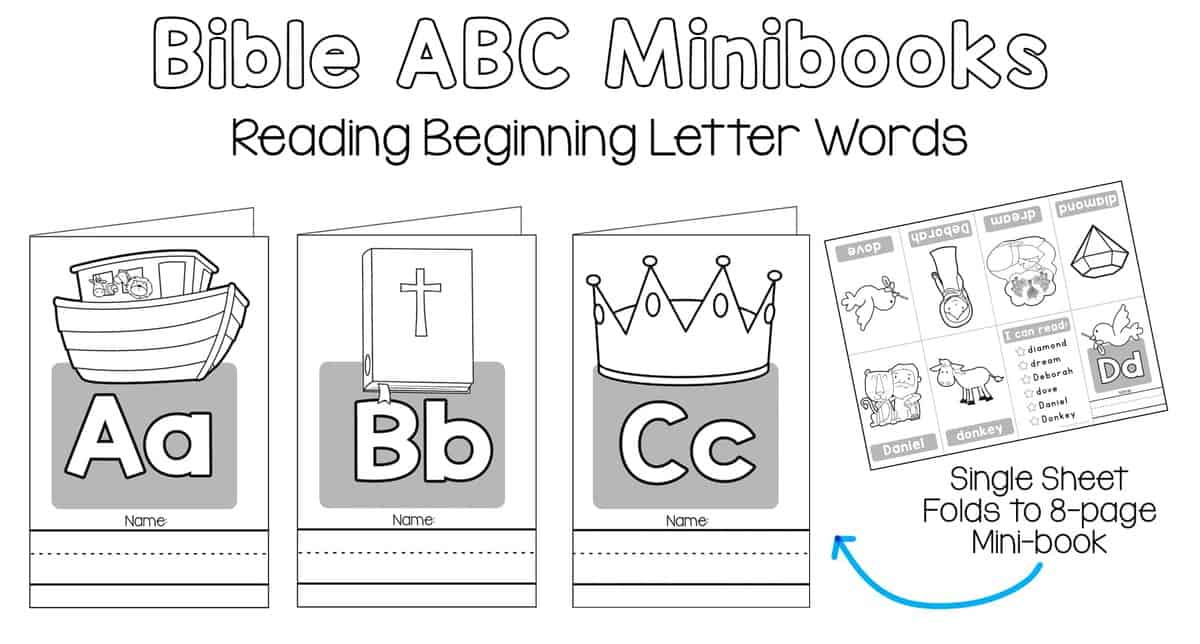 Bible ABC Minibook Worksheets:
Your students will have a blast making their own mini-book and filling it out. They'll get the opportunity to practice writing their own name, read new Bible vocabulary words, color in the Bible-themed objects, and learn how to fold an 8-page minibook.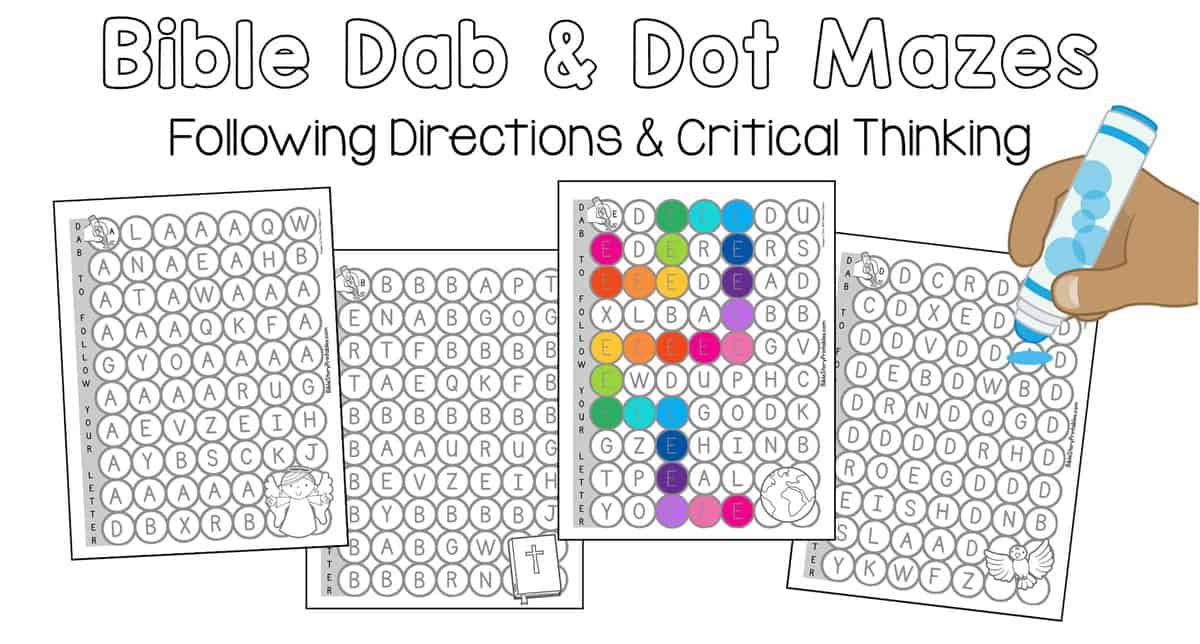 Bible Dab & Dot Mazes:
Students practice writing their ABCs with plenty of tracing exercises. Plus, they'll enjoy each letter maze for upper case and lowercase letters. Each letter of the alphabet includes a complete sentence with the beginning letter practiced. Teachers can help students practice these simple sentences by asking them to say them out loud in repetition. Included is a Bible-based object for coloring.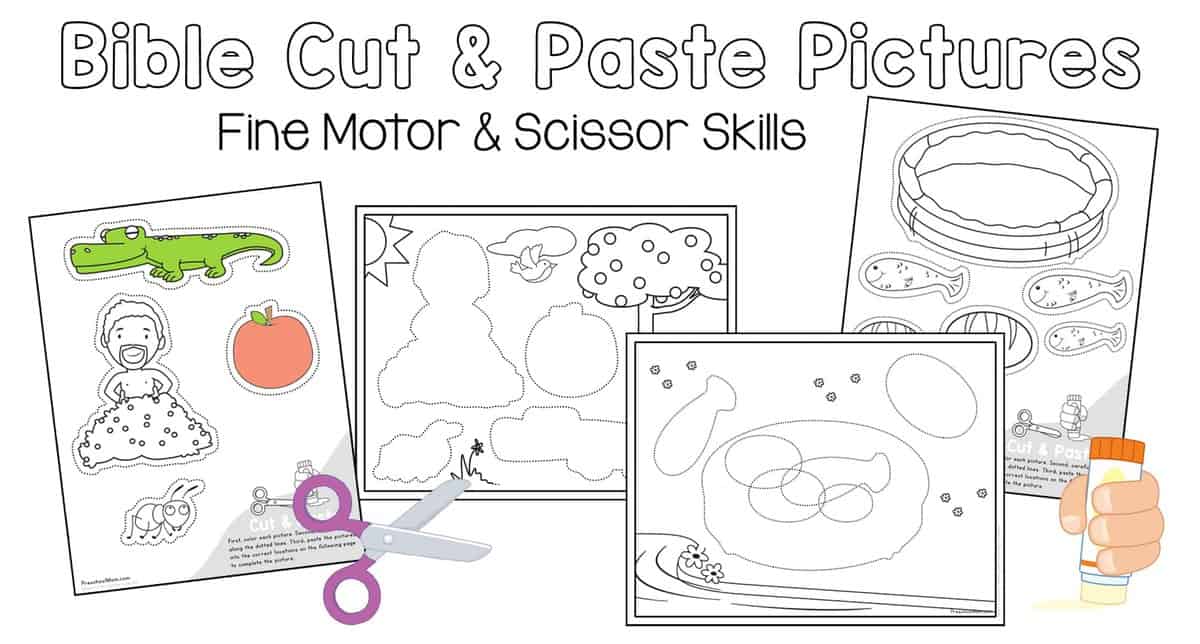 Bible Cut & Paste Pictures:
Build strong Fine Motor movements with these Bible ABC Cut & Paste Activity Pages. Students will need scissors for this activity. Children will simply color, cut, and paste on the Bible-based outlined images that all start with their respective letters for the entire alphabet.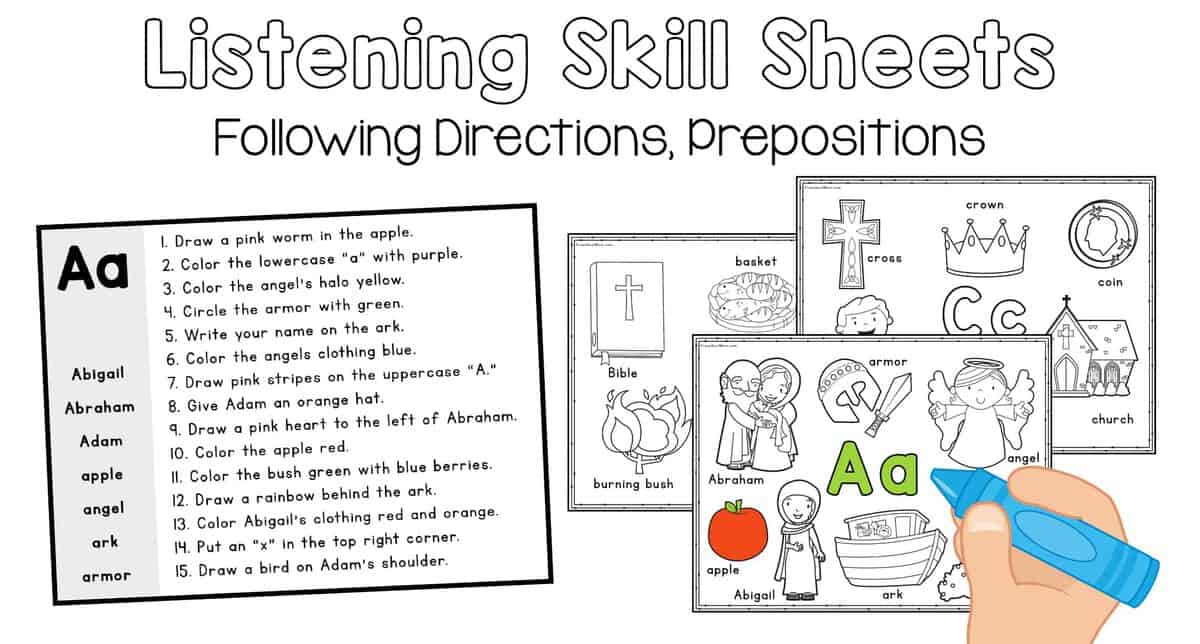 ABC Bible Listening Skills Sheets:
Our ABC Bible Fine Motor Listening Skills Sheets contain low-prep directional worksheets for students of all ages! Teach critical skills of following directions using our super easy-to-use alphabet activity pages. If your children are older, challenge them to read the instructions independently.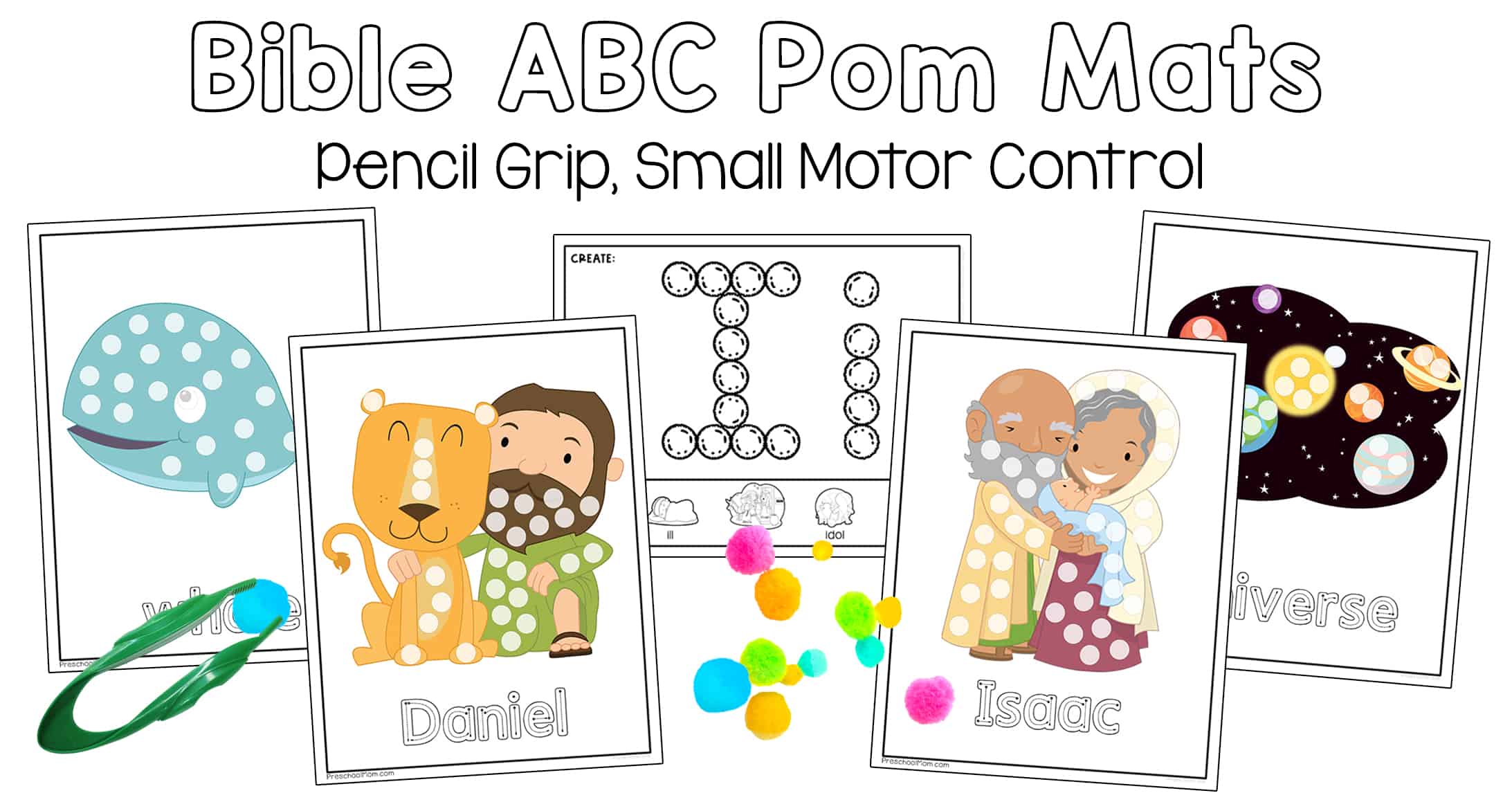 ABC Bible Pom Mats:
Our ABC Bible Pom Pom Mats are a ton of fun with our small motor control and pencil grip practice! Teach these critical skills using easy-to-use alphabet activity pages. With these vivid illustrations, your child will love getting creative with color!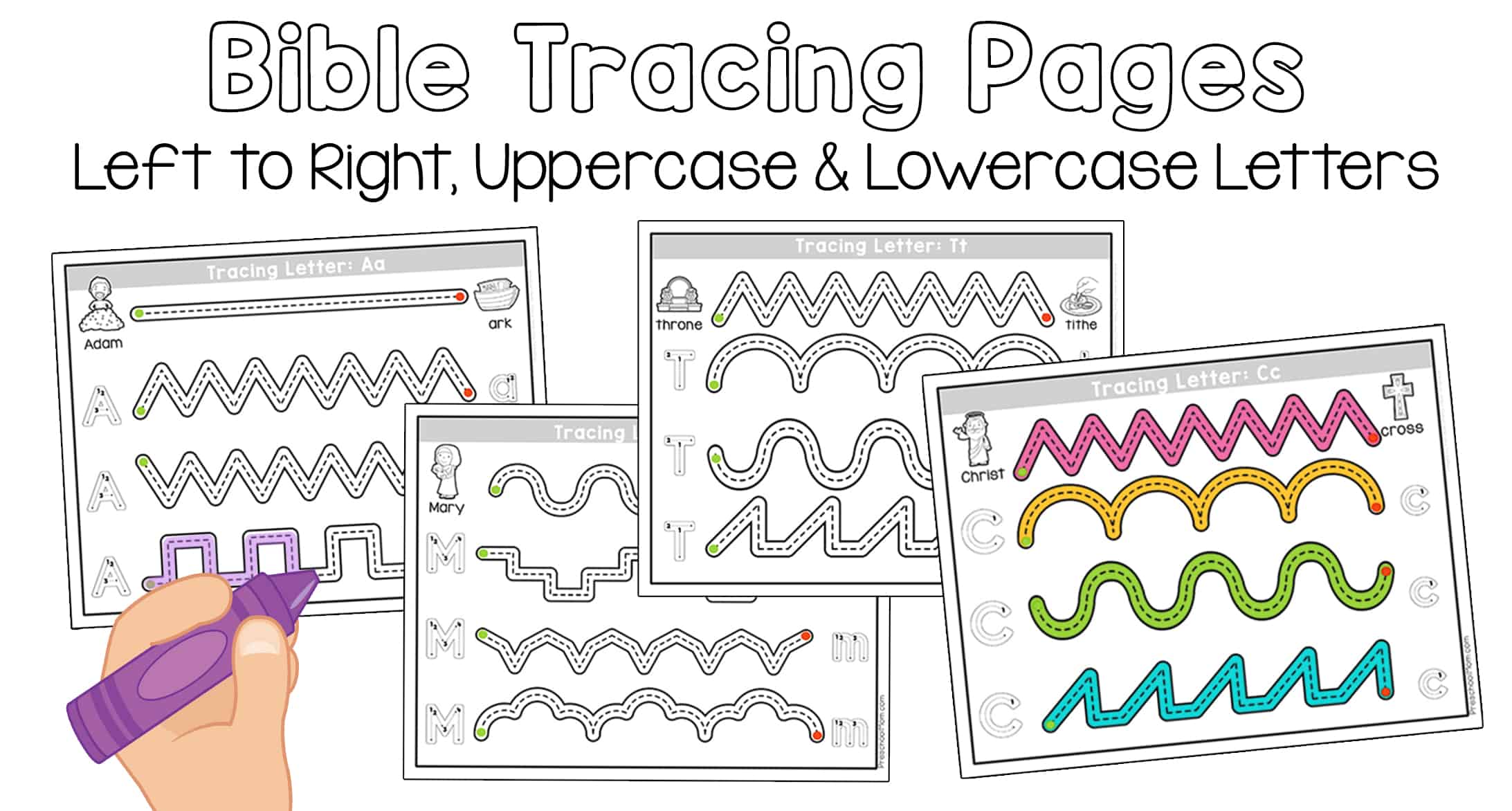 ABC Bible Tracing Pages:
These ABC Bible Tracing Pages contain many low-prep pages for teaching left to right, uppercase, and lower case letters. Your students will have a great time tracing zig zags, straight, up and down, and curved lines for a ton of pre-writing practice.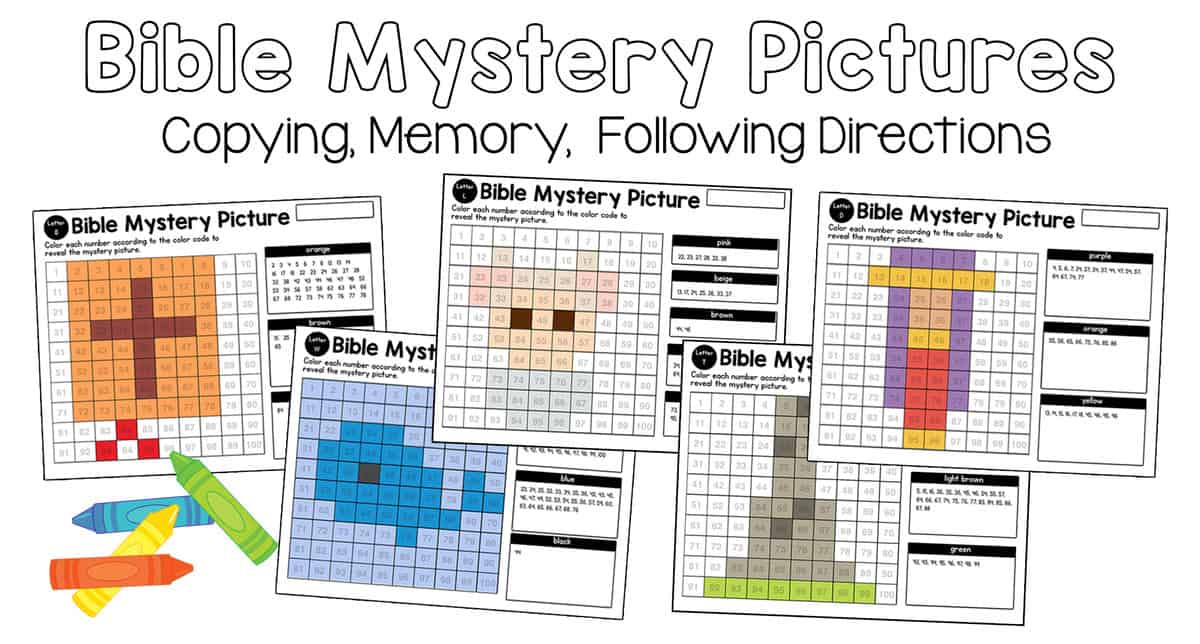 ABC Bible Mystery Pictures:
Our ABC Bible Mystery Pictures are for students looking for some challenging fun while gaining key skill sets like number recognition in mathematics, copying, memory, and following directions. Students will recognize the hundreds chart in our Bible picture worksheet!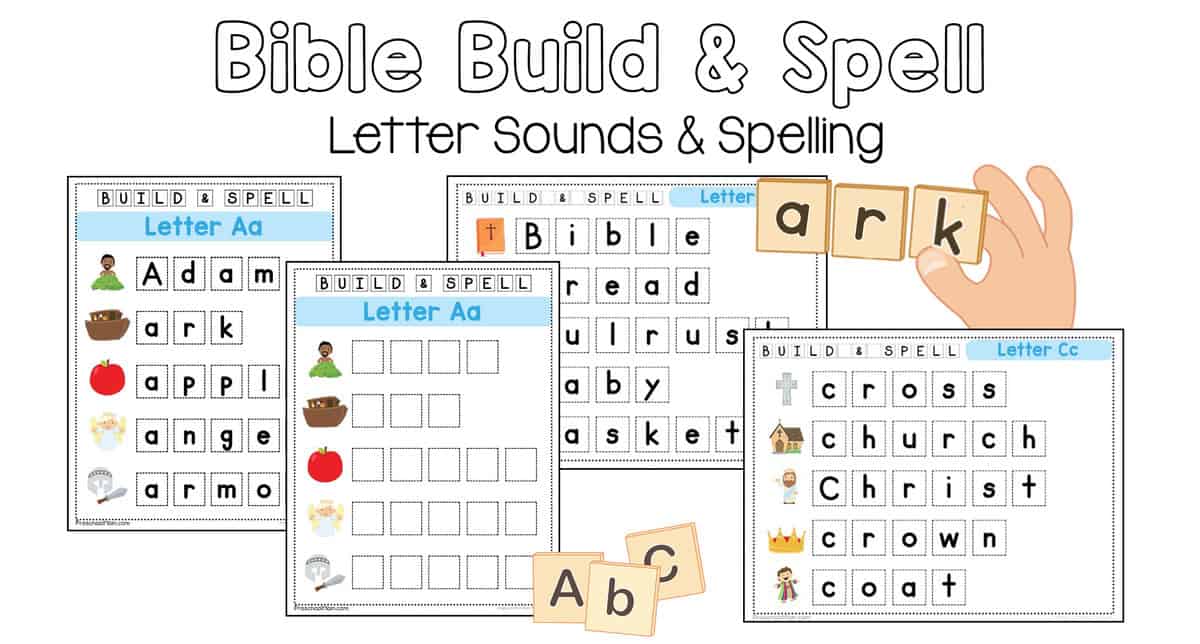 ABC Bible Build & Spell:
These ABC Bible Build & Spell Sheets help with letter sounds & spelling in our easy-to-use spelling worksheets. These spelling worksheets allow your students to have a ton of fun while learning beginning Bible-themed words and images and recognizing the upper and lower case alphabet!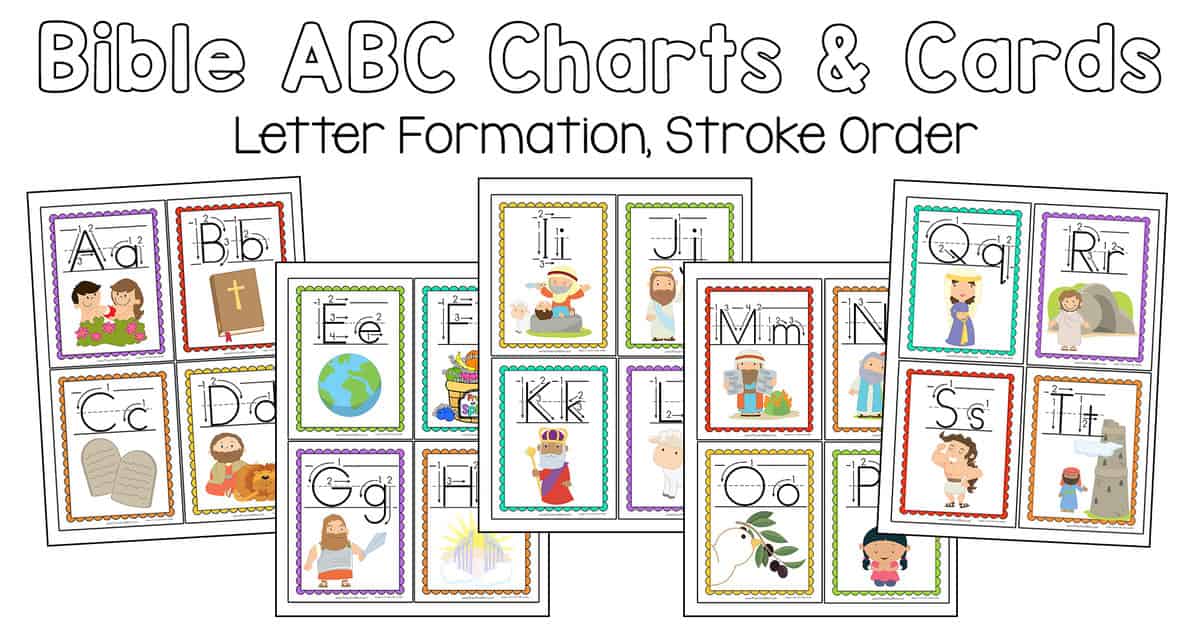 ABC Bible Charts & Cards:
This popular set of 26 Bible Alphabet Charts and Flashcards contains letters that feature a numbered stroke guide alongside a beginning letter Bible theme. Students will get plenty of practice identifying upper case and lowercase while practicing letters formation and stroke order.
Suggested Materials:
Bingo daubers, playdough, pattern blocks, 5x5 geoboard & bands, popsicle sticks (full & half size), cotton swabs & paint, building bricks, page protectors, dry erase markers, alphabet stamps, stickers, small toy car. (View Our Favorite Fine Motor Products Here)
Bible ABC Words:
A: Abraham, Apple, Ark, Adam, Angel, Armor, Abigail, Abel, Alpha (Greek Symbol)
B: Bible, Benjamin, Burning Bush, Baby (Moses) in the Bullrush, Basket, Bread, Bethlehem, Breaking Bread
C: Cross, Church, Christ, Creation, Crown, Coat (of Many Colors), Coin
D: Dove, Donkey, Daniel, Dream (Jacob's ladder), Desert, King David, Deborah, Diamond
E: Esther, Eve, Earth, Empty Tomb, Egypt or Egyptian, Elijah, Elisha
F: Fruit of the Spirit, Fish, Family, Friendship, Faith, Fiery Furnace
G: God, Garden, Give, Grain, Goliath, Grapes, Gabriel (angel)
H: Holy Spirit, Heaven, Heart, Hailstones, Honey, Harp, Husband
I: Isaac, Inn, idol, ill, instruct (teacher reading Bible or Pastor), Israel
J: Jesus, Joseph, Jealousy, Journey, Joy, Jerusalem, Jericho, Joshua
K: King, kneel, kindness, kingdom, key, kiss
L: LORD, Lion, Lamb, Lily, Last Supper, Love, Light, Lamp
M: Moses, Miriam, Manger, Mary, Miracle, Mountains
N: Noah, Neighbor, New Testament, Naomi, Nail, Nativity
O: Ox, Olive Branch, Old Testament, Oil, Orchard, Omega
P: Pharaoh, Plague, Paul, Prison, Pray, Praise, Palm, Promise
Q: Queen, Quiver, Quarrel, Quail, Quake (mountains tremble)
R: Rainbow, Ruth, Reap, Red Sea, Resurrection, Ram, Raven, Revenge, Redemption
S: Shepherd, Sheep, Star, Sampson, Strong, Sandals, Stormy, Sea, Sling/Stone/Smooth, Snake
T: Tithe, Tower, Ten Commandments, Trumpet, Tent, Tabernacle, Temple, Tear, Throne
U: Universe, Unleavened Bread, Unselfish, Unclean, Uriah, Uriel
V: Vineyard, Vine, (Valley) Vase, Viper, Visit, Vision
W: Whale, Worship, Wheat, Walking on Water, Widow
X: King Xerxes, eXalted, eXample, ax, axhead, tax, wax
Y: Yoke, Young, Yell, Yarn
Z: Zacchaeus, Zephaniah, Zechariah, Zealous,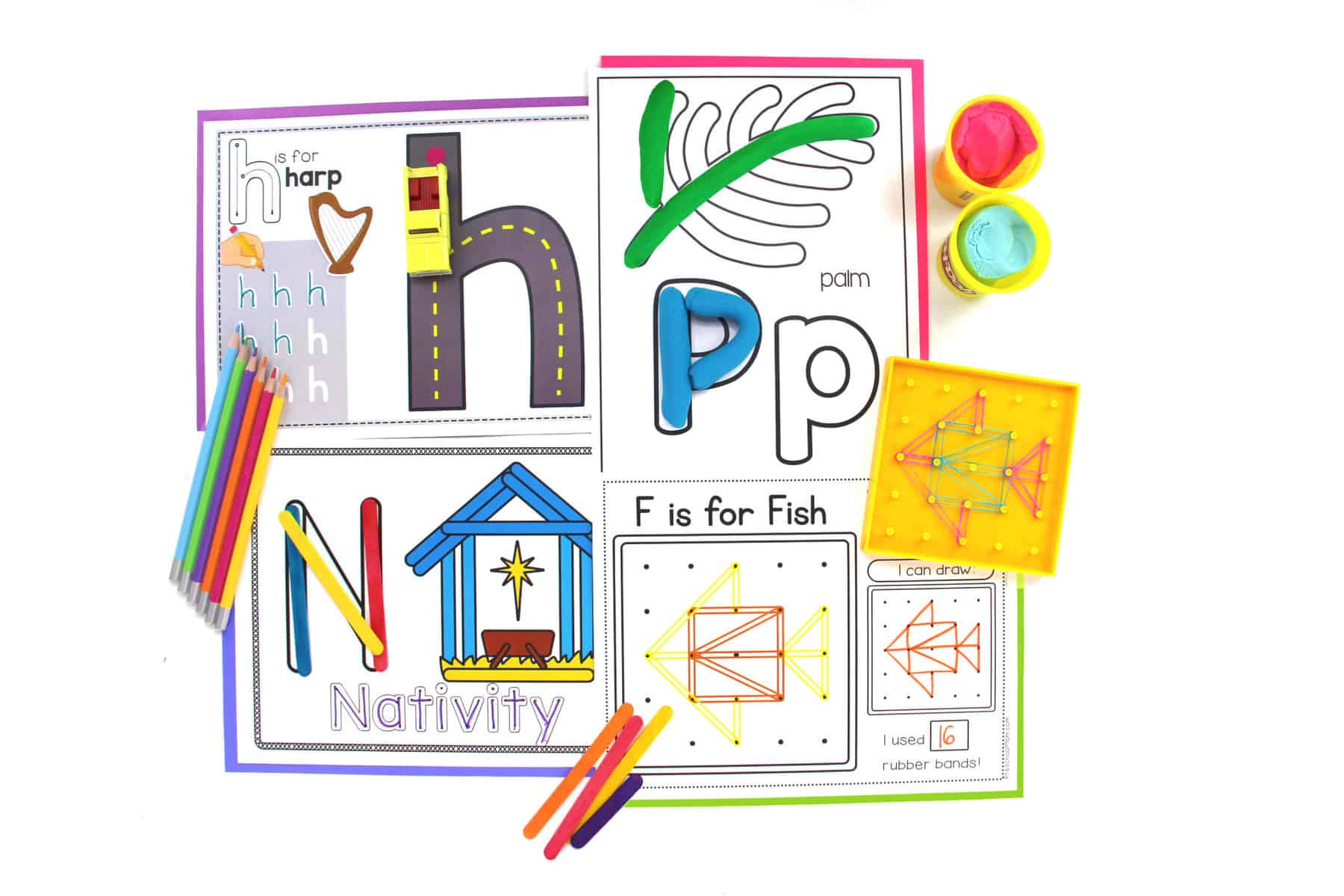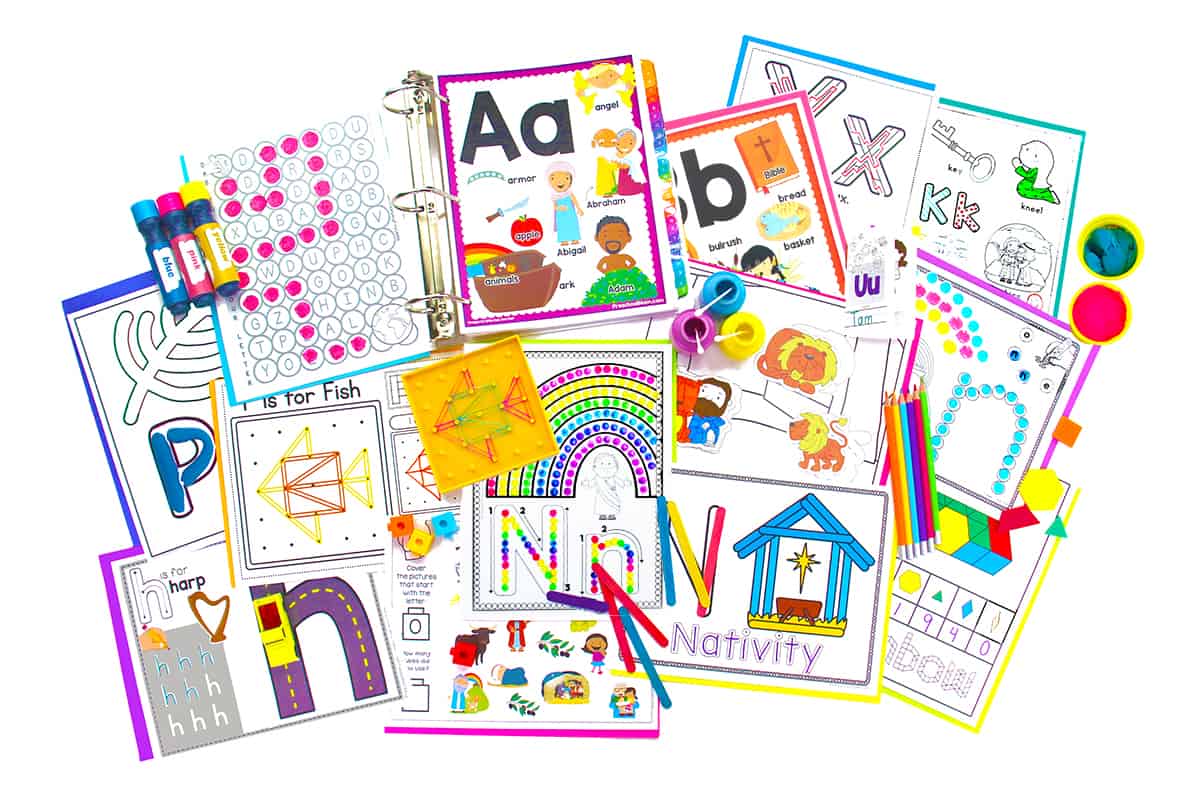 They are so adorable and fit perfectly with my letter of the week and religion lessons!
Additional information
| | |
| --- | --- |
| Product License | Homeschool, Classroom |