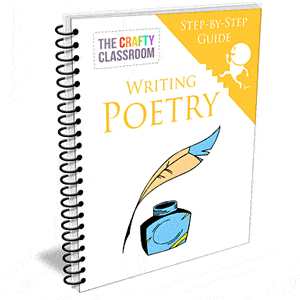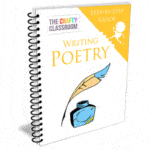 Writing Poetry
eBook PDF Format   36pgs.
Designed to take children through a step-by-step process, our writing guides feature simple instructions, fun characters, handy tools and easy tips that take the sting out of writing.  With Writing Poetry children explore 9 different poetic forms, first learning the rules then following the steps to create their own poetry.  Creative papers are provided for children to complete their final draft for display or inclusion in a poetry notebook.  Recommended for grades 2-4.
⭐Budget-Friendly Pricing
⭐Simple, Low-Prep Format
⭐Interactive & Hands-On
⭐Friction-Free Homeschooling
⭐Meets or Exceeds Standards
⭐Multiple Students & Abilities
⭐Simple Format Outlines
⭐No Expensive Teacher Guides
⭐Encourages Independence
Description
Table of Contents:
Poetry Cover Sheet
Couplet
Triplet
Quatrain
Acrostic
Concrete
Haiku
Limerick
Cinquain
Diamante
Includes poetry guide and creative papers for each poetic form.