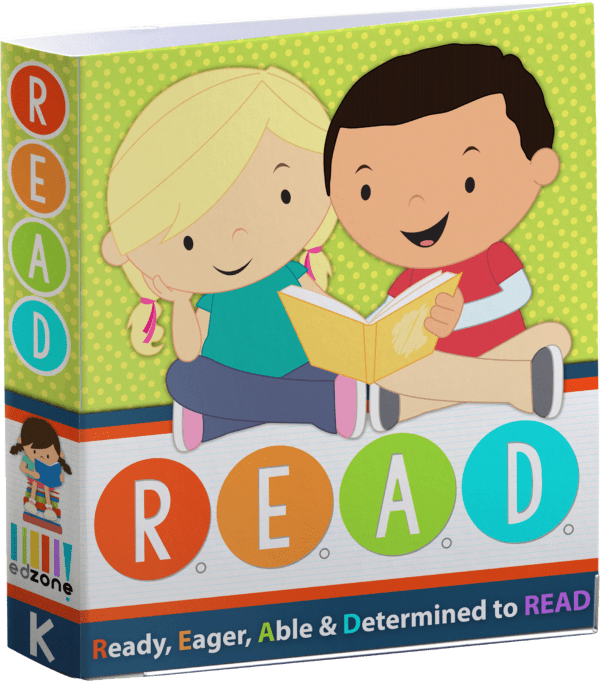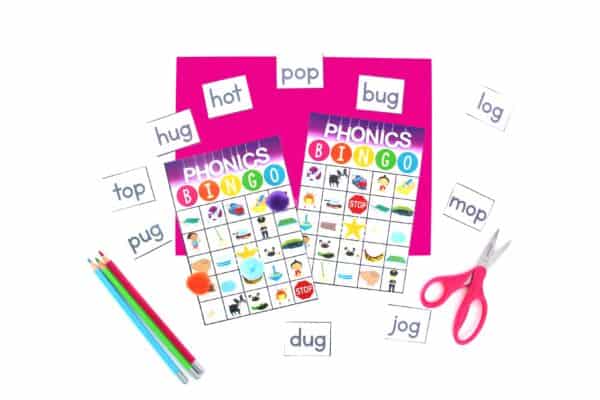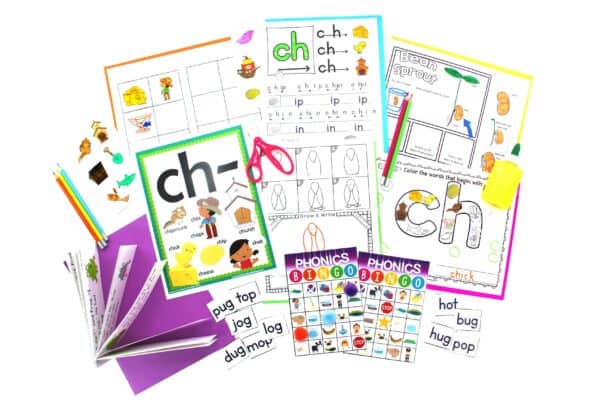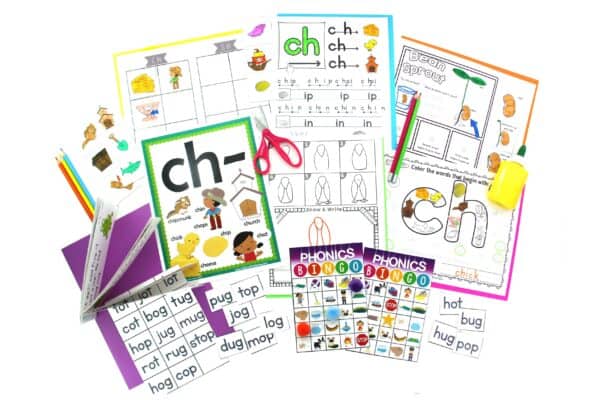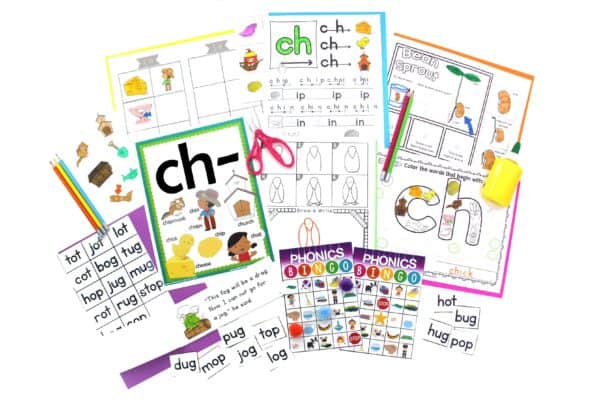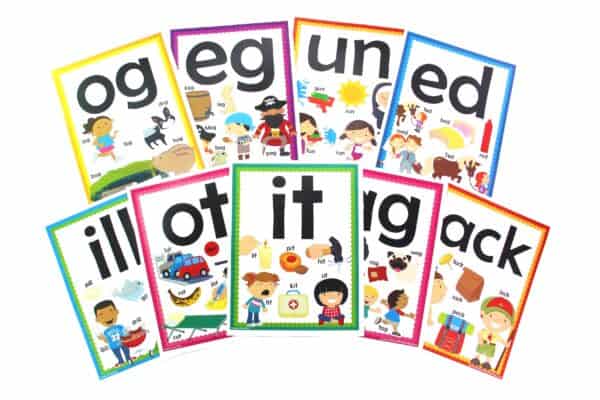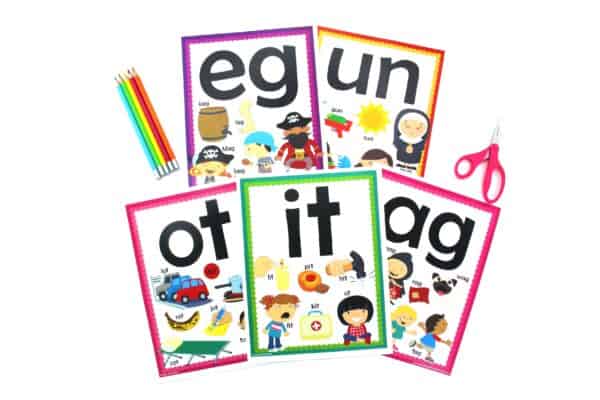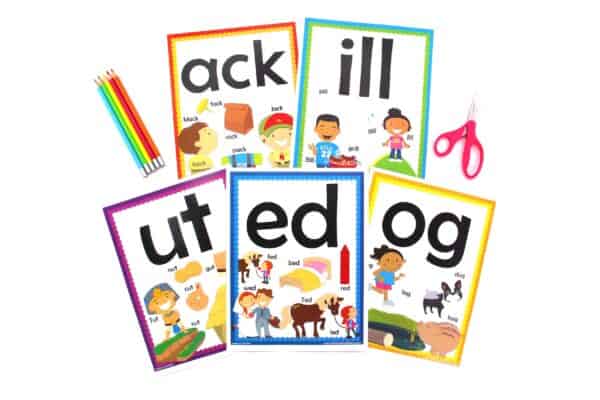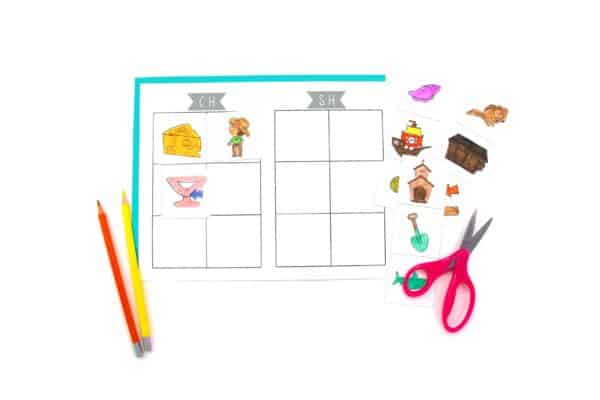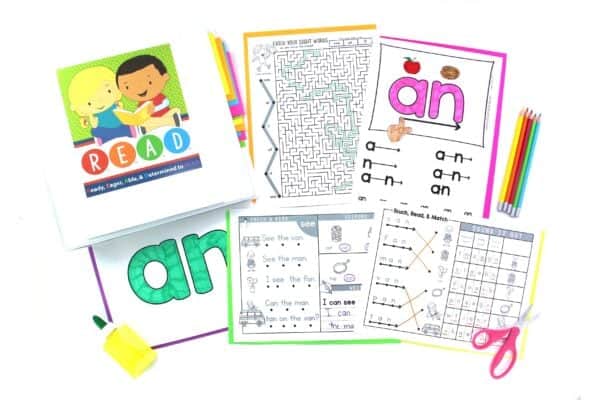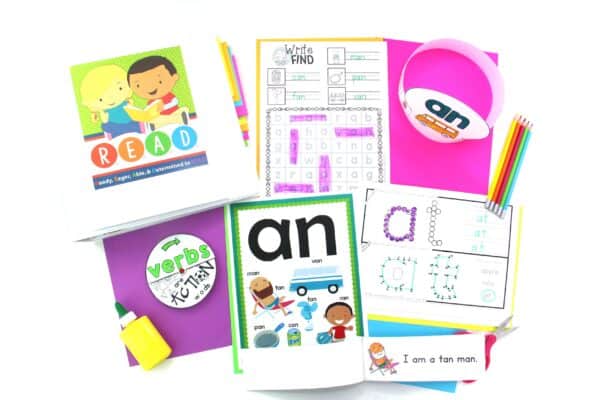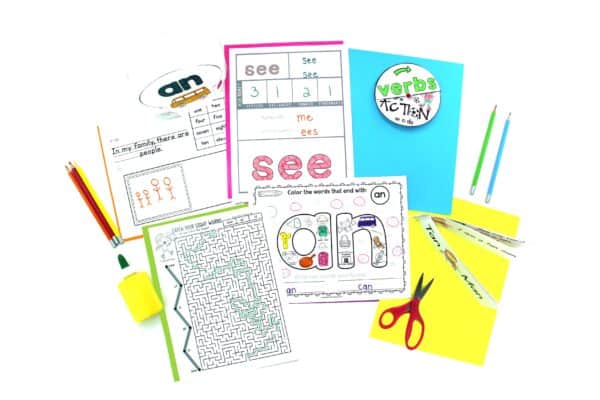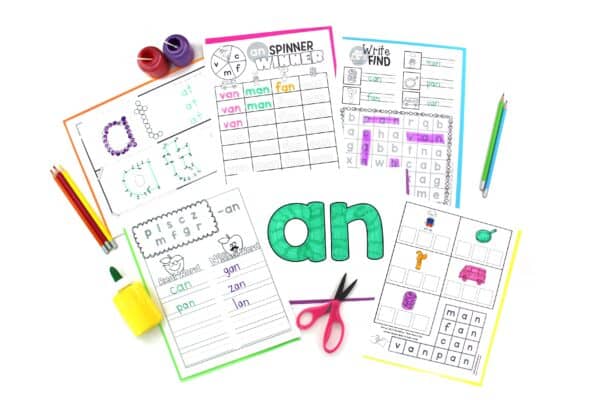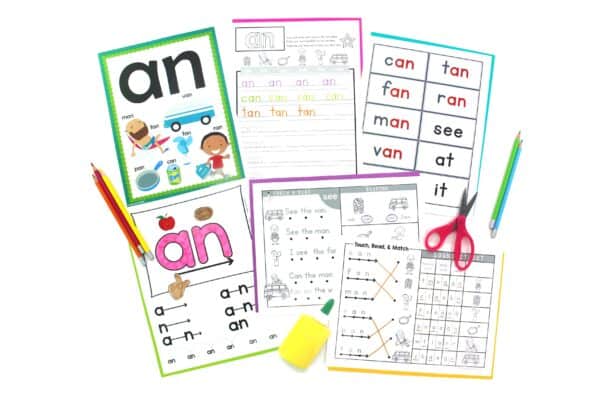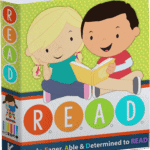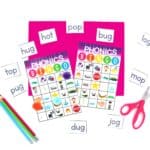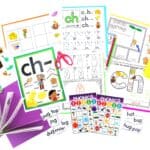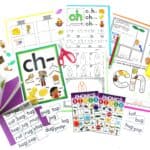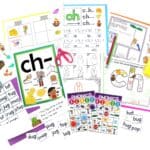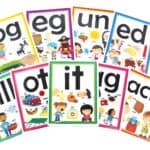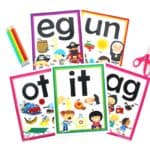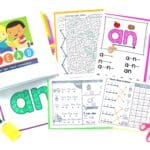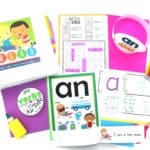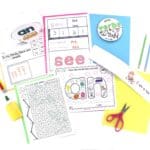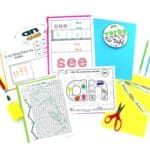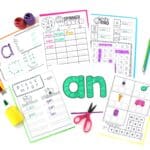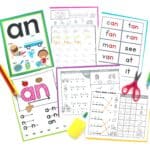 R.E.A.D. Curriculum Notebook
Sample         Format: PDF        Grade: K        Pages: 785       Bundle & Save
Ready, Eager, Able, and Determined to READ! R.E.A.D. Curriculum Notebook is a 36-week curriculum that provides you with everything you need to teach your child to read. Kids will learn to read easily with our jam-packed, fun-filled, engaging lessons your child will enjoy! We have made teaching your child to read simple, enjoyable, low-prep, and engaging.
Our top-selling R.E.A.D Curriculum Notebook is structured over a 4-day/week program you'll cover phonics, digraphs, blends, sight words, grammar, and writing. Hands-on activities keep your child engaged and learning with little to no-prep required.
4 Days a Week over 36 Weeks
One Word Family per week
2-3 Sight Words per week
Beginning Blends cycle every fifth week
60-page Interactive Grammar Notebook
Weekly Writing Prompts
Science Sequencing & Drawing Activities
Daily Warm-Up Activities
So what are you waiting for? Check out why this is one of our top-selling products!
Please note this is a downloadable product only, nothing physical will be mailed. Binder and elements in photos are for illustrative purposes only.
⭐Budget-Friendly Pricing
⭐Simple, Low-Prep Format
⭐Interactive & Hands-On
⭐Friction-Free Homeschooling
⭐Meets or Exceeds Standards
⭐Multiple Students & Abilities
⭐Simple Format Outlines
⭐No Expensive Teacher Guides
⭐Encourages Independence
Description
Additional information
Reviews (17)
Description
Phonics & Sight Words Curriculum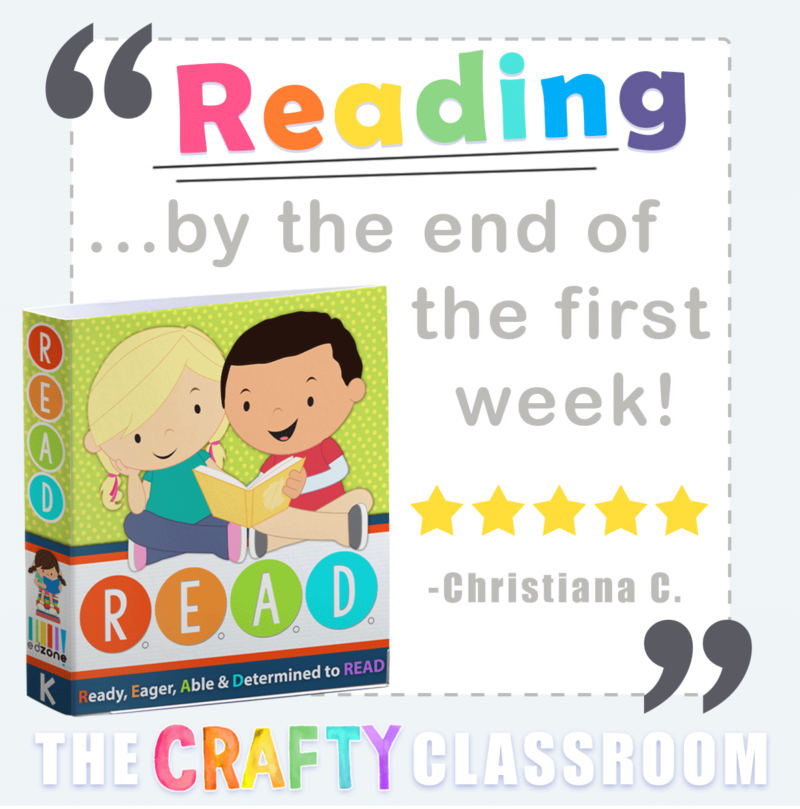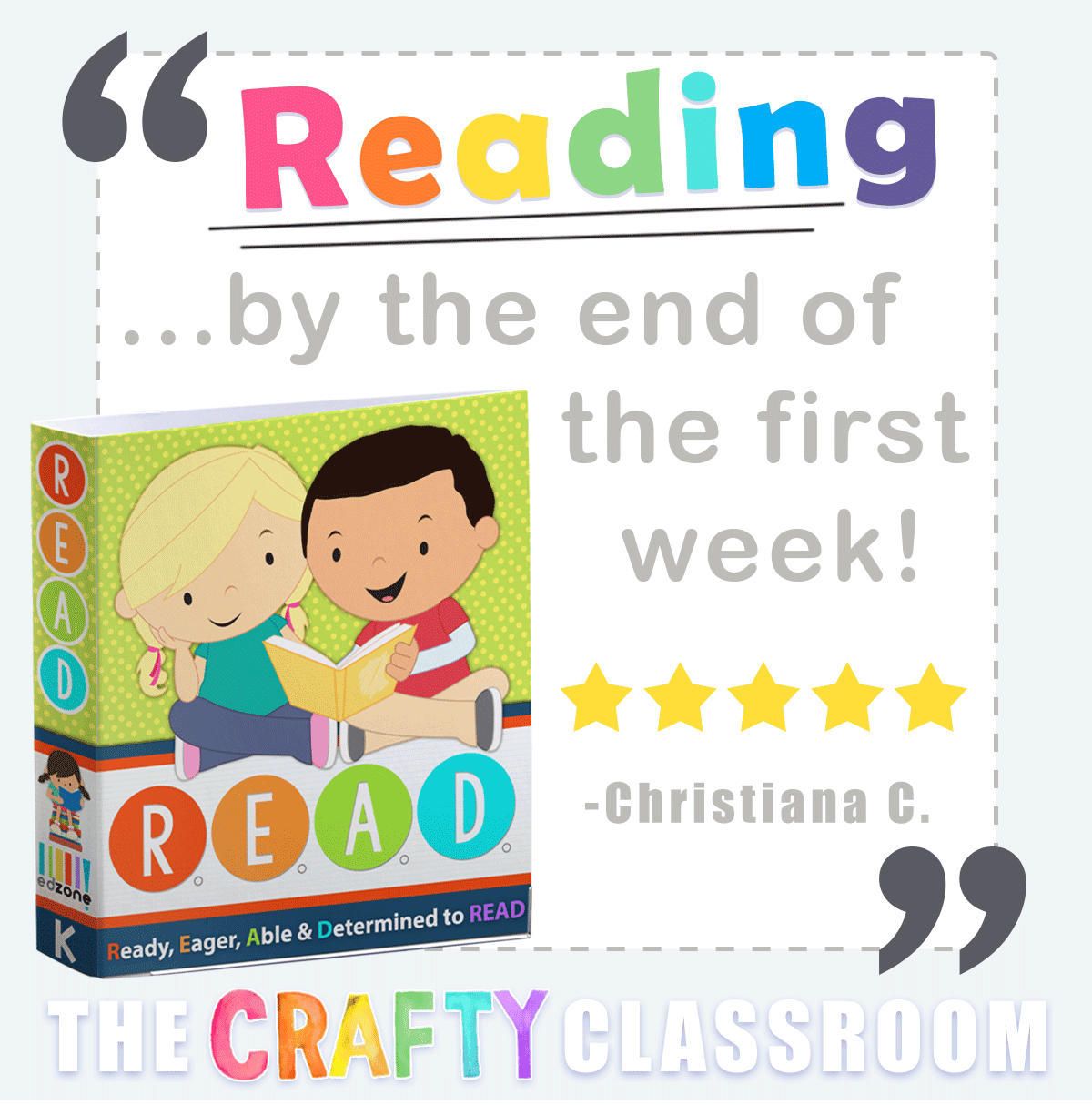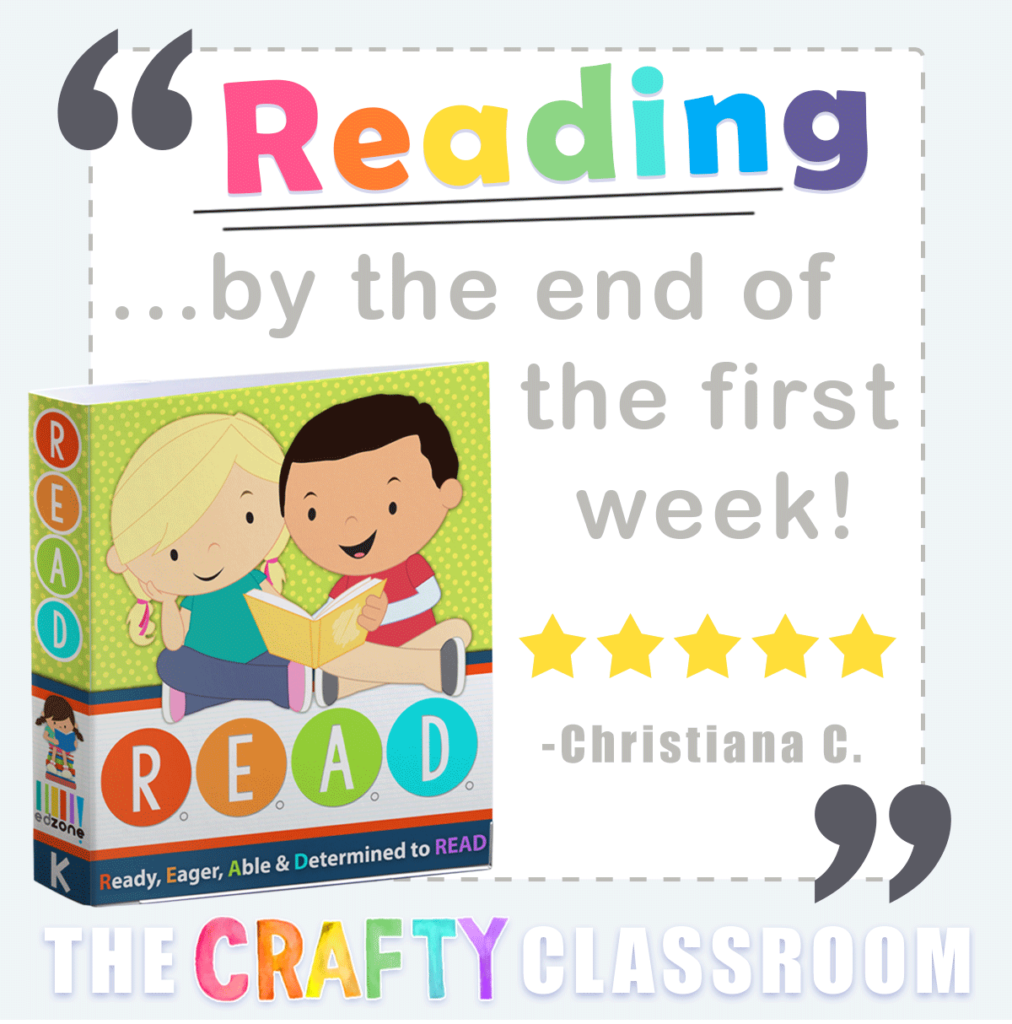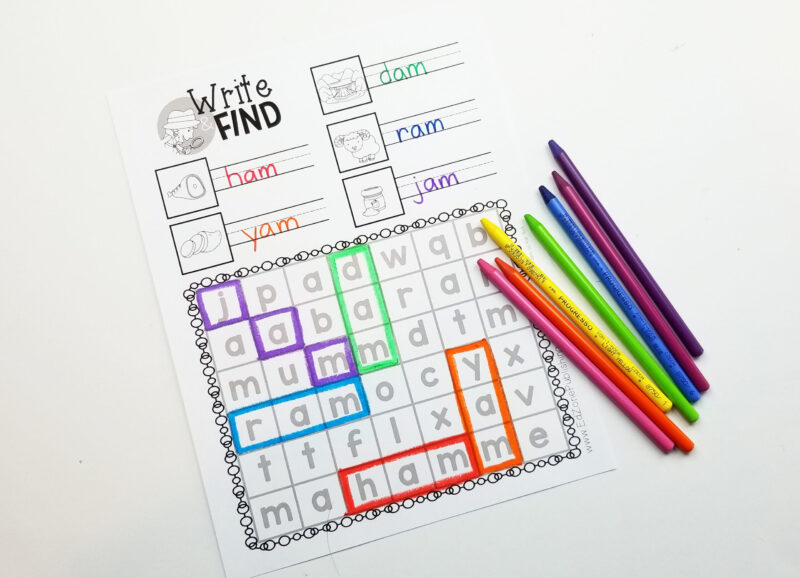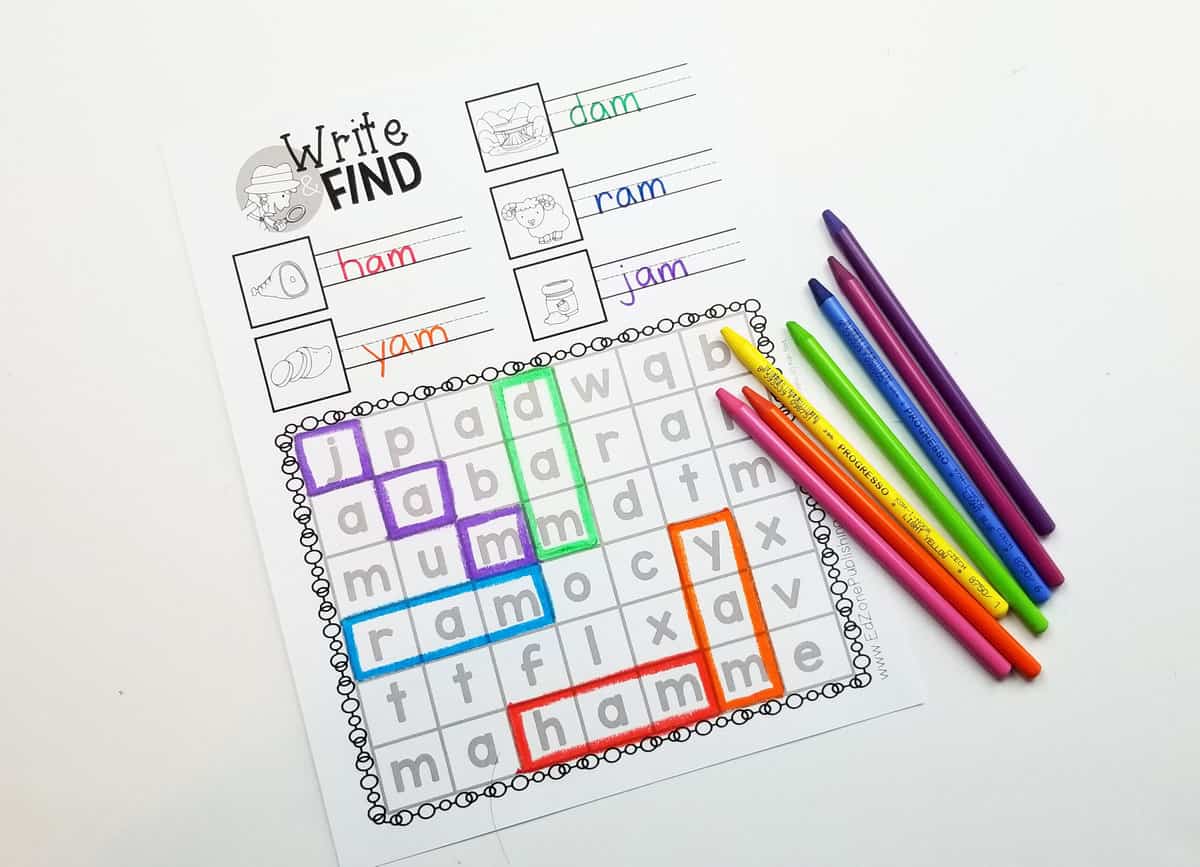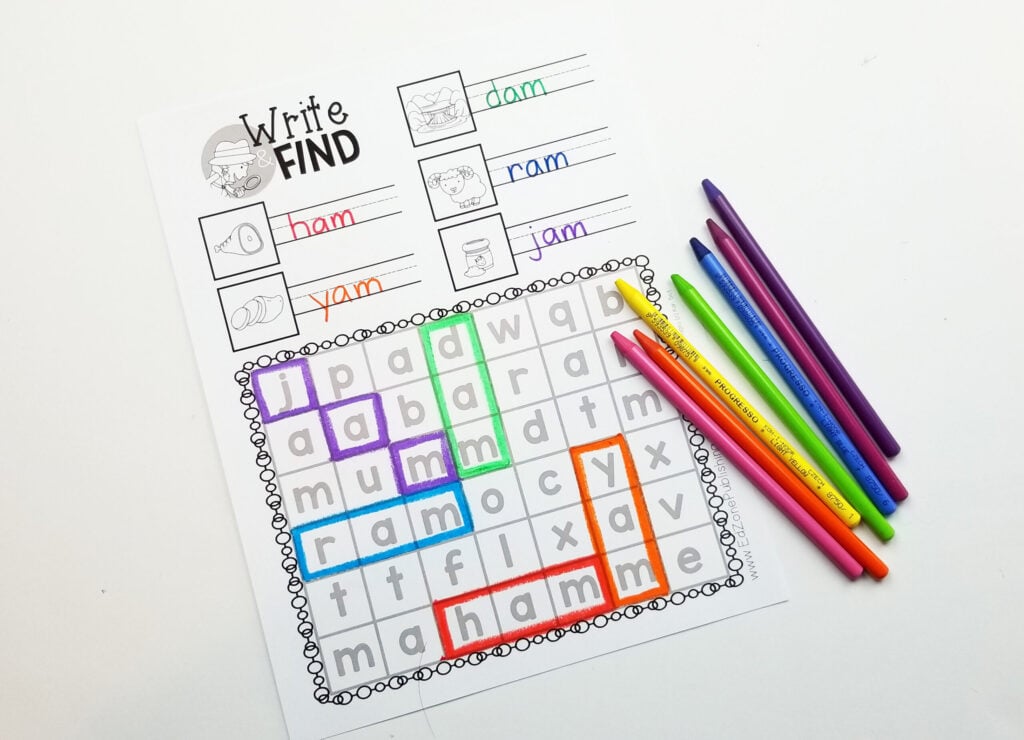 Kindergarten All-in-One Reading Program
Product Overview
Our READ program for Kindergarten includes everything you need to teach students how to read. It's super easy to use -- just print-&-go, prep-free and packed full of fun with engaging hands-on worksheets and learning printables including daily warm-up and calendar activities, one-word families per week, 2 to 3 sight words a week, weekly writing prompts and interactive grammar notebook, early readers, science sequencing activities, beginning blend cycles, pre-assessments, and review games. This weekly reading curriculum is scheduled over a 4-day week and coordinates perfectly with our Interactive Math Lessons.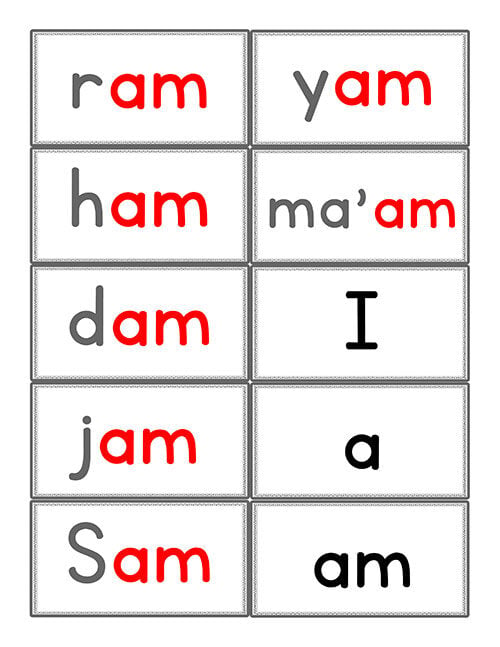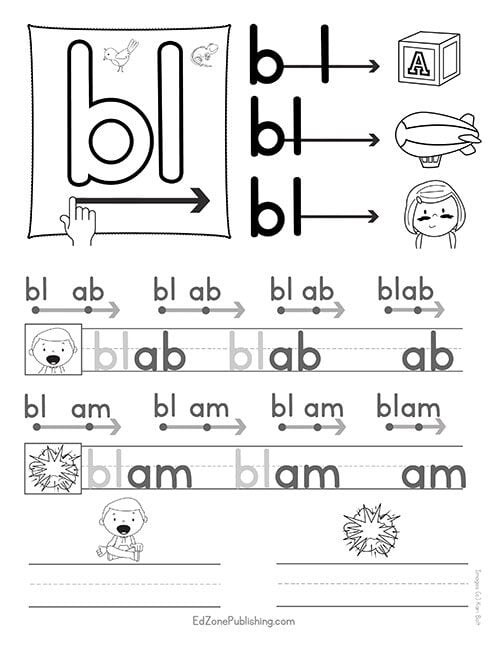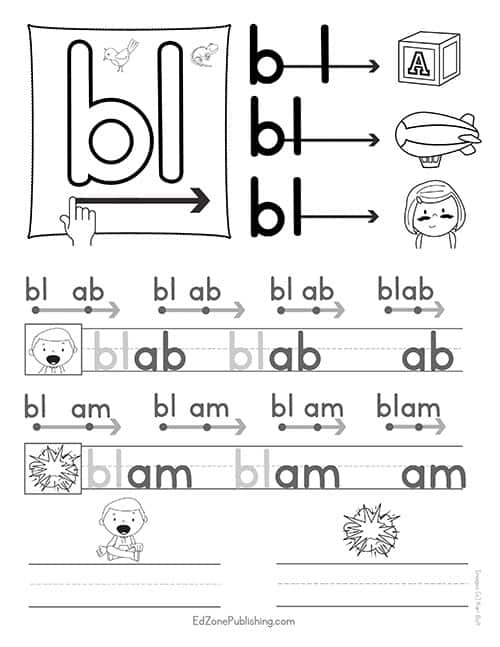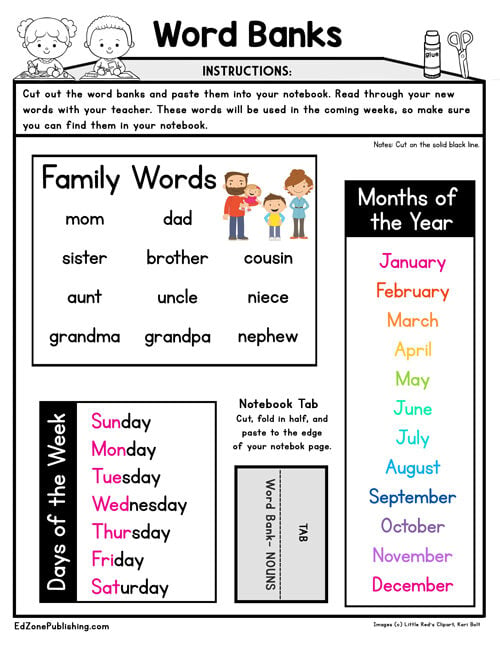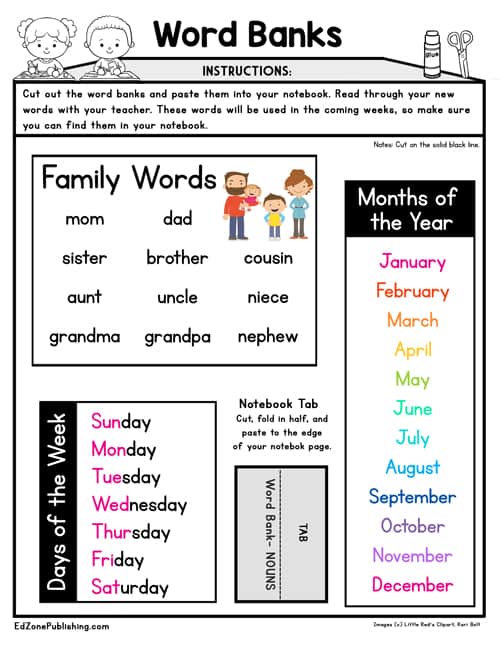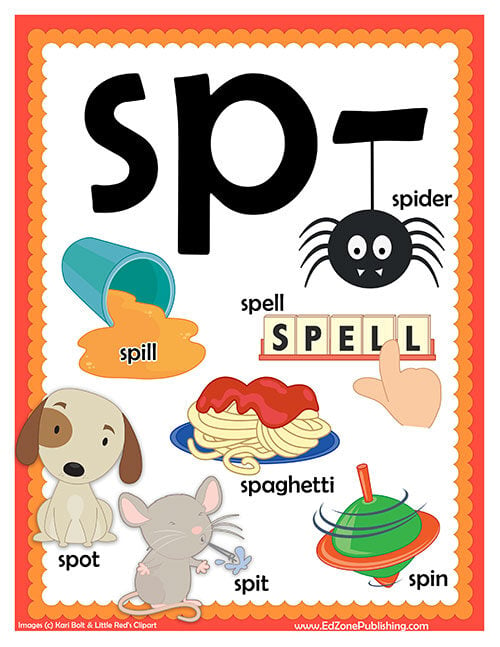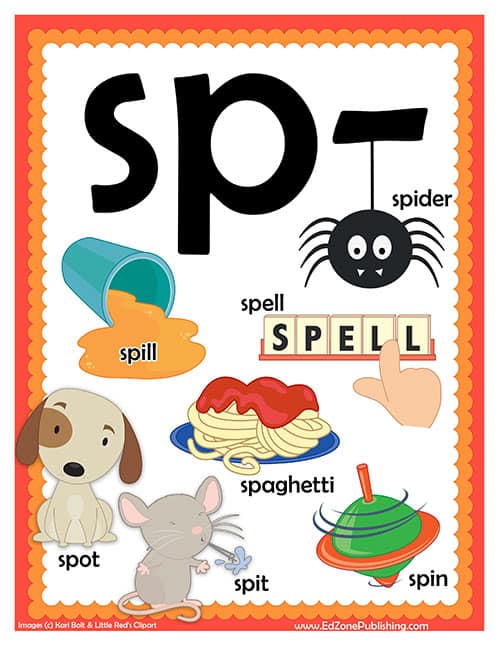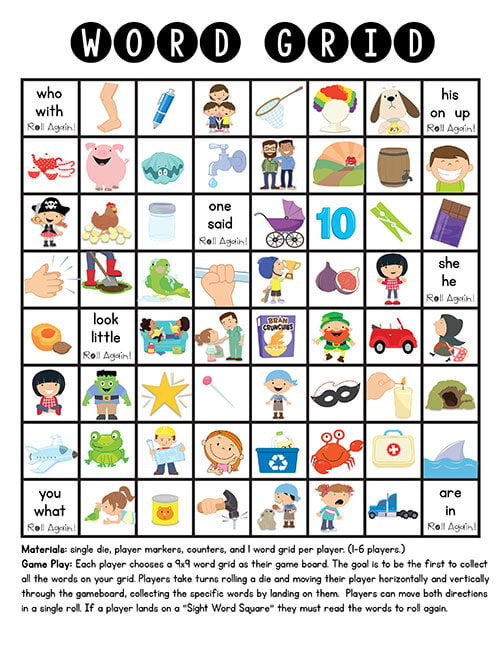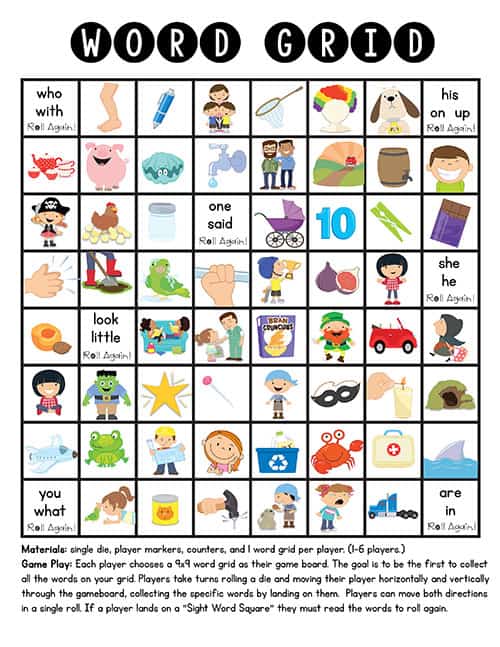 Covers Key Standards & Skills
What's Included:
This amazing set of reading tools includes the following activities for your kindergartener:
Daily Warm Up Work

One Word Family a Week

2-3 Sight Words per Week

Weekly Writing Prompts

Weekly Interactive Grammar

Weekly Early Readers

Weekly Science Sequencing

Beginning Blends Review Week

Pre-Assessment Letter Recognition & Sounds

Quarterly Assessment

Review Games
Skills Covered:
This set builds and develops a wide variety of reading skills including:
Word Recognition

Phonics Blends

Sight Words

Word Families

Calendar Activities

Drawing

Writing

Beginning Sounds

Problem Solving Games

Coloring

Creativity

Fine Motor Activities
How to Use:
Our simple, easy-to-use, weekly format allows teachers to print in the order you need quickly. We recommend printing front to back to save space and place it inside a 3-ring binder. Here is a weekly overview of the included daily activities: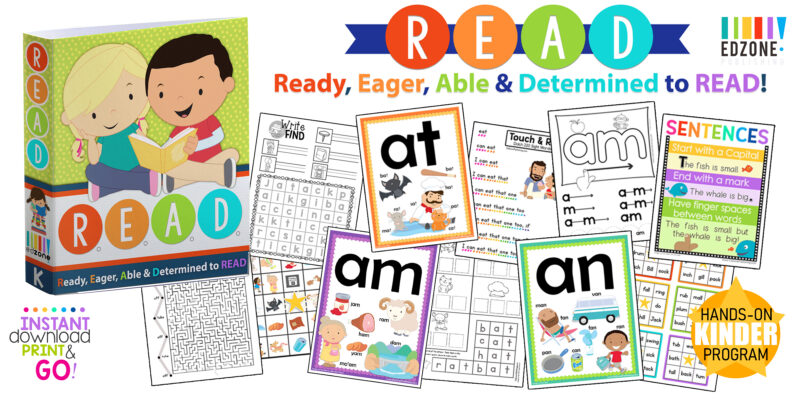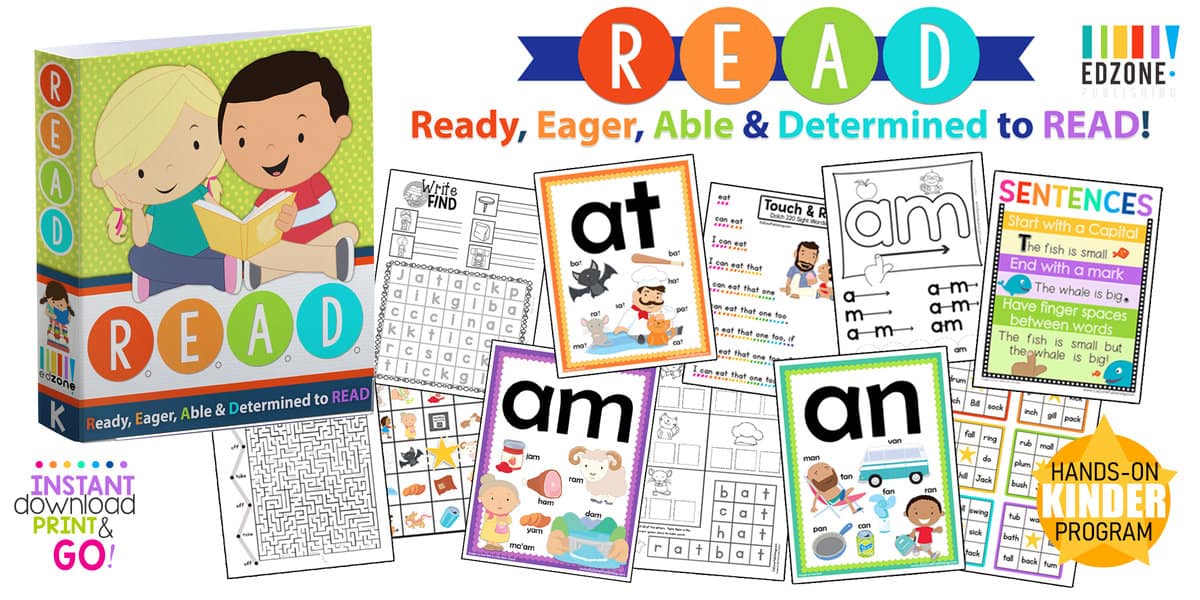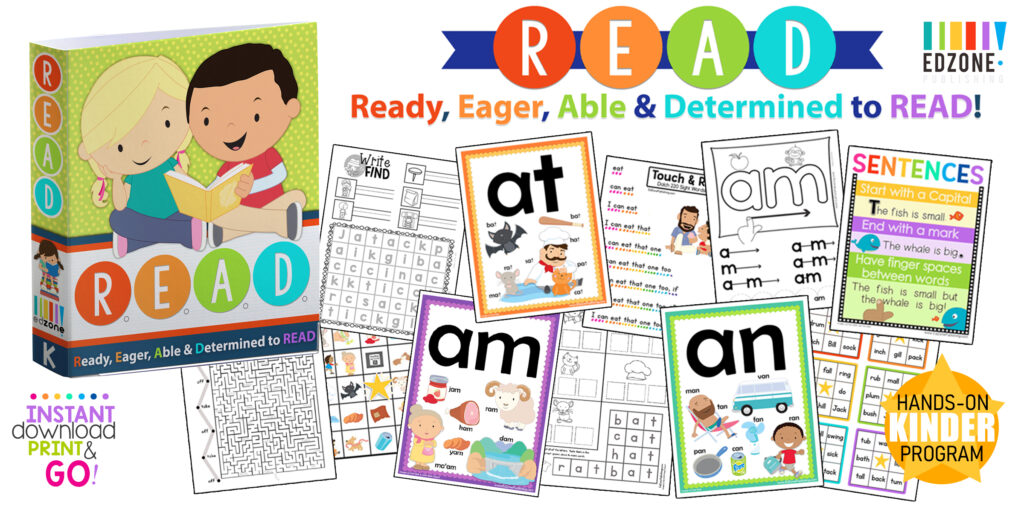 Daily Warm-Up Activities:
On a daily basis for 4 days a week, students will complete two daily warm-up activity pages to practice key life skills. Students will use dry erase markers to complete their daily warm-up each morning. Black and white versions are provided if you prefer a new sheet each day. In addition, students will choose a number of the day for your student to complete the daily warmup activities.
Pre-Assessment Activities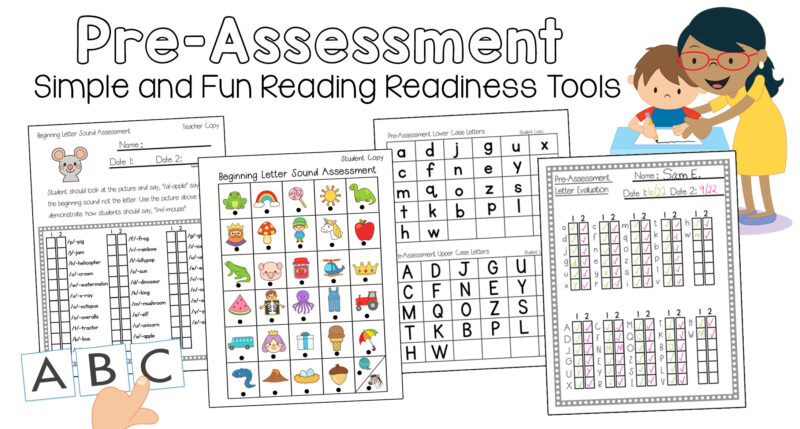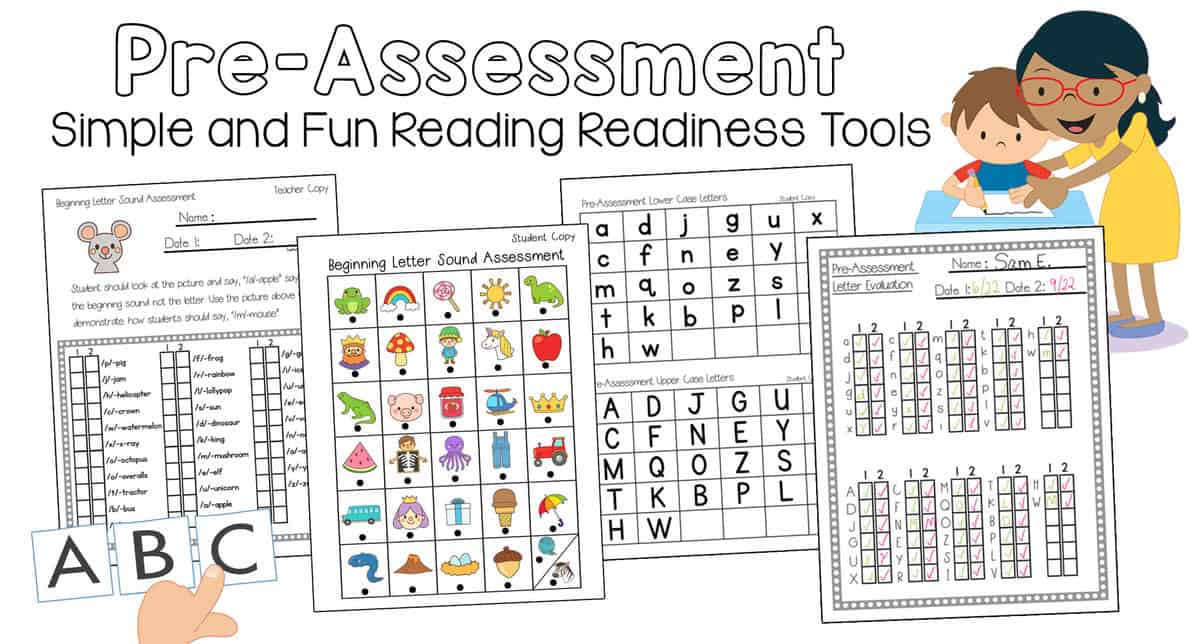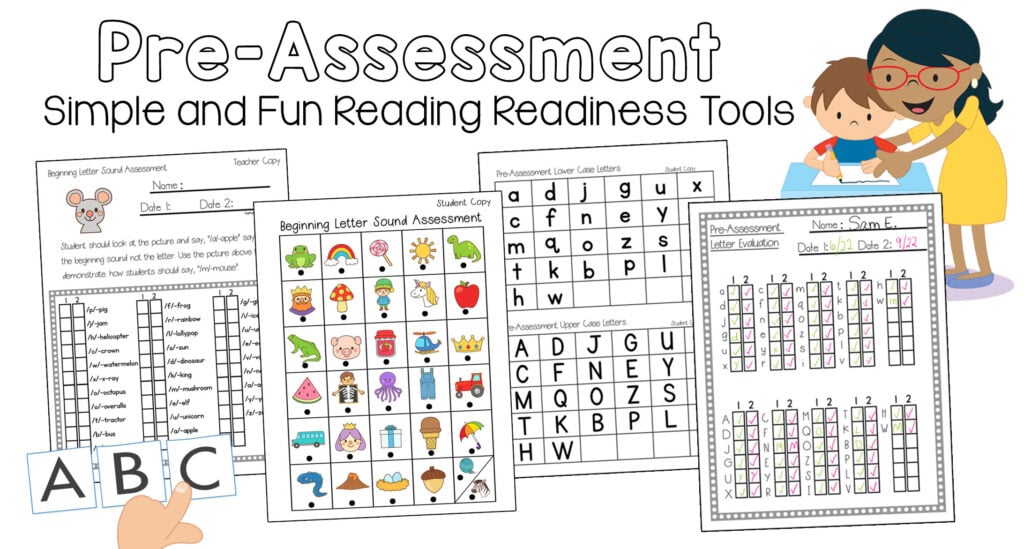 Pre-Assessment Activities:
This is a small collection of helpful resources you can use to assess if your student is ready to begin our curriculum. Sit down with your student and review each letter name in both uppercase and lowercase versions. Then, review each letter sound with your student, noting that vowels can have more than one sound.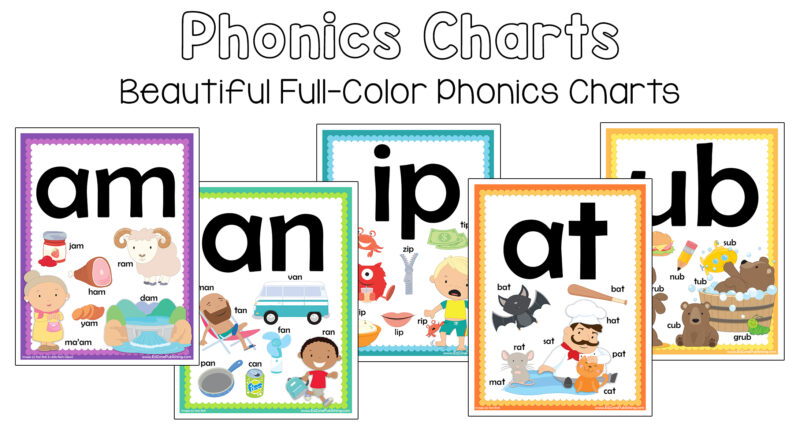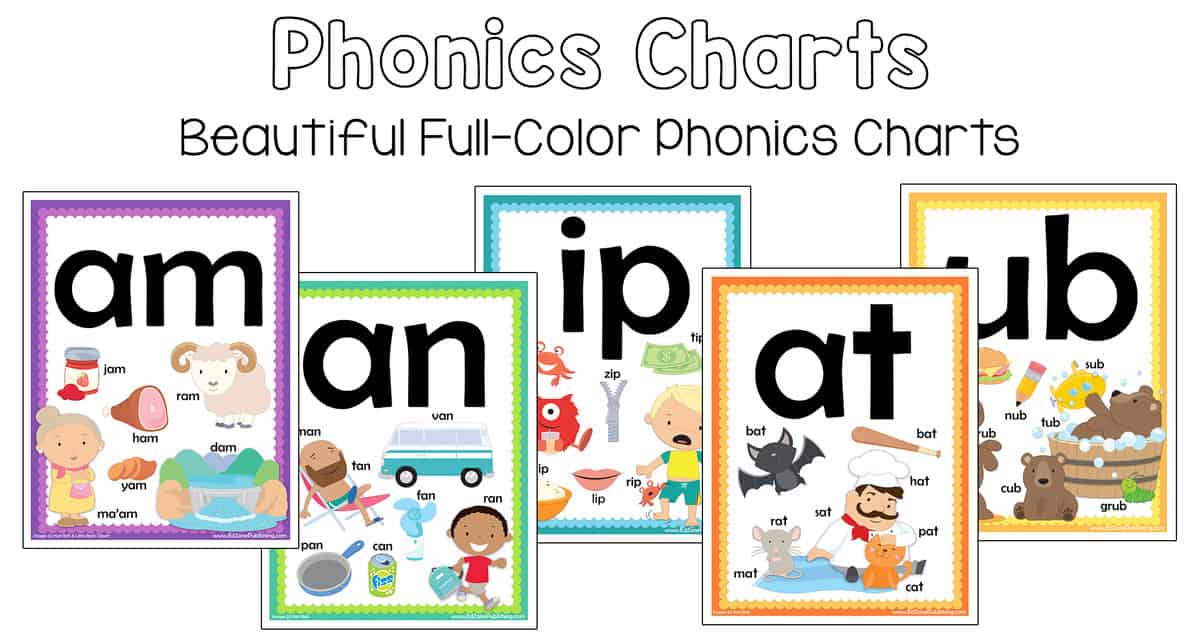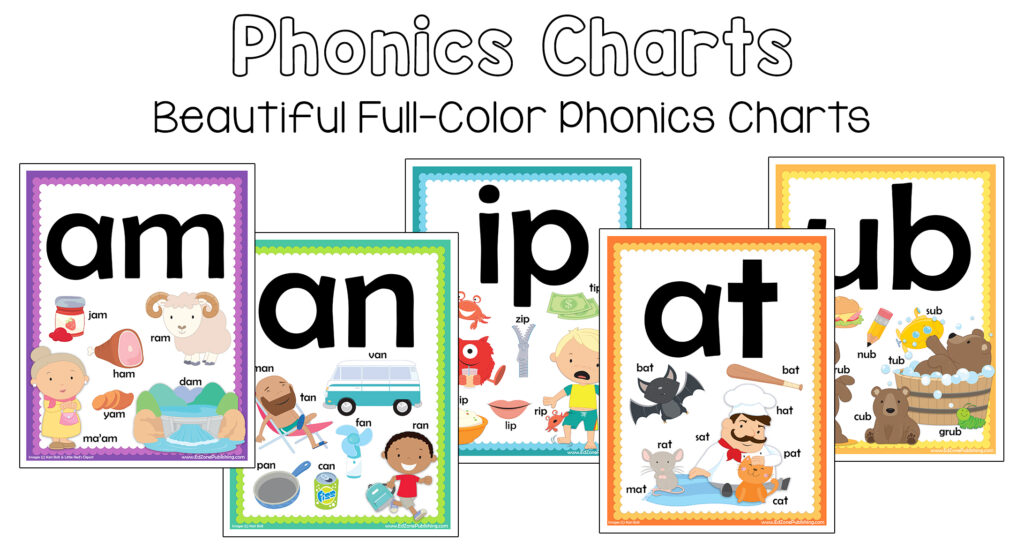 Phonics Chart:
Each week, you'll be introducing students to a new word family or blend with our Phonics Charts. Start off the week with this colorful chart. Talk with students about the different words they can make with this special word family, and try to think of other rhyming words together. Display the chart somewhere in the classroom for easy reference.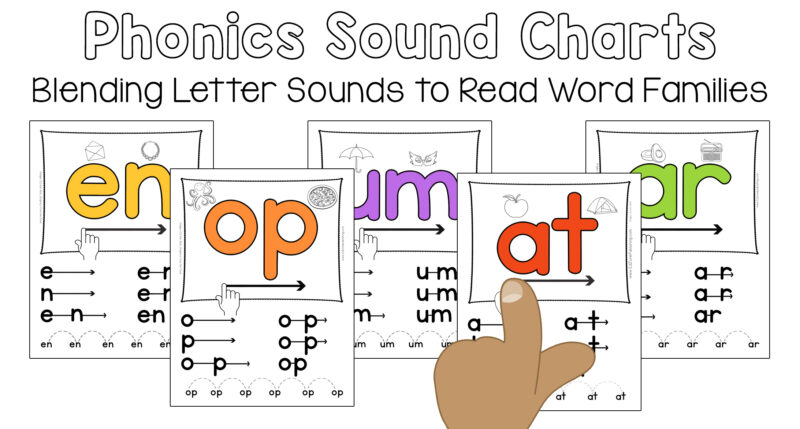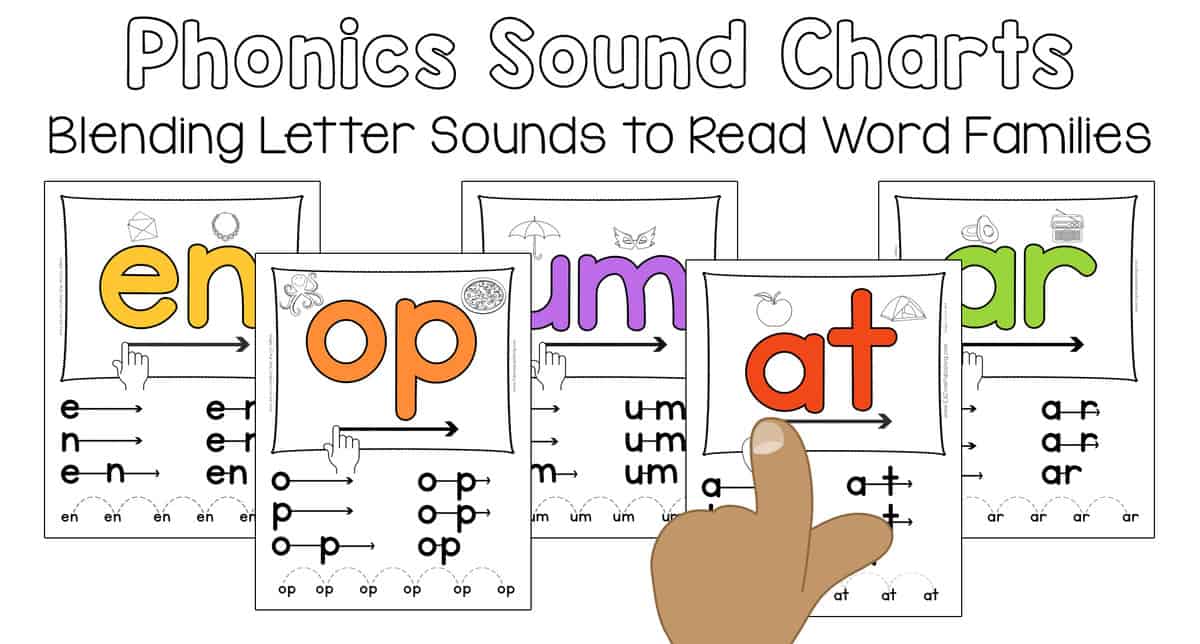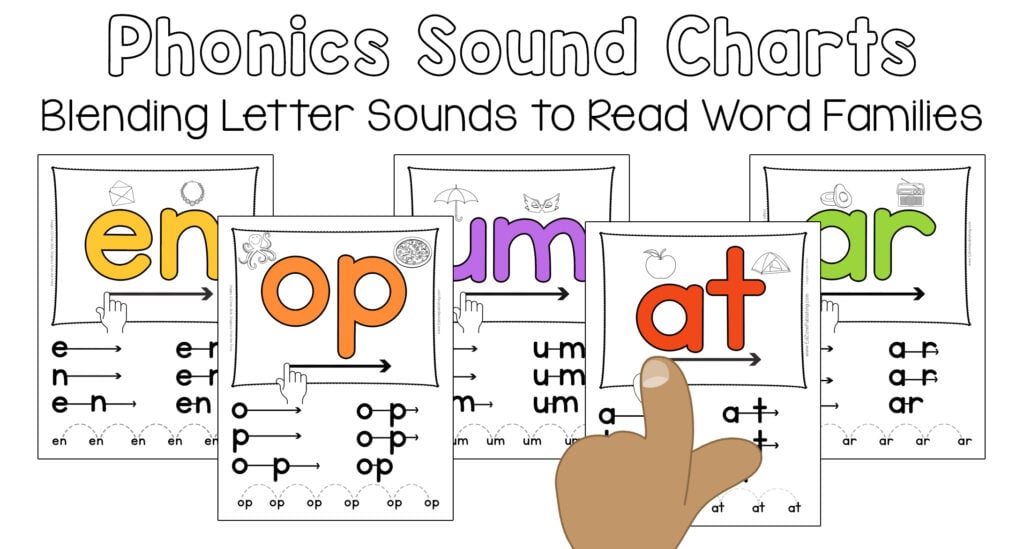 Phonics Sound Chart:
Sound out each letter individually, and then blend them together as you
move your finger across the letters and arrows. Encourage students to
keep the sound going until they reach the end of the arrow, changing
and blending sounds when their finger crosses over new letters.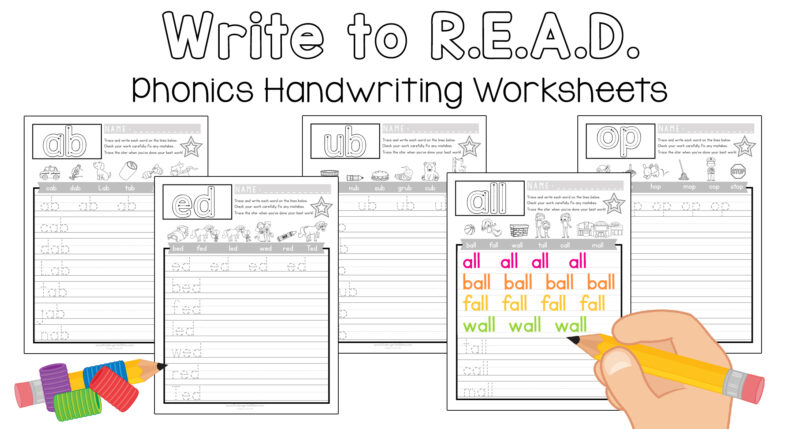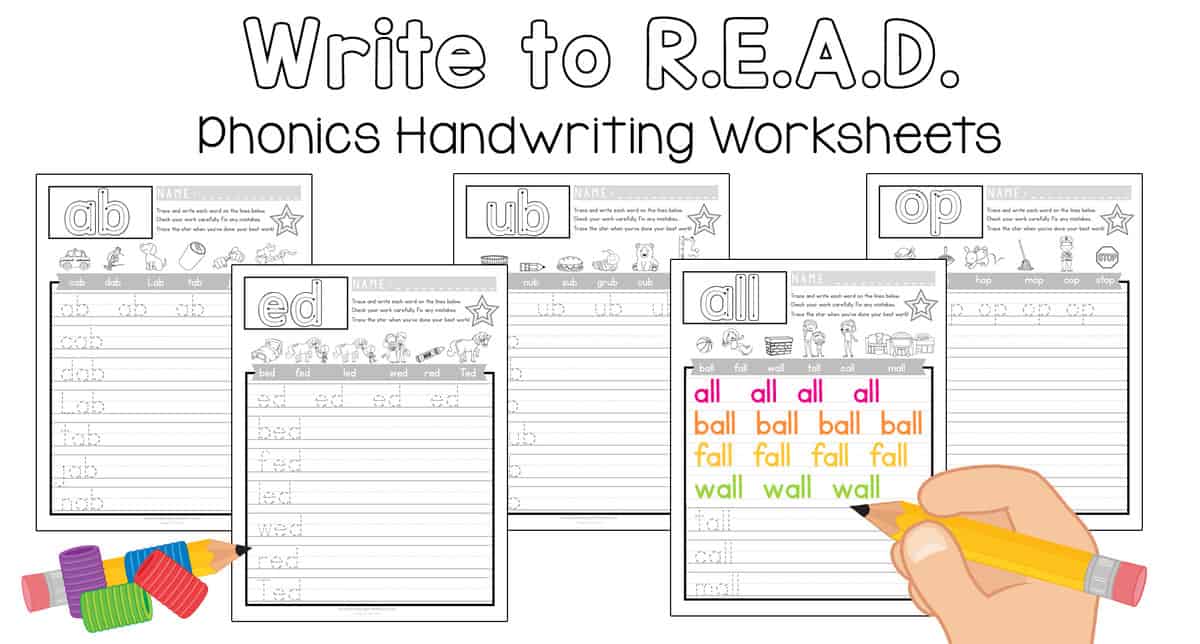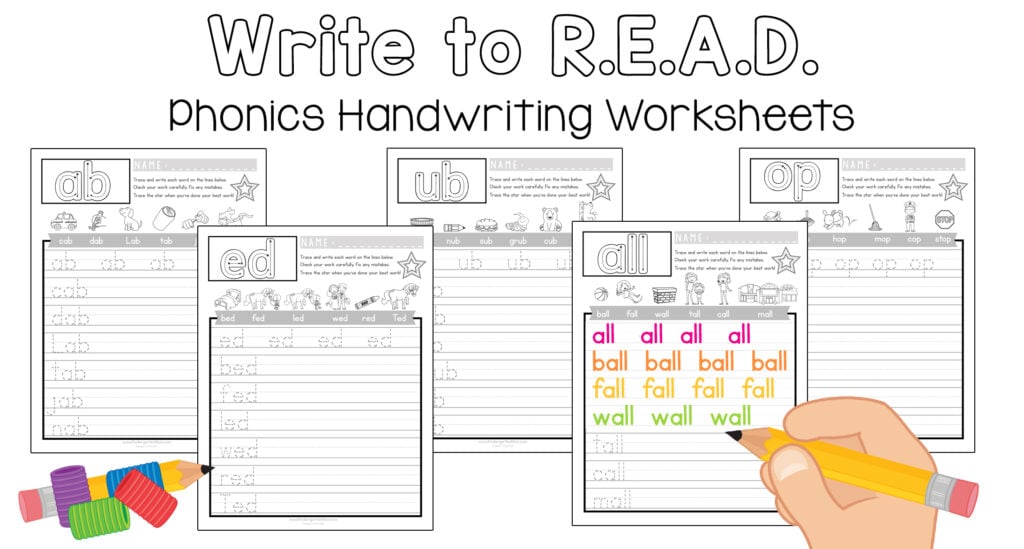 Phonics Handwriting Worksheets:
This is a simple worksheet for students to practice writing their new words. Each handwriting page features a place for students to write their name and the written word family at the top. Pictures and their corresponding words are shown. Students have the opportunity to trace and then write the words on their own, coloring the star when they've done their best work. language knowledge and skills.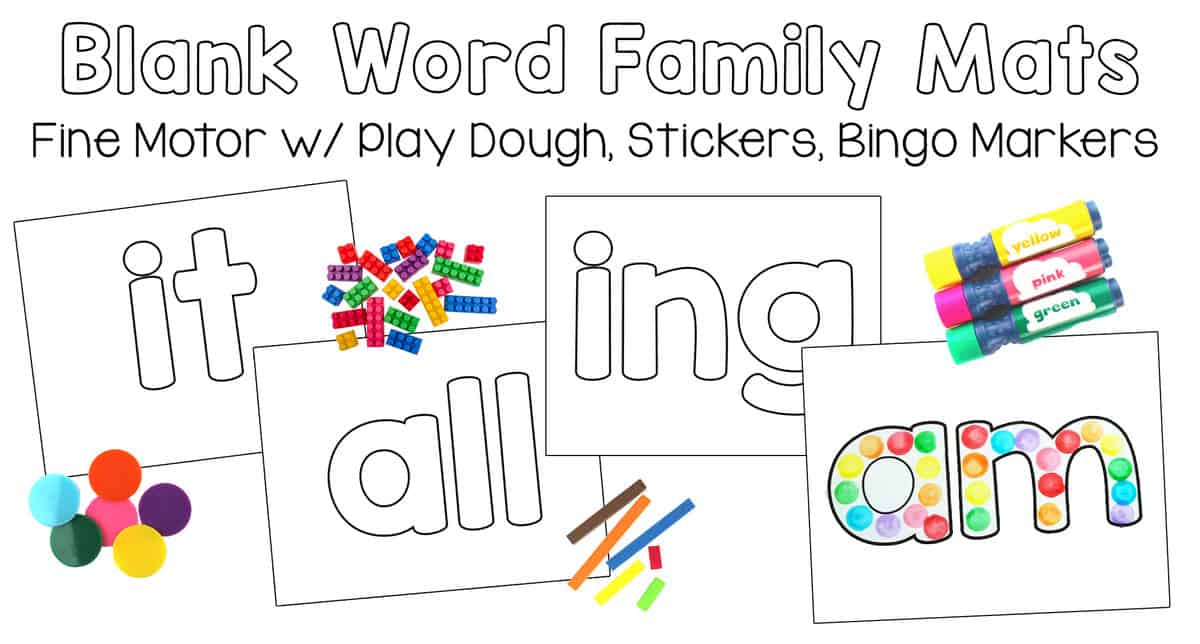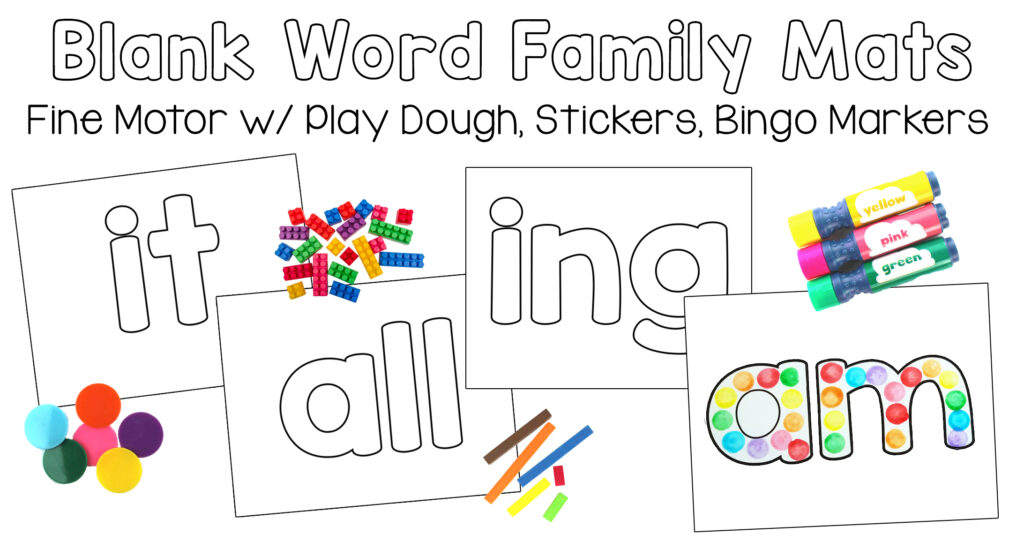 Word Family Mats:
These blank word family mats are templates that are very versatile and can be filled in a variety of ways: Playdough, Stickers, Painting, Dot Markers, Dab & Dot, Fingerprints, Cut & Paste Collage ('a' words, 'm' words), bricks, colored pencils, markers, and more. Use a variety of colors for extra fun and pop!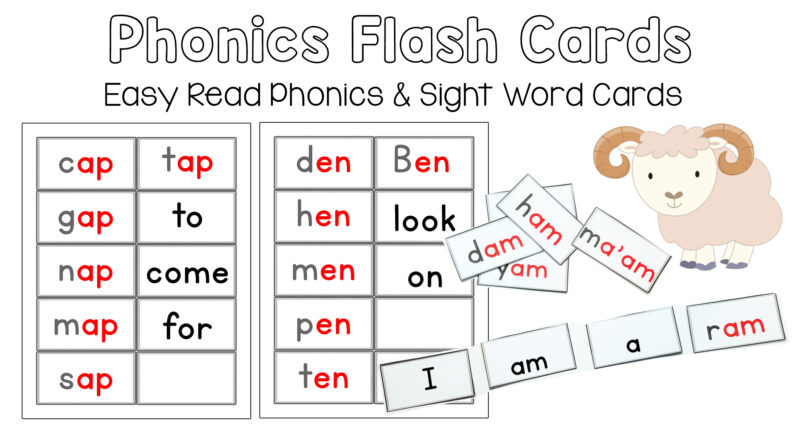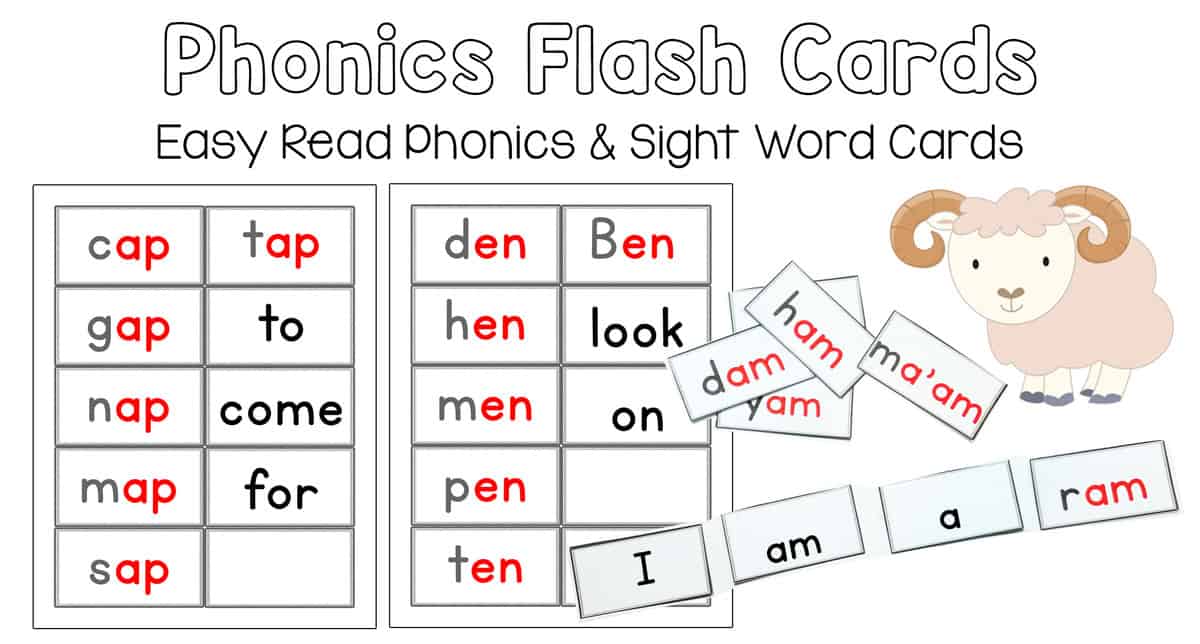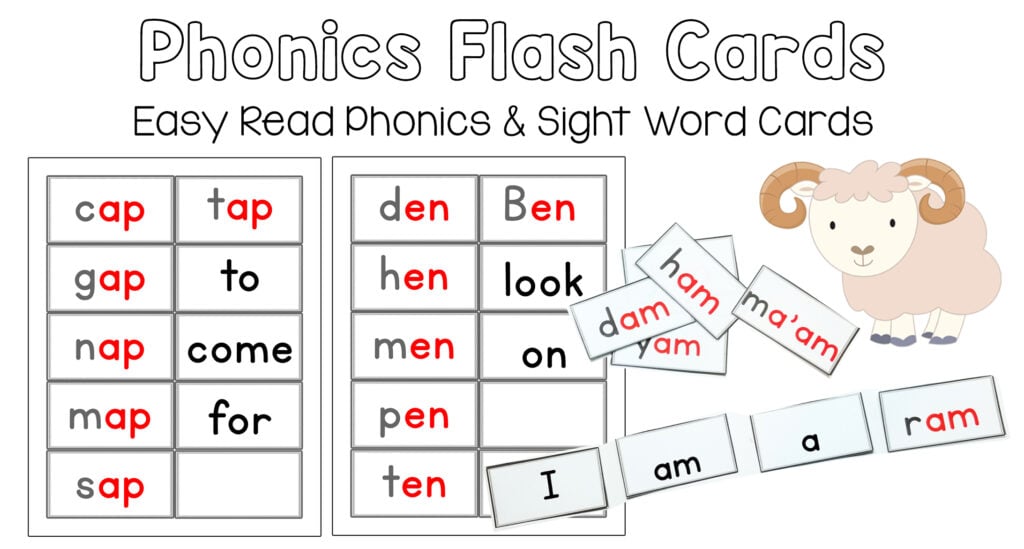 Phonics & Sight Word Flashcards:
Each week, students will learn new phonic words and 2 or 3 new sight words. These phonics and sight word flashcards will allow students to master new words and begin building small sentences. Students can cut and store cards for later use. For longer use, consider laminating and adding to a key ring for safe keeping.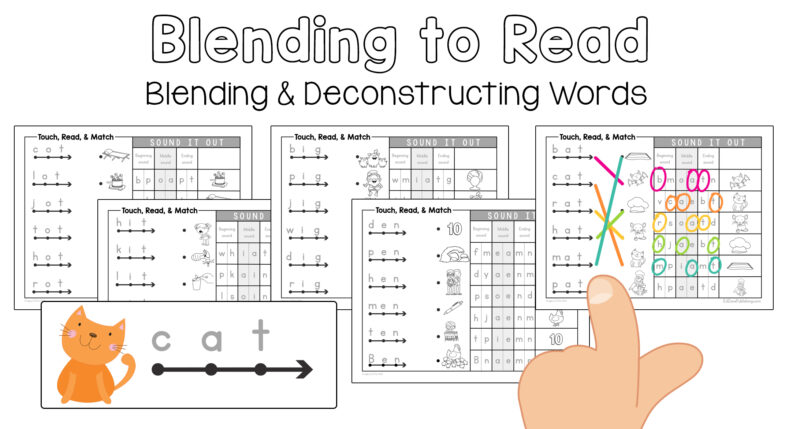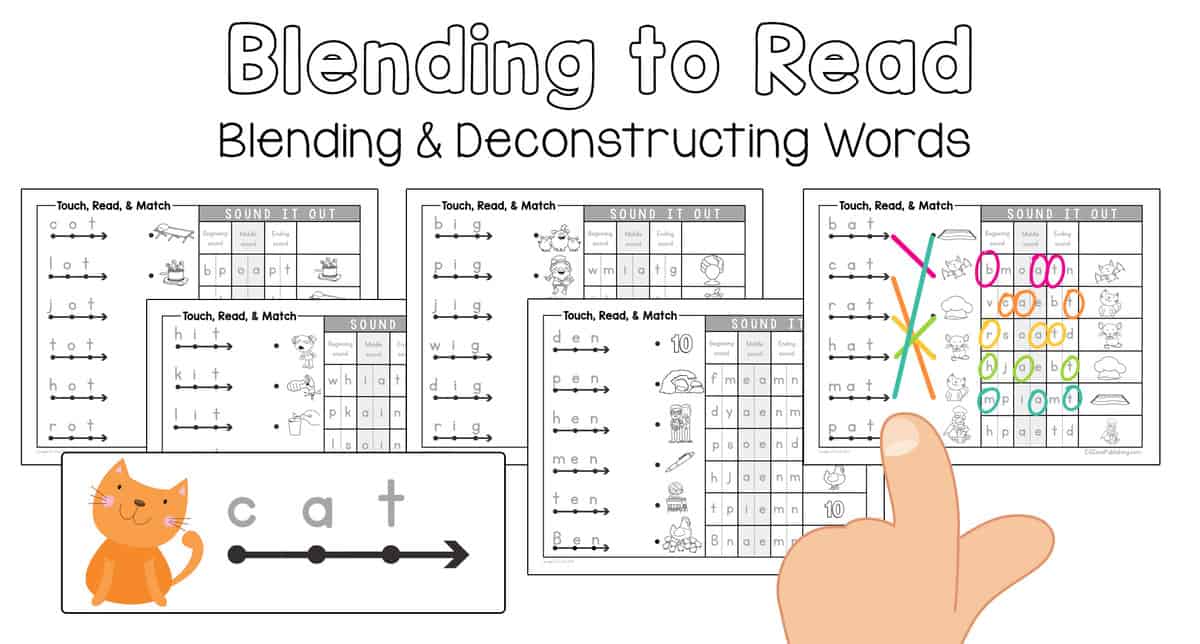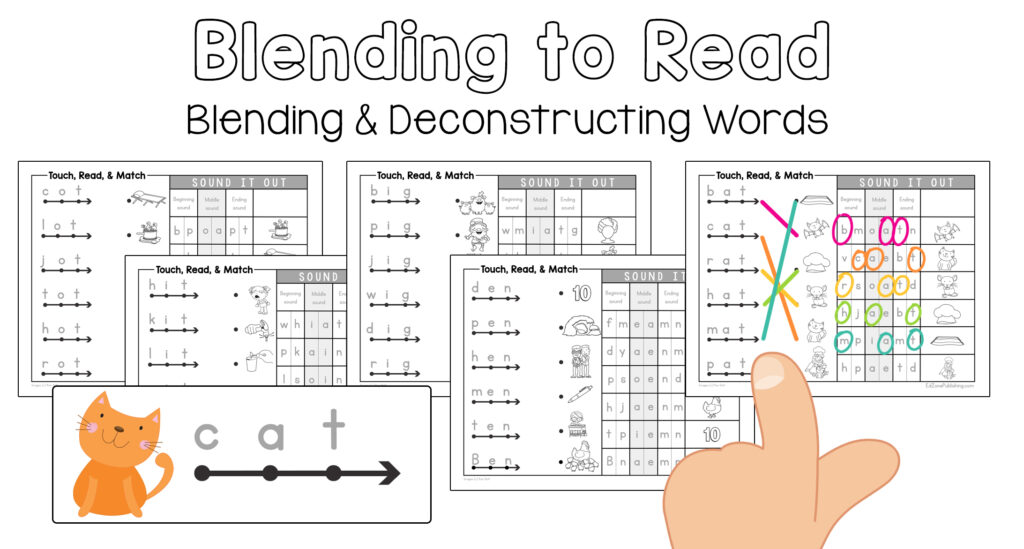 Blending to Read with Deconstructing:
Students build on the previous day's activities by starting off the day by reviewing each letter sound and blending them into words. Students match each word to the corresponding picture. The second part of this worksheet provides students the opportunity to deconstruct words into the beginning, middle, and ending sounds, circling each letter as they go.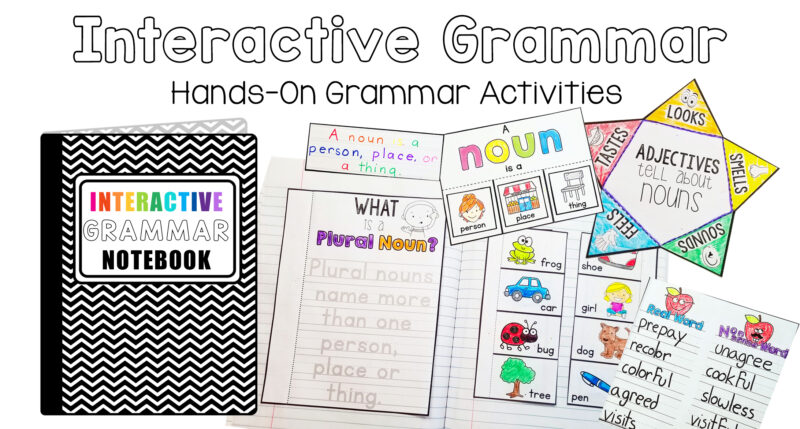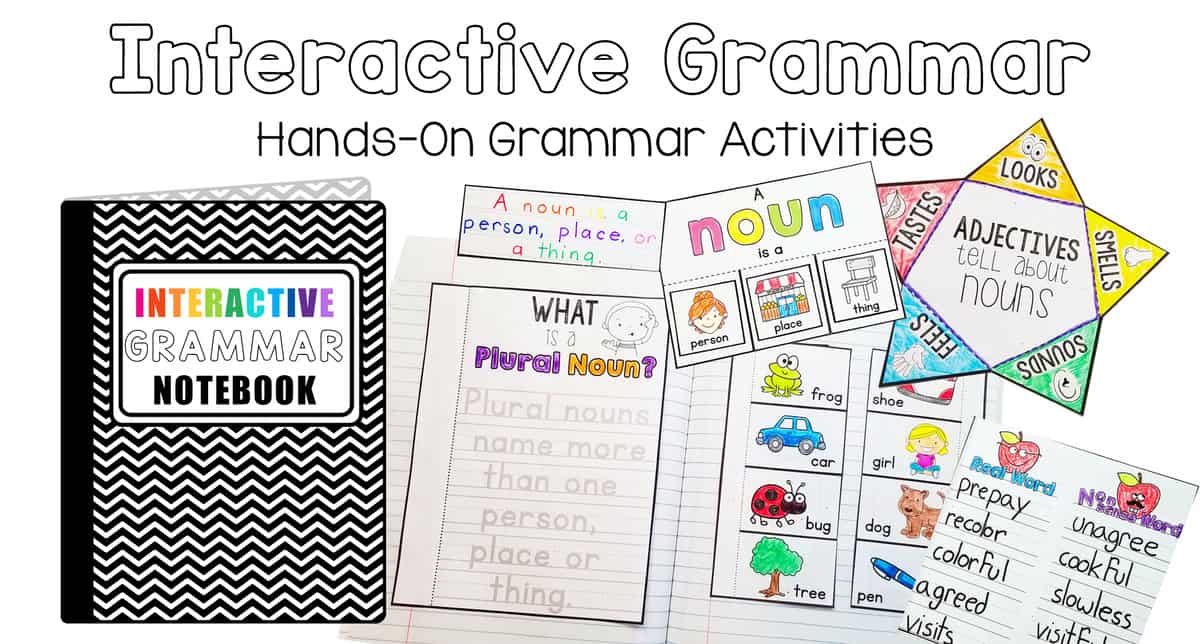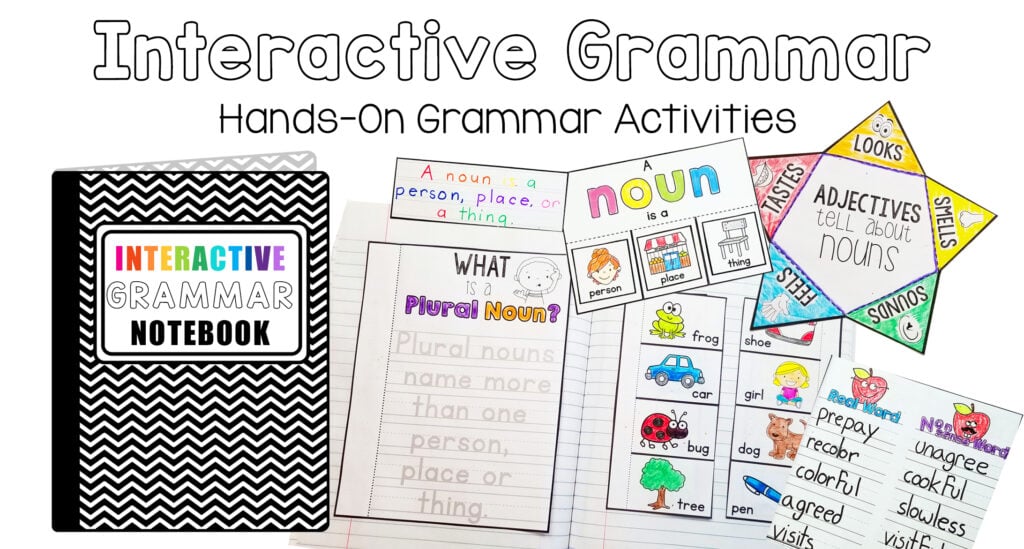 Interactive Grammar Notebook:
On Tuesdays and Thursdays, students begin to build and add to their interactive notebook. You will need to decide which method will work the best for your setup. As students will be adding to this notebook twice a week, whichever method you choose, be sure to keep this interactive notebook close by. Topics covered in the notebook will help meet kindergarten language art requirements.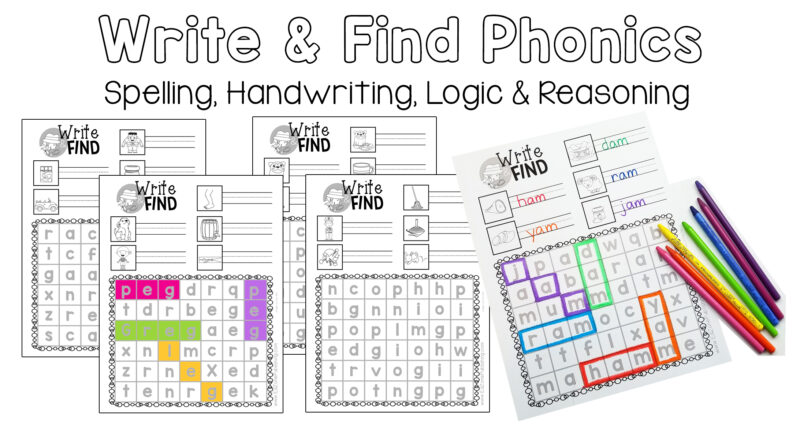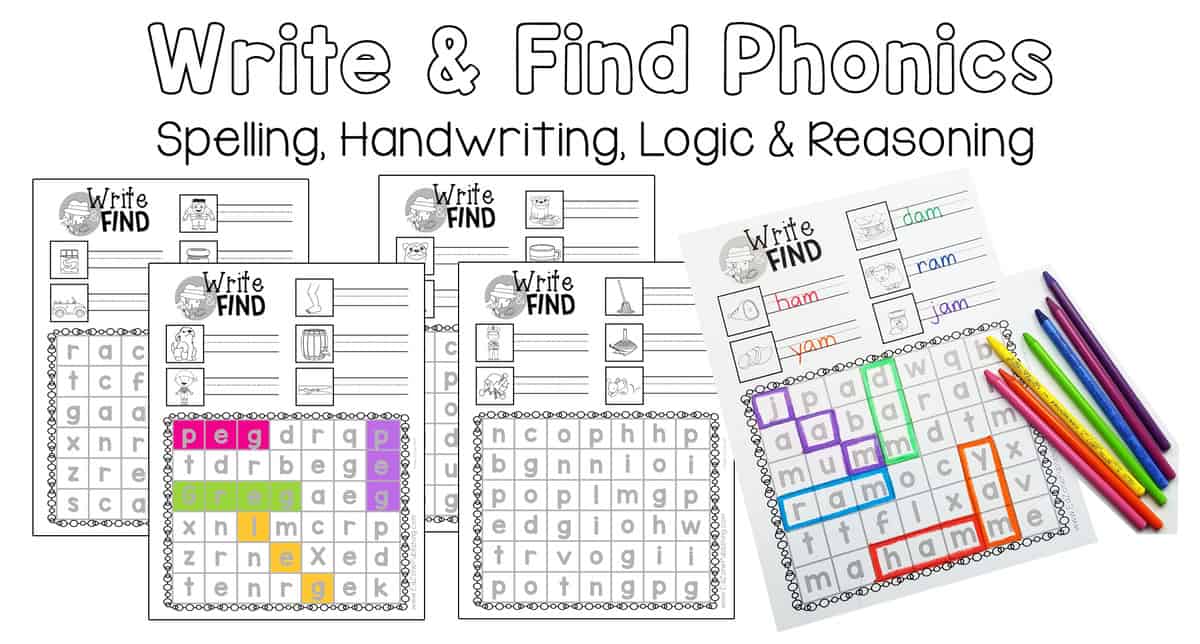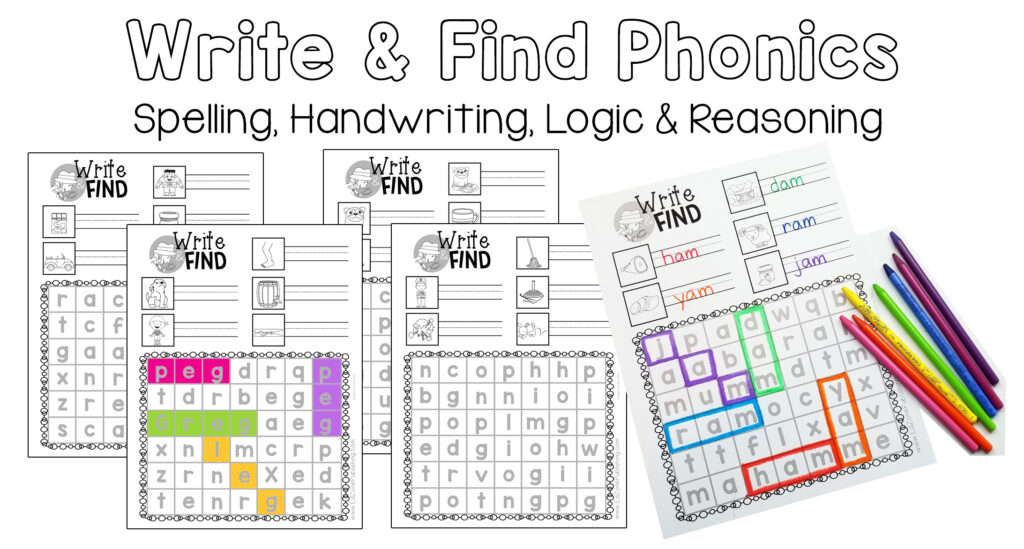 Write to Find Phonics:
This is a simple spelling activity for students to work on listening for
individual letter sounds as they write. After writing each word, students find the words in the word search below. Words are presented horizontally, diagonally, vertically, and backward.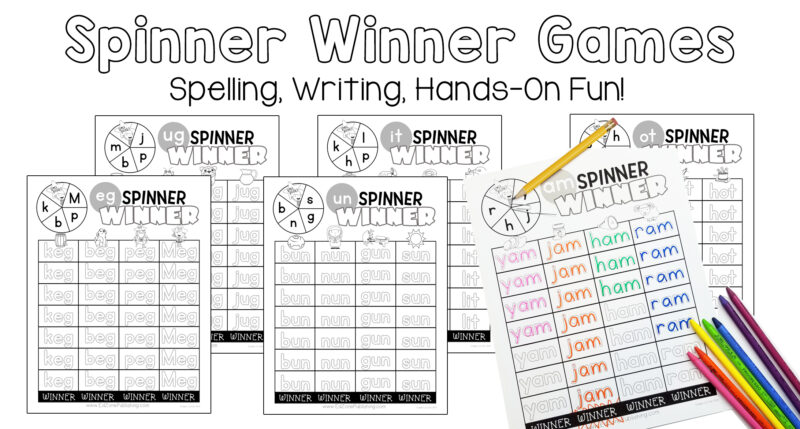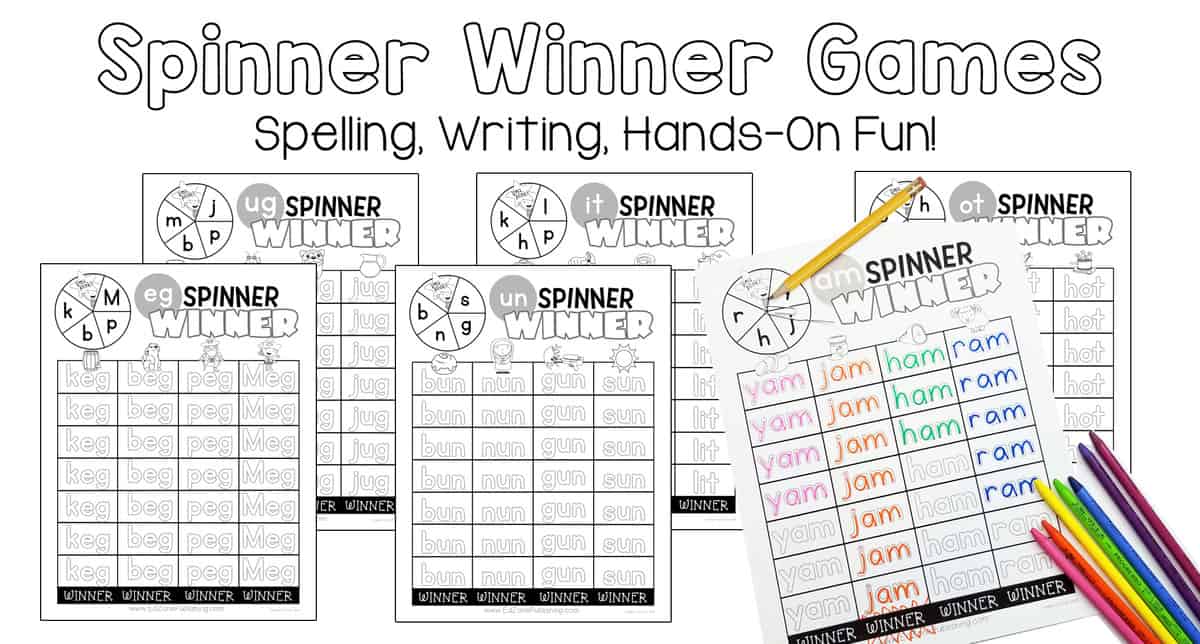 Spinner Winner Games:
This worksheet doubles as handwriting practice and a fun game! Kids will practice spelling, writing, and of course, hands-on fun! Using a paperclip spinner, students write each word they land on, and the first player to the bottom is the winner! Kids will have a blast with these engaging writing and problem-solving games.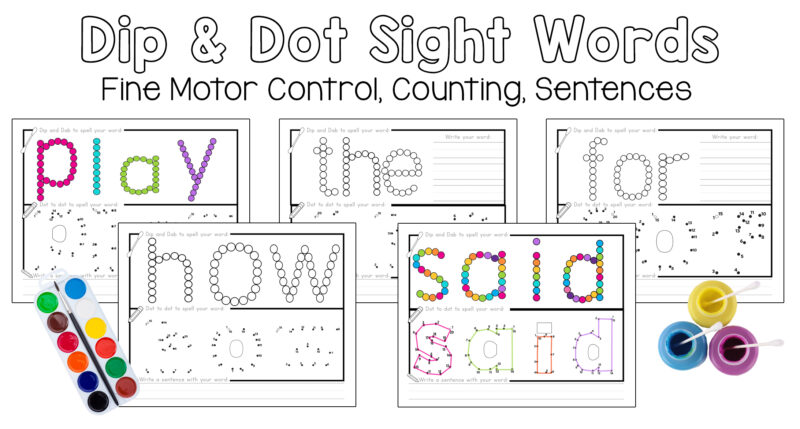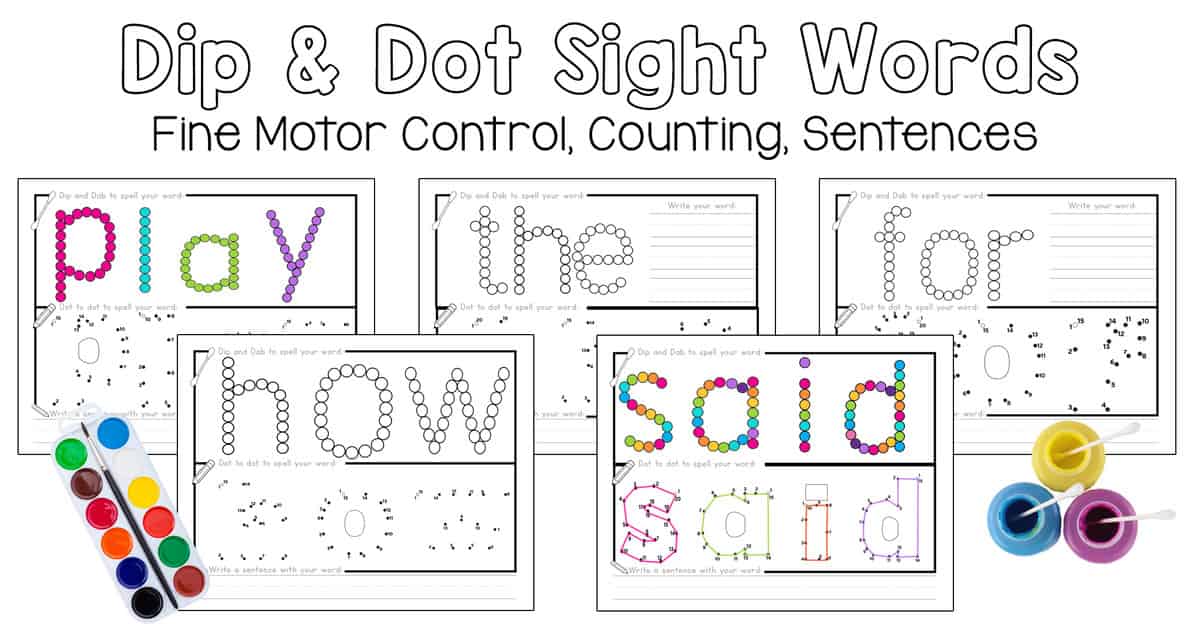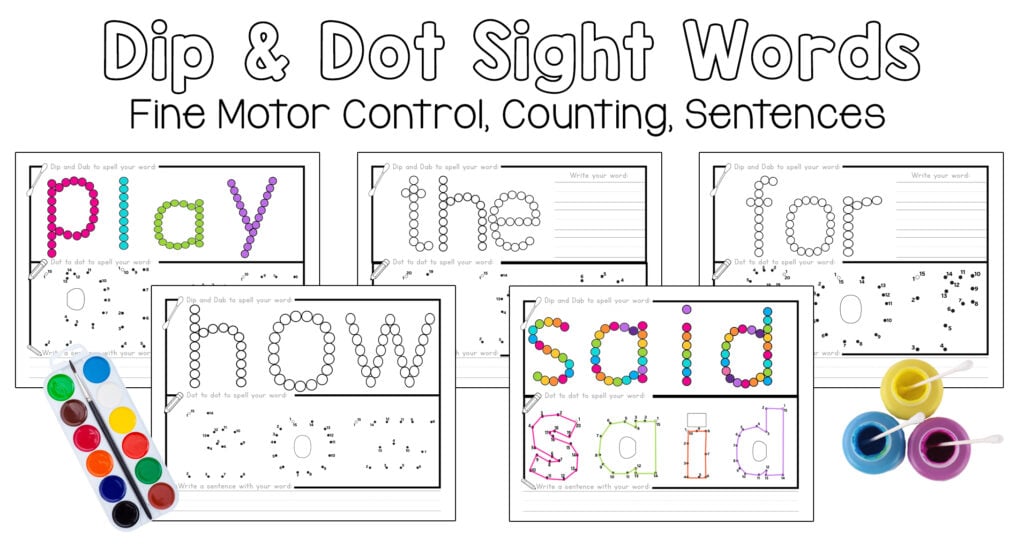 Writing Sight Words:
Review sight words with the previous day's word cards. Students then practice writing their sight words with these simple activity pages. Each page features dot painting and a dot-to-dot for students to solve. Smaller words leave room for writing practice and extra activities.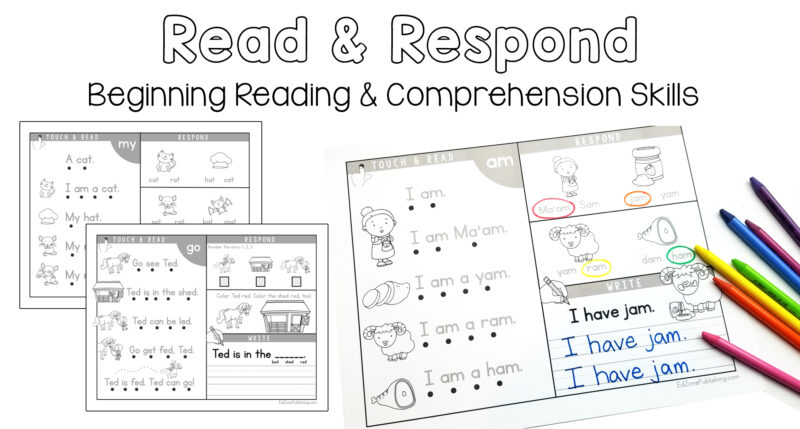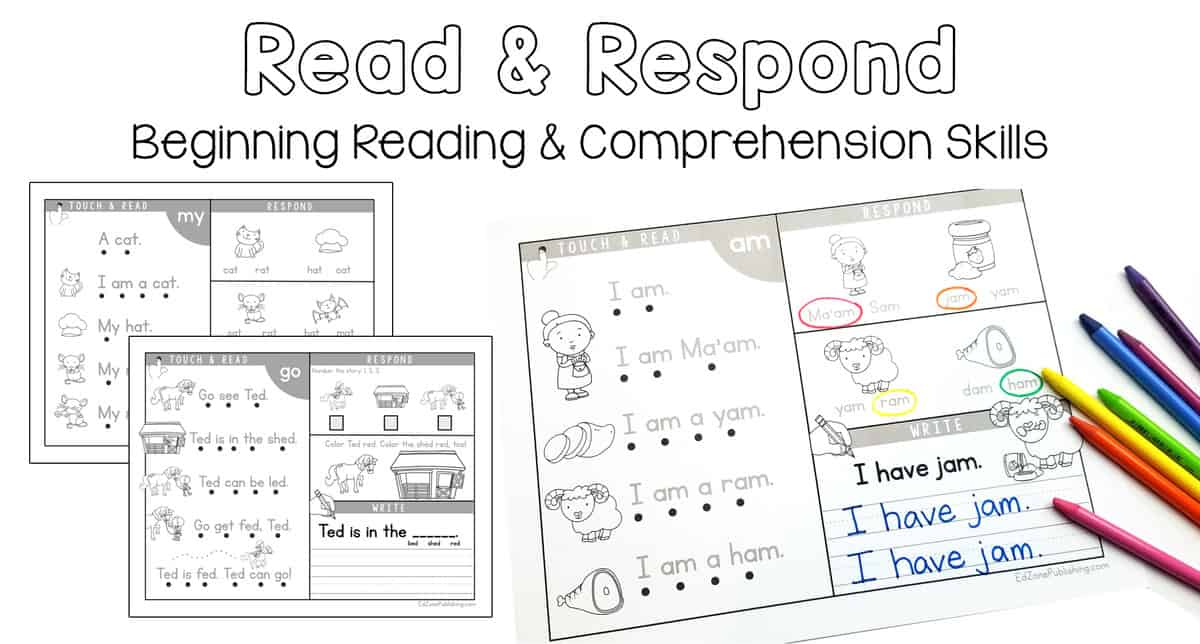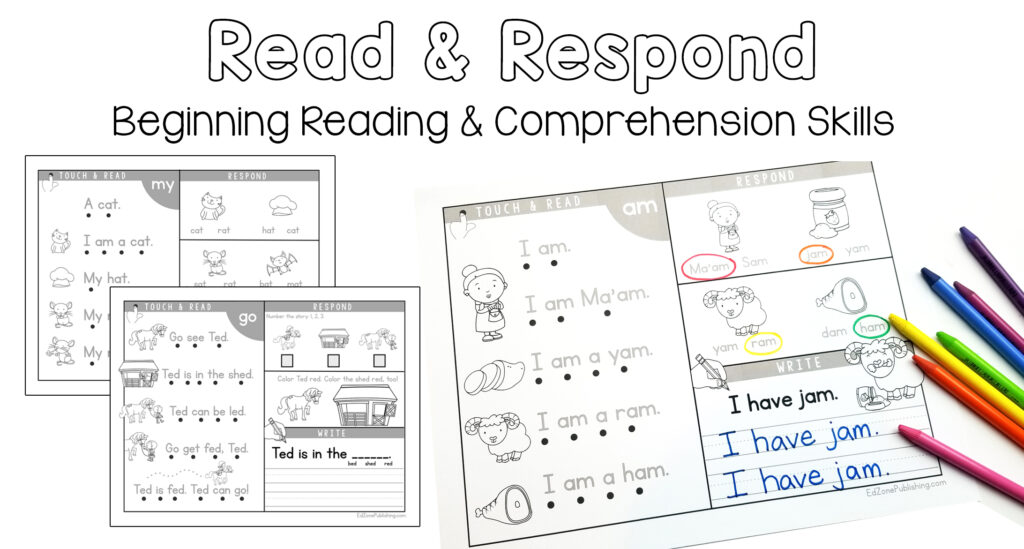 Read & Respond Beginning Reading:
Students work on key reading and comprehension skills with this simple worksheet. Instruct students to put their fingers on the dot and read each word. After reading, students respond by answering questions or completing a writing activity.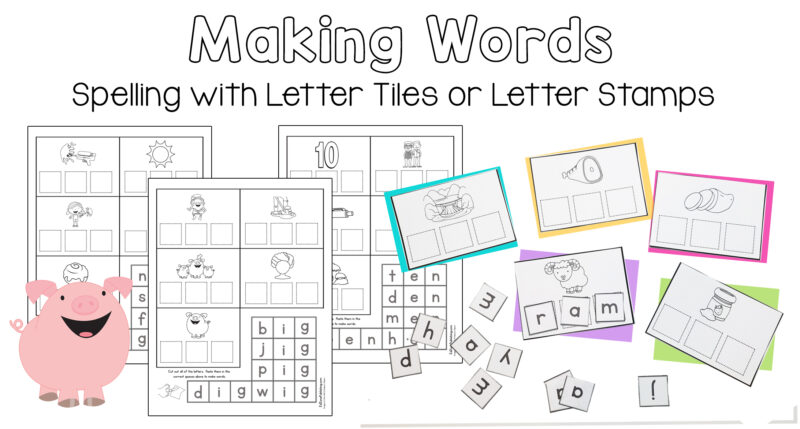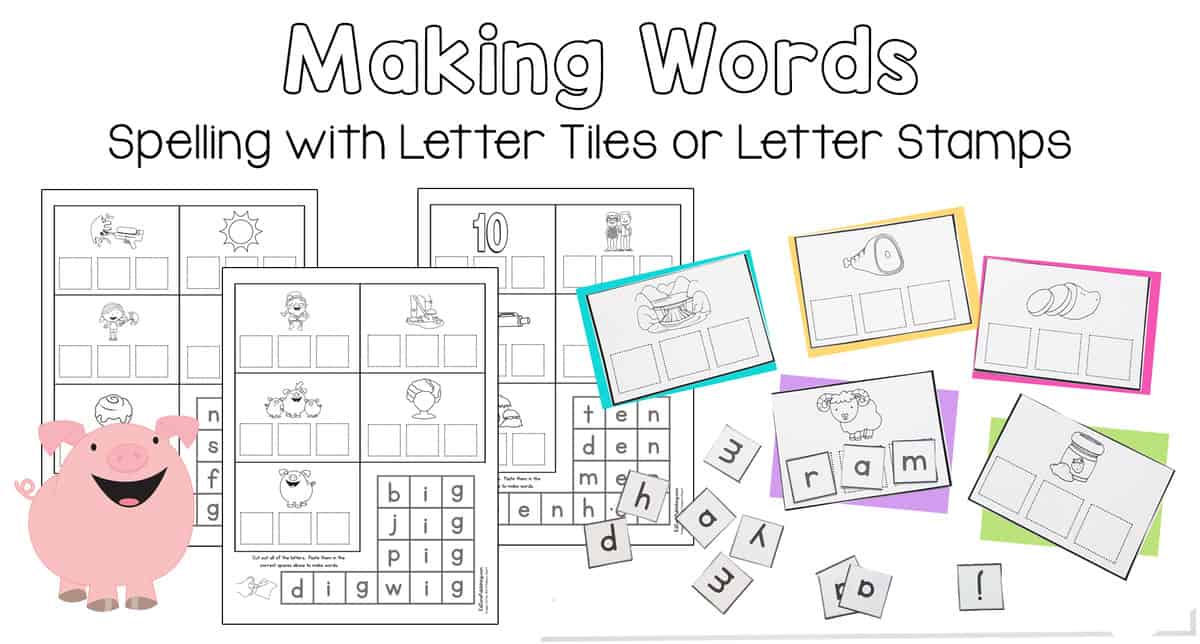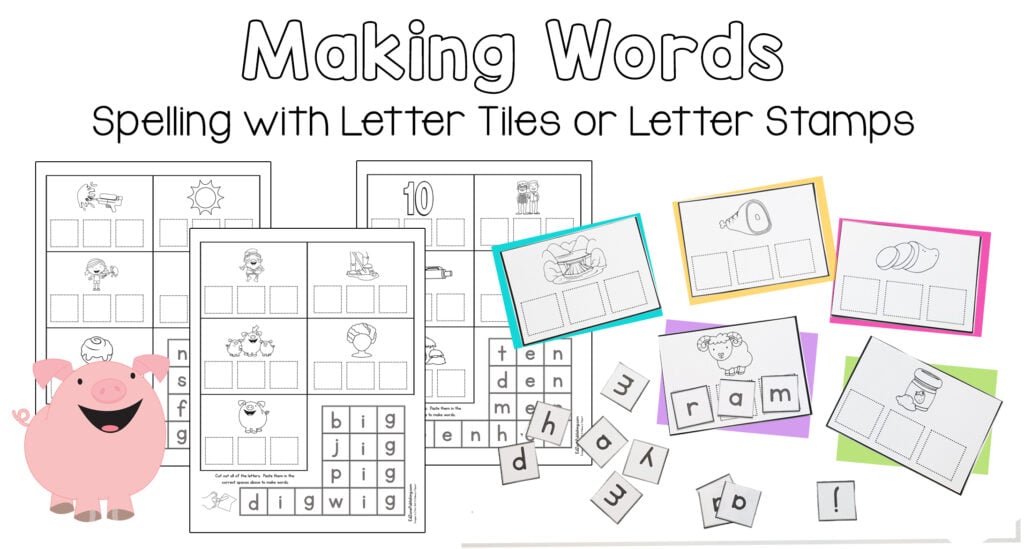 Making Words with Letter Tile Spelling:
Students build words by cutting out the letter tiles and pasting them to the correct word mat. If you have them already in your home or classroom, these cards will work
with plastic letter tiles as well. Kids learn how to spell easily with using fun tools to assemble each word.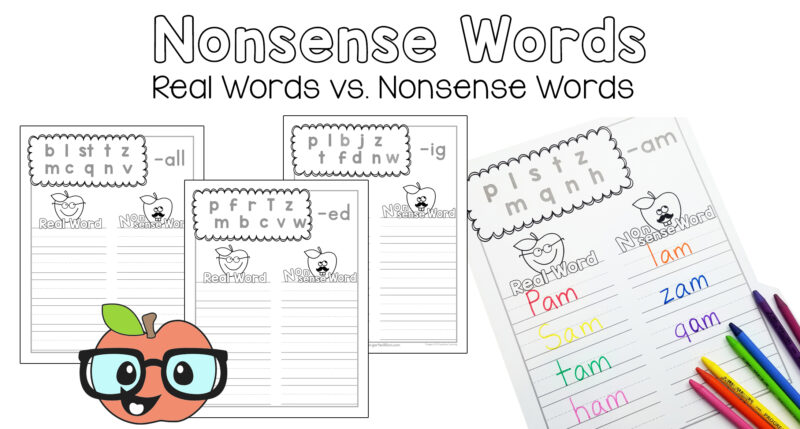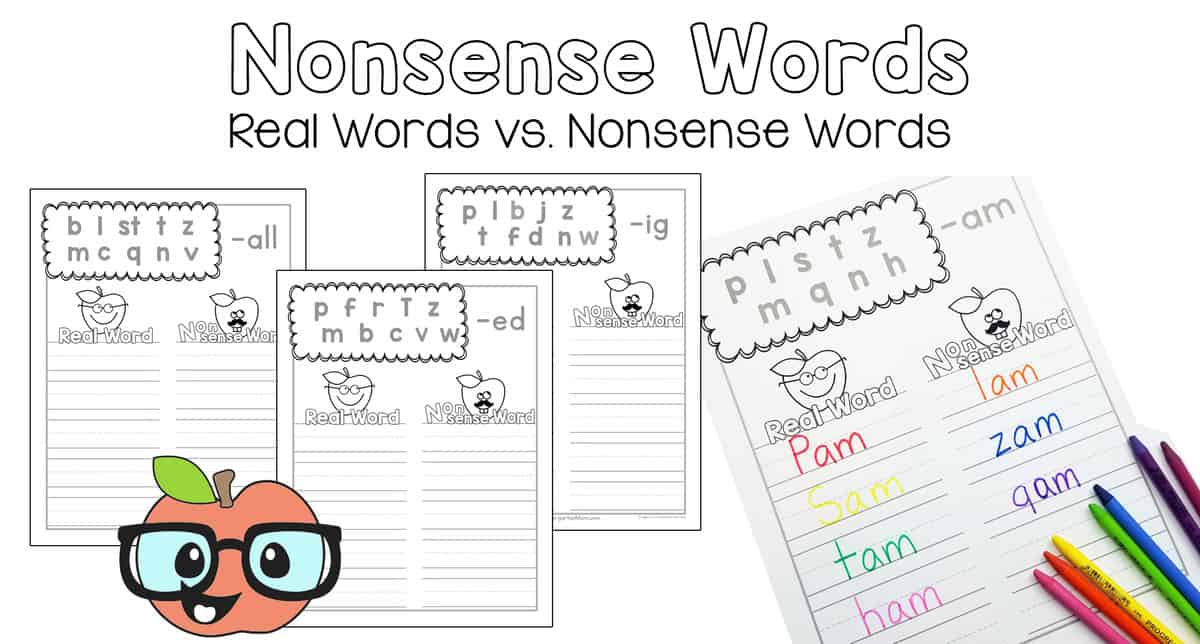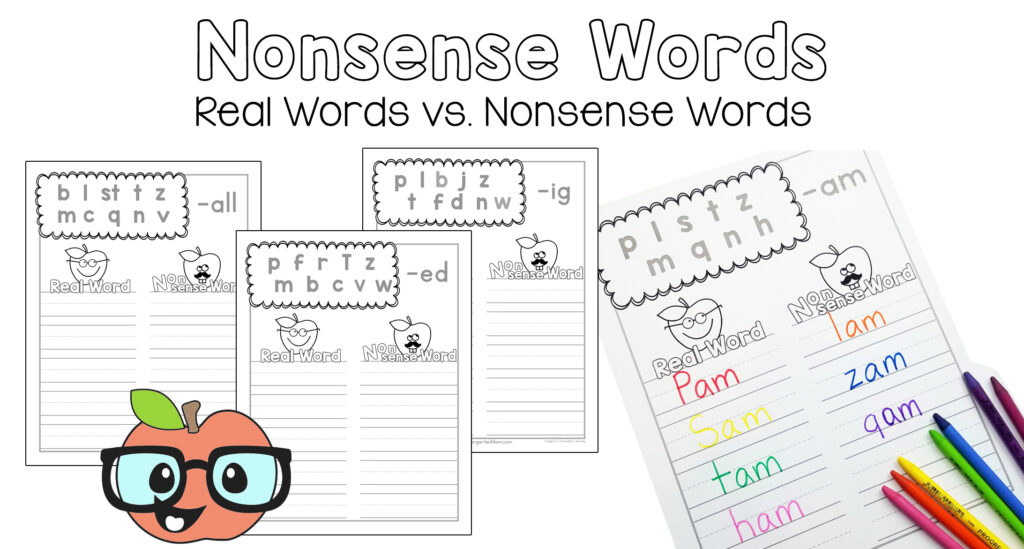 Real Words vs. Nonsense Words:
Students build words by choosing a beginning letter and pairing it with their word family. After saying the sounds out loud, students must decide if they created a real word or a nonsense word and write it on the corresponding list. Kids will enjoy making up funny words that they can laugh at and enjoy together!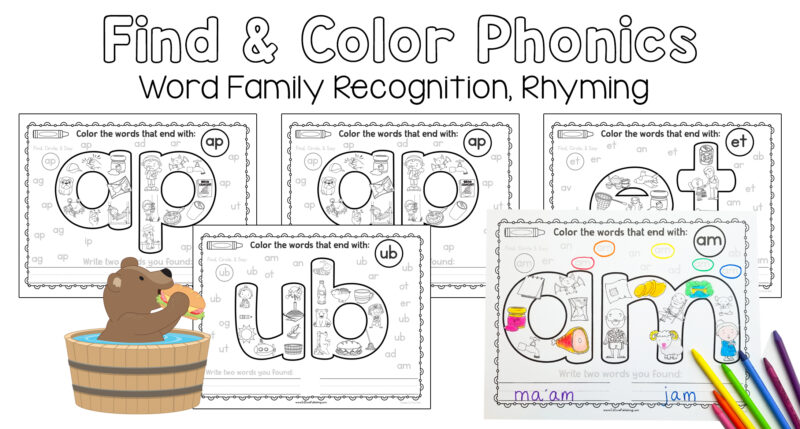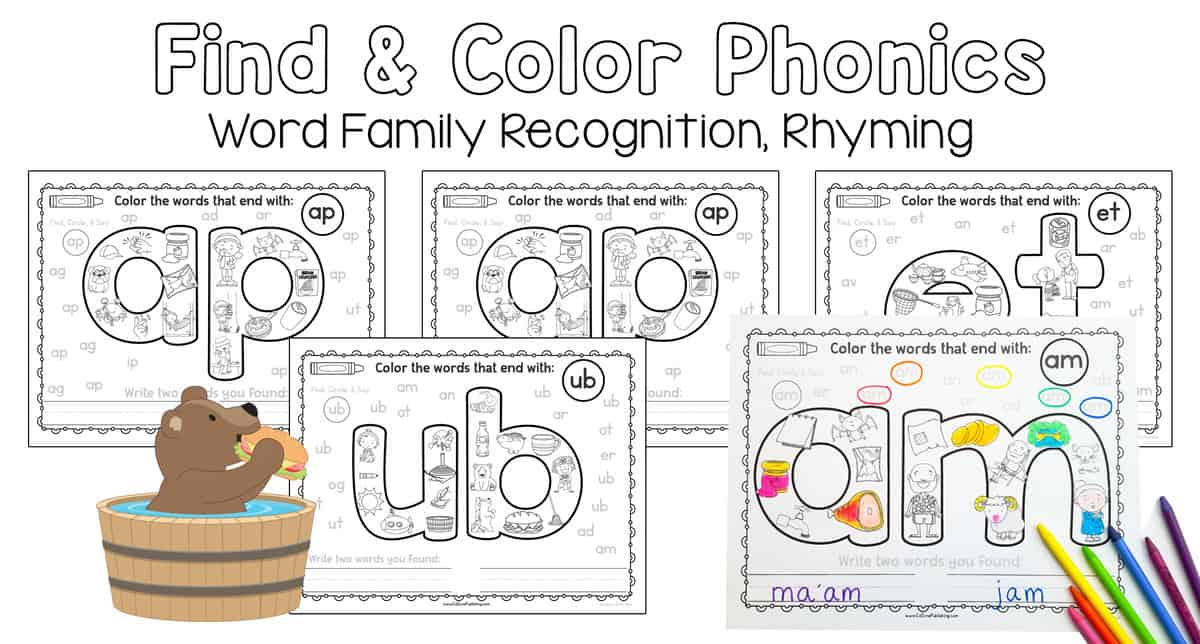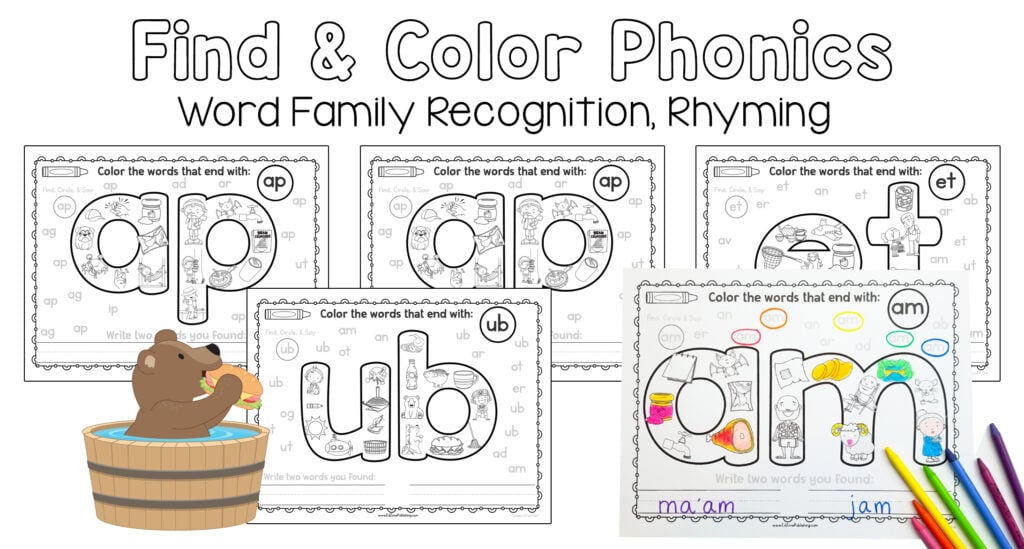 Find & Color Word Family Recognition:
Students find the words that have the same ending sound and simply color them. Students then write three of the words they found and write them at the bottom of the worksheet. Kids can use colored pencils for a variety. These word families help with recognition and rhyming.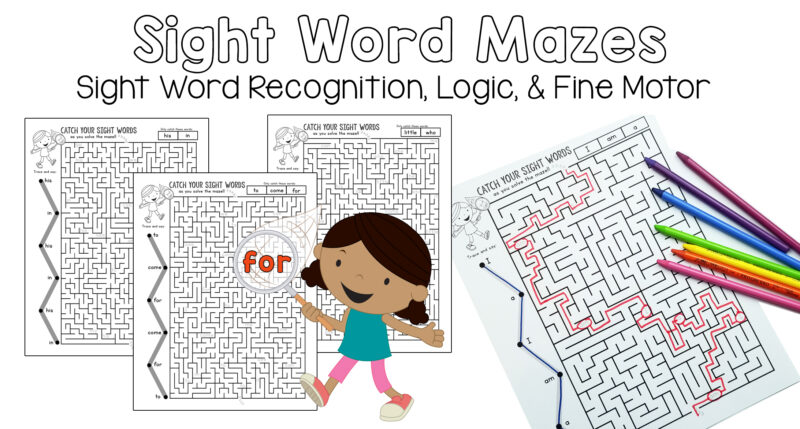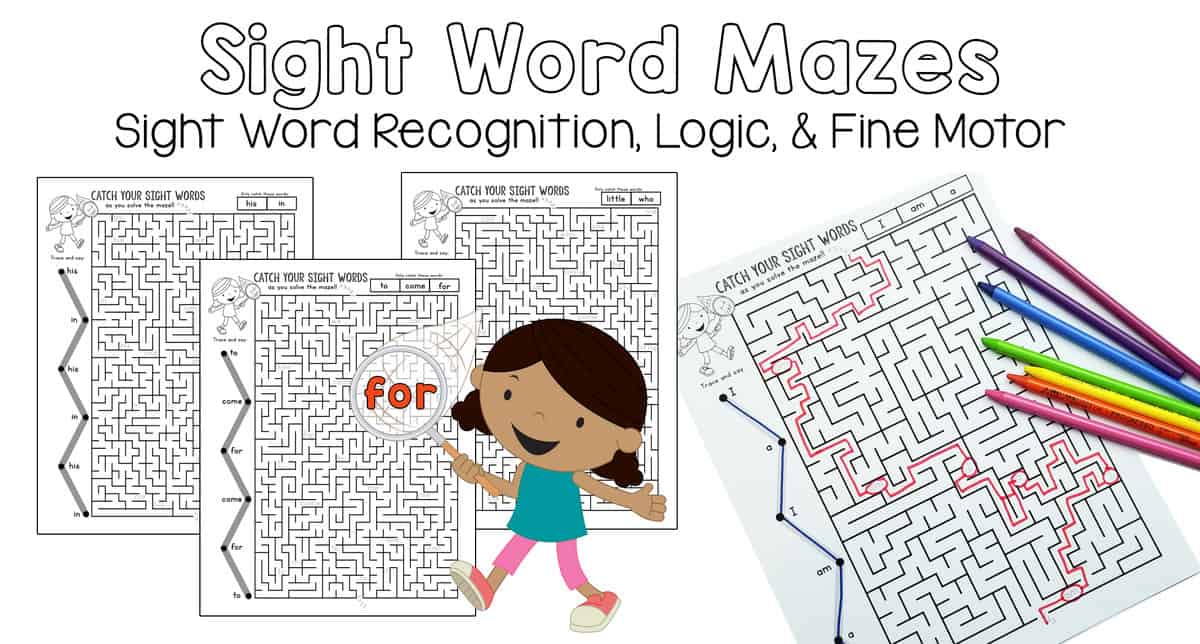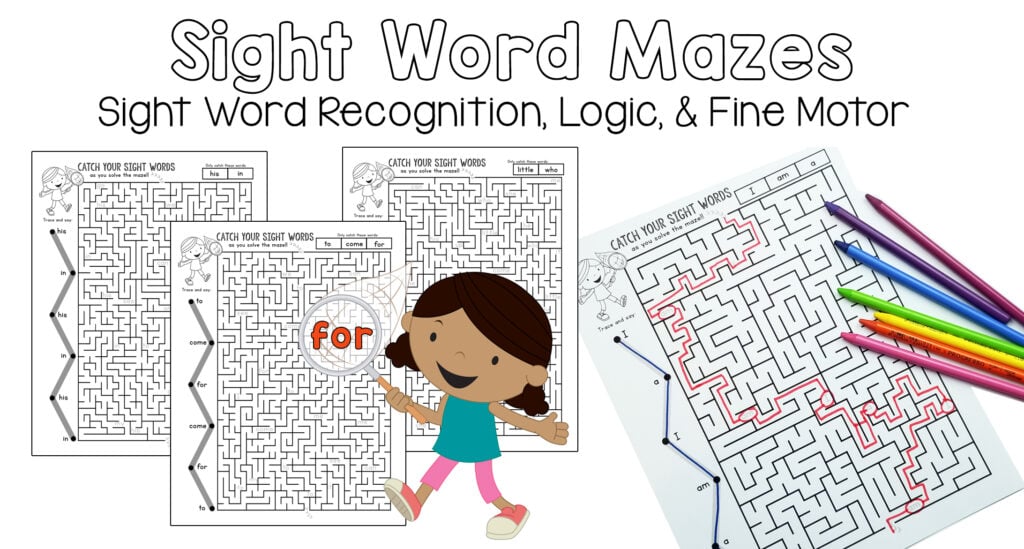 Sight Word Mazes:
This is a fun activity for students to catch all of the sight words as
they work their way through the maze. Encourage students to read
the words aloud as they find them and then count how many they
found. Students will gain a ton of practice with problem-solving, logic, and fine motor.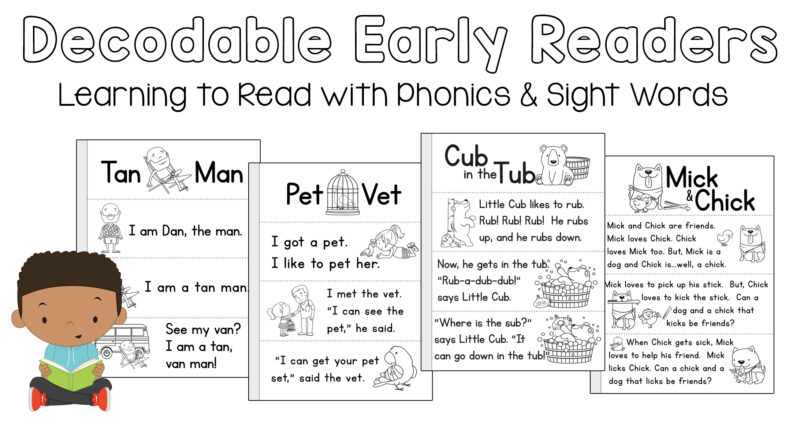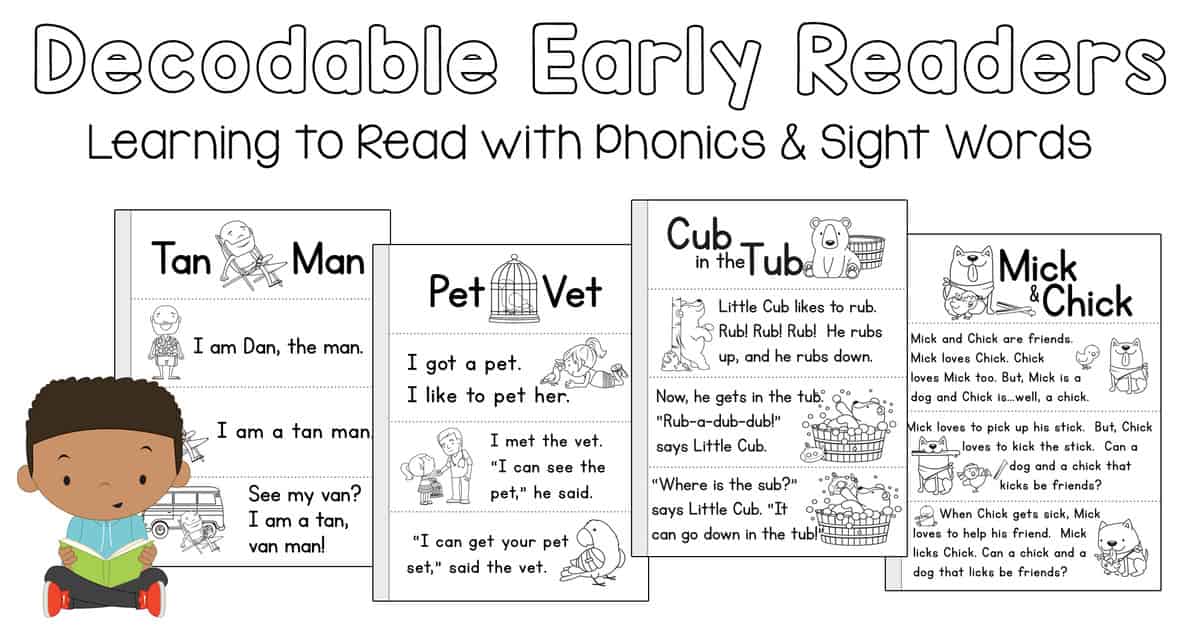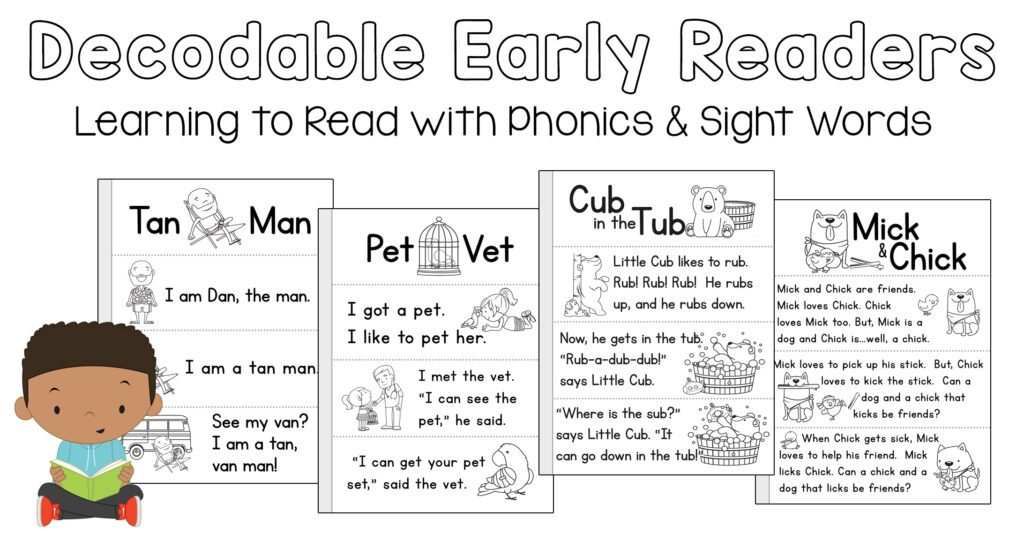 Decodable Early Readers:
Students put their reading skills to the test with this end-of-the-week comic-book-style story reader. The goal is for students to read this story three times on their own. If your student is struggling with this reader, take breaks and review or even try to finish it over the weekend.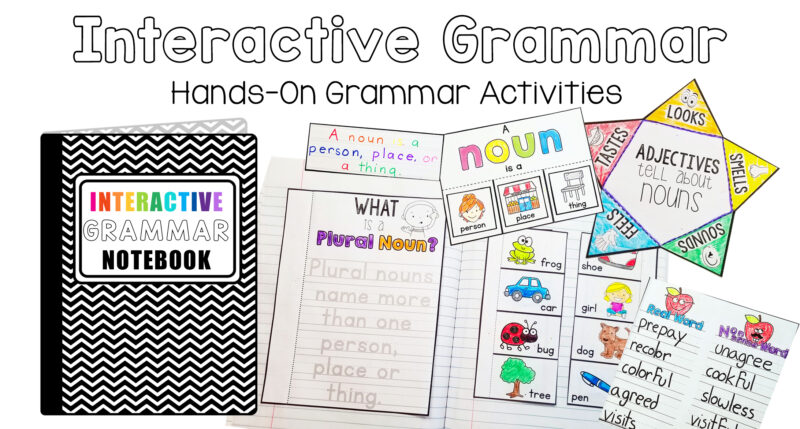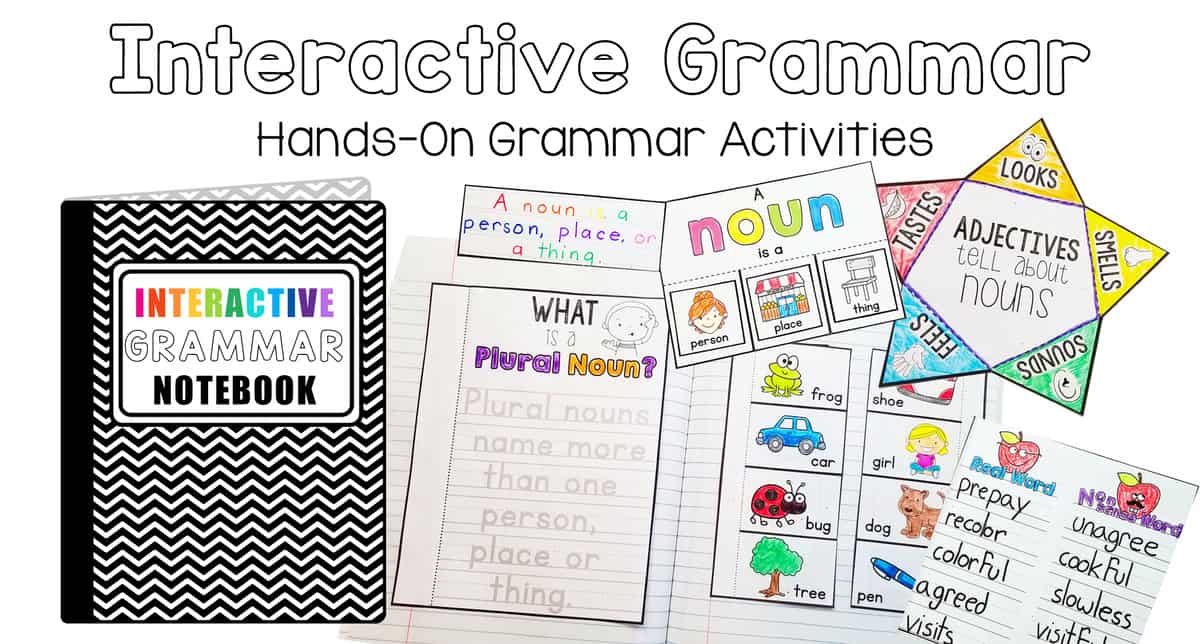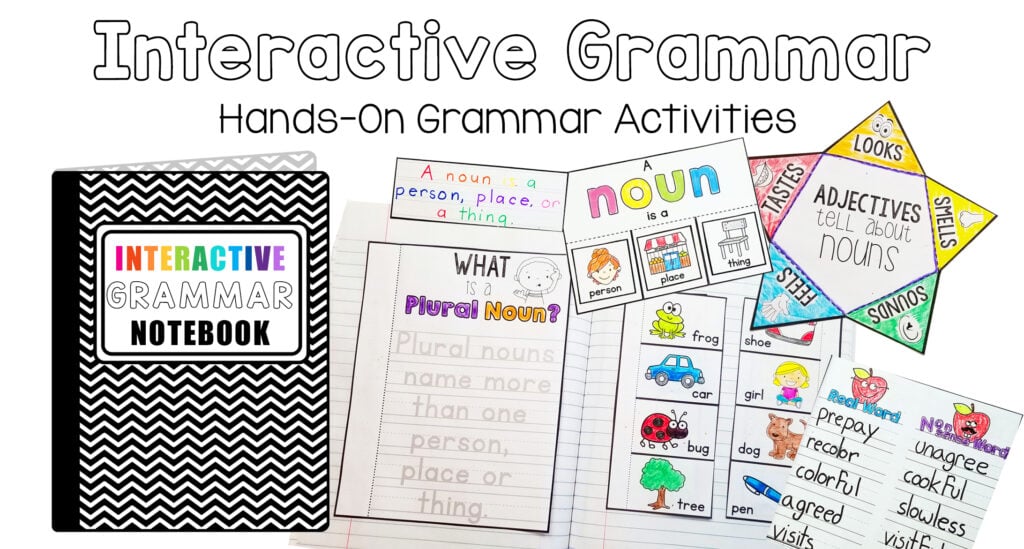 Hands-On Grammar Activities:
On Thursday, students continue to build and add to their interactive notebook. Students cut out and assemble the minibooks, then paste them into the next available page. Each minibook contains new information covering key language arts standards for kindergarten.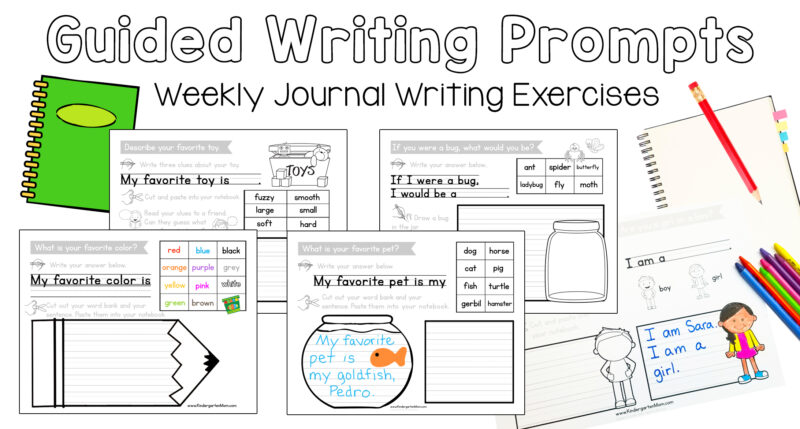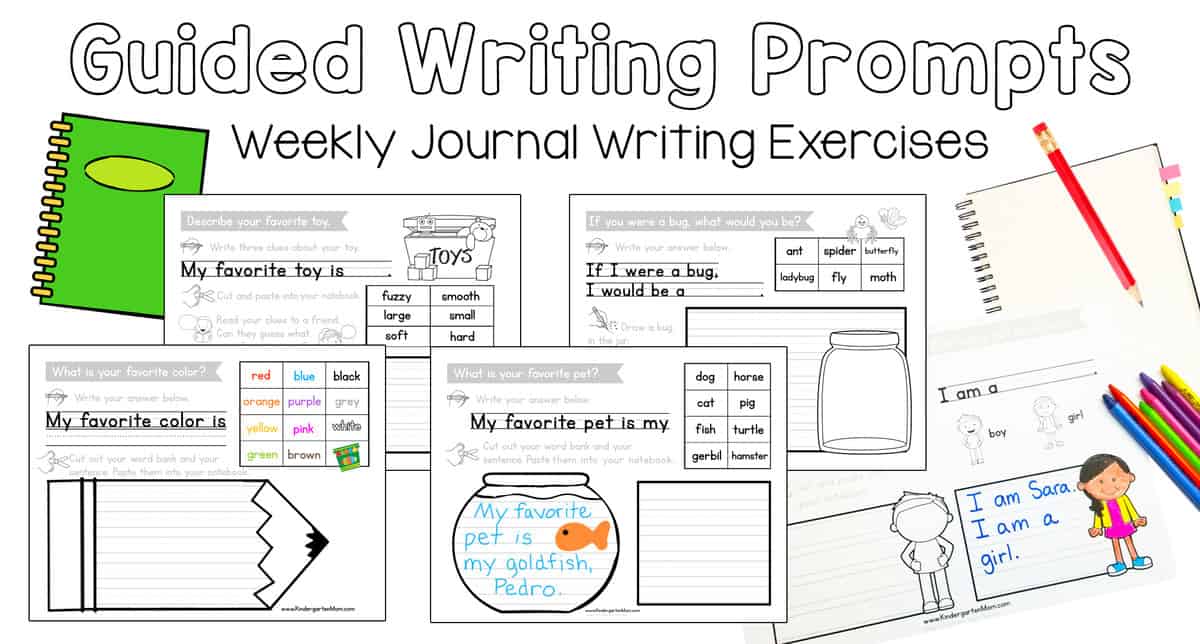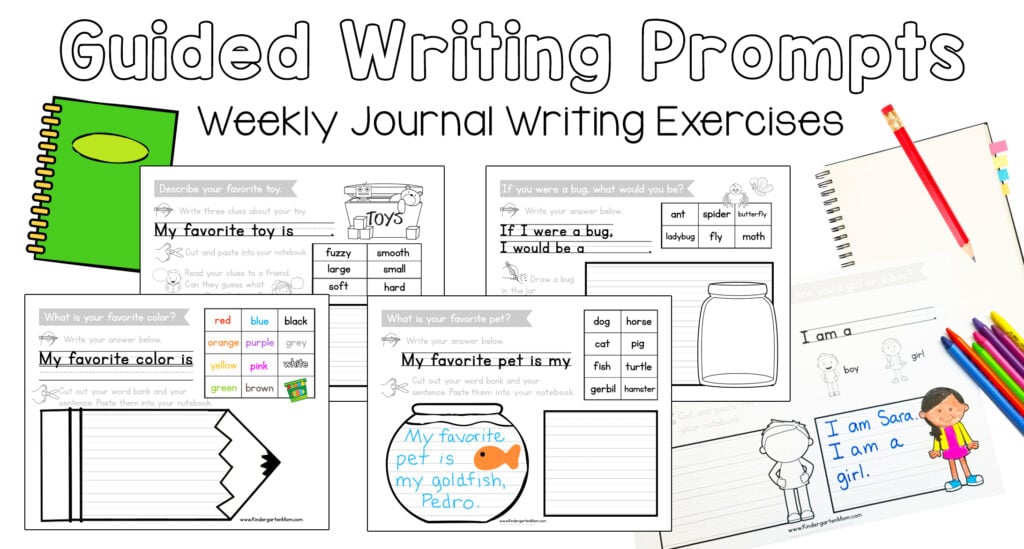 Guided Writing Prompts:
Each week, students will complete a simple story-writing prompt. Students are encouraged to use newly acquired words as well as practice language and grammar skills. Each writing prompt provides students with the necessary framework to complete the activity with little help from a teacher. Upon completion, students are encouraged to cut out their writing samples and paste them into their interactive notebooks.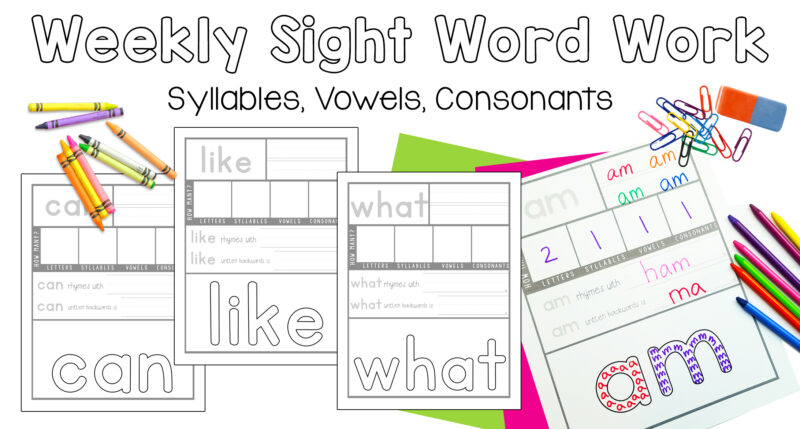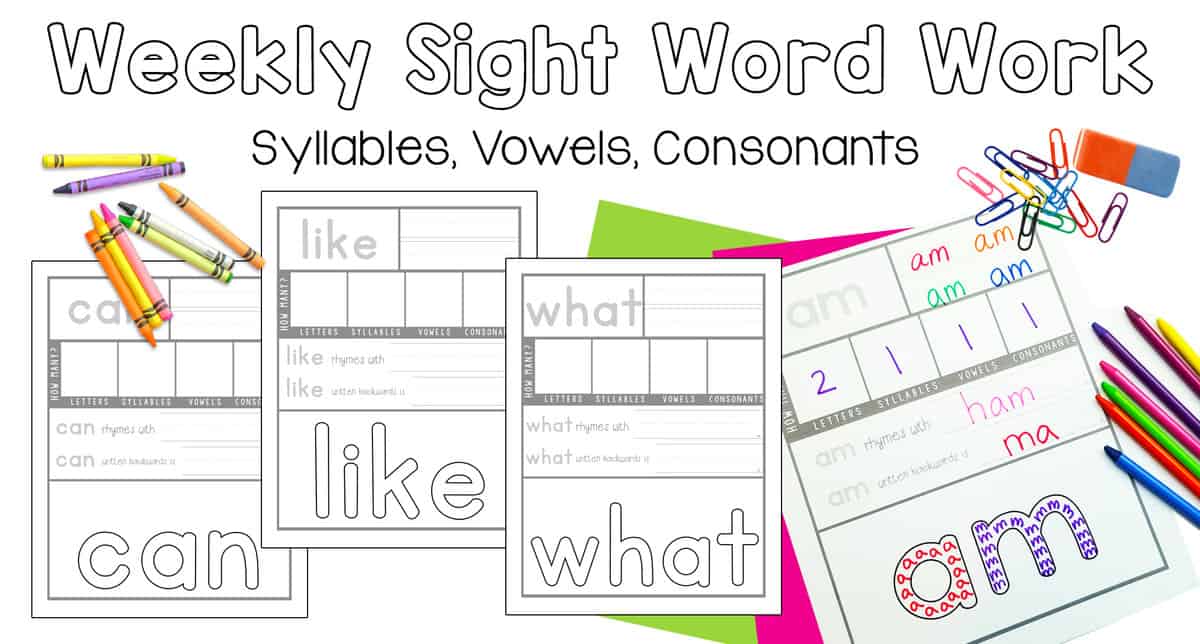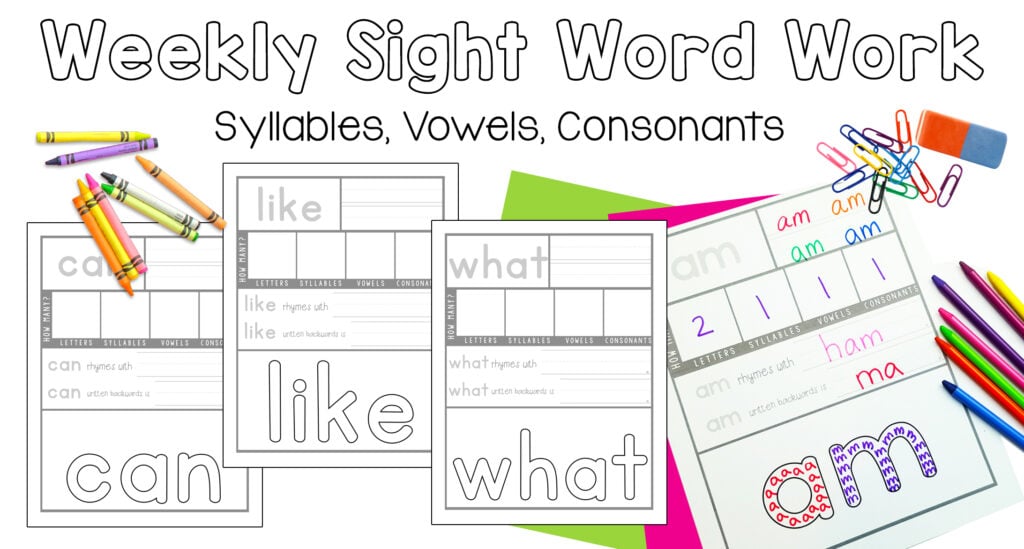 Sight Word Work:
Review sight words with the previous day's word cards. Students then practice writing their sight words with these simple activity pages. First, spell the word aloud, then write it two times on the lines. Next, count the letters, syllables, vowels, and consonants. Then, say the word aloud and find a word that rhymes with it. Write
the word back to see if it spells a silly word. Finally, use stickers, stamps, playdough, or crayons to fill in the letters of the word.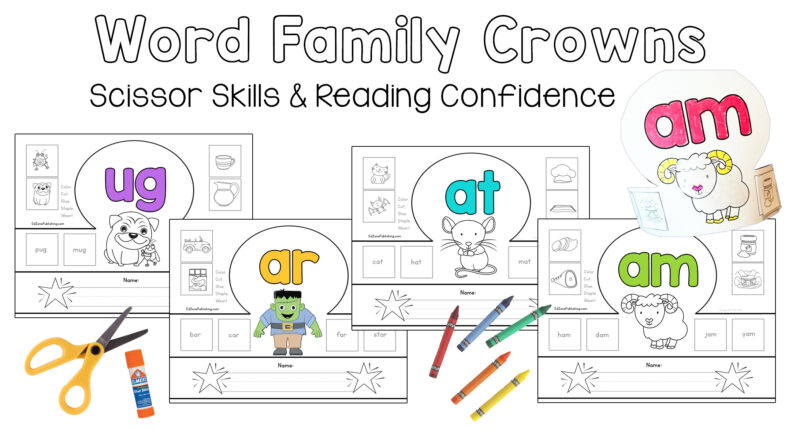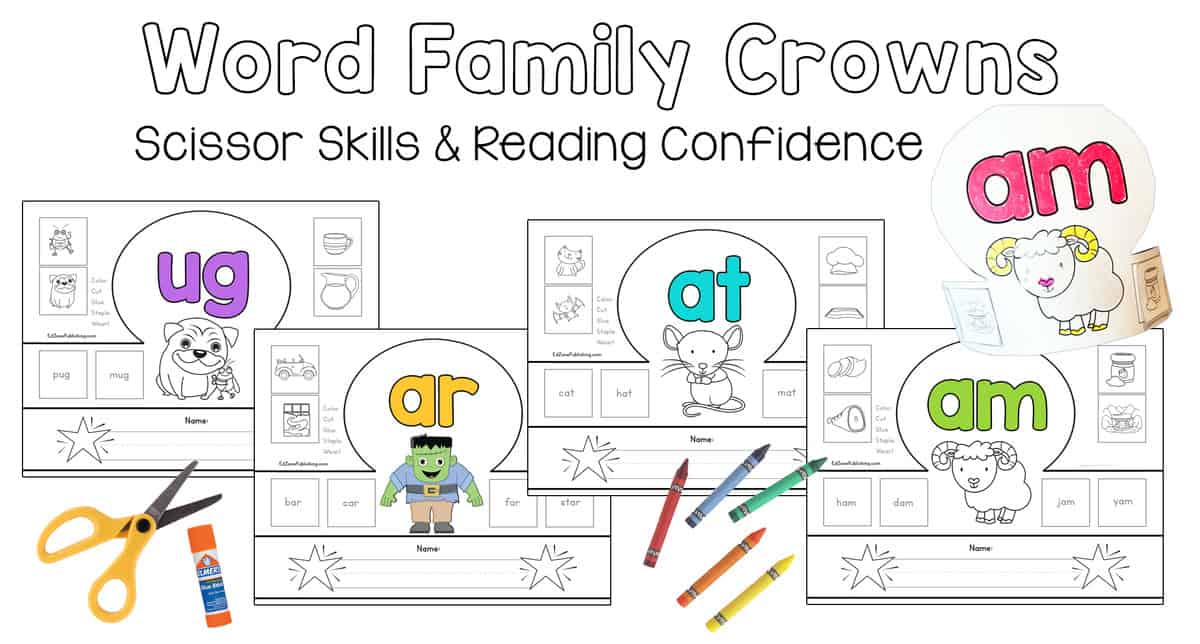 Word Family Crowns:
Students cut and paste the pictures to match the words. Then, students cut and staple to create their own word family crown to wear! Kids will practice their scissor skills which means strengthening their fine motor skills while gaining reading confidence.
Blends & Graphs Review Week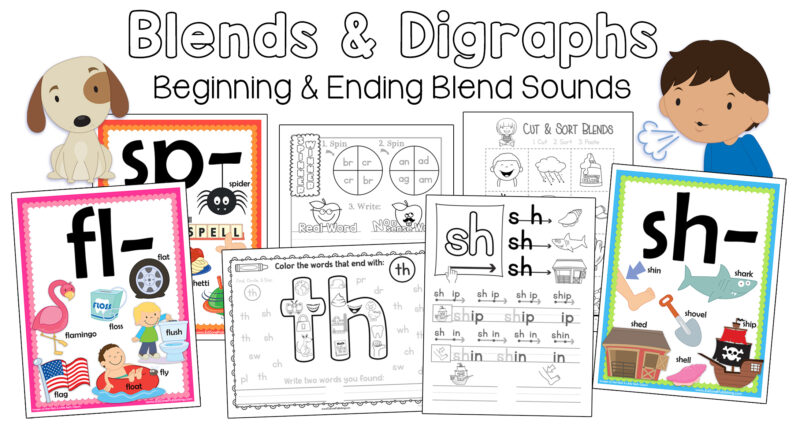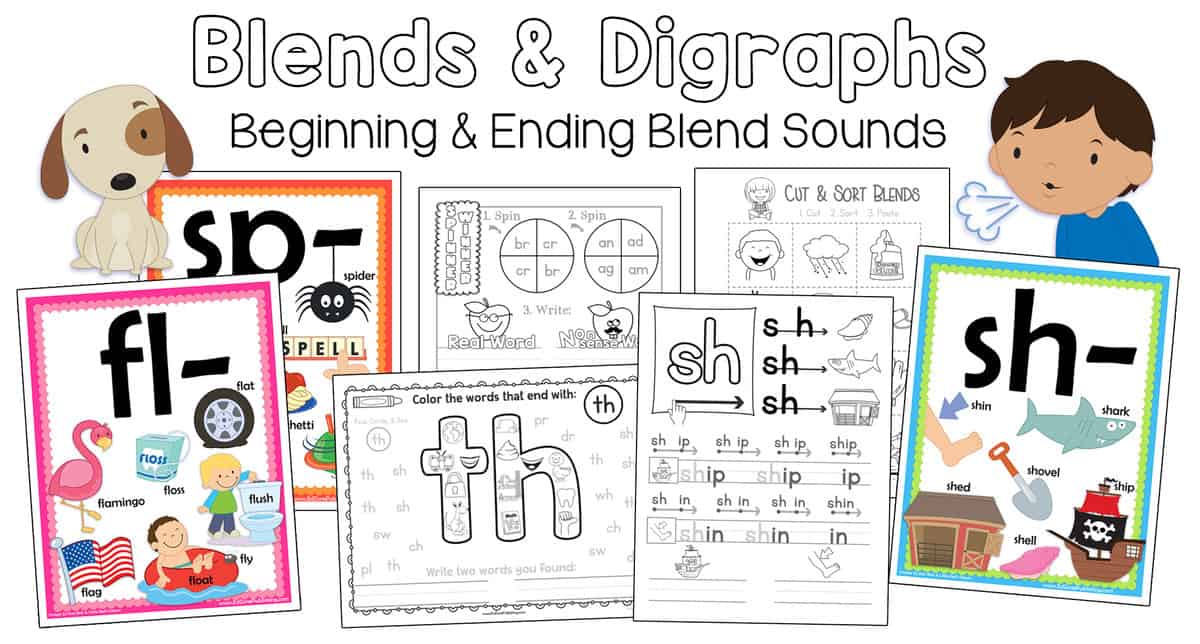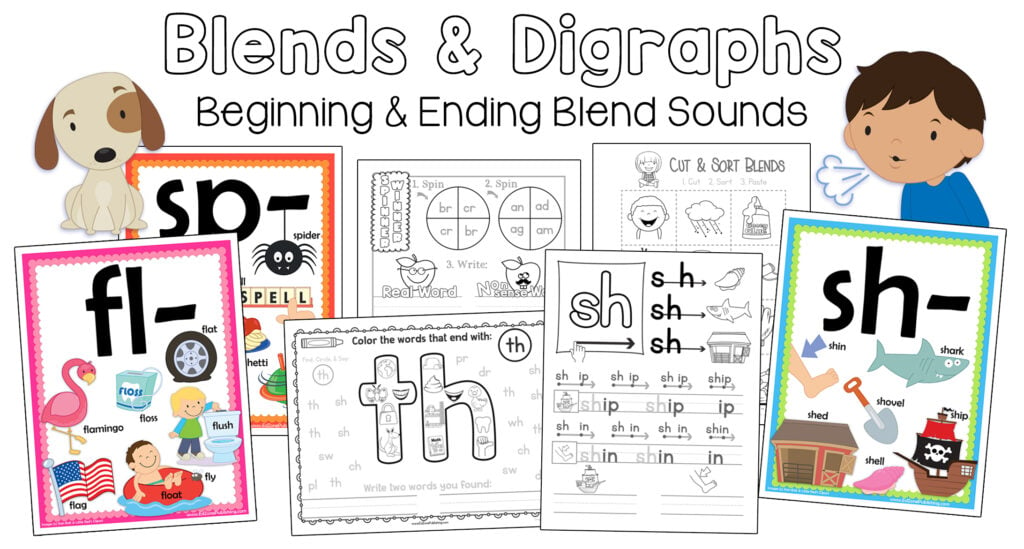 Blends & Digraphs Review:
Each week, students will be introduced to a new word family, or blend. In addition to the charts, a simple activity page is provided for students to practice close listening to the beginning sound and identification of the correct blend with dots and arrows as a guide. Students will also have fun coloring while practicing beginning blend sound. Students then write two of the words they discovered!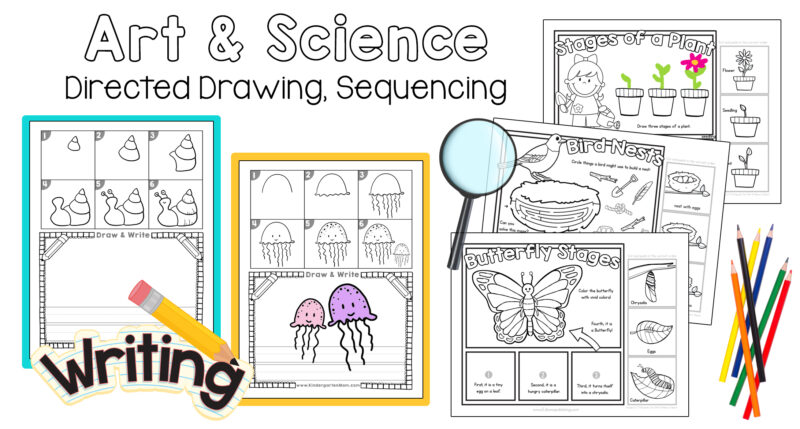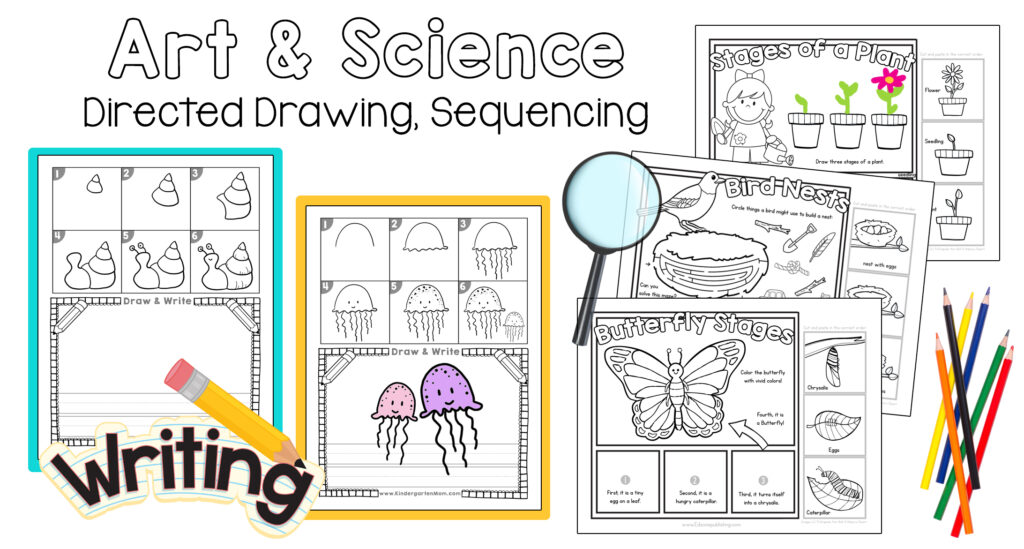 Art & Science Directed Drawing & Sequencing:
Students follow the six-step drawing guidelines to create their own fun characters providing wonderful writing opportunities. Plus, our science promotes building 3-step sequences and learning to write or draw short responses in a sequential format. Science topics include life cycles, plant growth, hibernation, states of matter & more.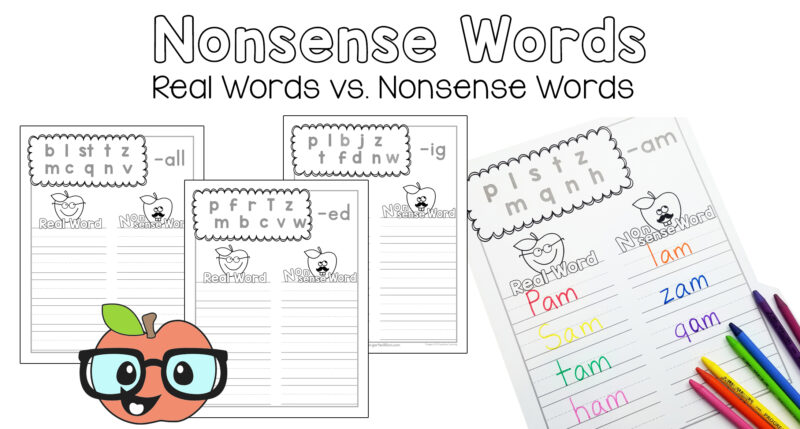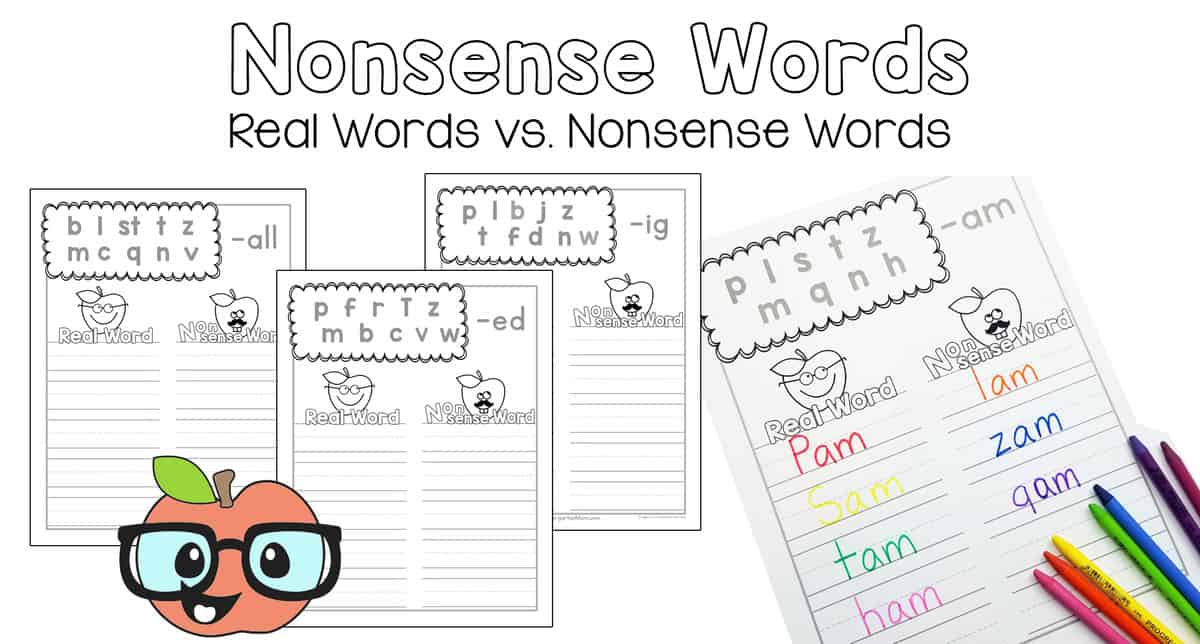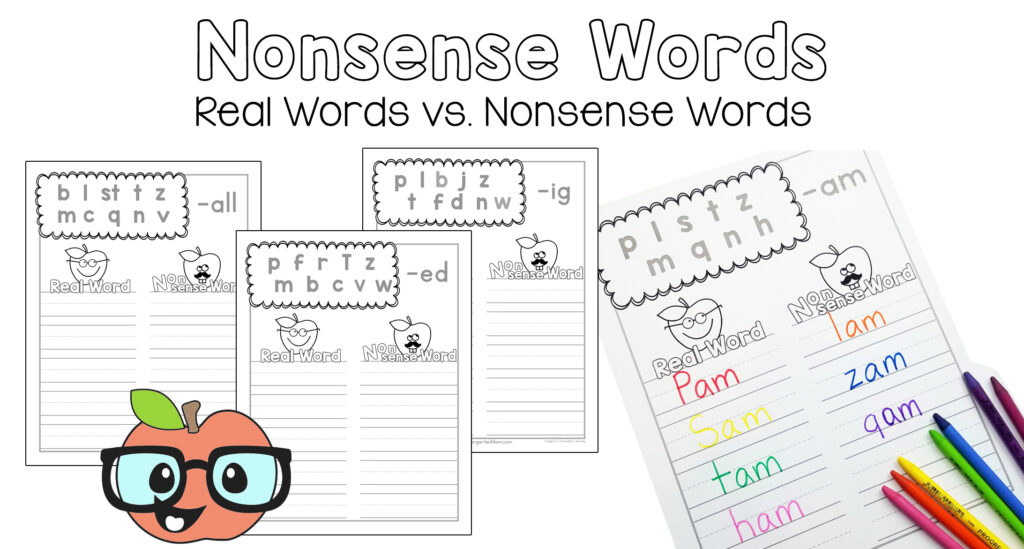 Nonsense Words- Tuesday & Thursday:
On Tuesdays and Thursdays, students build words by choosing a beginning letter and pairing it with their word family. After saying the sounds out loud, students must decide if they created a real word or a nonsense word, and then write it on the corresponding list. Kids will have fun problem-solving the scrambled blend letters.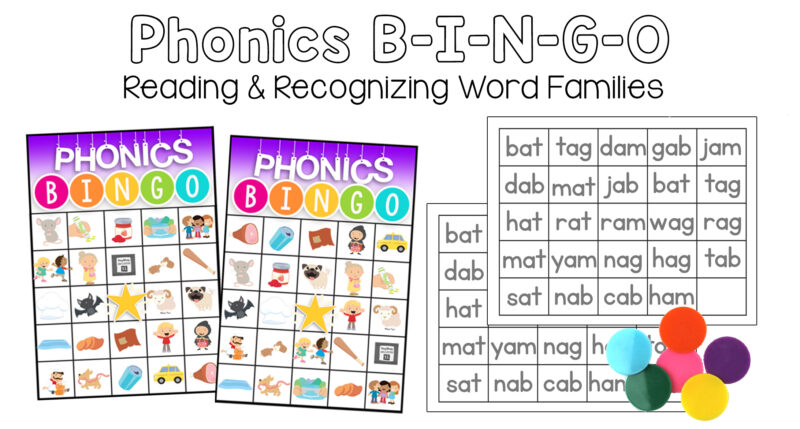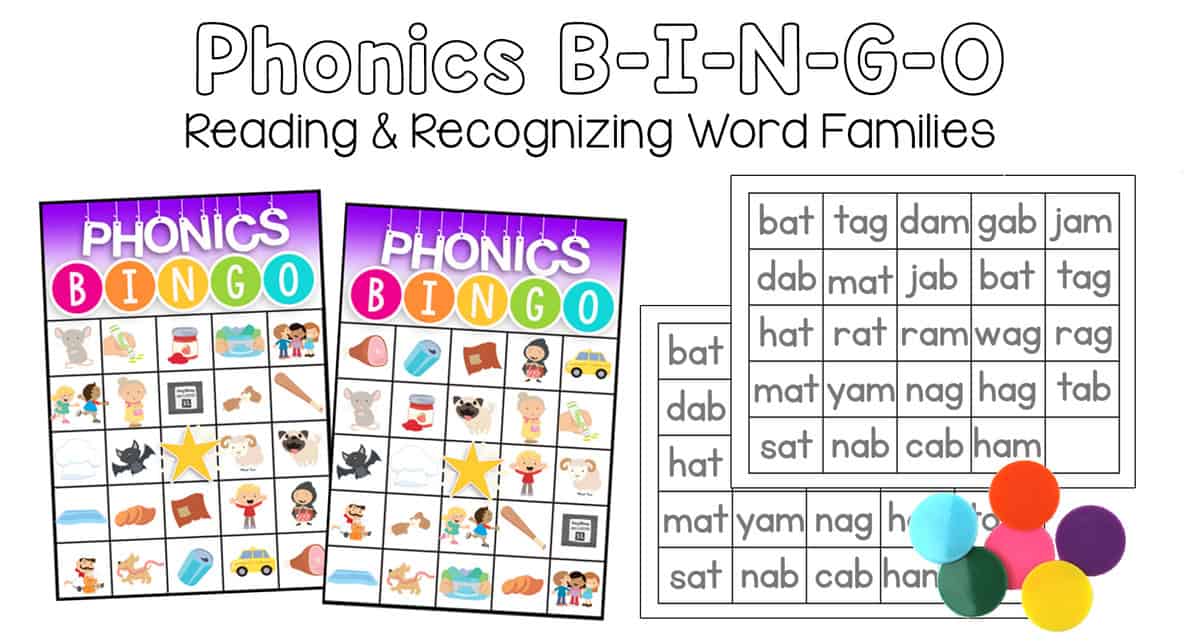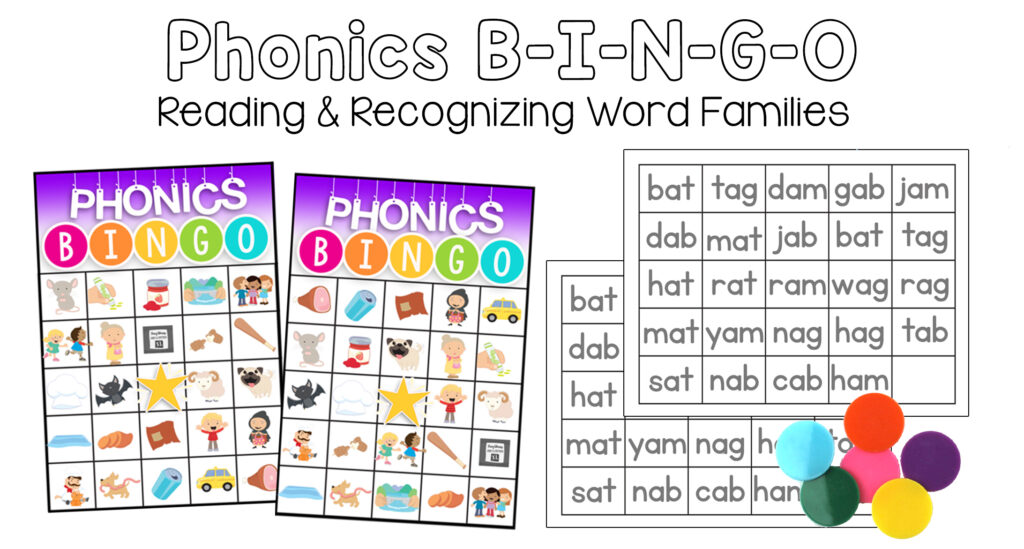 Phonics Bingo Games - Thursdays or Fridays:
Finish out your review week with a fun game of phonics bingo! Each bingo board features images of the previously learned word families. Students can take turns choosing and then reading the calling cards to find out which picture was called. Kids learn while having a blast playing games!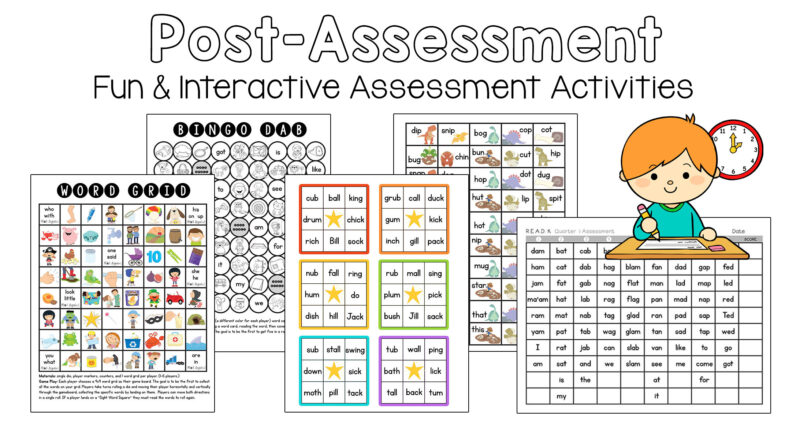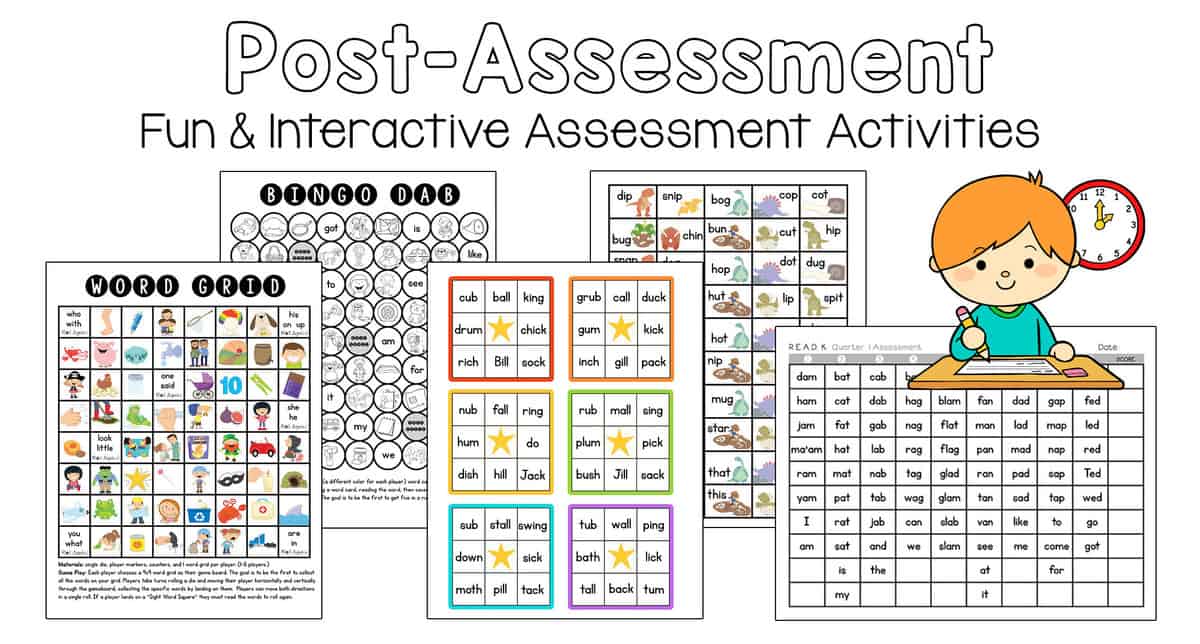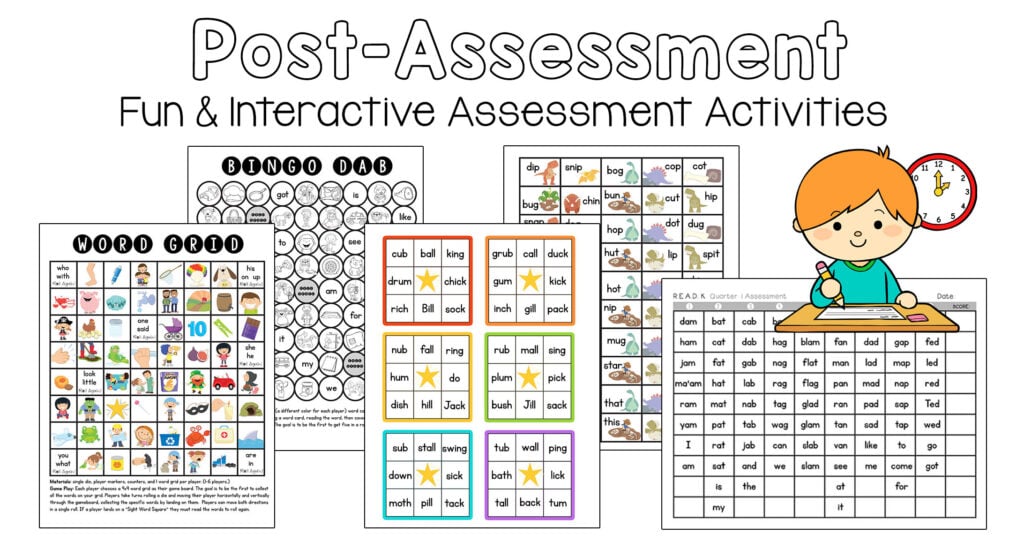 Post-Assessment Week:
Quarterly assessments are provided for teachers to review students' skill sets. Post Assessments will cover Early Readers, Assessment Charts, Word Charts, and Practice Games. Use assessment Charts to keep track of words your student has
mastered vs additional work. Our engaging charts correlate with the assessment charts for easy testing. After the assessment, provide students with fun reading games.
Suggested Materials:
bingo daubers, playdough, pattern blocks, 5x5 geoboard & bands, popsicle sticks (full & half size), cotton swabs & paint, building bricks, snap cubes, page protectors, dry erase markers, alphabet stamps, stickers, small toy car. (View Our Favorite Fine Motor Products Here)
Additional information
| | |
| --- | --- |
| Product License | Homeschool, Classroom |