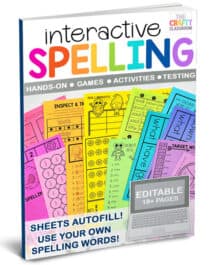 $

10.00
eBook PDF Format Only
Sample Pages & Editing Instructions
Editable Weekly Spelling List Printables!! Gone are the days of painstakingly creating your own weekly spelling list worksheets. This editable hands-on spelling activity pack features a handy AUTOFILL setting, that allows you to create 18 custom spelling games, activities, and worksheets by simply typing in your word list ONE time.
This set will save you HOURS of work, and provide you with full control over the words your students will be learning each week. Best of all, everything is lined up in a progressive format, allowing you to start off the week with a pre-test, and finish the week with an oral spelling bee. Students of all ages will love the games and interactive activities that will breathe life into your weekly spelling assignments.
Editable for Any Word List
Adaptable for Multiple Ability Levels
Weekly Progression of Knowledge
Covers Written & Oral Spelling Activities
Covers Syllables, Vowels, ABC Order, Beginning Letters
Interactive, Hands-On Activities & Games
Is Virtually NO-Prep, Type Your Word List in Once
SEE FULL EDITING REQUIREMENTS & INSTRUCTIONS BELOW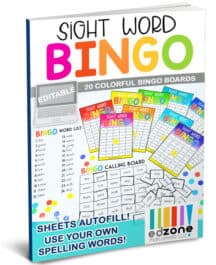 $

5.00
eBook Pdf Format  (EDITABLE)
Sight Word Bingo for your entire classroom! This editable set will help you create a customized BINGO game featuring your choice of 24 sight words! Simply type your list in once and watch as each BINGO board is filled with your words! This set includes 20 unique BINGO boards so your entire classroom can play without duplicate winners!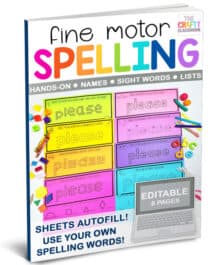 $

10.00
eBook PDF Format
Spelling has never been so fun! This editable spelling pack is perfect for practicing sight words, spelling lists, or even names, while building key fine motor skills. Simply TYPE in the word you want your student to practice and it will AUTO FILL the word into 10 hands-on activity mats. Students will use playdough, letter magnets, snap cubes, bricks, pattern blocks, crayons, scissors, and even ASL as they learn to spell their word.  This set is amazing for spelling, sight word of the week programs, or even for helping your students learn their first and last names.   (See below for requirements)