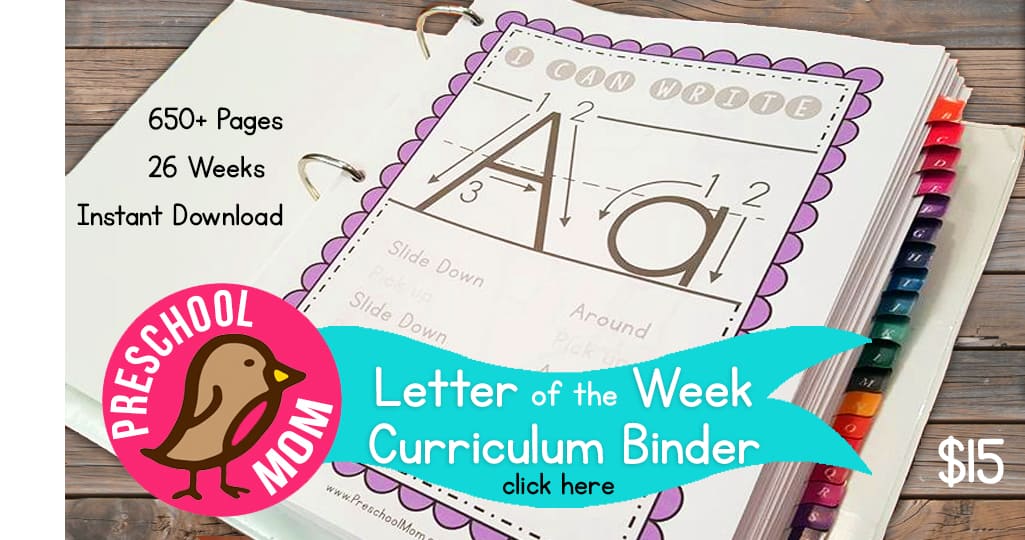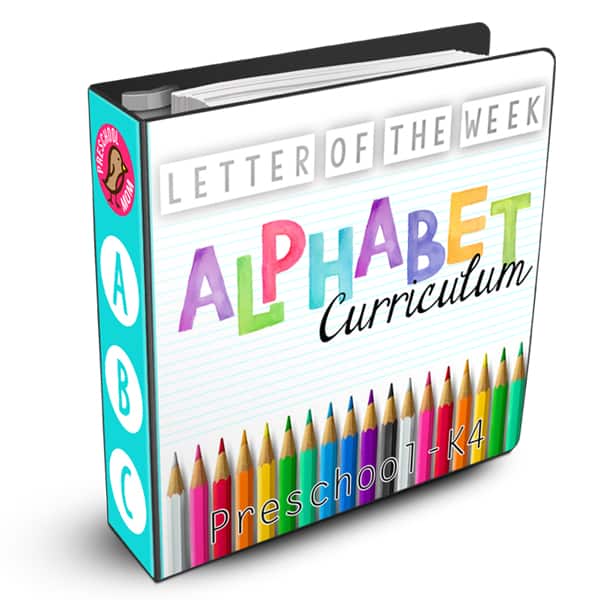 Letter of the Week Alphabet Curriculum    Buy Now
eBook PDF Format.  Over 650 pages of resources for teaching children the alphabet.  For each letter of the alphabet you'll receive 25 pages of activites, worksheets, charts, coloring pages, math explorations and more. Designed to keep the prep work to a minimum, our Letter of the Week Curriculum can be spread over 26 weeks.  View the sample pages above for a sample 3 and 4 day schedule.  Suggested age range is Preschool to K4.
View a Sample Week Below    (pdf format here)

What's Included?
For each letter of the alphabet you'll receive 25 pages of activities and resources all organized into a 3 or 4 day schedule for the next 26 weeks.
How to Write Chart: These are good for introducing children to the proper formation of both the uppercase and lowercase version of the letter. Key words are written below to gently guide your child with their finger to practice.
Beginning Letter Chart: Shows children what word start with the letter and provides an introduction to the different letter sounds.
Blank Letter Pages: These are very versatile and can be filled in with playdough, stamps, designs, stickers, things that start with that letter….etc.  You might print multiple copies of these if you have crafty kiddos!
Beginning Letter Coloring: This is a simple coloring page featuring the upper and lowercase letter a beginning letter picture and word to color.
Guided Coloring Page:  This page features a variety of beginning letter pictures within the uppercase letter. Children follow the instructions for coloring.
I Can Find the Letter: This is a worksheet for children to find and count the upper and lowercase letters.
ABC Quilt Square: This page features handwriting practice as well as coloring. Children cut out their own quilt square and place on the wall, building their quilt with each letter completed.

Missing Beginning Letter: This is a simple tracing page for children to fill in the missing beginning letter.  The font of the entire word is light so children can trace the entire word if they want to. This worksheet includes three different versions: Uppercase, Lowercase and Blank.
Handwriting Practice Page: This page shows children the proper letter formation and strokes, beginning letter words and provides ample practice opportunity.
Letter Trace: Children trace the uppercase and lowercase letters by using the guides provided.  Opportunity is provided to make their own letters and color in a beginning letter picture for each row they complete.

Daily Math Worksheet: This is a simple worksheet but includes a variety of math skills. Counting, Measuring, Addition, Tally Marks, Patterns, Ordinal Numbers, Number Line and more.  The goal is to provide simple daily tasks children can build confidence with.
Count & Graph Worksheets: Children count up the letter items and then graph them accordingly.  The First half of the alphabet features up to 5 total, and the second half builds to 10 total items.
Spin to Win Game: This is a fun game played with a paperclip spinner.  Children spin the paperclip and then trace the correct winner (uppercase or lowercase).  The first letter to the crow wins!  Follow up questions guide children through less and more and inequalities.
4 in a Row Bingo: Finish out your Letter of the Week by playing a fun game of BINGO!

BONUS!!
Letter Shape Puzzle: These puzzles can be cut out and laminated ahead of time if desired.  To support children with different abilities, four different pages per letter are included. You can mix and match these to use one as a puzzle board and one for pieces. Versions without the lines can be used as classroom charts or as shadow puzzles for younger siblings.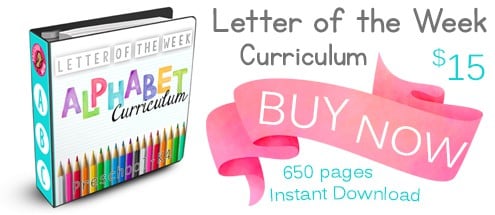 Interested in using our Homeschool Curriculum in a large classroom setting?
Purchase a Co-Op or Standard Classroom License Here
Want a Chance to WIN a free Copy of our Curriculum??
I'm giving away two copies for two lucky winners!
That's two winners who'll receive the curriculum, as well as an extra copy to share with a friend!
How awesome is that?
And don't worry, if you've already purchased our curriculum and you win I'll refund your purchase price and then send you a copy to give away!
Enter to win below: